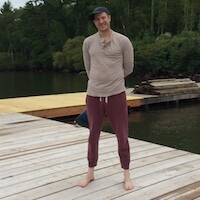 John Collins
is the editor of
Rural America In These Times
. He lives between Minneapolis and La Pointe, Wisconsin, a village on Madeline Island in Lake Superior.
La Pointe is a former French outpost that was established in 1693 by French fur traders. Madeline Island is the spiritual home of the Ojibwe. A part of the island is governed by the Bad River Band of the Lake Superior Tribe of Chippewa Indians, the rest is under the jurisdiction of Ashland County.
John is the great-great grandson of James B. Weaver (1833-1912). A member of Congress from Iowa, Weaver ran for president in 1892 as the candidate for the People's Party (aka "The Populists"), a party that he helped found. (Weaver carried Kansas, Colorado, Nevada, Idaho and North Dakota, for a total of 22 electoral college votes, along with many majority black counties in the Deep South, who citizens supported the Populists because of their opposition to the doctrine of white supremacy championed by the Democratic Party) Weaver was also the editor of the Iowa-based Farmer's Tribune.
In his 1892 book, A Call to Action: An Interpretation of the Great Uprising. Its Sources and Causes, James B. Weaver warned: "Corporate feudality has taken the place of chattel slavery and vaunts its power in every state."
John hopes to amplify the voices of rural America to make them heard. He says, "As James Weaver wrote, 'As a rule, men and women in the private walks of life—the sufferers—are first to apprehend impending danger, and it is their sleepless energies which finally arouse the drowsy conscience of nations.' " Throughout his life Weaver was a steadfast champion of America's farmers.
"Today," says John, "the stories of people who live in our country's small communities, native and non-native, are not being told. Both the independent media and the commercial media—social and televised—ignore an entire way of life."
John, 33, graduated from the University of Utah in 2011 with a B.A. in English. From 2011 through 2014 he worked as a carpenter for Northwoods Construction on Madeline Island. From 2002 to 2006 he was a guitarist for the LA-based indie rock band Controlling the Famous, which released the album Automatic City in 2006 on The Militia Group label.
The Community Rights Movement to the New Hampshire House: Let the People Decide What's Best
Democrats Have Gone off the Rails in Rural America. Can a New Report Get Them Back on Track?
How Much Nitrate Is in Rural America's Water?
Native Youth "Paddle to Protect" Minnesota's Water from Another Enbridge Pipeline
Rethink This Iowa: Do Not Gut the Leopold Center for Sustainable Agriculture
Wendell Berry Defends Rural America Against an Attack by New York Review of Books Writer
American Cows are Eating Skittles and Other Reasons Why the 2018 Farm Bill is Important
USDA Authorizes Emergency Grazing on Protected Lands After Fires Burn Millions of Acres in 3 States
The Populist Fight Against Corporate Power Circa 1892
The Corporate States of America in Graphic Relief
Farm Policy Watchdog Stands by Organic Farmers. Will Secretary of Agriculture Perdue?
Trump Nominates a Secretary of Agriculture (and, No, It's Not Wendell Berry)
Creatures from the Corporate Lagoon: Trump Fills Swamp with Billionaires, Bankers and Oilmen
Standing Rock Tribal Chairman: "Leave Camp When Weather Allows ... More Battles Ahead"
It's 395 Years Since the First "Thanksgiving" but at Standing Rock Things Haven't Changed
Agrarian Trust: Finding Land for the Next Generation of Farmers
The U.S. and Canada are Gearing Up for the Next Battle in the "Softwood Lumber Wars"
"They Clearly Thought They'd Bought a Slam-Dunk Pipeline"—An Interview with Winona LaDuke
Despite Record Yields, Farm Sector Profits are Forecast to Decline for the Third Straight Year
Why Corporate Agriculture is a "Recipe for Famine and Extinction"
What Do Sage Grouse and Transgender Toilets Have in Common?
The Democratic Party Didn't Pass a Ban on Fracking—But They Came Very Close
Scalawags, Rednecks, Mudsills and Swamp People: 400 Years on America's Fringe
America First, Planet be Damned: Trump Calls for Orgy of Extraction in North Dakota Energy Speech
The Rural Healthcare Crisis: Why Obamacare Needs to Cure Itself…and Soon
The Alberta Wildfire: Heating Up the Blogosphere
What the Candidates are Saying About Agriculture
Small Farms Are Getting Regulated Out of Business
To Improve Rural Economy, USDA Will Give Out Millions in Loans and Grants
Feds Say Yellowstone's Grizzly Bears Have Recovered Enough, Propose Delisting
Unity, Environmentalism and the Overview Effect: Looking Down from the International Space Station
Livestock and Wolves: A Guide to Nonlethal Tools and Methods to Reduce Conflicts
Global Financial Fears, Community Resilience, the New Economy, Just Transition and Gig Workers
Cattle, Guns, Birds and Boredom: Inside the Oregon Occupation
Before Bernie Sanders: A 19th Century Populist's Run for the Presidency
For the Activists in the New Economy Movement, All Revolution Is Local
Rural America In These Times Goes Bioneering
Heroin Doesn't Care Where It Is: HHS to Distribute Naloxone to Rural Areas
From Quebec to Wisconsin: Walking for Water
Busting the Myth of the Food Desert: A Farmer's Market in Milwaukee Sautés Statistics
Out of Site, Out of Mine: Who Pays When Toxic Sludge Escapes?
Will Wisconsin Be the Next Rice Capital of North America?
Happy 4th of July: A Celebration of Community
West Coast Grange Wars: A Reborn Farmers' Movement Takes on Corporate Agriculture
The Gray Wolf Rollercoaster
The Endangered Species Act is under attack as Congress moves to delist wolves.
Undermining the Upper Peninsula
The Chippewa take a stand against the return of mines to Michigan.
On the southern shore, the Chippewa band together to stop a mine.