Democrats Have Gone off the Rails in Rural America. Can a New Report Get Them Back on Track?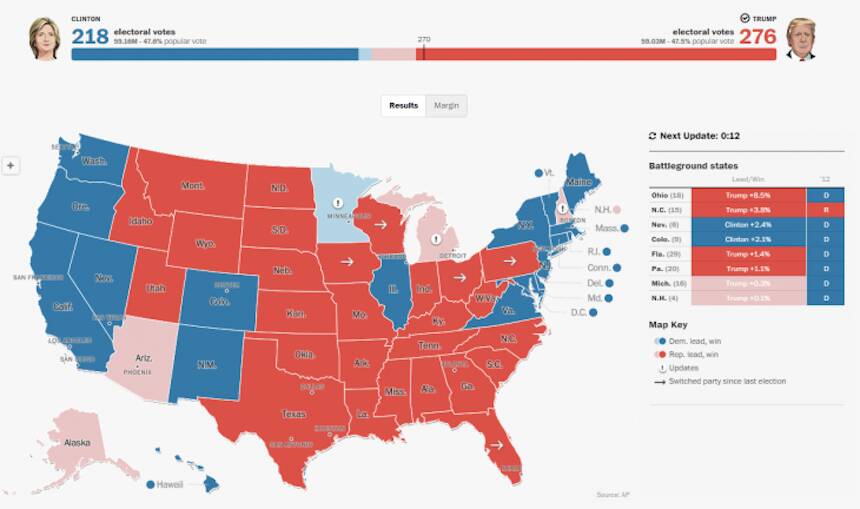 Democ­rats know their brand is in trou­ble — they have a bel­liger­ent, 239-pound dai­ly reminder tweet­ing from the Oval Office — but if the par­ty is count­ing on par­ti­san out­rage to win future elec­tions, it's only in for more pain.
Reclaim­ing vic­to­ry from the jaws of defeat isn't rock­et sci­ence: The par­ty needs to win back the rur­al, work­ing-class vot­ers that its been hem­or­rhag­ing since the 1990s. Unfor­tu­nate­ly, how­ev­er, the root caus­es of this mass-defec­tion — a non-exis­tent eco­nom­ic mes­sage for peo­ple liv­ing pay­check-to-pay­check, con­de­scend­ing coastal elit­ism, a per­va­sive intol­er­ance of rur­al cul­ture etc. — have not abat­ed. Or, if these prob­lems are being addressed by Democ­rats, news of that progress is fail­ing to reach the rur­al peo­ple (i.e. vot­ers) who need to hear it.
It was with this in mind that Demo­c­ra­t­ic Con­gress­woman Cheri Bus­tos, who rep­re­sents the 17th Con­gres­sion­al Dis­trict in cen­tral, north­west­ern and north­ern Illi­nois, com­mis­sioned and co-authored a unique report. Aim­ing to reunite her par­ty with the blue-col­lar Amer­i­cans it used to cham­pi­on, Hope From the Heart­land: How Democ­rats Can Bet­ter Serve the Mid­west by Bring­ing Rur­al, Work­ing Class Wis­dom to Wash­ing­ton com­piles inter­views with 72 cur­rent or for­mer Demo­c­ra­t­ic offi­cials who, in recent years, won over their rur­al con­stituents despite the nation­al pop­u­lar­i­ty of the Repub­li­can oppo­si­tion. Accord­ing to the report, these were can­di­dates who ​"bucked the trend and suc­ceed­ed in the rur­al Mid­west, now dom­i­nat­ed by Republicans."
The eight states com­pris­ing the nation's ​"Heart­land" are Illi­nois, Indi­ana, Iowa, Michi­gan, Min­neso­ta, Mis­souri, Ohio and Wis­con­sin. These states, and the rur­al vot­ers who live here, make or break pres­i­den­tial elec­tions and shift the bal­ance of pow­er in both hous­es of Con­gress. They are bat­tle­grounds that can­not be ignored.
Yet whether its on issues like the econ­o­my, agri­cul­ture, health­care, infra­struc­ture or social issues such as abor­tion, guns and reli­gion, the cur­rent Demo­c­ra­t­ic Par­ty con­tin­ues to aban­don its promise of inclu­sion when it comes to those liv­ing out­side of the big city. This report offers solu­tions — prac­ti­cal advice that nation­al Democ­rats must heed in order to win upcom­ing elections.
By way of intro­duc­tion, Bus­tos writes:
Democ­rats from rur­al areas face an exis­ten­tial cri­sis. The num­ber of Democ­rats hold­ing office across the nation is at its low­est point since the 1920s and the decline has been espe­cial­ly severe in rur­al Amer­i­ca, whose eco­nom­ic for­tunes have slipped marked­ly dur­ing this same period.

Don­ald Trump's elec­tion in 2016 — with heavy sup­port from rur­al vot­ers — was not the first evi­dence of Demo­c­ra­t­ic decline out­side of urban areas. These chal­lenges have been mount­ing since the 1990s.

The con­se­quences of this dete­ri­o­ra­tion are sober­ing for Democ­rats. In the Mid­west, rur­al sup­port for Don­ald Trump ele­vat­ed him to upset wins in sev­er­al states that pro­pelled him to the White House. Rur­al areas con­tain many white, work­ing class vot­ers who were the key demo­graph­ic of Trump's vic­to­ry. The 2016 out­come demon­strat­ed that rur­al, work­ing class vot­ers will not be ignored.

Democ­rats can­not win majori­ties in Wash­ing­ton or state cap­i­tals with­out doing bet­ter in rur­al areas. More impor­tant­ly, Democ­rats risk for­feit­ing the oppor­tu­ni­ty to bring Heart­land wis­dom to Washington.
By lis­ten­ing to those who suc­ceed­ed where oth­er Democ­rats are fail­ing, the report's over­all goal is to assist the nation­al par­ty to better:
improve its mes­sag­ing and the Demo­c­ra­t­ic brand;
focus our poli­cies on jobs and the economy;
recon­nect with vot­ers from the Heart­land; and
adapt cam­paigns to be more suc­cess­ful in rur­al areas.
The full 51-page report address­es cur­rent polit­i­cal real­i­ties that, how­ev­er incon­ve­nient, are key to under­stand­ing (and, hope­ful­ly, address­ing) the nation's rur­al-urban, social and eco­nom­ic divides. While these divides are not nec­es­sar­i­ly new, they are grow­ing due to pro­longed neglect.
Below is some of what cur­rent and for­mer rur­al Demo­c­ra­t­ic elect­ed offi­cials said. In the inter­est of space, Rur­al Amer­i­ca In These Times high­lights only some of those com­ments on the rur­al-urban divide, the rur­al econ­o­my, rur­al social issues, and farm­ers and agri­cul­ture. Not includ­ed here are impor­tant sec­tions on how Democ­rats can reach rur­al vot­ers when it comes to infra­struc­ture, edu­ca­tion, health­care, gov­ern­ment waste and reform, and cam­paign strate­gies that work.
On the dis­con­nect with rur­al voters
Bus­tos and Robin John­son, a con­sul­tant and co-author of the report (which was paid for by CHER PAC), write:
A con­sis­tent theme among these cur­rent and for­mer offi­cials is that nation­al Democ­rats are out of touch with rur­al and work­ing class peo­ple. And because nation­al Democ­rats are per­ceived as out of touch there is sig­nif­i­cant brand degra­da­tion for indi­vid­u­als down-bal­lot who are run­ning as Democ­rats who may oth­er­wise be per­ceived favor­ably by voters.

This feel­ing stems from the eco­nom­ic real­i­ties of the rur­al Mid­west. When nation­al Democ­rats trum­pet­ed eco­nom­ic recov­ery dur­ing the last elec­tion cycle, many areas faced — and con­tin­ue to face — stag­nant incomes, few­er good-pay­ing jobs and lim­it­ed oppor­tu­ni­ties for chil­dren to stay in the area.
For­mer Iowa State Rep. Pat­ti Ruff puts it this way: ​"The ​'D' by my name hurt, and the top-end cam­paign hurt the bot­tom-end cam­paign. It had an elit­ist bent, which didn't fit for the work­ing class."
"We seem focused on things man­i­fest­ed in iden­ti­ty pol­i­tics that don't apply to rur­al," says Illi­nois State Sen. Andy Man­ar, ​"There was a vac­u­um with these vot­ers, and Trump filled it. Democ­rats didn't have a coher­ent mes­sage to rur­al vot­ers and weren't reach­ing out."
Lat­er, expand­ing on the need to trans­form the par­ty into a ​"big tent," the authors write:
Dif­fer­ences have always exist­ed between rur­al and urban areas, but the rur­al offi­cials we inter­viewed feel their way of life, views on issues and cul­ture are increas­ing­ly objects of deri­sion and con­de­scen­sion by ​'urban elites.' Their per­spec­tive is that the party's pri­or­i­ties are shaped by elites from the coasts and Heart­land leg­is­la­tors pay the price for poli­cies, atti­tudes and mes­sages that are counter to their local cul­tures and mores.
On eco­nom­ic issues
The report reads, in part:
Not sur­pris­ing­ly, eco­nom­ic issues were cit­ed with una­nim­i­ty as the most impor­tant issue for the par­ty. Many regions in the Heart­land still haven't ful­ly recov­ered from pre­vi­ous eco­nom­ic down­turns. While unem­ploy­ment rates are low, incomes are stag­nant and the loss of man­u­fac­tur­ing jobs removed a source of good-pay­ing jobs that have been replaced by jobs that pay less and pro­vide no benefits.
"We nev­er recov­ered from the eco­nom­ic reces­sion of the 1980s," says for­mer State Rep. Phil Tate from north­west­ern Mis­souri. ​"The reces­sion, cou­pled with the down­turn in the gar­ment and tex­tile indus­tries, have left this region hurt­ing eco­nom­i­cal­ly to this day."
"The par­ty should back either high­er wages or low­er tax­es or both. Pro­vid­ing ser­vices and pro­grams is not always the answer," says Iowa State Sen. Tod Bow­man, sug­gest­ing instead tax reduc­tions and a min­i­mum wage increase.
For­mer Mis­souri State Rep. Phil Tate: ​"Peo­ple are mak­ing less mon­ey com­par­a­tive­ly than 15 years ago. These peo­ple are tired of the sta­tus quo."
Ohio State Rep. John Pat­ter­son: ​"Eco­nom­ic prob­lems led, in part, to the drug prob­lems fac­ing Ohio."
Min­neso­ta State Rep. Jeanne Poppe, ​"Go back to the 1950's for what mat­tered most to peo­ple — buy a house, trade in a car every cou­ple of years — not for solu­tions but to lay out broad­ly what Amer­i­cans want­ed most."
For­mer Indi­ana State Rep. Russ Stil­well: ​"All my con­stituents expect­ed and want­ed was to have the oppor­tu­ni­ty for a good job with decent wages, health care and a chance for a respectable retire­ment, and hope the next gen­er­a­tion would have more oppor­tu­ni­ties than the last one."
For­mer Indi­ana State Rep. Den­nie Oxley: ​"Make work­ing class peo­ple, who say ​'I'm work­ing my ass off here and mak­ing less mon­ey,' say ​'This is the par­ty speak­ing for me.' "
On social issues
The report reads:
Per­haps the biggest com­plaint we heard from rur­al Democ­rats in the Heart­land is that the Demo­c­ra­t­ic Par­ty, tra­di­tion­al­ly a par­ty that wel­comes diver­si­ty and inclu­sion, has become intol­er­ant of dis­sent­ing views, espe­cial­ly on social issues.
For­mer Michi­gan State Rep. Col­lene Lam­onte says the party's mes­sage in 2016 ​"didn't align with what we were hear­ing at the doors. We lost our abil­i­ty to talk to these peo­ple in a way they can trust us."
State Rep. Nick Cele­brezze, who rep­re­sents a metro work­ing class dis­trict in Ohio, says that that while knock­ing doors last fall that he heard over and over that ​"Democ­rats are talk­ing bath­rooms while Repub­li­cans are talk­ing jobs."
On abor­tion
Accord­ing to the report, ​"Many [of those inter­viewed] expressed con­cerns with choice lit­mus tests and the impact that has on rur­al Democrats."
For­mer Mis­souri Rep. Steve Hodges says, ​"The pro-life posi­tion is impor­tant in rur­al Missouri."
Julie Berry, who ran a close race for the Indi­ana Sen­ate, says, ​"If (the par­ty posi­tion is that Democ­rats can't be pro-life)… then, no, there isn't room for peo­ple like me."
For­mer Ohio State Rep. Nick Barbo­rak, who con­sid­ers him­self pro-choice, says, if the par­ty rejects can­di­dates who are pro-life, ​"we might as well write off east­ern Ohio."
One Iowa leg­is­la­tor speaks of ​"out-front issues and back issues," and an Ohio leg­is­la­tor says social issues ​"are impor­tant but not the focus of what our mes­sage should be." Anoth­er for­mer leg­is­la­tor says, ​"It's not retreat­ing to empha­size eco­nom­ic con­cerns in rur­al areas that are more uni­fy­ing than cul­tur­al issues."
For­mer Michi­gan State Rep. Ter­ry Brown sug­gests refram­ing the issue. ​"When peo­ple hear pro-choice, they think anti-life." He sug­gests the par­ty change its mes­sag­ing to reflect Demo­c­ra­t­ic sup­port for the ​"cul­ture of life" which includes sup­port for schools, health care and retire­ment security.
On guns
The report reads:
Per­haps no issue sym­bol­izes the urban-rur­al divide more than guns. Rur­al Democ­rats inter­viewed described a feel­ing that their urban coun­ter­parts just don't under­stand the cul­tur­al dimen­sion of this issue.
For­mer Mis­souri State Rep. Phil Tate traces Democ­rats' declin­ing per­for­mance in rur­al areas to Bill Clin­ton and his gun con­trol pro­pos­als in the 1990s. Repub­li­cans took the issue and ​"ele­vat­ed it way beyond what it should have been."
Ohio State Rep. John Pat­ter­son describes the issue in terms of the eco­nom­ic dis­lo­ca­tions in rur­al areas. ​"Jobs leave, busi­ness­es leave," he says. ​"There's an addi­tion­al sense of loss when their kids leave. Guns are seen as the last straw. Hunt­ing and guns are part of the cul­ture — it's who we are."
For­mer Illi­nois State Sen. Gary For­by says the gun issue is a major rea­son why Democ­rats have lost the votes of union mem­bers in his dis­trict, deep in south­ern Illi­nois: ​"When I walked into union halls they talked con­cealed car­ry first and union issues second."
On reli­gion
The report reads:
Many rur­al Democ­rats spoke about the role of reli­gion in rur­al areas and how the par­ty needs to do a bet­ter job of talk­ing about the role of faith in their lives.
Indi­ana State Sen­ate can­di­date Julie Berry says the Demo­c­ra­t­ic brand has been tar­nished as ​"unpa­tri­ot­ic" and too many peo­ple think ​"we don't love God and coun­try." She adds, ​"Faith has to be a part of the con­ver­sa­tion — all faiths and tol­er­ance. The Repub­li­cans do NOT have a monop­oly on faith."
For­mer Michi­gan State Rep. Ter­ry Brown says Democ­rats should ​"stress free­dom of reli­gion, why we're for reli­gious lib­er­ty and sup­port all religions."
For­mer Mis­souri State Rep. Wes Shoe­mey­er says that if Democ­rats pri­or­i­tize social issues in his region, ​"a Catholic and South­ern Bap­tist world, you lose."
Indi­ana Sen­ate can­di­date Chuck Freiberg­er says Democ­rats need to ​"reframe fam­i­ly and moral issues along the lines of hard work, reli­gion, fam­i­ly, and that includes women's and LGBT issues, where peo­ple are com­ing around. Hatred, as preached by Trump, is not a fam­i­ly value."
On farm­ers and agriculture
This sec­tion, in the opin­ion of Rur­al Amer­i­ca In These Times, is short­er than it ought to be. Nev­er­the­less, it reads:
Iowa State Sen. Tod Bow­man traces the prob­lems of Democ­rats to the farm­ing cul­ture and that they do not com­pete for farm votes. While the num­ber of farms has shrunk due to con­sol­i­da­tion, Bow­man and oth­er rur­al leg­is­la­tors point out the preva­lence of part-time farm­ers, those who own few­er than 200 acres and those who rent out acreage. They may not be big landown­ers but still rep­re­sent the farm cul­ture of ​"look­ing at the bot­tom line, being more individualistic…and being averse to tax­es and regulation."
"Don't tell them what to do; get buy-in from them," says Iowa State Sen. Kevin Kinney.
"We need can­di­dates that have back­grounds in agri­cul­ture and under­stand agri­cul­ture," says Iowa State Rep. Bruce Bearinger.
"We need to bring farm­ers and min­ers into the con­ver­sa­tion about reg­u­la­tion," says for­mer Min­neso­ta State Rep. Ter­ry Morrow.
"
We need to reach out to farm­ers more .  No one talks to them," says for­mer Ohio State Rep. Chris Redfern.
You can read the full report here, and, please, add your own thoughts in the com­ments sec­tion below. This is an impor­tant issue.