The Community Rights Movement to the New Hampshire House: Let the People Decide What's Best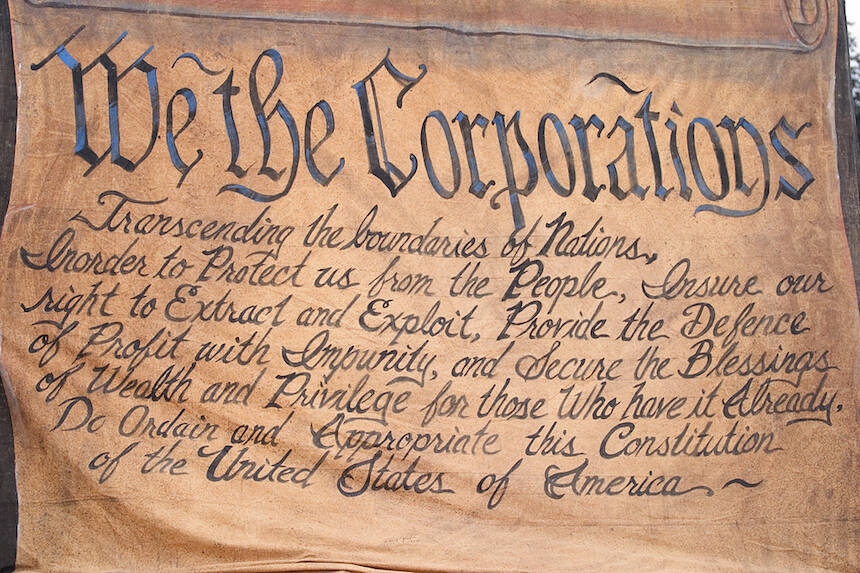 When you com­bine an eco­nom­ic sys­tem that requires con­stant growth in order to func­tion, with a legal sys­tem that mis­takes cor­po­ra­tions for ​"peo­ple" — you inevitably wind up with a few extreme­ly pow­er­ful cor­po­ra­tions and a lot of pow­er­less peo­ple. Fur­ther­more, when that same sys­tem regards nature as prop­er­ty, thus allow­ing those in con­trol to do what­ev­er they see fit with a giv­en area's nat­ur­al resources, long-term eco­log­i­cal health takes a back­seat to short-term prof­its. For decades, com­mu­ni­ties across the coun­try have been learn­ing this les­son the hard way.
In recent years in New Hamp­shire, ener­gy devel­op­ment projects and the appli­ca­tion of sewage sludge on farm­land have sparked res­i­dent con­cerns over con­t­a­m­i­na­tion of local water sup­plies. In addi­tion, accord­ing to the EPA's lat­est Tox­i­cs Release Inven­to­ry Pro­gram ​data, the small state is home to 127 of the 21,600 tox­ic sites mon­i­tored by the agency. Main­tain­ing that a weak­en­ing of citizen's rights at home has left their com­mu­ni­ties defense­less against ever-wors­en­ing cor­po­rate abus­es, a group of Gran­ite Staters are chal­leng­ing the legal ​sys­tem that in effect grants cor­po­ra­tions a license to pol­lute by deny­ing local gov­ern­ments the right to con­trol what occurs with­in their jurisdictions.
When cit­i­zens deter­mine that the actions of a cor­po­ra­tion pose an eco­nom­ic, envi­ron­men­tal or pub­lic health threat to their com­mu­ni­ty — whether it's a new pipeline, a fac­to­ry farm, a facil­i­ty gen­er­at­ing indus­tri­al waste, a min­ing oper­a­tion etc. — and they try to stop that enti­ty from set­ting up shop in their town, they're often sur­prised to learn that (despite what the Dec­la­ra­tion of Inde­pen­dence says about ​"life, lib­er­ty, and the pur­suit of hap­pi­ness") they are pow­er­less to do any­thing about it.
This is by design. Over time, one state leg­is­la­ture after anoth­er has passed pre­emp­tion laws — legal doc­trines restrict­ing a city, town, or county's legal author­i­ty to reg­u­late its econ­o­my or pro­tect its envi­ron­ment — that pri­or­i­tize cor­po­rate inter­ests over those of local com­mu­ni­ties. In oth­er words, cor­po­ra­tions usu­al­ly get what they want because the law, as it is writ­ten, is on their side, not yours.
Instead of fight­ing each and every cor­po­rate assault — on peo­ple or on nature — on a case-by-case basis, the com­mu­ni­ty rights move­ment, a grass­roots net­work of peo­ple who've had it up to here with cor­po­rate pow­er, is work­ing on the local, state and fed­er­al lev­els to address the prob­lem at its source. The Nation­al Com­mu­ni­ty Rights Net­work (NCRN) and its affil­i­ates in states across the coun­try are attempt­ing to end gov­ern­ment-sanc­tioned cor­po­rate exploita­tion by amend­ing state and fed­er­al con­sti­tu­tions in order to ​"cod­i­fy a community's inalien­able right to self-governance."
This is not easy. In many cas­es, before a pro­posed con­sti­tu­tion­al amend­ment can even get on a state's bal­lot, sup­port­ers must first con­vince state leg­is­la­tors to allow it. On Tues­day, Feb­ru­ary 6, mem­bers of the New Hamp­shire Com­mu­ni­ty Rights Net­work (NHCRN) met with the state's House Munic­i­pal and Coun­ty Gov­ern­ment Com­mit­tee in Con­cord in an attempt to do just that.
NHCRN orga­niz­ers and about 50 of their sup­port­ers, includ­ing Thomas Linzey, the exec­u­tive direc­tor of the Com­mu­ni­ty Envi­ron­men­tal Legal Defense Fund (and a Rur­al Amer­i­ca In These Times con­tribut­ing writer), gath­ered to urge the com­mit­tee to con­sid­er Con­sti­tu­tion­al Amend­ment Con­cur­rent Res­o­lu­tion 19 (CACR19). This is NHCRN's sec­ond attempt to give New Hamp­shire vot­ers a chance to decide for them­selves whether or not to add a com­mu­ni­ty rights amend­ment to their state's con­sti­tu­tion — an amend­ment that would allow local munic­i­pal­i­ties to enact laws to pro­tect their peo­ple and envi­ron­ment from cor­po­rate harm.
The full text of the bill can be found here, but reads in part:
Be it Resolved by the House of Rep­re­sen­ta­tives, the Sen­ate con­cur­ring, that the Con­sti­tu­tion of New Hamp­shire be amend­ed as follows:
I. That the first part of the con­sti­tu­tion be amend­ed by insert­ing after arti­cle 39 the fol­low­ing new article:
[Art.] 40. [Right of Local Com­mu­ni­ty Self-Gov­ern­ment.] All gov­ern­ment of right orig­i­nates from the peo­ple, is found­ed in their con­sent, and insti­tut­ed for the gen­er­al good; the peo­ple have the right and the duty to reform gov­ern­ments when those gov­ern­ments man­i­fest­ly endan­ger pub­lic lib­er­ty; and sus­tain­able envi­ron­men­tal and eco­nom­ic devel­op­ment can be achieved only when the peo­ple affect­ed by gov­ern­ing deci­sions are the ones who make them; there­fore, the peo­ple of New Hamp­shire have an inher­ent and inalien­able right of local, com­mu­ni­ty self-gov­ern­ment in each coun­ty, munic­i­pal­i­ty, city, and town to enact local laws that pro­tect health, safe­ty, and wel­fare by rec­og­niz­ing or estab­lish­ing rights of nat­ur­al per­sons, their local com­mu­ni­ties, and nature; and by secur­ing those rights using pro­hi­bi­tions and oth­er means deemed nec­es­sary by the com­mu­ni­ty, includ­ing mea­sures to estab­lish, define, alter, or elim­i­nate com­pet­ing rights, pow­ers, priv­i­leges, immu­ni­ties, or duties of cor­po­ra­tions and oth­er busi­ness enti­ties oper­at­ing, or seek­ing to oper­ate, in the com­mu­ni­ty. Local laws adopt­ed pur­suant to this arti­cle shall not weak­en exist­ing pro­tec­tions for, or con­strict the fun­da­men­tal rights of, nat­ur­al per­sons, or their local com­mu­ni­ties, or nature, as those pro­tec­tions and rights are secured by local, state, fed­er­al, or inter­na­tion­al law.
While about a dozen New Hamp­shire towns already have ordi­nances geared toward ensur­ing the health, safe­ty and wel­fare of their res­i­dents, munic­i­pal­i­ties can­not tech­ni­cal­ly enact any laws the state doesn't allow them to. This is because, like all but 11 states in the coun­try, New Hamp­shire fol­lows the so-called Dillon's Rule—a doc­trine that since 1868 has been a ​"cor­ner­stone of munic­i­pal law" and holds that local gov­ern­ments can only enact laws that are approved by their state Legislature.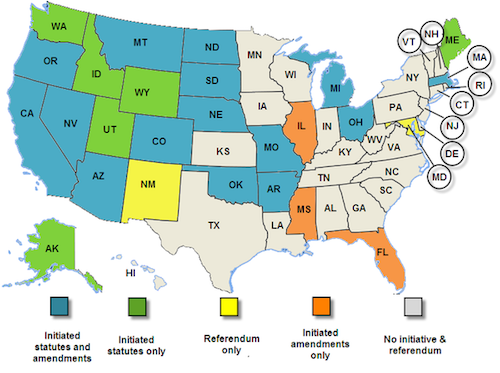 Twen­ty-six states, as well as Wash­ing­ton, D.C., offer ini­tia­tive and/​or veto ref­er­en­dum rights for their cit­i­zens — the abil­i­ty to pete­tion a new statute or con­sti­tu­tion­al amend­ment through the col­lec­tion of a min­i­mum num­ber of reg­is­tered vot­er sig­na­tures — New Hamp­shire is not one of them.
(Info­graph­ic:
bal​lot​pe​dia​.org
)
Urg­ing Gran­ite State res­i­dents to get behind their amend­ment, NHCRN orga­niz­ers wrote the fol­low­ing in a
let­ter-to-the-edi­tor
of Sea­coas­ton­line, an online news agency based in Portsmouth:
Such recog­ni­tion has been a long time com­ing to strength­en and restore ​"We the People's" right to self-deter­mine the future of the com­mu­ni­ties we live in. This right has been all but suf­fo­cat­ed by cor­rupt cor­po­rate priv­i­lege that has been woven into law and upheld by judi­cial prece­dents. Togeth­er with state pre­emp­tion, this weak­en­ing of cit­i­zen rights at home has left us with no defense when cor­po­rate projects come to devel­op or to extract resources in our towns — much less when these projects con­t­a­m­i­nate where we work and live, often with tox­ic waste. We've seen this hap­pen all across our state. We should be able to have a rec­og­nized right to local deci­sion-mak­ing author­i­ty to deter­mine whether or not we want these projects in our communities.

By empow­er­ing peo­ple with author­i­ty to use this self-deter­min­ing voice, CACR19 would rein­force the via­bil­i­ty of our civ­il rights by sup­port­ing our demo­c­ra­t­ic right to cul­ti­vate com­mu­ni­ties found­ed in peace and civil­i­ty in which no per­son or enti­ty has free pass to vio­late the health, safe­ty, or well-being of anoth­er per­son or of nature, and cer­tain­ly not for prof­it. Each day that our gov­ern­ment denies us full par­tic­i­pa­tion in deter­min­ing this cul­ti­va­tion, we are dis­crim­i­nat­ed against — blocked from access­ing and engag­ing in our right­ful demo­c­ra­t­ic process to pro­tect our basic and inalien­able rights that are not lim­it­ed to but which include our right to clean air, water, and healthy ecosystems.

These inalien­able rights were the ideals that birthed this nation's exper­i­ment in democ­ra­cy. And what is democ­ra­cy if it is not the civic employ­ment of people's inalien­able right to have demo­c­ra­t­ic author­i­ty over what hap­pens in their com­mu­ni­ties? When we can­not pro­tect our­selves through the self-gov­ern­ment so inte­gral to the prin­ci­ples of our Rev­o­lu­tion­ary ances­tors, then we are not liv­ing in a democ­ra­cy. We must not let this right to self-gov­ern­ment go un-cham­pi­oned by a dis­en­gaged sense of civic duty, nor can we afford to lose it amidst the ani­mos­i­ty found in our divid­ed polit­i­cal aisles. Now is the time to unite both com­mu­ni­ty and bi-par­ti­san­ship sol­i­dar­i­ty and action to rec­og­nize our right to self-government.

What the Rev­o­lu­tion­ar­ies of this coun­try fought for was not some­thing they could buy. It was the right to pur­sue a self-deter­mined life of hon­esty and good­ness. For our leg­is­la­tors to deny us an enlight­ened path to access this self-deter­mi­na­tion is for them to admit doubt in their con­stituents' abil­i­ty to rea­son over and to trust in the good­ness that is in our­selves and in the ecosys­tems around us. CACR19 will secure our right to pro­tect this good­ness for a new future hon­or­ing people's and nature's nat­ur­al right to sustainability.
Before the bill can go any­where, the House Munic­i­pal and Coun­ty Gov­ern­ment Com­mit­tee must vote OTP ("Ought to Pass"), at which point the amend­ment could con­tin­ue to the House and Sen­ate. If approved, only then would it be placed on the bal­lot for vot­ers to decide. CELDF's Thomas Linzey tells Rur­al Amer­i­ca In These Times the pub­lic turnout on Feb­ru­ary 6 was good despite the fact the flu was ​"run­ning ram­pant up there." ​"We have nine co-spon­sors who are com­mit­ted, so we're in a bet­ter place than last year at least," he says. The next sub­com­mit­tee hear­ing is sched­uled for Feb­ru­ary 13.
Below is an inter­view in which Tom Groover, vice-pres­i­dent of the Nation­al Com­mu­ni­ty Rights Network's (NCRN) board of direc­tors, speaks with CELDF orga­niz­ers Michelle San­born, Mon­i­ca Christofili and NHCRN mem­ber, Dou­glas Dar­rell, about their effort and why they feel it is more impor­tant than ever that they suc­ceed in putting the mea­sure before New Hamp­shire voters.
(Source: Nation­al Com­mu­ni­ty Rights Net­work / YouTube)
For more infor­ma­tion about the NHCRN or the pro­posed con­sti­tu­tion­al amend­ment, con­tact info@​nhcommunityrights.​org or vis­it www​.nhcom​mu​ni​tyrights​.org.