West Coast Grange Wars: A Reborn Farmers' Movement Takes on Corporate Agriculture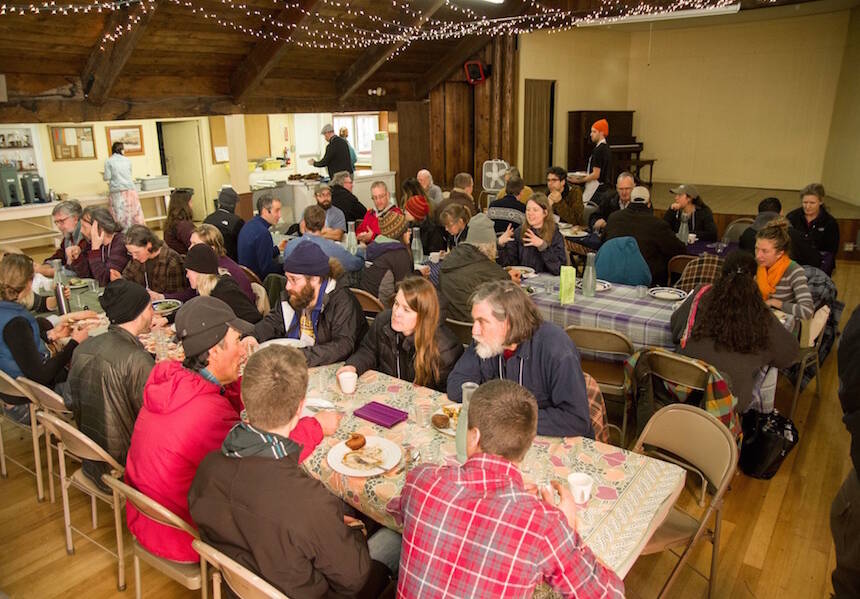 As more and more gro­cery shop­pers refuse to write-off the ori­gins of their food as some unsolv­able who­dunit, a net­work of sus­tain­abil­i­ty mind­ed, local­ly ori­ent­ed farm­ers are work­ing to con­nect those peo­ple to calo­ries from known sources. For such farm­ers, and those in the com­mu­ni­ties that sup­port them, the local Grange is a well-estab­lished ally.
Jay Sex­ton is Mas­ter at Mary's Riv­er Grange #685 in Philo­math, Ore­gon. A mem­ber of that Grange for six years, he is also the cur­rent direc­tor of the Ore­gon State Grange Agri­cul­ture Com­mit­tee, work­ing to advance Grange poli­cies and pro­mote agri­cul­ture aware­ness. Remind­ing the gen­er­al pub­lic that we all depend on agri­cul­ture for the food we eat has been no small part of the organization's mis­sion for the last 148 years.
"The Grange has an inter­est­ing his­to­ry," says Sex­ton, ​"not just with the ups and downs of mem­ber­ship, but with how close­ly it's been tied to big agriculture."
In recent years, a rift has emerged between some state and local Granges and the nation­al orga­ni­za­tion. New farm­ers with pro­gres­sive ideas regard­ing the future of agri­cul­ture — organ­ic farm­ing prac­tices, an end to the use of GMOs, envi­ron­men­tal­ly ben­e­fi­cial land use — are clash­ing with the Nation­al Grange over its sup­port of indus­tri­al agribusiness.
Like many advo­ca­cy orga­ni­za­tions head­quar­tered in Wash­ing­ton D.C., the Nation­al Grange is polit­i­cal­ly cau­tious. In the Belt­way, sev­er­ing ties with large, tech­nol­o­gy-dri­ven farm­ing oper­a­tions — bit­ing the hand that feeds — is a tough sell.
"Grange pol­i­cy is very clear in that we sup­port all of agri­cul­ture," says Ed Lutrell, pres­i­dent of the Nation­al Grange. ​"We believe that pro­duc­tion agri­cul­ture is impor­tant to the world — it's feed­ing mil­lions of peo­ple. Local, small-mar­ket agri­cul­ture is equal­ly as impor­tant because what the Amer­i­can con­sumer is demand­ing is local­ly grown, whole­some, safe food. We're in com­plete sup­port of that process as well."
But those active in the new farm­ing move­ment, keen­ly aware of the envi­ron­men­tal per­ils of BigAg and cham­pi­ons of a wacky notion that places sus­tain­abil­i­ty ahead of prof­it, could not care less about being cautious.
Nei­ther could many Grangers who came before them.
In the Beginning
The Nation­al Grange of the Order of Patrons of Hus­bandry (referred to sim­ply as the Grange) is the old­est agri­cul­tur­al orga­ni­za­tion in the Unit­ed States. The group's 11-sto­ry head­quar­ters in Wash­ing­ton is, as its web­site empha­sizes, ​"the only pri­vate edi­fice in the fed­er­al block across from the White House." Com­mu­ni­ty-based Granges still oper­ate in 2,100 com­mu­ni­ties in 37 states. In many of them, Grange Halls — old build­ings infused with a dynam­ic agri­cul­tur­al and polit­i­cal lega­cy — serve as rur­al com­mu­ni­ty meet­ing places.
In 1867, Oliv­er Hud­son Kel­ley (a freema­son from Boston) cofound­ed the orga­ni­za­tion after tour­ing strug­gling farms in the after­math of the Civ­il War. Con­di­tions for farm­ers return­ing home from the bat­tle­fields were bleak and Kel­ley, along with six oth­er found­ing mem­bers, saw the need for a social and edu­ca­tion­al coop­er­a­tive in rur­al America.
The Grange was estab­lished to increase the qual­i­ty of life in rur­al com­mu­ni­ties by strength­en­ing the bonds between farm­ing fam­i­lies. In the begin­ning, Grangers set out to tran­scend nation­al pol­i­tics. They had good rea­sons. Fol­low­ing the near col­lapse of the Union, the orga­ni­za­tion empha­sized the need for inclu­sion and estab­lished itself as a social out­let through­out rur­al Amer­i­ca. Non­par­ti­san­ship was incor­po­rat­ed into their bylaws:
The divi­sions in our coun­try cre­at­ed by this war, as well as union divi­sions, took years to heal and we strong­ly believe that nation­al pol­i­cy must be estab­lished through debate, but in col­lab­o­ra­tion and uni­ty. [The Grange] must abstain from sup­port­ing can­di­dates along the very lines that divid­ed the coun­try and led to the suc­ces­sion of the Con­fed­er­ate states.
But the absence of polit­i­cal affil­i­a­tion did not, could not, last. The post-war eco­nom­ic land­scape was chang­ing. As the rail­road expand­ed, pro­duc­tion increased and the econ­o­my grew. Every­body got on board until, in an ambi­tious attempt to keep the good times rolling, the nation's lead­ing finan­cial firms invest­ed in the North­ern Pacif­ic Rail­road. They ran out of mon­ey, trig­ger­ing the Pan­ic of 1873. What fol­lowed was known, at the time, as The Great Depres­sion. Even­tu­al­ly, the even greater depres­sion fol­low­ing the crash of 1929 appro­pri­at­ed the title. But back to 1873.
Soon, the shar­ing of infor­ma­tion between rur­al peo­ple — dis­sem­i­nat­ing eco­nom­ic and tech­no­log­i­cal know-how among farm­ers in par­tic­u­lar — was deemed vital to pro­tect­ing farms from the grow­ing pow­er of cor­po­rate monop­o­lies. The rise of the rail­roads, in par­tic­u­lar, came with a high cost to farm­ers already strug­gling to make ends meet after the war. These farm­ers, many per­son­al­ly invest­ed in ear­ly rail­road devel­op­ment, were soon vic­tim­ized by price-fix­ing and mid­dle­men arrange­ments that made it impos­si­ble to effi­cient­ly har­vest and trans­port their crops. Those who failed to coop­er­ate were denied access to the essen­tial infra­struc­ture, such as grain ele­va­tors, that they need­ed in order to operate.
In 1875, the sense of betray­al at the hands of the rail­roads reached a fever pitch and Grange mem­ber­ship surged to more than 800,000 — its high­est ever. The momen­tum cap­tured by the Grange at this apex marks the begin­ning of what became the polit­i­cal­ly charged farm­ers' move­ment of the late nine­teenth cen­tu­ry. An agrar­i­an ide­ol­o­gy — one fierce­ly opposed to the grow­ing influ­ence of big banks, cor­po­ra­tions and rail­roads — spread through­out much of the coun­try. The move­ment, shift­ing from the Grange towards region­al Farmer's Alliances that increas­ing­ly focused on rur­al eco­nom­ics, cul­mi­nat­ed in the estab­lish­ment of the People's Par­ty (com­mon­ly known as the Pop­ulists) on July 4, 1892.
The People's Par­ty plat­form, passed at the found­ing con­ven­tion in Oma­ha, put it this way:
The news­pa­pers are large­ly sub­si­dized or muz­zled, pub­lic opin­ion silenced, busi­ness pros­trat­ed, homes cov­ered with mort­gages, labor impov­er­ished, and the land con­cen­trat­ing in the hands of cap­i­tal­ists. … The fruits of the toil of mil­lions are bold­ly stolen to build up colos­sal for­tunes for a few, unprece­dent­ed in the his­to­ry of mankind; and the pos­ses­sors of these, in turn despise the Repub­lic and endan­ger lib­er­ty. From the same pro­lif­ic womb of gov­ern­men­tal injus­tice we breed the two great class­es — tramps and millionaires.
That con­ven­tion nom­i­nat­ed James B. Weaver, an Iowa con­gress­man (and my great-great grand­fa­ther), to be the Pop­ulists' can­di­date for pres­i­dent. Weaver ran against Grover Cleve­land who was run­ning for his sec­ond (albeit non-con­sec­u­tive) term and Pres­i­dent Ben­jamin Har­ri­son. Weaver man­aged to win 5 states (Kansas, Col­orado, Neva­da, Ida­ho and North Dako­ta) and 22 elec­toral votes — the most elec­toral votes won by a third par­ty since the Civ­il War. That impres­sive show­ing spoke to how Pop­ulist rhetoric res­onat­ed with vot­ers at the time, includ­ing many black farm­ers in the South who sup­port­ed the Pop­ulists' oppo­si­tion to the doc­trine of white suprema­cy cham­pi­oned by the Demo­c­ra­t­ic Party.
That same year, 1892, Weaver pub­lished A Call To Action to high­light ​"some of the more seri­ous evils which now dis­turb the repose of Amer­i­can soci­ety and threat­en the over­throw of free insti­tu­tions." In a sweep­ing philo­soph­i­cal cri­tique, Weaver laments the fact that the banks, cat­tle barons and rail­road monop­o­lies had infil­trat­ed all three branch­es of gov­ern­ment. In an effort to ​"point out the exact peri­od when the mod­ern world became inoc­u­lat­ed with the virus which is now threat­en­ing the destruc­tion of free gov­ern­ment," Weaver com­pares politi­cians' sup­port of monop­o­lies to the ​"law­less, degen­er­ate and maraud­ing" ambi­tion of 16th cen­tu­ry pirates. In that chap­ter, enti­tled ​"Evo­lu­tion in Crime," he writes:
The cor­po­ra­tion and the wealth which it brings have become the chief con­cern of soci­ety and the State. … Wealth, already pos­sess­ing great advan­tages, is not sat­is­fied, and incor­po­rates in order that it may have still greater pow­er. The poor must defend them­selves as best they can, sin­gle-hand­ed and alone.
Refer­ring to the finan­cial arrange­ments between gov­ern­ment and big busi­ness as ​"mon­strous com­bi­na­tions," Weaver continues:
They exist in every State in the Union, by thou­sands. They con­trol the busi­ness of every city, thrust their paid lob­by­ists with­in the cor­ri­dors and onto the floor of every leg­isla­tive assem­bly, and impor­tune every city coun­cil for exemp­tions, con­ces­sion and privilege.
If there is an after­life (which Weaver, a man of faith, strong­ly believed there was), I can only hope news of the 2008 bank bailouts, unliv­able wages and the $5 bil­lion dol­lar price tag of our upcom­ing pres­i­den­tial elec­tion has yet to reach it. But I digress.
The Grange as a Polit­i­cal Force
Much of what the Grange accom­plished in its hey­day is still vis­i­ble in rur­al Amer­i­ca today. In 1896, for exam­ple, after years of dogged per­sis­tence, the Grange con­vinced the Unit­ed States Postal Ser­vice to deliv­er mail to rur­al fam­i­lies. The inclu­sive nature of the orga­ni­za­tion in regard to women was also well ahead of its time. Car­o­line Hall, Grange founder Oliv­er Kelley's niece, is said to have told him, ​"Your orga­ni­za­tion will nev­er be per­ma­nent if you leave the women out!" Kel­ley agreed and the Patrons of Hus­bandry became the first fra­ter­nal order to allow women as full-fledged members.
Polit­i­cal­ly, the Grange hit its stride around the turn of the cen­tu­ry. A series of laws, now called the Granger Laws, were imple­ment­ed in numer­ous Mid­west­ern states. In all cas­es, though vary­ing in their sever­i­ty, the laws were attempts by the Grange to lim­it the rates rail­roads could charge. After its 1875 peak, nation­al mem­ber­ship declined sharply but, despite wan­ing mem­ber­ship in the ever-chang­ing rur­al land­scape, the order has endured. And today, on the nation­al lev­el, the Grange is still lob­by­ing for or against numer­ous rur­al caus­es in Wash­ing­ton. Rur­al health­care, water issues and attempts to dereg­u­late the Inter­net — a dig­i­tal rail­road of sorts — are some of the issues of the day.
"We've been advo­cat­ing for a num­ber of years on the avail­abil­i­ty, access and afford­abil­i­ty of broad­band in rur­al Amer­i­ca," says Lutrell, ​"We're con­cerned that monop­o­lis­tic reg­u­la­tions don't allow for inno­va­tion and expan­sion of broad­band for all Amer­i­cans in a time­ly fashion."
The Grange is mak­ing progress on the nation­al lev­el but it's not across the board. Depend­ing on where you look, some Grange Halls have closed and some are hang­ing on by an aging thread. Oth­ers, how­ev­er, are thriv­ing in response to a bur­geon­ing inter­est in sus­tain­able agriculture.
The Rebirth of Mary's Riv­er Grange
In 2009, Mary's Riv­er Grange in Ore­gon was on the brink of shut­ter­ing its 80-year old hall. Its sur­vival is a local suc­cess story.
"The hall was going to fold," says Sex­ton, ​"it had a few old­er mem­bers but just wasn't gain­ing enough new interest."
That changed when one of the youngest mem­bers at the time, John Eve­land — an organ­ic farmer in his fifties and own­er of a suc­cess­ful farm on Grange Hall Road — took it upon him­self to save the fledg­ling chapter.
"He went out and beat the bush­es — asked all of his friends to join the Grange," says Sex­ton, who wasn't yet a mem­ber. ​"He fig­ured: how could you live on a Grange Hall Road with­out a Grange Hall?"
Eve­land and his wife run Gath­er­ing Togeth­er Farm. Their oper­a­tion includes a farm­stead, a CSA (com­mu­ni­ty sup­port­ed agri­cul­ture), a restau­rant and cater­ing busi­ness, as well as numer­ous stands at farmer's mar­kets through­out the state.
"I knew that if it fold­ed, it would revert back to the state Grange and get sold or torn down and the whole thing would go away," says Eve­land, ​"At the very least, I saw it is a com­mu­ni­ty resource — a place for com­mu­ni­ty events."
The found­ing prin­ci­ples of the Grange, Eve­land says, always res­onat­ed with him. When it became clear old mem­bers had giv­en up hope, he start­ed round­ing up new ones. In response to his efforts, 15 new mem­bers joined Mary's Riv­er Grange. Oth­ers joined in the fol­low­ing months, includ­ing Sex­ton — a num­ber of them were young peo­ple new to farm­ing. But not all Mary's Riv­er Grange mem­bers are active farmers.
"About half of our mem­bers are employed in spe­cial­ty seeds or organ­ic farm­ing. The oth­er half is inter­est­ed in local, healthy, sus­tain­able food," says Sexton.
Last year, the Ben­ton Coun­ty Com­mu­ni­ty Rights Coali­tion (the coun­ty which includes Philo­math) sub­mit­ted for a pub­lic vote an ordi­nance to ban the open plant­i­ng of genet­i­cal­ly mod­i­fied crops with­in the coun­ty. Mea­sure 2 – 89, oth­er­wise known as The Ben­ton Coun­ty Local Food Sys­tem Ordi­nance, was an attempt to chal­lenge ear­li­er Ore­gon state leg­is­la­tion that for­bid com­mu­ni­ties from enact­ing such bans.
Oppo­nents of the bill saw it as a threat to their right to plant what­ev­er they want. Organ­ic farm­ers and com­mu­ni­ty mem­bers who sup­port­ed the mea­sure, how­ev­er, main­tained it was a chance to pro­tect their local food sup­ply from biotech patent hold­ers dri­ven by a com­pli­cat­ed com­bi­na­tion of prof­it, prof­it and prof­it. After dis­cussing the issue, Mary's Riv­er decid­ed to throw its sup­port behind the measure.
"A lot of our mem­bers are con­cerned about GMO con­t­a­m­i­na­tion in the field in which they work — spe­cial­ty seeds or organ­ic farm­ing," says Sex­ton. ​"But we also had a state label­ing law last Novem­ber that, despite the oppo­si­tion being heav­i­ly fund­ed by big agri­cul­ture, like Mon­san­to, was only nar­row­ly defeat­ed. Many of us think it's impor­tant to take a stand against that kind of influence."
Spend­ing mil­lions of dol­lars to influ­ence leg­is­la­tion on the nation­al lev­el, agri­cul­tur­al or oth­er­wise, is old news. But sup­port­ers of the ban were dis­ap­point­ed. On May 19, Ben­ton Coun­ty vot­ers failed to endorse the ban 27 to 72 percent.
"I vot­ed for it," says Eve­land, ​"but it was a flawed bill that tried to take on too much. I do think patent­ing plant char­ac­ter­is­tics is a lousy idea. Per­son­al­ly, I think most of this GMO thing is real­ly about Roundup — rework­ing plants so you can spray more pes­ti­cides on them with­out them dying."
In stark con­trast to Mary's Riv­er Grange sup­port of the Ben­ton Coun­ty Com­mu­ni­ty Rights Coalition's attempt to ban the open plant­i­ng of genet­i­cal­ly mod­i­fied crops, the Nation­al Grange recent­ly laud­ed the Supreme Court's deci­sion to side with Mon­san­to when the com­pa­ny sued an Indi­ana soy­bean farmer for vio­lat­ing one of their patents.
In May 2014, the court in Bow­man v. Mon­san­to—one of numer­ous cas­es involv­ing patents held by the cor­po­rate giant's agro­chem­i­cal and biotech­nol­o­gy divi­sions — ruled that Ver­non Bowman's repeat­ed use of the ​"self-repli­cat­ing prop­er­ties of their genet­i­cal­ly mod­i­fied soy­beans did not excuse him from pay­ing for new seeds every year."
The Nation­al Grange's sup­port of the Supreme Court rul­ing embod­ies the grow­ing ten­sion between the nation­al orga­ni­za­tion and some of its local char­ters, but it's far from the most con­tentious example.
Revolt of the Cal­i­for­nia State Grange
The four-tiered struc­ture of the Grange — local, coun­ty (also called the Pomona Grange), state and nation­al — is such that there are no top-down imple­men­ta­tions of pol­i­cy. Auton­o­my con­sti­tutes the charm, if not the very spine, of the Grange phi­los­o­phy. But dis­sen­sion in the ranks does not go unno­ticed. Nowhere has the clash between new blood and the old guard been more con­tentious than the Gold­en State.
In the late 1990s, young farm­ers in Cal­i­for­nia began tak­ing an inter­est in their local Granges. Chap­ters in com­mu­ni­ties like Aro­mas, Gar­den Val­ley, Sebastapol and Willits, which were pre­vi­ous­ly stag­nant or dying-off, began attract­ing new mem­bers; mark­ing the begin­ning of a grass­roots renais­sance in the Cal­i­for­nia State Grange.
"Mean­while the Nation­al Grange remained stag­nant," says Takashi Yogi, who in 1998 joined the San­ta Cruz Live Oak Grange. ​"There was a brief peri­od of progress under Nation­al pres­i­dent Ker­mit Richard­son, who insti­tut­ed an Action Grange pro­gram to pro­mote change. But Cal­i­for­nia and Nation­al were mov­ing in oppo­site cours­es, ulti­mate­ly head­ed for collision."
In 2009, Cal­i­for­nia grangers elect­ed Bob McFar­land as their State Pres­i­dent. Under his lead­er­ship, numer­ous res­o­lu­tions sup­port­ing organ­ic farm­ing and oppos­ing GMOs were passed. In 2010, a surge in new mem­bers reversed the trend in declin­ing state mem­ber­ship for the first time in 30 years. Per­haps more telling­ly, the aver­age age of the Cal­i­for­nia granger dropped from 65 (in 2008) to 45.
"We've seen a com­plete resur­gence in inter­est in the grange from young peo­ple and organ­ic farm­ers — peo­ple farm­ing five acres or less, sell­ing their food at local mar­kets," says McFar­land. ​"And the bulk of these new mem­bers are young farm­ers that are the sons and daugh­ters of those farm­ers who used to have the fam­i­ly farm back in the ​'50s and ​'60s that got sold to cor­po­ra­tions. They haven't had any­where to prac­tice the craft that's in their blood. By rein­vent­ing the grange and reach­ing out to these folks we were able to grow."
In 2011, how­ev­er, despite wide­spread sup­port for McFar­land by a major­i­ty of Cal­i­for­nia Grangers, the rela­tion­ship between McFar­land and Nation­al Pres­i­dent Ed Lutrell began to unrav­el. More accu­rate­ly (in the usu­al­ly qui­et Grange uni­verse) all hell broke loose.
"I'm either the worst out­law that ever lived or there's some­thing wrong here," says McFar­land, refer­ring to the series of charges Lutrell and the Nation­al Grange has brought against him and the Cal­i­for­nia State Grange in recent years. It's a com­pli­cat­ed sto­ry (one that war­rants, if not a book, its own arti­cle) but here are the cliff notes: In 2011, a small group of Cal­i­for­nia Grangers, dis­sat­is­fied with the direc­tion McFar­land was head­ed, and cit­ing vio­la­tions of the Order's bylaws, took their griev­ances to Lutrell. At his request, an Exec­u­tive Com­mit­tee (EC), con­sist­ing of Cal­i­for­nia Grangers was formed to look into the mat­ter. In Jan­u­ary of 2012, the EC sent its find­ings back to Lutrell. Their con­clu­sion: ​"No Grange vio­la­tions indi­cat­ed." Lutrell saw things dif­fer­ent­ly, how­ev­er, and sus­pend­ed McFar­land for June and July of 2012. But when he returned to office, so did the efforts to remove him. In August, McFar­land received a prewrit­ten let­ter of res­ig­na­tion from the Nation­al Grange. Believ­ing that the accu­sa­tions were, at best, triv­ial, McFar­land refused to sign it. (For a detailed account click here.)
In April of 2013, Lutrell revoked the state's 145 year-old char­ter — effec­tive­ly sev­er­ing about 10,000 mem­bers in 206 chap­ters — one tenth of the total Granges — from par­tic­i­pat­ing and vot­ing in the larg­er organization.
"When you get into why the char­ter of the Cal­i­for­nia State Grange was sus­pend­ed, then revoked," says Lutrell, ​"it was because they chose not to fol­low the rules of the orga­ni­za­tion. And an orga­ni­za­tion that has no rules has no struc­ture and no future. They refused to fol­low the rules: will­ing, know­ing­ly, etc."
In response, in the fall of 2013, McFar­land gath­ered state del­e­gates to dis­cuss the Cal­i­for­nia State Grange's options.
"I asked: ​'What do you want to do folks?' " says McFar­land, ​"Our nation­al char­ter has been revoked. Do you want to con­tin­ue work­ing togeth­er as the Granges of Cal­i­for­nia or do you want to fold up our tents and go home."
Those del­e­gates unan­i­mous­ly vot­ed to keep work­ing togeth­er as the Cal­i­for­nia Granges. Mean­while, 95 per­cent of mem­bers in 185 of the state's 206 Granges — span­ning from the far south to the Ore­gon bor­der — vot­ed to reelect McFar­land to his third term..
Numer­ous law­suits are now pend­ing in state and fed­er­al court. One case, deal­ing pri­mar­i­ly with prop­er­ty and assets, is slat­ed for review in the Cal­i­for­nia Supe­ri­or Court this week. Since the Cal­i­for­nia char­ter was revoked in 2013, Lutrell has demand­ed that the Cal­i­for­nia State Grange turn over its build­ings, prop­er­ty, bank accounts and, nat­u­ral­ly, that the state's elect­ed offi­cers stop working.
"They are claim­ing that we have no author­i­ty," says Lutrell, ​"that our abil­i­ty to char­ter them is mean­ing­less. But all assets of the Grange are required— under Amer­i­can law, Cal­i­for­nia law and Grange law — to stay with­in the orga­ni­za­tion. They've refused to acknowl­edge that. So the Nation­al Grange is mere­ly ask­ing that those assets get turned over to those who are duly autho­rized to man­age them."
This is not how McFar­land sees it. ​"They like to spin this that we vol­un­tar­i­ly mutinied and dis­af­fil­i­at­ed with the Nation­al Grange, but we absolute­ly did not," he says. ​"I don't know how you dis­af­fil­i­ate with an orga­ni­za­tion you've been kicked out of."
There's anoth­er law­suit in fed­er­al court per­tain­ing to trade­marks. The Nation­al Grange has instruct­ed the Cal­i­for­nia State Grange to stop using not just the nation­al logo but even the word ​"Grange."
"We are not using the nation­al logo. We have our own so that's not a prob­lem," says McFar­land, ​"but we've been using the name Grange since 1870 and we're not going to give that up so readily."
Addi­tion­al lit­i­ga­tion is also pend­ing between the Cal­i­for­nia State Grange and the recent­ly rein­stat­ed Granges of Cal­i­for­nia Patrons of Hus­bandry—a group of 24 granges that demon­strat­ed a will­ing­ness to coop­er­ate with the Nation­al Grange and that Lutrell selec­tive­ly rein­stat­ed last July.
Amid the hail of law­suits, the pres­i­dents of the Cal­i­for­nia State Grange and Nation­al — McFar­land and Lutrell respec­tive­ly — acknowl­edge how unfor­tu­nate the ongo­ing divi­sion is. Indeed, like an acri­mo­nious divorce, the only peo­ple win­ning, at the moment, are lawyers. But the stakes for the 148 year old insti­tu­tion are high. While broad con­sen­sus can be found regard­ing what the Grange once was, dif­fer­ing ide­olo­gies now com­pete for what it will be.
Back to the Grange
On one hand you have an estab­lished order that, while quick to con­jure its Pop­ulist ori­gins, appears threat­ened by the kind of grass­roots change it once cham­pi­oned. On the oth­er, a con­tin­gent of rogue Grangers — pro­gres­sives decid­ed­ly less inter­est­ed in nos­tal­gia than their nation­al coun­ter­part — attempt­ing to breathe new life into an aging sys­tem that doesn't seem to want the CPR.
Sev­er­ine Von Tscharn­er Flem­ing is a farmer, activist, orga­niz­er and founder of Green­horns — an orga­ni­za­tion with the mis­sion to ​"recruit, pro­mote and sup­port the ris­ing gen­er­a­tion of new farm­ers in Amer­i­ca." Last year, the group launched Grange Future, a project that com­piles the his­to­ry of the Grange while envi­sion­ing its poten­tial use­ful­ness for the next generation.
"There's a con­tes­ta­tion around what the Grange will be," says Von Tscharn­er Flem­ing. ​"Right now, the Grange present is cap­tured by a pret­ty cor­po­rate voice. The orig­i­nal Pop­ulist voice of the Grange is not present on the nation­al lev­el. We called our project Grange Future because we're claim­ing an inter­pre­ta­tion. We're say­ing: the future's a long time and we're going to be here and we can use these build­ings and this infrastructure."
If history's any kind of barom­e­ter, the ques­tion of what path the Grange will take will be answered on the local lev­el. The strength of the orga­ni­za­tion has always rest­ed on the decen­tral­ized nature of its local chap­ters find­ing com­mon ground. When unit­ed that strength becomes a force. Per­haps like progress at large, time is work­ing both for and against the Grange.
"What we see on the ground," says Von Tscharn­er Flem­ing, ​"is an inter­gen­er­a­tional col­lab­o­ra­tion to keep the Grange going. But if you look at who are the stew­ards and guardians of these insti­tu­tions, it's often peo­ple in their sev­en­ties and eighties."
Com­mit­ment to the orga­ni­za­tion, for many, is a life­long under­tak­ing. And with­out those who stuck by their Grange as Amer­i­can agri­cul­ture evolved in the 20th cen­tu­ry, today's debate might not even include the Grange con­cept. But age isn't always aligned with its con­ven­tion­al wis­dom. The Grange has broad appeal. Lan­ny Cotler — a Viet­nam vet who, on the 4th of July, will turn 74 — joined Lit­tle Lake Grange #605 in Willits, Cal­i­for­nia, 12 years ago. Here's what he has to say about the Cal­i­for­nia Grange war:
The entrenched pow­ers fear that if the Cal­i­for­nia Grange vision infects the oth­er states, they will no longer be able to main­tain pow­er and con­trol. They won't be able to lead, because they lack the exper­tise and the pro­gres­sive pop­ulism that the new rel­e­van­cy demands. They are experts of the old time — cook­ie sales and even good com­mu­ni­ty ser­vice work. But they don't have the abil­i­ty or even the inter­est to attract back-to-the-land Grangers, espe­cial­ly young peo­ple. Young peo­ple don't want to join an orga­ni­za­tion that is run by a Good Ol' Boy Network.
Renewed inter­est in local agri­cul­ture is what the Grange needs to reverse a decades-long decline in mem­ber­ship, but young farm­ers who grav­i­tate toward the organization's pre­ex­ist­ing (ancient by the stan­dards of Mil­len­ni­al farm­ers) insti­tu­tions are bring­ing a dif­fer­ent polit­i­cal point of view to the field, even if all they real­ly want to do is grow (and eat) a bet­ter kind of food.
"This whole move towards local­iza­tion and organ­ic farm­ing — the cam­paign to have GMOs labeled — has been big on our radar," says McFar­land. ​"We are anti-pes­ti­cide, anti-frack­ing but we are for food sov­er­eign­ty. The Nation­al Grange is dynam­i­cal­ly opposed to all of those. They are pro-GMO, pro-pes­ti­cides, pro-big farm­ing as opposed to small and local farms. Polit­i­cal­ly there is a dynam­ic difference."
It is a dif­fer­ence that Lutrell plays down. ​"In the grange, one of things you need to under­stand is that dis­agree­ments and dis­cus­sion and dif­fer­ences of opin­ion are to be encour­aged, not dis­cour­aged," he says. ​"The one thing that frus­trates me is the intol­er­ance I see in many seg­ments of our soci­ety — that if you don't agree with us you're against us. But in the Grange we believe that the bonds of the fra­ter­ni­ty bring us all together."
Von Tscharn­er Flem­ing, who hopes the revival of the Grange goes hand in hand with a new kind of agri­cul­ture, also sees the impor­tance of unity.
"As young farm­ers, we're not real­ly inter­est­ed in get­ting involved in a lot of pol­i­tick­ing," says Von Tscharn­er Flem­ing. ​"For those of us who want to build a new sys­tem, we see the future of the Grange as pro­vid­ing the core facil­i­ties to do that with­in the old sys­tem. And we think we can do it while using the lin­eage, lega­cy and exam­ple of this pow­er­ful institution."
(Sign up for the Rur­al Amer­i­ca In These Times newslet­ter at the top of this page to be noti­fied of our ongo­ing cov­er­age of the Grange movement.)