Wendell Berry Defends Rural America Against an Attack by New York Review of Books Writer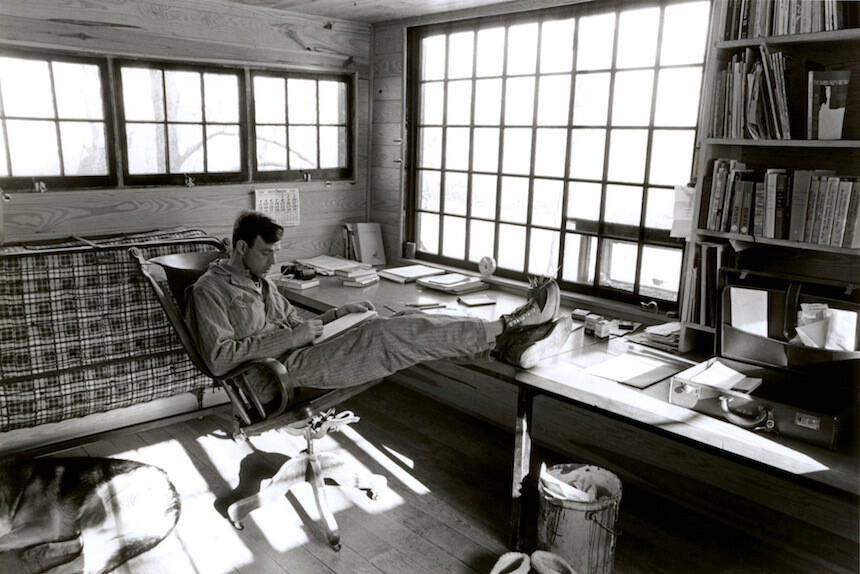 In the fol­low­ing let­ter to the edi­tor, Wen­dell Berry — the 82-year-old Ken­tucky farmer, nov­el­ist, poet, human­i­tar­i­an, envi­ron­men­tal­ist and all around agrar­i­an icon — responds to a New York Review of Books essay that, in his view, exem­pli­fies what big city lib­er­als con­tin­ue to get wrong about rur­al peo­ple, cul­ture, pol­i­tics and the economy.
The sto­ry that prompt­ed Berry's well-man­nered but caus­tic response was writ­ten by Nathaniel Rich, the 35-year-old son of for­mer New York Times colum­nist Frank Rich, and orig­i­nal­ly pub­lished as the fore­word to a new book by Joan Did­ion titled South and West—a col­lec­tion of notes, inter­views and obser­va­tions span­ning the leg­endary 83-year-old writer's ear­ly trav­els and career.
Not con­cerned with the book itself, Berry's cri­tique takes issue with Rich's par­rot­ing of the now ubiq­ui­tous main­stream nar­ra­tive: That the elec­tion of Don­ald Trump was pri­mar­i­ly the result of a nos­tal­gic, racist and sex­ist sub­cul­ture that resides in a still-reel­ing-from-the-Civ­il-War, social­ly-back­ward and mono­chro­mat­ic ​"rur­al America."
This mis­guid­ed con­ven­tion­al wis­dom, Berry argues, con­ve­nient­ly ignores the decades of destruc­tive eco­nom­ic forces rur­al com­mu­ni­ties have endured since the Eisen­how­er admin­is­tra­tion — a crony-cap­i­tal­ist-facil­i­tat­ed ​"plun­der­ing" of every­thing not tied down — and the absence of any effec­tive polit­i­cal response from Democ­rats in Washington.
Sym­pa­thet­ic pan­der­ing? Yes. Results? Not so much.
Agree­ing on one thing, Berry writes, ​"It is true that racism, sex­ism and nos­tal­gia have count­ed sig­nif­i­cant­ly in the his­to­ry of rur­al Amer­i­ca until this moment. But to attribute the approx­i­mate vic­to­ry of Mr. Trump only to those ​'south­ern' faults, and to locate them only in rur­al Amer­i­ca, is a driblet of self-right­eous ignorance."
Here's Berry's full response, includ­ing links to Nathaniel Rich's reply and the fore­word that kicked off the exchange:
To the Editors:

Since the 2016 elec­tion, urban lib­er­als and Democ­rats have new­ly dis­cov­ered ​"rur­al Amer­i­ca," which is to say our coun­try itself beyond the cities and the sub­urbs and a few scenic vaca­tion spots. To its new dis­cov­er­ers, this is an unknown land inhab­it­ed by ​"white blue-col­lar work­ers" whom the dis­cov­er­ers fear but know noth­ing about. And so they are turn­ing to experts, who actu­al­ly have vis­it­ed rur­al Amer­i­ca or who pre­vi­ous­ly have heard of it, to lift the mys­tery from it.

One such expert is Nathaniel Rich, whose essay ​"Joan Did­ion in the Deep South" offers an expla­na­tion sur­pass­ing­ly sim­ple: over ​"the last four decades," while the enlight­ened cit­i­zens of ​"Amer­i­can cities with inter­na­tion­al air­ports" have thought things were get­ting bet­ter, the ​"south­ern frame of mind" has been ​"expand­ing across the Mason-Dixon line into the rest of rur­al Amer­i­ca." As Mr. Rich trusts his read­ers to agree, the ​"south­ern frame of mind" is racist, sex­ist, and nos­tal­gic for the time when ​"the men con­cen­trat­ed on hunt­ing and fish­ing and the women on ​'their cook­ing, their can­ning, their ​'pret­ti­fy­ing.'…"

This is provin­cial, unin­formed, and irre­spon­si­ble. Mr. Rich, who dis­dains all prej­u­dices except those that are prop­er and just, sup­plies no expe­ri­ence or obser­va­tion of his own and no fac­tu­al and sta­tis­ti­cal proofs. He rests his judg­ment sole­ly upon the tes­ti­mo­ny of Joan Did­ion in her notes from a tour of ​"the Gulf South for a month in the sum­mer of 1970." Those notes con­tain por­traits of south­ern­ers whom ​"read­ers today will rec­og­nize, with some dis­may and even hor­ror" because (as Mr. Rich seems vague­ly to mean) south­ern­ers have not changed at all since 1970. The Did­ion tes­ti­mo­ny alone is entire­ly suf­fi­cient because she ​"saw her era more clear­ly than any­one else" and there­fore ​"she was able to see the future."

What is remark­able about Mr. Rich's essay is that he attrib­ut­es the south­erniza­tion of rur­al Amer­i­ca, and the con­se­quent elec­tion of Mr. Trump, entire­ly to nos­tal­gia ​"for a more order­ly past," with­out so much as a glance at the eco­nom­ic his­to­ry of our actu­al coun­try. The lib­er­als and Democ­rats of our enlight­ened cities, as Mr. Rich right­ly says, have paid lit­tle or no atten­tion to rur­al Amer­i­ca ​"for more than half a cen­tu­ry." But it has received plen­ty of atten­tion from the con­ser­v­a­tives and Repub­li­cans and their client cor­po­ra­tions. Rur­al Amer­i­ca is a colony, and its econ­o­my is a colo­nial economy.

The busi­ness of Amer­i­ca has been large­ly and with­out apol­o­gy the plun­der­ing of rur­al Amer­i­ca, from which every­thing of val­ue — min­er­als, tim­ber, farm ani­mals, farm crops, and ​"labor" — has been tak­en at the low­est pos­si­ble price. As appar­ent­ly none of the enlight­ened ones has seen in fly­ing over or bypass­ing on the inter­state high­ways, its too-large fields are tox­ic and erod­ing, its streams and rivers poi­soned, its forests man­gled, its towns dying or dead along with their local­ly owned small busi­ness­es, its chil­dren leav­ing after high school and not com­ing back. Too many of the chil­dren are not work­ing at any­thing, too many are trans­fixed by the var­i­ous screens, too many are on drugs, too many are dying.

In a New York Times Op-Ed, A. Hope Jahren writes: ​"Farm pol­i­cy hasn't come up even once dur­ing a pres­i­den­tial debate for the past 16 years." But the prob­lem goes back much far­ther than that. It goes back at least to Eisenhower's sec­re­tary of agri­cul­ture, Ezra Taft Ben­son, who instruct­ed Amer­i­can farm­ers to ​"get big or get out." In effect that set the ​"farm pol­i­cy" until now, and thus sealed the fate of the decent, small, inde­pen­dent liveli­hoods of rur­al Amer­i­ca. To that bru­tal­ly stat­ed eco­nom­ic deter­min­ism I know that Pres­i­dent Clin­ton gave his assent, call­ing it ​"inevitable," and so appar­ent­ly did Mrs. Clin­ton. The rur­al small own­ers sen­tenced to dis­pens­abil­i­ty in the 1950s are the grand­par­ents of the ​"blue-col­lar work­ers" of rur­al Amer­i­ca who now feel them­selves to be under the same sen­tence, and with reason.

It is true that racism, sex­ism, and nos­tal­gia have count­ed sig­nif­i­cant­ly in the his­to­ry of rur­al Amer­i­ca until this moment. But to attribute the approx­i­mate vic­to­ry of Mr. Trump only to those ​"south­ern" faults, and to locate them only in rur­al Amer­i­ca, is a driblet of self-right­eous ignorance.

Wen­dell Berry
Port Roy­al, Kentucky
In Rich's defense, the Unit­ed States has an unde­ni­ably racist ori­gin sto­ry, one that con­tin­ues to explain a lot about how we inter­act with each oth­er. But if only to pre­vent it from ever hap­pen­ing again, both writ­ers would prob­a­bly agree it's impor­tant for our his­tor­i­cal record to accu­rate­ly diag­nose Don­ald Trump's ascen­sion. This requires acknowl­edg­ing that, unlike Bernie Sanders, Hillary Clin­ton failed to make a com­pelling eco­nom­ic case to mil­lions of Amer­i­cans who are find­ing it hard­er and hard­er to get by. Lies or not, Trump did.
Iden­ti­ty pol­i­tics aren't going away. We're grap­pling with a kar­ma-guid­ed hatch­et that's nowhere close to being buried. Unfor­tu­nate­ly, ignor­ing the pain asso­ci­at­ed with that real­i­ty lends itself per­fect­ly to the pres­i­den­t's (seri­ous­ly stu­pid) #MakeAm­er­ica­GreatA­gain hash­tag. That said, blam­ing rur­al Amer­i­cans for tem­porar­i­ly swoon­ing over the off-the-cuff bril­liance that was ​"Drain the Swamp" — essen­tial­ly a promise to a seri­al­ly ignored seg­ment of the pop­u­la­tion that, this time for realsies, things will change — is not pro­duc­tive or pro­gres­sive. We are, after all, deal­ing with a polit­i­cal estab­lish­ment that has for decades been los­ing sight of what ​"We the Peo­ple" means.
And none of this changes how fast Trump-the-candidate's ​"Amer­i­ca First" rhetoric mag­i­cal­ly (freak­ing seam­less­ly) mor­phed into more for­eign inter­ven­tions, a cab­i­net stacked with ​"states­men" cour­tesy of Gold­man Sachs and a tor­rent of pol­i­cy pro­pos­als that clear­ly favor the rich. On sec­ond thought, per­haps it's time for all Amer­i­cans — the dis­ap­point­ed, the still-stoked and the ter­ri­fied — to start focus­ing not on how this hap­pened and who's to blame (the diag­no­sis) but on what comes next.
In oth­er words, what's the prognosis?
To read Nathaniel Rich's reply to Wen­dell Berry's let­ter, click here.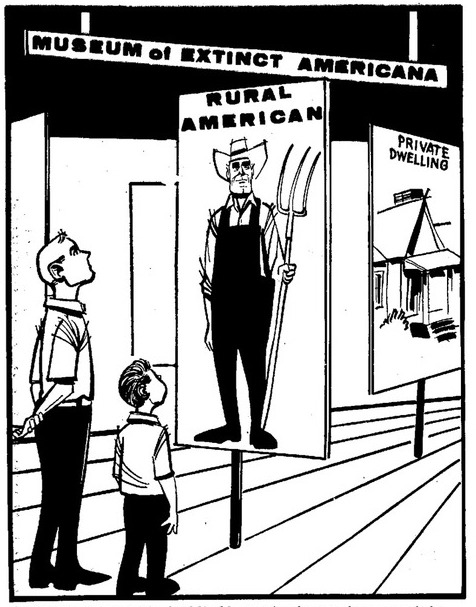 Jan­u­ary 3, 1968 — A futur­is­tic car­toon pub­lished in the Ari­zona Repub­lic. (Image: pale​o​fu​ture​.com)