An Inconvenient Woman
Arizona public defender Isabel Garcia speaks out against U.S.-Mexico border policy.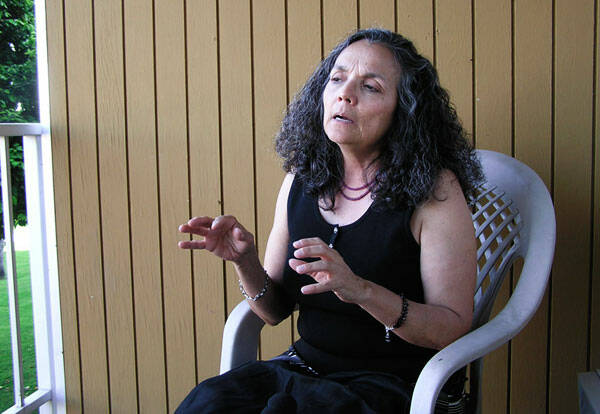 You could call Isabel Garcia an inconvenient woman. Inconvenient because she speaks her mind – like it or not. She has raised the ire of anti-immigrant groups and the Mexican government alike.
In 2006, after Garcia was recognized for her work as the Pima County, Ariz., public defender with a prestigious award from Mexico, she refused to accept it publicly so as not to provide a ​"photo op" for Mexican President Felipe Calderón. She had requested five minutes when she was to accept the award to talk about death, militarization and criminalization on the border and the complicity of his government, and how the Mexican elite had to do more to to foster economic justice.
But the government refused to let her speak, and the National Human Rights Award from the Comisión Nacional de los Derechos Humanos de Mexico was delivered to her quietly, later, in Tucson. It was the first time that the award was granted to someone who was not from Mexico.
She has also tangled with controversial Maricopa County (Ariz.) Sheriff Joe Arpaio, who is now under investigation by the U.S. Justice Department for civil rights violations. Arpaio has made it his mission to publicly humiliate undocumented immigrants – re-instituting chain gangs and setting up Tent City, an outdoor extension of the Maricopa County jail. Last year, during a protest in Tucson against Arpaio's book, America's Toughest Sheriff, protesters hit a likeness of the sheriff in the form of a piñata. The head fell off and Garcia, a petite woman, held it up. This set off a scandal. The sheriff called her action ​"violent," and his anti-immigrant supporters took to the radio airwaves demanding Garcia be fired.
But Garcia, who is also co-chair of the Coalici – n de Derechos Humanos, a grassroots immigrant rights organization in Tucson, stood her ground. She has been at the forefront of the fight for immigrant and refugee rights since 1976, and has experienced calls to revoke her law license and numerous death threats.
In These Times met with Garcia in Tucson, shortly before the Senate passed a bill that would fund the deployment of 1,600 officers and 400 canine units from the U.S. Customs and Border Protection to the U.S.-Mexico border.
Secretary of Homeland Security Janet Napolitano, the former governor of Arizona, said the agency is going to send more federal agents to the border because of the ​"spillover" of drug-related violence.
It's disappointing but not surprising. We had hoped that the Obama administration would look at the situation and at root causes and look for real solutions. Unfortunately, his selection of Janet Napolitano spelled bad news. To continue to fund enforcement, to continue to enrich military contractors, to continue to fuel the fear along the border is really irresponsible.
They act as if there's a crisis, but how many decades have we been fueling the alleged war against drugs? It's been decades now – and at the expense of the American and Mexican public, and now for the enrichment of a few.
It is the U.S. citizenry that is involved in the drug-running and arms-running and the profiteering off drugs – it is all done here. The consumption is all here.
There were great hopes when Obama won.
Unfortunately, for those of us who strongly supported Obama, we knew the reality. We knew that we, at the border, were still going to have an uphill fight because Obama has no clue. He doesn't know.
Napolitano may have been a moderate on other issues, but she certainly was not on immigration. She made her name on the backs of Mexican immigrants.
As governor, she signed the anti-smuggling statute that prosecutes immigrants for being their own smuggler. She signed a law equating people utilizing fictitious Social Security numbers – which has been done since the 1930s – to aggravated identity theft. She made it a crime to drive without an Arizona license and, therefore, they can take your car away. She is the one who has demanded tougher employer sanctions. Her language and rhetoric and her hype and fear are irresponsible.
On March 25, Sen. Joseph Lieberman (I‑Conn.) said he was going to ask Congress for $385 million more to hire an additional 1,600 border patrol agents. We think it's disastrous. We can only look at what we've done in Colombia. Look what we've done in Panama. Look what we've done in Granada. Look at now what we are doing in Mexico.
Mexican society does not want to be militarized and yet that's all we are giving Mexico. Are we giving Mexico any true aid? Are we even looking at the impact NAFTA has had on Mexico – especially in regard to agriculture – that has led to the displacement of so many workers flooding into our country? We say we don't want people coming in and, at the same time, for 17 years have been supporting an agreement that has been unilaterally beneficial for a few and disastrous for the Mexican workforce. Mexico has gone from being an exporter nation to an importer nation of its basic staples.
The United State has promoted border security while not at all explaining what border security measures look like. We can show you what it looks like: it's death, devastation, destruction of our environmental treasures here in Arizona, the destruction of the Tohono O'odham Nation and its ways and culture. We have massive racial profiling. We have Maricopa County Sheriff Joe Arpaio. We have local police collaborating with border patrol. Everybody is acting like the migra [border patrol].
The United States spends a huge amount protecting its borders. The government pays at least $11 million a month to a private Tennessee corporation: Correctional Corporation of America (CCA), which has become rich since the 9⁄11 attacks. It was a discredited Tennessee corporation with many lawsuits related to corruption, violence and other abuse. Then 9⁄11 occurred and now their stock is rising. They have made a killing here in Arizona.
The CCA is a private prison-building company. They incarcerate all the immigrants that are charged and convicted for the crime of ​"illegal entry." When we continue criminalizing everybody then, of course, we are going to grow that pool larger while enriching the stockholders of CCA, and enriching the Wackenhut Corporation, the private security firm that is contracted to transport them and physically deport immigrants.
When are we going to stop this? Migration is not a police problem. Migration is a worldwide social-economic phenomenon.
Do you see any hope in the Obama administration when it comes to immigration rights?
The Obama administration pulled back from nominating Thomas Saenz as assistant attorney general for civil rights. He is a respected civil rights lawyer and counsel to the mayor of Los Angeles and former top litigator in Los Angeles for the Mexican American Legal Defense and Educational Fund in Los Angeles.
I know we have to give Obama a chance. He hasn't been there long, but he has already been a disappointment.
The most important thing we can do is face up to the real work of politically educating our communities. When we have a Democrat in power, we have to fight hard for him or her not to collapse and converge to the right. We can't forget that it was President Clinton who militarized this border. We can't forget it was he who went along with NAFTA and the free-trade policies that have devastated our countries to the south. It's been Democratic and Republican administrations alike that continue to act unilaterally with no respect for the people south of the border.
But we might get a few things from Obama. He might push the Dream Act, which would allow undocumented immigrant students who have lived in the U.S. for more than five years and who meet other qualifications, greater access to higher education. They would be given temporary residency for a period of six years under the Dream Act.
At great personal risk, you have lobbied publicly for the rights of immigrants. What keeps you strong in this unending battle?
The people give me a lot of strength. When opponents were threatening to kill me and get me fired, I felt protected because so many people prayed for me. People suffer a lot and yet they give such inspiration. They are my heroes and we are wimps by comparison, including me. I could not live through what they've lived through.
Migration on the Mexican border has nothing to do with any of this terrorism. If we want to do away with terrorism, we better start addressing our world relationships. If we want real security, we had better start funding healthcare, education, jobs and infrastructure. That makes a secure people, not this police state that they have on top of us.
If we're going to spend all that money, they ought to use it to investigate deception on Wall Street and in Washington, D.C., instead of on the border where people from Oaxaca are coming to join their families or because they are starving.
It's an outrage. I continue to speak out because we have to. We just have to.
Rose Arrieta
was born and raised in Los Angeles. She has worked in print, broadcast and radio, both mainstream and community oriented — including being a former editor of the Bay Area's independent community bilingual biweekly El Tecolote. She currently lives in San Francisco, where she is a freelance journalist writing for a variety of outlets on social justice issues.