As Attacks on Unions Continue, Bringing Back the Strike May Be Our Only Hope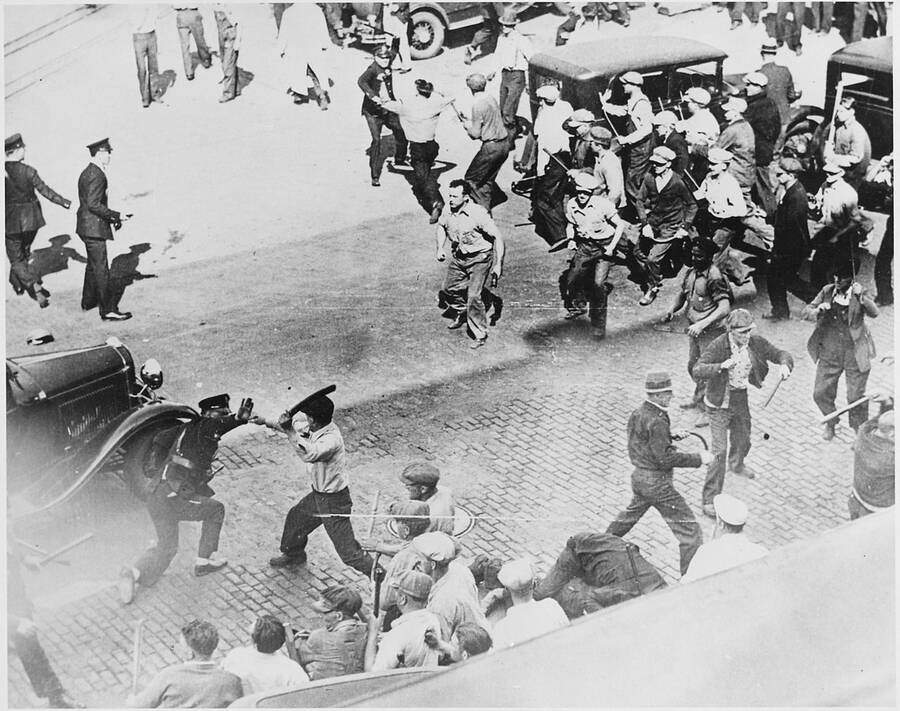 On Decem­ber 14, Chica­go Teach­ers Union Vice Pres­i­dent Jesse Sharkey announced the results of the union's strike autho­riza­tion vote. For the sec­ond time in three years, the union's mem­ber­ship vot­ed over­whelm­ing­ly to strike if nec­es­sary. ​"Our abil­i­ty to with­hold our labor is our pow­er," declared CTU Pres­i­dent Karen Lewis on the eve of voting.
That axiom, that strikes are where unions derive their pow­er, is pret­ty out of favor these days. A wave of dis­as­trous strikes and lock­outs begin­ning in the Rea­gan era that helped deu­nion­ize much of Amer­i­can indus­try has left the sur­viv­ing labor move­ment skit­tish about the prospect of full-scale walk-outs. But bright spots like Fight for 15, Bar­gain­ing for the Com­mon Good and the Chica­go teach­ers strike have shown that work­ers can win strikes (if one defines vic­to­ry as work­ers walk­ing away from the ordeal feel­ing more pow­er­ful). Labor activists and lead­ers, par­tic­u­lar­ly as they antic­i­pate a vicious­ly anti-union Supreme Court deci­sion in Friedrichs v. CTA, have to fig­ure out more strate­gies to revive the strike weapon in our cur­rent era.
How strikes became a ​"bad idea"
Iron­i­cal­ly, the seeds of labor's 1980s defeats were plant­ed dur­ing its best sea­sons for growth in the 1930s. Dur­ing the wave of sit-down strikes that grew union mem­ber­ship by leaps and bounds, Con­gress passed the Nation­al Labor Rela­tions Act in 1935. The pur­pose of the act was to estab­lish an order­ly process for cer­ti­fy­ing unions and com­pelling employ­ers to bar­gain in good faith with them. The plain lan­guage of the law also made it ille­gal to fire an employ­ee for union activity.
But in two of the ear­ly Supreme Court cas­es that estab­lished the con­sti­tu­tion­al­i­ty of this law, the court casu­al­ly cut into work­ers' rights to their jobs.
In a 1939 case called NLRB vs. Fansteel Met­al­lur­gi­cal, the court ruled that the NLRB can­not com­pel the rein­state­ment of a fired work­er who broke the law, even if his ille­gal activ­i­ty was part of an oth­er­wise pro­tect­ed union activ­i­ty like strik­ing. Sit-down strikes, the phys­i­cal occu­pa­tion of some­one else's prop­er­ty to pre­vent their busi­ness from oper­at­ing with­out you, was sim­ply not going to be a pro­tect­ed activ­i­ty under this new labor law régime.
In an ear­li­er case, 1938's NLRB v. Mack­ay Radio, the Supreme Court stripped work­ers of their unal­loyed right to return to their jobs after a strike. The Court held that not only was an employ­er allowed to replace strik­ing work­ers to keep a busi­ness going dur­ing a strike, but that they could keep the scabs on the job after the strike was over. The strik­ers would not be fired, per se, as an employ­er would have to make pro­vi­sion to recall for­mer strik­ers as vacan­cies occur.
The McK­ay germ lay dor­mant for over 40 years. There were thou­sands of strikes in the Unit­ed States all the way through the 1970s. And while plen­ty of boss­es hired plen­ty of scabs, those scabs were almost always let go after a strike. To take a worker's job away for stand­ing with her union was viewed as almost un-American.
Or at least it was, until no less of an Amer­i­can than the sit­ting Pres­i­dent, Ronald Regan, fired the strik­ing air traf­fic con­trollers in 1981, send­ing a strong sig­nal to indus­try: have at it..
McK­ay was weaponized by the Phelps-Dodge Cor­po­ra­tion in 1983. The cop­per min­ing com­pa­ny bar­gained its Steel­work­ers local to impasse over dras­tic cuts in pay, ben­e­fits and work­ing con­di­tions — essen­tial­ly dar­ing the union to strike. Exploit­ing the bad eco­nom­ic times, the com­pa­ny had no prob­lem import­ing a per­ma­nent replace­ment work­force, for whom even the reduced pay was far bet­ter than most jobs avail­able. After 12 very ugly months, the scabs vot­ed to legal­ly decer­ti­fy the union.
This Phelps-Dodge blue­print is how much of the deu­nion­iza­tion of Amer­i­can indus­try occurred in the Rea­gan-Bush (and Clin­ton) era. Unions that sur­vived fre­quent­ly did so by capit­u­lat­ing to management's give­back demands.
Telling­ly, the AFL-CIO's 1990s ver­sion of labor law reform was not for orga­niz­ing rights, like card check, but a bill to undo the McK­ay doc­trine and ban the per­ma­nent replace­ment of strik­ers. In 1994, the year that the Work­place Fair­ness Act effec­tive­ly died, there were 14 major strikes involv­ing over 108,000 work­ers. By 2012, there were only four, and they involved less than 15,000 workers.
And per­haps most telling of all: Unions' most recent attempt at labor law reform, the Employ­ee Free Choice Act, did not include any pro­vi­sion on strikes. We have aban­doned the strike weapon.
Well-planned strikes serve as inspiration
Not every union has aban­doned strikes. The last Chica­go teacher strike served as the strongest exam­ple in years for every­day work­ers of the pow­er of a well-planned work stoppage.
On paper, it made no sense that a teach­ers union could wage a suc­cess­ful strike in 2012. Teach­ers unions had suf­fered from years of well-fund­ed polit­i­cal attacks that cast them in the media as vil­lains who pri­or­i­tize ​"adults' inter­ests" over ​"stu­dents'." The city's pow­er bro­kers, May­or Rahm Emanuel in par­tic­u­lar, were cry­ing broke and exploit­ing civ­il rights rhetoric in their give-back demands. And there were thou­sands of teach­ers in char­ter schools and unem­ployed and recent­ly retired teach­ers in the Chica­go area who could have been recruit­ed as replace­ments if they viewed the Chica­go Teach­ers Union as strik­ing against the pub­lic interest.
Instead, the Chica­go pub­lic over­whelm­ing­ly viewed the CTU as strik­ing for the com­mon good. Part­ly, this was thanks to two years of deep and mean­ing­ful com­mu­ni­ty orga­niz­ing and part­ner­ships that the union dili­gent­ly pur­sued know­ing there would like­ly be a strike. And part­ly, this was thanks to the union bar­gain­ing for school resources demands that res­onat­ed beyond just their membership.
For the last real­ly big strike that got even non-union work­ers think­ing about their pow­er, you have to go all the way back to 1997. The Team­sters — who, like the CTU at the local lev­el, had elect­ed pro­gres­sive reform­ers to their nation­al lead­er­ship — also spent years prepar­ing for a planned strike against UPS. These sort of well-planned strikes are cru­cial for get­ting work­ers, those in unions and those with­out, to think about pow­er and the exer­cise of it.
In his book Only One Thing Can Save Us, labor lawyer Thomas Geoghe­gan express­es a pref­er­ence for one-day strikes, which he has seen used effec­tive­ly by the hotel employ­ees union. In such a strike, a union sig­nals its intent to return to work after 24 hours, allow­ing strik­ers to impact the employer's busi­ness but pro­tect­ing them from per­ma­nent replacement.
Joe Burns, also a labor lawyer, has writ­ten exten­sive­ly on labor's need to bring back the strike weapon. In his Reviv­ing the Strike, he scorns one-day ​"pub­lic­i­ty strikes" as no sub­sti­tute for ​"an effec­tive tra­di­tion­al strike," which he defines as one that aims to halt production.
Burns' con­tri­bu­tion gets us think­ing not just about the need to get more strikes going in this coun­try, but to real­ly think through how to define a ​"suc­cess­ful" strike. But his mantra-like focus on ​"halt­ing pro­duc­tion" is strange­ly lim­it­ing. As a result of union bust­ing and glob­al­iza­tion in man­u­fac­tur­ing, most of the new orga­niz­ing and strate­gic con­tract cam­paign action is in health­care, edu­ca­tion and the ser­vice indus­try. A Chica­go teacher would like­ly ran­kle at the thought of their strike ​"halt­ing pro­duc­tion." (What, after all, does their employ­er aim to pro­duce? One hopes it is cit­i­zens and schol­ars, but fears it is docile work­ers and future prisoners.)
My own union work so far has been in hotels, home health­care and edu­ca­tion. I have worked on only a small num­ber of work stop­pages, most of a lim­it­ed dura­tion. In my expe­ri­ence, employ­ers are work­ing from such an ossi­fied play­book that unions can get a lot of mileage out doing the last thing that the boss and his lawyers expect.
For exam­ple, hotel employ­ees can cost the com­pa­ny more mon­ey by not strik­ing on the day the com­pa­ny expects, thus cost­ing them the expense of pay­ing and lodg­ing scabs as well as the con­tin­ued pay­roll costs of the union mem­bers who stayed on the job an extra day.
I don't pre­scribe a per­fect form of strike. Amer­i­can work­ers will not learn to strike again from arti­cles like this or books like Burns' and Geoghegan's, which are real­ly more for labor nerds and book­ish orga­niz­ers — they will only learn to strike by watch­ing con­tem­po­rary exam­ples of work­ers strik­ing. Since it's hard to raise chick­ens with­out eggs, even one-day ​"pub­lic­i­ty strikes" have an edu­ca­tion­al value.
But many thou­sands times more work­ing peo­ple will be edu­cat­ed by the next Chica­go Teach­ers strike. The teach­ers will halt pro­duc­tion, but, per­verse­ly, that will save their employ­er mon­ey. Chica­go will con­tin­ue to col­lect tax­es and be freed of the bur­den of com­pen­sat­ing its teach­ers for a few weeks. (In fair­ness, Joe Burns expounds upon this unique aspect of pub­lic sec­tor strikes in his fol­low-up book, Strike Back.)
To be effec­tive, the CTU must take the stu­dents and par­ents who will be dis­rupt­ed and bring that dis­rup­tion to the doorsteps of Rahm Emanuel, Illi­nois Gov. Bruce Rauner and Chicago's unelect­ed school board. To win for the work­ing class, they must con­tin­ue to loud­ly pro­claim, as CTU Pres­i­dent Karen Lewis did, ​"Your pow­er is your abil­i­ty to with­hold your labor."
Pos­si­ble paths forward
Our chal­lenge is to inspire even non-union work­ers to think about their pow­er and how to exer­cise it using the tools we have on hand: a union move­ment with minis­cule den­si­ty in only a hand­ful of ser­vice and pub­lic sec­tor indus­tries large­ly led by staff who have pre­cious lit­tle per­son­al expe­ri­ence with lead­ing job actions. We should be clear about how deep this deficit is.
One of the most promis­ing labor projects of the moment is Bar­gain­ing for the Com­mon Good. This is an effort by pub­lic sec­tor unions in Wash­ing­ton, Ore­gon, Cal­i­for­nia, Min­neso­ta, Wis­con­sin, Illi­nois and Ohio to align their bar­gain­ing demands with each oth­er and with com­mu­ni­ty demands around pro­gres­sive tax­a­tion, afford­able hous­ing, youth incar­cer­a­tion and gov­ern­ment transparency.
These com­mu­ni­ty demands fall well out­side a union's scope of bar­gain­ing and are there­fore tech­ni­cal­ly ille­gal. But as long as the unions also have demands that are with­in their legal scope (not hard to do when employ­ers refuse to pay peo­ple what they deserve), then the unions can press the community's case. This is a bril­liant way of get­ting com­mu­ni­ty to see unions' fights as their own and of build­ing work­er and com­mu­ni­ty pow­er — and the next Chica­go teach­ers strike will like­ly be the high­est pro­file test of the the­o­ry this side of the Mississppi.
What fol­lows could be big­ger. A num­ber of pub­lic and pri­vate sec­tor unions in Min­neso­ta have con­tract expi­ra­tions in 2016. Their bar­gain­ing demands for the com­mon good are focused not just on their indi­vid­ual employ­ers but also on the largest employ­ers in the state: Tar­get and Wells Far­go. This is the poten­tial for the clos­est thing we've seen in a while to a gen­er­al strike (some­thing Min­neso­ta has a his­to­ry of doing).
Anoth­er promis­ing project is the Fight for 15. Some have dis­missed the series of rolling one-day strikes for increas­es in the min­i­mum wage and orga­niz­ing rights as mere P.R. stunts. But there is some­thing deeply rad­i­cal and sig­nif­i­cant at play here. Work­ers who don't even tech­ni­cal­ly have a union are prov­ing their val­ue — and their pow­er — to their boss­es by with­hold­ing their labor. And the response from the gen­er­al pub­lic is, at worst, a sort of patron­iz­ing ​"Well, good for them" but more often some­thing a bit clos­er to ​"Go get ​'em!"
Just two short years ago, it would have been incon­ceiv­able to most union strate­gists that the low­est paid and most vul­ner­a­ble work­ers would be will­ing to risk it all as these fast food work­ers have done. But, then, one is remind­ed of the old Dylan lyric: ​"When you got noth­ing, you got noth­ing to lose."
The great poten­tial of Fight for 15 is that unor­ga­nized work­ers see reflec­tions of them­selves in the strik­ers and begin to fan­ta­size about what a job action could look like at their work­place. This is the per­fect com­ple­ment to well-planned and exe­cut­ed strikes by estab­lished labor unions.
The labor wars of the 1980s and 1990s were won by boss­es who caught their unions by sur­prise. The unions that are still here are sur­vivors who have an oblig­a­tion, both to their con­tin­ued sur­vival and to the hope of inspir­ing a greater wave of orga­niz­ing, to mean­ing­ful­ly plan for job actions that can win in every round of bargaining.
Those who toil in alter­na­tive forms of work­er rep­re­sen­ta­tion — the work­ers cen­ters, advo­ca­cy groups and non-major­i­ty unions — should strate­gize and exper­i­ment in job actions that help their mem­bers and any­one watch­ing and draw­ing inspi­ra­tion feel a sense of their own pow­er and agency.
And the rest of labor, start­ing with the AFL-CIO, should send a strong sig­nal that strike plans are back by incor­po­rat­ing a ban on per­ma­nent replace­ments in the suc­ces­sor to the Employ­ee Free Choice Act and as part of a broad­er ​"right to your job" move­ment. For those pub­lic sec­tor unions who are most threat­ened by the pend­ing Friedrichs deci­sion, a wave of ​"free speech" strikes to both cel­e­brate and protest the dubi­ous new rights that the Supreme Court threat­ens to give them.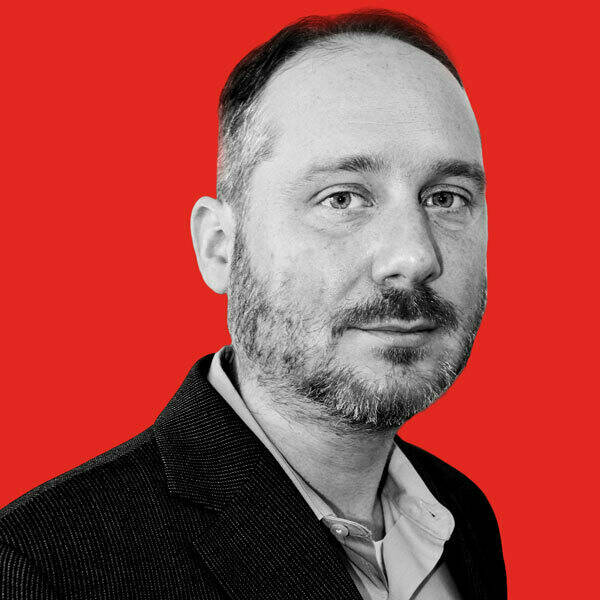 Shaun Rich­man
is an In These Times con­tribut­ing writer and the Pro­gram Direc­tor of the Har­ry Van Ars­dale Jr. School of Labor Stud­ies at SUNY Empire State Col­lege. His Twit­ter han­dle is @Ess_Dog.