Baltimore Won a Big Victory for Affordable Housing. The Next Goal: Community Control.
Housing organizers won $20 million annually in city money for housing. They want that housing to be democratically controlled.
On a rainy July day, 20 resolute volunteers — black, white, younger, older — gather at St. John's of Baltimore City United Methodist Church.
"We can have development without displacement," says housing organizer Adriana Foster, 28, as she rallies them to gather signatures at the city's annual Artscape festival.
The volunteers, standing by with hand-crafted cardboard houses to drape over their bodies, are petitioning to get a measure on the ballot to allocate around $20 million annually for affordable housing. They want to put this housing under the control of the community rather than private developers.
Housing is a huge challenge in Baltimore, which has one of the highest eviction rates in the country and tens of thousands of vacant homes. One in three residents spend more than half their income on housing, compared to one in four nationwide. Nearly 3,000 people are home less on any given night in the city, and another 67,000 households are ​"teeter[ing] on [homelessness's] edge with eviction judgements for non-payment of rent," according to a report on ​"tools for development without displacement" from the Baltimore Housing Roundtable, a coalition of housing activists, unions, churches, universities, community groups and the National Economic & Social Rights Initiative (NESRI).
Yet the city government sells land cheaply to private developers and provides them with tax incentives for new market-rate housing that is unaffordable for many, displacing long-term residents. Housing organizers, by contrast, want the community to have a say — and have a plan to achieve exactly that.
Part of that plan, a city Affordable Housing Trust Fund, was approved by voters in 2016. Baltimore's then-newly elected black female mayor, Catherine Pugh, gave lip service to the idea, but the city only committed $2 million to the fund and is still creating a board to oversee the project. Frustrated with this inaction, organizers began gathering petitions for another ballot initiative.
The pressure paid off: On August 13, the mayor's office announced the city had agreed to allocate the money without having to put the question on the ballot. The funds, beginning at $15 million in 2019 and reaching $20 million in 2023, are expected to come mostly from an excise tax on property worth more than $1 million. City officials believe this money will make it possible over 10 years to build or rehabilitate 4,100 homes and hire 8,500 construction workers.
While organizers are celebrating, more must be done to address Baltimore's housing needs. The Roundtable's ​"20/20 vision for Fair Development" includes not just $20 million for affordable housing but another $20 million for jobs to demolish vacant buildings and create green spaces. The idea is not just to develop new homes, but to make sure residents have the income to afford them, as well as parks and gardens for a public commons.
Roundtable wants to put the 20/20 money toward the development of community land trusts, nonprofit organizations led and operated democratically by local citizens, which would own and preserve land specifically for affordable housing.
"We're fighting old attitudes of control, and also fighting the attitude that Baltimore needs to gentrify" in order to progress, says Peter Sabonis, director of legal strategies for NESRI, who cowrote the Roundtable report.
"In capitalism, there is always a housing crisis because housing is a commodity sold for profit," he says. ​"The person selling the housing is always trying to make profit. The whole system is set up so that housing costs always goes up."
In Baltimore, which is 64 percent black, racism has also been a factor in housing issues. Developers used redlining, which kept blacks from buying in certain neighborhoods, and ​"blockbusting": selling a home to a black family so that whites in the neighborhood leave and sell their homes at a loss, then reselling those homes to black families at around twice the price.
To overcome this legacy, Sabonis says, ​"The community should own the land, or a good section of the land. If it did, it could control the housing."
"That's a political fight," he adds. ​"This goes straight to the heart of capitalism — it's about who controls the land and who controls the workers."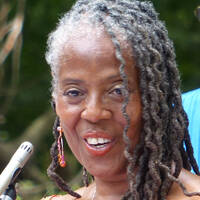 Ajowa Nzinga Ifateyo
is a member of the
Grassroots Economic Organizing collective
and gets a thrill out of writing about cooperatives and other liberatory economic development projects. She has been a staff writer for the
Los Angeles Times, Morning Call
and
Miami Herald
newspapers. Her reporting is funded by the New Economies Reporting Project.