Baltimore Won a Big Victory for Affordable Housing. The Next Goal: Community Control.
Housing organizers won $20 million annually in city money for housing. They want that housing to be democratically controlled.
On a rainy July day, 20 res­olute vol­un­teers — black, white, younger, old­er — gath­er at St. John's of Bal­ti­more City Unit­ed Methodist Church.
"We can have devel­op­ment with­out dis­place­ment," says hous­ing orga­niz­er Adri­ana Fos­ter, 28, as she ral­lies them to gath­er sig­na­tures at the city's annu­al Artscape fes­ti­val.
The vol­un­teers, stand­ing by with hand-craft­ed card­board hous­es to drape over their bod­ies, are peti­tion­ing to get a mea­sure on the bal­lot to allo­cate around $20 mil­lion annu­al­ly for afford­able hous­ing. They want to put this hous­ing under the con­trol of the com­mu­ni­ty rather than pri­vate developers.
Hous­ing is a huge chal­lenge in Bal­ti­more, which has one of the high­est evic­tion rates in the coun­try and tens of thou­sands of vacant homes. One in three res­i­dents spend more than half their income on hous­ing, com­pared to one in four nation­wide. Near­ly 3,000 peo­ple are home less on any giv­en night in the city, and anoth­er 67,000 house­holds are ​"teeter[ing] on [homelessness's] edge with evic­tion judge­ments for non-pay­ment of rent," accord­ing to a report on ​"tools for devel­op­ment with­out dis­place­ment" from the Bal­ti­more Hous­ing Round­table, a coali­tion of hous­ing activists, unions, church­es, uni­ver­si­ties, com­mu­ni­ty groups and the Nation­al Eco­nom­ic & Social Rights Ini­tia­tive (NES­RI).
Yet the city gov­ern­ment sells land cheap­ly to pri­vate devel­op­ers and pro­vides them with tax incen­tives for new mar­ket-rate hous­ing that is unaf­ford­able for many, dis­plac­ing long-term res­i­dents. Hous­ing orga­niz­ers, by con­trast, want the com­mu­ni­ty to have a say — and have a plan to achieve exact­ly that.
Part of that plan, a city Afford­able Hous­ing Trust Fund, was approved by vot­ers in 2016. Baltimore's then-new­ly elect­ed black female may­or, Cather­ine Pugh, gave lip ser­vice to the idea, but the city only com­mit­ted $2 mil­lion to the fund and is still cre­at­ing a board to over­see the project. Frus­trat­ed with this inac­tion, orga­niz­ers began gath­er­ing peti­tions for anoth­er bal­lot initiative.
The pres­sure paid off: On August 13, the mayor's office announced the city had agreed to allo­cate the mon­ey with­out hav­ing to put the ques­tion on the bal­lot. The funds, begin­ning at $15 mil­lion in 2019 and reach­ing $20 mil­lion in 2023, are expect­ed to come most­ly from an excise tax on prop­er­ty worth more than $1 mil­lion. City offi­cials believe this mon­ey will make it pos­si­ble over 10 years to build or reha­bil­i­tate 4,100 homes and hire 8,500 con­struc­tion workers.
While orga­niz­ers are cel­e­brat­ing, more must be done to address Baltimore's hous­ing needs. The Roundtable's ​"20/20 vision for Fair Devel­op­ment" includes not just $20 mil­lion for afford­able hous­ing but anoth­er $20 mil­lion for jobs to demol­ish vacant build­ings and cre­ate green spaces. The idea is not just to devel­op new homes, but to make sure res­i­dents have the income to afford them, as well as parks and gar­dens for a pub­lic commons.
Round­table wants to put the 20/20 mon­ey toward the devel­op­ment of com­mu­ni­ty land trusts, non­prof­it orga­ni­za­tions led and oper­at­ed demo­c­ra­t­i­cal­ly by local cit­i­zens, which would own and pre­serve land specif­i­cal­ly for afford­able housing.
"We're fight­ing old atti­tudes of con­trol, and also fight­ing the atti­tude that Bal­ti­more needs to gen­tri­fy" in order to progress, says Peter Sabo­nis, direc­tor of legal strate­gies for NES­RI, who cowrote the Round­table report.
"In cap­i­tal­ism, there is always a hous­ing cri­sis because hous­ing is a com­mod­i­ty sold for prof­it," he says. ​"The per­son sell­ing the hous­ing is always try­ing to make prof­it. The whole sys­tem is set up so that hous­ing costs always goes up."
In Bal­ti­more, which is 64 per­cent black, racism has also been a fac­tor in hous­ing issues. Devel­op­ers used redlin­ing, which kept blacks from buy­ing in cer­tain neigh­bor­hoods, and ​"block­bust­ing": sell­ing a home to a black fam­i­ly so that whites in the neigh­bor­hood leave and sell their homes at a loss, then reselling those homes to black fam­i­lies at around twice the price.
To over­come this lega­cy, Sabo­nis says, ​"The com­mu­ni­ty should own the land, or a good sec­tion of the land. If it did, it could con­trol the housing."
"That's a polit­i­cal fight," he adds. ​"This goes straight to the heart of cap­i­tal­ism — it's about who con­trols the land and who con­trols the workers."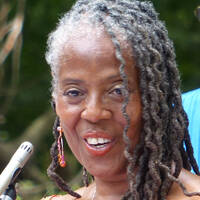 Ajowa Nzin­ga Ifateyo
is a mem­ber of the
Grass­roots Eco­nom­ic Orga­niz­ing col­lec­tive
and gets a thrill out of writ­ing about coop­er­a­tives and oth­er lib­er­a­to­ry eco­nom­ic devel­op­ment projects. She has been a staff writer for the
Los Ange­les Times, Morn­ing Call
and
Mia­mi Her­ald
news­pa­pers. Her report­ing is fund­ed by the New Economies Report­ing Project.