How a Maryland Town Is Turning Its New Deal Past Into a New Economy Present
Greenbelt residents are organizing cooperatives and other community initiatives aimed at building a better world.
"Generally, when people see a need [in the community], they tend to think maybe a co-op can do this. It's part of our DNA."
On a warm mid-June day in Green­belt, Md., Lore Rosen­thal loads 12 yel­low buck­ets into her Prius. In a for­mer life, the five-gal­lon buck­ets held pick­les for Pot­bel­ly Sand­wich Shop; now, they're full of food scraps from the New Deal Café, a mem­ber-owned restau­rant cooperative.
Rosen­thal, a vol­un­teer, is dri­ving the scraps to Upper Marl­boro, a town about a half hour south, where they can be donat­ed to a coun­ty-run pilot com­post­ing pro­gram. ​"We have run­away cli­mate change right now," says Rosen­thal, 58. ​"I'm doing this to reduce the green­house gas­es in our trash." Decom­pos­ing food scraps in land­fills are a major source of methane; these emis­sions can be reduced by com­post­ing rather than throw­ing away.
Rosen­thal and the New Deal Café are part of what many are call­ing the ​"new econ­o­my": a world­wide col­lec­tion of peo­ple-pow­ered groups — coop­er­a­tives, non­prof­its, bar­ter­ing net­works, time banks and oth­er uncon­ven­tion­al enter­pris­es — orga­nized around the aims of envi­ron­men­tal sus­tain­abil­i­ty, social and eco­nom­ic jus­tice, and meet­ing the basic needs of com­mu­ni­ties rather than pri­or­i­tiz­ing profit.
In recent years, Green­belt has seen a surge of inter­est in ​"new econ­o­my" endeav­ors. Despite occa­sion­al false starts, com­mu­ni­ty mem­bers have become involved in a num­ber of such ini­tia­tives, from Rosenthal's vol­un­teer com­post­ing team to a coop­er­a­tive com­mu­ni­ty center.
Green­belt is not the only city where these ideas are tak­ing off, but its ​"new" econ­o­my is unique in one way: It's in fact quite old, going back 80 years. Dur­ing the Depres­sion, Pres­i­dent Franklin Delano Roo­sevelt set up three ​"Green­belt Towns": Green­hills, Ohio; Green­dale, Wis.; and Green­belt, Md., a tree-lined city 13 miles north­east of Wash­ing­ton, D.C. These planned com­mu­ni­ties were intend­ed to pro­vide work for the unem­ployed and low-rent hous­ing to the poor.
In 1937, when Green­belt was com­plet­ed, 885 units of hous­ing were made avail­able. Poten­tial res­i­dents had to meet a low-income require­ment and demon­strate in an inter­view that they pos­sessed the right com­mu­ni­ty spir­it. While the program's accept­ed appli­cants rep­re­sent­ed a diver­si­ty of reli­gions, all were white.
The com­mu­ni­ty-mind­ed res­i­dents began to spon­ta­neous­ly orga­nize their own clubs, and with­in a year, 35 such groups had sprung up. They includ­ed a cam­era club, scout troops, choral groups and a dra­ma club.
But Greenbelt's back­bone was to be coop­er­a­tives: orga­ni­za­tions owned, con­trolled and oper­at­ed for the ben­e­fit of their mem­bers — who may be work­ers, con­sumers (as in a food co-op) or res­i­dents (as in a hous­ing co-op). Typ­i­cal­ly, each mem­ber buys a share at the same price, and — unlike in a typ­i­cal cor­po­ra­tion — deci­sions are made accord­ing to the prin­ci­ple of one mem­ber, one vote.
Ear­ly Green­belt co-ops include a fed­er­al cred­it union (a finan­cial coop) and a news­pa­per, both of which exist to this day. Even chil­dren who heard their par­ents talk about coop­er­a­tives got in on the action, start­ing their own co-op to buy can­dy and school sup­plies: The Child Gum Drop Coop­er­a­tive began with­in months of Greenbelt's found­ing, with 92 chil­dren invest­ing 10 cents a share.
A Boston phil­an­thropist pro­vid­ed ini­tial funds to start Green­belt Con­sumer Ser­vices (GCS), which oper­at­ed a gro­cery store, a bar­ber shop and oth­er com­mu­ni­ty enter­pris­es. Res­i­dents formed the Green­belt Coop­er­a­tive, and were soon able to pur­chase GCS themselves.
After the war, the fed­er­al gov­ern­ment began to dis­cuss sell­ing the com­mu­ni­ty, and in 1949 Con­gress passed a law man­dat­ing the hous­es be sold. In con­trast to Green­hills and Green­dale, which were bought by pri­vate inter­ests, the res­i­dents of Green­belt bought their own homes in 1952. They were enabled by their cred­it union, which emp­tied its stores (and even bor­rowed from anoth­er cred­it union) to pro­vide loans for the res­i­dents to pur­chase their homes.
Over the years, the Green­belt Coop­er­a­tive opened more busi­ness­es and expand­ed geo­graph­i­cal­ly, coop­er­a­tive­ly oper­at­ing a Scan­di­na­vian fur­ni­ture store, drug store, beau­ty par­lor, movie the­ater, laun­dry ser­vice, bus ser­vice, some gas sta­tions and even a few shop­ping cen­ters. In the late 1960s, the Green­belt Coop­er­a­tive increas­ing­ly shift­ed toward fur­ni­ture, at that point its one mon­ey-mak­ing endeav­or, but even­tu­al­ly even this went out of busi­ness. In 1984, res­i­dents formed the Green­belt Con­sumers Coop­er­a­tive (still oper­at­ing today) to buy the town's gro­cery store and pharmacy.
Accord­ing to Green­belt Coun­cilmem­ber Leta Mach, despite the ups and downs, this 80-year his­to­ry has cre­at­ed a cul­ture of coop­er­a­tion that lives on. ​"Green­belt cer­tain­ly does fos­ter that whole idea of new econ­o­my and look­ing for ways to work togeth­er to meet your needs," she says. ​"Gen­er­al­ly, when peo­ple see a need [in the com­mu­ni­ty], they tend to think maybe a co-op can do this. It's part of our DNA."
Four years ago, Rosen­thal helped to orga­nize a meet­ing of Green­belt res­i­dents who were inter­est­ed in start­ing work­er coop­er­a­tives. She placed an ad in the co-op news­pa­per and pub­li­cized the meet­ing on social media. Over a series of meet­ings, 40 or so peo­ple formed the Green­belt Coop­er­a­tive Incubator.
Twen­ty-one ideas for poten­tial coop­er­a­tives came out of these ear­ly meet­ings. One attendee called for a new thrift store. Oth­ers want­ed to start a child-care coop­er­a­tive. Still oth­ers want­ed to sup­port new com­mu­ni­ty gardens.
After assess­ing who had the time and ener­gy to put in the work, the group nar­rowed the list to six ven­tures, includ­ing a com­post co-op, a child-care co-op and, in an echo of the 1930s, a plan to make the Old Green­belt The­atre coop­er­a­tive again (it had fall­en under city own­er­ship). The cohort mov­ing for­ward on these ideas began call­ing them­selves the ​"Moth­er­ship."
To help get off the ground, the Moth­er­ship applied for and received a grant from the Green­belt Com­mu­ni­ty Foun­da­tion — which invests in local projects aimed at build­ing com­mu­ni­ty — and attend­ed a train­ing by Jim John­son of the Democ­ra­cy at Work Net­work (DAWN) in how to orga­nize and main­tain cooperatives.
None of these ideas panned out exact­ly as planned. The child-care coop­er­a­tive, for exam­ple, failed to find an afford­able, safe build­ing. Rosen­thal lists four key lessons: not every idea is finan­cial­ly fea­si­ble; some ideas are ahead of their time; some ideas are bet­ter suit­ed to grant-fund­ed non­prof­its; and that grow­ing the vol­un­teer base is an impor­tant part of spread­ing the new economy.
Though the group's ini­tial ideas have yet to become new co-ops, Rosen­thal says some of them have ​"mor­phed" into oth­er com­mu­ni­ty-ori­ent­ed projects, in part thanks to cross-pol­li­na­tion between dif­fer­ent groups. For instance, the Moth­er­ship mem­bers orig­i­nal­ly inter­est­ed in start­ing a child-care coop have begun vol­un­teer­ing with the Chesea­peake Edu­ca­tion, Arts and Research Soci­ety — an envi­ron­men­tal non­prof­it — on an after-school project aimed at teach­ing chil­dren per­ma­cul­ture gardening.
"I think a lot of these wannabe work­er co-ops have turned into a shar­ing econ­o­my," Rosen­thal says. ​"There is very lit­tle mon­ey chang­ing hands, [but] they've dri­ven inno­va­tion and seed­ed new ideas."
As for the Old Green­belt The­atre, a mem­ber of the Moth­er­ship suc­cess­ful­ly bid for a con­tract from the city to run it, as part of the com­mu­ni­ty-based non­prof­it Friends of Green­belt The­atre. The non­prof­it is explor­ing hav­ing the con­ces­sion staff oper­ate as a work­er co-op, and res­i­dents are able to vol­un­teer one day a week in exchange for a free movie.
For now, Rosen­thal her­self is work­ing with the city and fel­low vol­un­teers to expand com­post­ing. Most days, Joe Rob­bins parks his bike in front of the New Deal Café to load up on food scraps. New Deal work­ers fill the buck­ets with cof­fee grinds, pota­to peels and oth­er veg­etable mat­ter. Rob­bins, a new Green­belt res­i­dent who had been com­post­ing for 23 years in near­by Mount Rain­er, then takes them a few hun­dred feet to Rosenthal's garage. ​"I was look­ing for a way to con­tribute to the com­mu­ni­ty, and Lore grabbed me," Rob­bins explains.
One coop­er­a­tive did start from the Mothership's com­mu­ni­ty edu­ca­tion efforts, though it wasn't one of the orig­i­nal 21 ideas. The own­ers of The Green­belt Mak­er­Space, a com­mu­ni­ty edu­ca­tion and activ­i­ty cen­ter, had attend­ed some of those ear­ly meet­ings on coop­er­a­tives. They brought the infor­ma­tion back to the board, which agreed to go co-op.
The busi­ness has 126 mem­bers who come togeth­er to ​"upcy­cle" goods, learn about knit­ting, work on robot­ics and pur­sue artis­tic projects. ​"It's women cre­at­ing togeth­er, like the old quilt­ing bees," says Cyn­thia Swan, a mem­ber of the space.
"We were obvi­ous­ly com­fort­able with the co-op mod­el," says Green­belt Mak­er­Space board pres­i­dent Jen­nifer Page, allud­ing to the city's his­to­ry of coop­er­a­tives. ​"We've got­ten a lot of support."
Rosen­thal says that the Moth­er­ship hasn't met as a full group since the fall, but the work con­tin­ues with­in sep­a­rate teams. ​"We're seed­ing the new econ­o­my," she says, ​"not with mon­ey, but with sweat equity."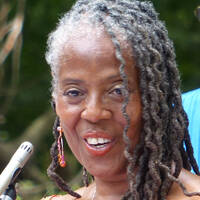 Ajowa Nzin­ga Ifateyo
is a mem­ber of the
Grass­roots Eco­nom­ic Orga­niz­ing col­lec­tive
and gets a thrill out of writ­ing about coop­er­a­tives and oth­er lib­er­a­to­ry eco­nom­ic devel­op­ment projects. She has been a staff writer for the
Los Ange­les Times, Morn­ing Call
and
Mia­mi Her­ald
news­pa­pers. Her report­ing is fund­ed by the New Economies Report­ing Project.