These Activists Are Trying To Solve the Housing Crisis—By Suing the Suburbs
Bay Area activists take a suburb to court, saying it refused to allow high-density housing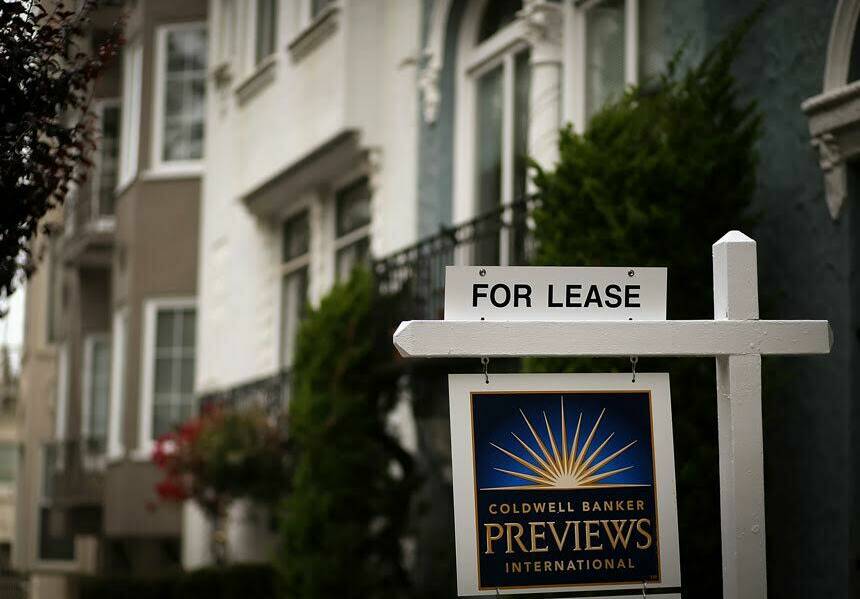 Diego Aguilar, 23, lives in Berke­ley, Calif., and works at a tech­nol­o­gy com­pa­ny in Emeryville. Forty-six per­cent of his $2,400 month­ly income goes to rent, which is fair­ly typ­i­cal for Berke­ley.
Between 2010 and 2015, San Francisco's eviction rate surged by more than 50 percent, driving poorer residents out of areas like the Mission District to make room for new condos and expensive apartments.
His plight is a com­mon one. The Bay Area hous­ing mar­ket has been in a pan­icked crunch. In San Fran­cis­co, the medi­an month­ly rent hit a record high of $3,530 in Sep­tem­ber, with a vacan­cy rate below 4 per­cent — not enough to accom­mo­date the 32,000 new res­i­dents who have flood­ed into the city over the last five years. Many of those res­i­dents are arriv­ing to take high-paid tech jobs in Sil­i­con Val­ley; San Fran­cis­co and San Mateo coun­ties have one of the low­est unem­ploy­ment rates in the nation, at 3.5 per­cent in August 2015.
Between 2010 and 2015, San Francisco's evic­tion rate surged by more than 50 per­cent, dri­ving poor­er res­i­dents out of areas like the Mis­sion Dis­trict to make room for new con­dos and expen­sive apart­ments. Last year, 2,800 peo­ple applied for just 60 units of afford­able hous­ing in one new development.
The group Sue the Sub­urbs is using a nov­el legal strat­e­gy to try to get the sub­urbs to pick up some of the hous­ing bur­den. As a test case, the group plans to take the East Bay city of Lafayette to court, demand­ing that the wealthy and low-den­si­ty city — which has near­ly twice San Francisco's medi­an house­hold income of $75,000 and less than one-tenth its res­i­dents per square mile — approve a 315-unit hous­ing project. If the suit suc­ceeds, the case could cre­ate a prece­dent for reliev­ing hous­ing pres­sure in the Bay — and poten­tial­ly oth­er regions of the coun­try. Pro­mot­ing high-den­si­ty con­struc­tion would deter urban sprawl and open up rentals for commuters.
Lafayette was incor­po­rat­ed in 1968 specif­i­cal­ly so the city could take plan­ning author­i­ty away from Con­tra Cos­ta Coun­ty and remain rur­al and sparse­ly pop­u­lat­ed. When devel­op­er O'Brien Homes approached the city in 2011 with the pro­pos­al for the 315-unit project, it was met with oppo­si­tion from both res­i­dents and city plan­ners, who said the project would not be ​"com­pat­i­ble with the res­i­den­tial neigh­bor­hoods in the vicin­i­ty." In response, the city and the devel­op­er nego­ti­at­ed a plan to build 44 sin­gle-fam­i­ly homes instead.
Sue the Sub­urbs con­tests that the city coun­cil made clear to the devel­op­er that approval was con­tin­gent on sub­mit­ting a low­er-den­si­ty plan— which would put the city on shaky legal ground. The Cal­i­for­nia Hous­ing Account­abil­i­ty Act of 1982 says a city can­not make a hous­ing devel­op­ment con­di­tion­al on a reduc­tion in den­si­ty unless the devel­op­ment would cause unavoid­able harm to pub­lic health or safe­ty. In the­o­ry, then, if the city deprived poten­tial res­i­dents of hous­ing, Cal­i­for­nia legal code allows any cit­i­zen to sue to enforce the law. Sue the Sub­urbs is gath­er­ing plain­tiffs to test that the­o­ry. Diego Aguilar is among the 21 peo­ple who had promised to join the suit as of September.
Son­ja Trauss, a long-time hous­ing activist, is the bub­bly and insis­tent force behind Sue the Sub­urbs. A fre­quent fig­ure at plan­ning com­mis­sion meet­ings on both sides of the Bay, Trauss dif­fers from many local hous­ing advo­cates in see­ing devel­op­ers as poten­tial allies. She argues that encour­ag­ing devel­op­ment will push rents down for all by mak­ing more units avail­able, which ben­e­fits both hous­ing advo­cates — who want more units on the mar­ket — and devel­op­ers, who want to make a prof­it. There­fore, she plans to turn to big devel­op­ers, which she calls ​"cap­tains of indus­try," for finan­cial and logis­ti­cal sup­port for her cam­paign. She'll also reach out to the tech indus­try, since it has a vest­ed inter­est in hous­ing its workers.
Tech work­ers were the like­ly tar­gets of the 315-unit project in Lafayette, which offered hous­ing for ​"mod­er­ate income res­i­dents" — those who make 120 per­cent of the city's medi­an wage. Crit­ics, how­ev­er, say that it would do lit­tle for low-income peo­ple. More broad­ly, many believe that mar­ket-based approach­es will not address affordability.
Scott Weaver, a spokesper­son for the San Fran­cis­co Tenant's Union, notes that despite the con­struc­tion of mar­ket rate hous­ing — 3,500 new units in San Fran­cis­co last year, the high­est annu­al rate in two decades — rents are still ris­ing. ​"Sup­ply-side eco­nom­ics has done … noth­ing but exac­er­bate eco­nom­ic inequal­i­ty," he says, adding that large devel­op­ers often man­age to wig­gle out of even the lim­it­ed require­ment to set aside 12 per­cent of new units as affordable.
Nev­er­the­less, Trauss's plan is gath­er­ing sup­port as one piece of the push for avail­abil­i­ty and afford­abil­i­ty. Anoth­er poten­tial plain­tiff, Rafael Solari, is a hous­ing activist who has worked with Trauss on oth­er projects. A native of the Bay Area, Solari has watched rents climb and fears being priced out of his small stu­dio in San Francisco's West­ern SoMa, which costs approx­i­mate­ly 34 per­cent of his income — a strain in an expen­sive city. ​"It's hard to imag­ine stay­ing here long-term because of the hous­ing prob­lems," he says.
Steven Falk, Lafayette's city man­ag­er, says Sue the Sub­urbs has picked ​"the wrong city" for its test case, not­ing that Lafayette recent­ly approved con­struc­tion of 400 mul­ti-fam­i­ly hous­ing units around the city, 15 per­cent of which will be ear­marked as afford­able hous­ing. It has also com­mit­ted (over res­i­dents' objec­tions) to build­ing denser hous­ing around tran­sit sta­tions to ame­lio­rate the region­al shortages.
Sue the Sub­urbs has until Decem­ber 13 to file an admin­is­tra­tive writ ask­ing a judge to agree Lafayette is vio­lat­ing the law.
Because of the nov­el ques­tions the case is lit­i­gat­ing, Trauss says, it could end up set­ting case law that would for­ev­er change the way California's Hous­ing Account­abil­i­ty Act is enforced.
A vic­to­ry could impact oth­er locales, too. Though Cal­i­for­nia law doesn't apply else­where, case law sup­port­ing man­dates for dense devel­op­ment would be a pow­er­ful prece­dent for afford­able hous­ing advo­cates. Seat­tle, New York and Boston, for exam­ple, are all expe­ri­enc­ing upswings in their pop­u­la­tions that are putting pres­sure on their hous­ing mar­kets. The medi­an one-bed­room rents in those cities have risen to $1,650, $3,160 and $2,270, respec­tive­ly. All three regions have afflu­ent sub­urbs that are recal­ci­trant about build­ing hous­ing. Oth­er attor­neys could draw upon a favor­able rul­ing in Cal­i­for­nia to sup­port their own cas­es for dense devel­op­ment — lead­ing to a domi­no effect of law­suits with the poten­tial to change the hous­ing land­scape. Should that hap­pen, Trauss's mar­ket-based the­o­ries will be put to the test.
s.e. smith
is an essay­ist, jour­nal­ist and activist is on social issues who has writ­ten for
The Guardian
,
Bitch
Mag­a­zine, Alter­Net, Jezebel, Salon, the Sun­dance Chan­nel blog,
Long­shot
Mag­a­zine, Glob­al Com­ment, Think Progress, xoJane, Truthout, Time, Nerve, VICE,
The Week
, and Repro­duc­tive Health Real­i­ty Check. Fol­low @sesmithwrites.