Bernie Sanders' Inequality Town Hall Proved How Far Left the Economic Debate Has Moved
Sanders' live event brought a bold progressive economic vision to 1.7 million viewers, breaking the record of his previous town hall.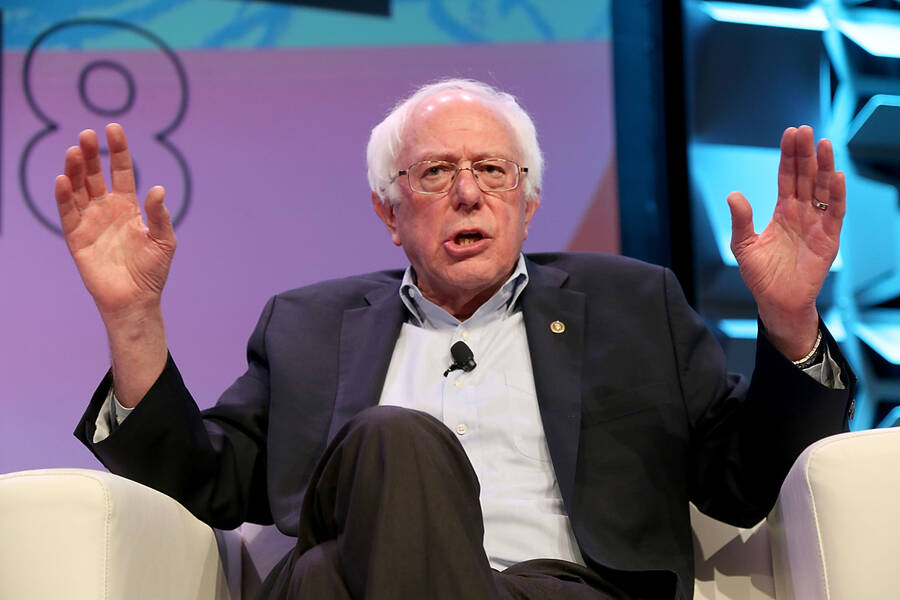 In the ongo­ing polit­i­cal war between Right and Left — between dem­a­goguery and egal­i­tar­i­an­ism — clear and open lines of com­mu­ni­ca­tion are crit­i­cal. Don­ald Trump has his Twit­ter account. Bernie Sanders has his live-streamed town halls.
Hamilton pointed out the immorality of putting the interests of corporate shareholders above the needs and well-being of everyday Americans. "Somebody's dignity should not be based on the profitability of a firm," he said.
Trump and his pop­ulist pose have inspired plen­ty of bogus com­par­isons with Sanders, but the two men do share a gift for get­ting around estab­lish­ment media and tak­ing their mes­sage straight to the pub­lic. Sanders did it again on Mon­day night, fol­low­ing up on his Jan­u­ary Medicare-for-all town hall — which reached an esti­mat­ed 1.6 mil­lion view­ers — with an event titled ​"Inequal­i­ty in Amer­i­ca: The rise of oli­garchy and the col­lapse of the mid­dle class." Along with Sanders, the town hall fea­tured Sen. Eliz­a­beth War­ren (D‑Mass.), film­mak­er Michael Moore and econ­o­mist Dar­rick Hamil­ton, along with oth­er guests.
As with the health­care town hall, the event was live streamed by inde­pen­dent and non-tra­di­tion­al media out­lets, includ­ing the Guardian, Now This, The Young Turks Net­work and Act​.tv, as well as on the Face­book pages of Sanders, War­ren and In These Times. In total, the town hall reached an esti­mat­ed 1.7 mil­lion view­ers, eclips­ing Sanders' pre­vi­ous town hall audience.
Beyond their rogue media strate­gies, Trump and Sanders are also both deft at help­ing to expand the ​"Over­ton win­dow," which is a wonky but use­ful short­hand for the range of ideas and poli­cies that peo­ple take seri­ous­ly, and seem pos­si­ble, at any giv­en moment. The con­cept is named after its orig­i­na­tor, Joseph P. Over­ton, a for­mer senior vice pres­i­dent of the Mack­inac Cen­ter for Pub­lic Policy.
Take the $15 min­i­mum wage. It fell out­side the Over­ton win­dow five years ago. It's now well with­in it. Dit­to with same-sex mar­riage in the decade span­ning the ear­ly 2000s to the ear­ly 2010s. Right-wing pun­dit Glenn Beck has been espe­cial­ly enam­ored of the Over­ton win­dow con­cept. In 2010, he pub­lished a nov­el with that title. The theme is that pro­gres­sives are plot­ting to destroy tra­di­tion­al Amer­i­can val­ues through a pro­gram of sub­tly sub­vert­ing lib­er­ty and indoc­tri­nat­ing the youth.
There's noth­ing sub­tle about what is hap­pen­ing now, though. This moment seems sur­re­al and volatile because the win­dow is expand­ing rapid­ly on both ends of the ide­o­log­i­cal spec­trum. Trump and Sanders aren't the only forces behind the shift, but they're the most vis­i­ble and influ­en­tial ones.
On the Right, white nation­al­ists are empow­ered by Trump to march in the streets, and the immi­gra­tion rhetoric has moved from push­ing to deport undoc­u­ment­ed peo­ple to ques­tion­ing whether we should wel­come immi­grants into the coun­try at all.
On the Left, a clus­ter of ideas that were mar­gin­al to the polit­i­cal main­stream debate a few short years ago are now right there in the thick of it — not only a $15 min­i­mum wage and uni­ver­sal, sin­gle-pay­er health­care but free pub­lic col­lege, free child care, paid fam­i­ly leave, pot legal­iza­tion, fun­da­men­tal crim­i­nal jus­tice reform, a fed­er­al jobs guar­an­tee and much more. Such poli­cies, which were high­light­ed at var­i­ous points through­out the town hall, have been brought into the main­stream thanks in large part to Sanders' 2016 pres­i­den­tial cam­paign as well as the ded­i­cat­ed work of grass­roots activists and social move­ments over recent years. And they are like­ly to form the pol­i­cy planks of a poten­tial 2020 pres­i­den­tial run for Sanders or anoth­er left-wing torchbearer.
Sanders devot­ed the final seg­ment of his 90-minute town hall to the ques­tion of why, despite broad pub­lic sup­port for these types of pro­gres­sive poli­cies, they are see­ing lit­tle to no move­ment at the fed­er­al lev­el. Gor­don Lafer, an econ­o­mist at the Uni­ver­si­ty of Ore­gon and the author of a book about the Amer­i­can Leg­isla­tive Exchange Coun­cil (ALEC), explained that laws are rigged by the cor­po­ra­tions that fund the politi­cians who do their bid­ding, in a vicious cycle of deep­en­ing corruption.
"This is an orga­nized effort," War­ren said, ​"just sim­ply to take over our gov­ern­ment — take over our gov­ern­ment at the fed­er­al lev­el, take over our gov­ern­ment at the state lev­el, and make our gov­ern­ment work bet­ter and bet­ter for a thin­ner and thin­ner, rich slice in America."
The first seg­ment of the town hall doc­u­ment­ed the dystopi­an real­i­ties of a rur­al black com­mu­ni­ty in Lown­des Coun­ty, Alaba­ma that has no sewage infra­struc­ture. It also focused on the soul-crush­ing pover­ty of the mil­lions of peo­ple across the coun­try who live under the con­stant threat (or real­i­ty) of homelessness.
Hamil­ton point­ed out the immoral­i­ty of putting the inter­ests of cor­po­rate share­hold­ers above the needs and well-being of every­day Amer­i­cans. ​"Some­body's dig­ni­ty should not be based on the prof­itabil­i­ty of a firm," he said.
The sec­ond seg­ment traced the con­nec­tion between the dec­i­ma­tion of orga­nized labor — in part a result of laws passed by ALEC-influ­enced leg­is­la­tures — and the hol­low­ing out of the mid­dle class. As War­ren said to loud applause, ​"Unions built America's mid­dle class. It will take unions to rebuild America's mid­dle class."
Sanders says often that his town halls are nec­es­sary because he's cov­er­ing issues that the cor­po­rate media won't touch. ​"It is fair to say that in the last hour and a half," he said in con­clud­ing the event, ​"that we have dis­cussed more issues that are of vital impor­tance to the Amer­i­can peo­ple than have ever been seen on a tele­vi­sion screen in the his­to­ry of this country."
And it's true that while main­stream out­lets remain focused on Stormy Daniels and Russ­ian inter­fer­ence in our elec­tions, they large­ly ignore the crit­i­cal eco­nom­ic issues fac­ing the major­i­ty of Amer­i­cans. As Sanders put it in a recent Guardian op-ed: ​"We need to hear from strug­gling Amer­i­cans whose sto­ries are rarely told in news­pa­pers or tele­vi­sion. Unless we under­stand the real­i­ty of life in Amer­i­ca for work­ing fam­i­lies, we're nev­er going to change that reality."
Yet despite cor­po­rate media's obses­sion with scan­dal and intrigue, bread-and-but­ter eco­nom­ic issues are still what most con­cern Amer­i­cans. Last sum­mer, for exam­ple, Bloomberg News released the results of a poll that asked peo­ple their opin­ion about ​"the most impor­tant issue fac­ing the coun­try." A sub­stan­tial plu­ral­i­ty — 35 per­cent — said health­care. It scored high­er than immi­gra­tion, tax­es, ter­ror­ism and the U.S. rela­tion­ship with Rus­sia — all of the top­ics that have dom­i­nat­ed the news cycle in the cor­po­rate media for the past year — combined.
What we are wit­ness­ing is an immov­able object vs. unstop­pable force sit­u­a­tion. On one hand, the cor­rup­tion by spe­cial inter­ests of our polit­i­cal sys­tem makes it inca­pable of pass­ing laws that serve the pub­lic good and ben­e­fit the peo­ple. On the oth­er hand, the peo­ple, who may not know in detail how wealthy donors and cor­po­ra­tions buy off politi­cians, can see what's right in front of their noses: This polit­i­cal sys­tem is rot­ten and bro­ken. Or, more accu­rate­ly, it's work­ing exact­ly as intend­ed — to enrich the rich, but­tress the oli­garchy and dri­ve inequal­i­ty off the charts.
Such cor­rup­tion gen­er­al­ly has the effect of encour­ag­ing cyn­i­cism, dis­en­gage­ment and pas­siv­i­ty among the pub­lic. If we are fac­ing an unmov­able object, why both­er? Why vote? Why anything.
The remark­able thing about this moment is that — part­ly dri­ven by the shock of Trump, part­ly by pro­gres­sives' suc­cess in expand­ing the win­dow of what seems doable — cyn­i­cism is being chan­neled into resis­tance, and the pur­suit of a bold pro­gres­sive eco­nom­ic vision.
One live-streamed town hall focused on inequal­i­ty may not seem like much, giv­en the scope and depth of the chal­lenges we face. Sim­i­lar­ly, one vote rarely makes a dif­fer­ence in the big pic­ture. But one by one, they add up to everything.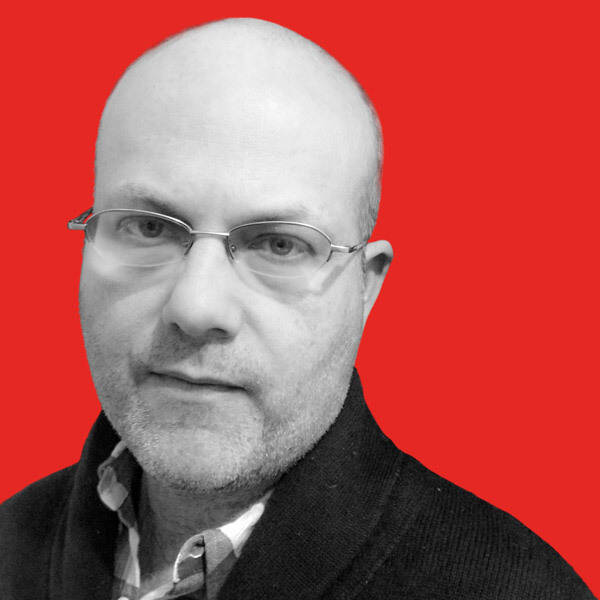 Theo Ander­son
is an In These Times con­tribut­ing writer. He has a Ph.D. in mod­ern U.S. his­to­ry from Yale and writes on the intel­lec­tu­al and reli­gious his­to­ry of con­ser­vatism and pro­gres­sivism in the Unit­ed States. Fol­low him on Twit­ter @Theoanderson
7
.