Black Classics Reborn, Graphically
Artists draw African-American literature, from Du Bois to Hurston, in a new Graphics Classics volume.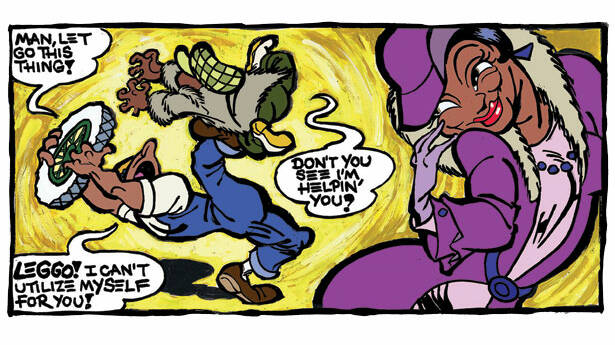 For more than a decade, Eure­ka Pro­duc­tions has been con­vert­ing 19th- and 20th-cen­tu­ry lit­er­a­ture – Poe, Wilde, Steven­son, Alcott – into high-qual­i­ty graph­ic nov­els. The Graph­ic Clas­sics series reminds us of the com­ic genre's lit­er­ary poten­tial and harkens back to the pop­u­lar ori­gins of much of our most revered literature.
Throughout the collection, the writing and the art are good enough to deserve the attention of readers who have no special interest in black literature--or in comics.
The twen­ty-sec­ond vol­ume, African-Amer­i­can Clas­sics, the first in the series to fea­ture the work of black authors, has adapt­ed 23 sto­ries and poems by writ­ers such as Langston Hugh­es, Zora Neale Hurston and W.E.B. Du Bois.
The sto­ries and poems were writ­ten between 1891 and 1931, and pre­dictably, the Harlem Renais­sance pre­dom­i­nates. More than a third of the selec­tions includ­ed were pub­lished in 1922. The lit­er­a­ture is old, but the art – all of it by con­tem­po­rary African Amer­i­cans – is new.
Race is the uni­fy­ing theme of the book, it being what all the writ­ers and artists share, and the African-Amer­i­can expe­ri­ence is present, in both large and small ways. Some of the pieces rep­re­sent a kind of protest lit­er­a­ture, expos­ing the cru­el and absurd inequal­i­ties of Amer­i­can soci­ety. Oth­ers cel­e­brate black­ness in its var­i­ous forms, embrac­ing the sense of com­mu­ni­ty, tak­ing pride in the cul­tur­al her­itage, or med­i­tat­ing on the phys­i­cal beau­ty of black fea­tures. But noth­ing in the book is only about race, and it would be wrong to try to reduce any of these pieces to a sin­gle dimen­sion. There are sto­ries here about war, lone­li­ness, mag­ic, neigh­bor­hood life, moral­i­ty and the foibles and flaws that so often char­ac­ter­ize humanity.
Besides race, oth­er kinds of inequal­i­ty also receive atten­tion. Gen­der dis­crim­i­na­tion and vio­lence against women fea­ture promi­nent­ly. Pover­ty is an ele­ment in almost all of the sto­ries, though usu­al­ly in the back­ground. In the sto­ry ​"Shal­manez­er," how­ev­er, the abo­li­tion­ist and suf­frag­ist Frances E.W. Harp­er notes the suf­fer­ing of toil­ing work­ers and starv­ing chil­dren (whom illus­tra­tor Lance Tooks por­trays some­what pity­ing­ly); and she attrib­ut­es their mis­ery to the upper class' sin­gle-mind­ed pur­suit of riches.
The fea­tured artists relate their images to the text in diverse ways. In some cas­es – John Jen­nings' sin­gle, strik­ing image for Claude McKay's poem ​"Amer­i­ca" is one exam­ple – the visu­als are an artis­tic response to the lit­er­a­ture, but either could stand on its own. In oth­ers, such as Kei­th Mallett's art for Effie Lee Newsome's ​"The Bronze Lega­cy," the visu­als illus­trate the sto­ry, and there­fore depend on the text. And in some – comics in the purest sense – the image and the text are inter­de­pen­dent. Leilani Hickerson's art for Ethel M. Caution's ​"Buy­ers of Dreams," is per­haps the best exam­ple. In this fan­tas­tic moral­i­ty tale, three young women enter the ​"Shop of Dreams," and each selects the dream that she believes will bring her hap­pi­ness. The plot is sim­ple, the writ­ing is plain, and the vivid images are lit­er­al in their approach. How­ev­er, one could not get the whole sto­ry by read­ing the nar­ra­tion and dia­logue, nor mere­ly deci­pher the action in the pic­tures; the mean­ing exists in their inter­re­la­tion. The words on the page tell us what is hap­pen­ing and move the action along, but the art sets the tone, show­ing us how ordi­nary, and also fab­u­lous, the events depict­ed real­ly are.
The most inter­est­ing pair­ing of art and lit occurs in Mil­ton Knight's illus­tra­tion of what is the fun­ni­est sto­ry in the book, Zora Neale Hurston's ​"Fill­ing Sta­tion." The plot is real­ly just a series of humor­ous encoun­ters in a gas sta­tion at the bor­der of Alaba­ma and Geor­gia. The point of the sto­ry is not so much what hap­pens, but the rhythm and the tex­ture of the pre­sen­ta­tion. Hurston's depic­tion of African-Amer­i­can speech – ​"Cause dem crack­ers y'all got over there sho is hard on de black man" – has always been con­tro­ver­sial, with some con­sid­er­ing it a racist par­o­dy, and oth­ers see­ing it as homage to an unique idiom. Knight's illus­tra­tions hand­i­ly reflect that ten­sion, incor­po­rat­ing both exag­ger­at­ed ele­ments of car­i­ca­ture and the round­ed edges and bright col­ors asso­ci­at­ed with hip-hop and graf­fi­ti art. Inci­den­tal­ly, the car­toon depic­tion of the capa­ble, assertive, attrac­tive female char­ac­ter – with her slant­ed, brimmed hat, wavy hair, promi­nent cheek­bones and high­ly arched eye­brows – is mod­eled on Hurston herself.
Through­out the col­lec­tion, the writ­ing and the art are good enough to deserve the atten­tion of read­ers who have no spe­cial inter­est in black lit­er­a­ture as such – or in comics.
The range of mate­r­i­al is, like­wise, broad in sub­ject and style. Poet­ic com­po­si­tions, comedic sketch­es, fairy tales, polit­i­cal fables and pulp thrillers stand side by side. And the art is like­wise diverse: Lar­ry Pon­cho Brown's images for Paul Lau­rence Dunbar's poem ​"We Wear the Mask" are inspired by tra­di­tion­al African masks, while Tooks' illus­tra­tions for ​"Shal­manez­er" fall more in the Clas­si­cal and Ori­en­tal­ist tra­di­tions. Trevor Von Eeden and Adri­an Johnson's art for Flo­rence Lewis Bentley's sto­ry ​"Two Amer­i­cans," and Jim Webb's for Robert Bagnall's ​"Lex Tal­io­n­is," would fit eas­i­ly with­in the pages of the Weird War Tales or House of Mys­tery comics, respec­tive­ly – suit­able venues for sto­ries involv­ing mad sci­en­tists, ghosts and lynchings.
The book's one mis­step is cen­sor­ing the W.E.B. Du Bois sto­ry ​"On Being Crazy." The word ​"nig­ger" occurs sev­er­al times in the orig­i­nal but has been ren­dered as ​"n*****." The offen­sive, hurt­ful effect of the word is, in fact, part of the story's mes­sage, as is the refusal of the dig­ni­fied narrator/​protagonist – depict­ed here as Du Bois him­self – to give the word any pow­er over him. Its obfus­ca­tion there­fore seems counter to Du Bois' aims. Pub­lish­er Tom Pom­plun says that he and the volume's edi­tor didn't want it exclud­ed from the main mar­ket for Graph­ic Clas­sics: schools and pub­lic libraries. But such a judg­ment seems some­what odd, giv­en that else­where in the book oth­er slurs – ​"a damned spade," for one – are left unal­tered, and we are shown sev­er­al dis­turb­ing scenes of mob vio­lence, includ­ing explic­it images of black men being burned alive.
For read­ers, like me, whose edu­ca­tion offered lit­tle expo­sure to black art, and almost none to black lit­er­a­ture, the expe­ri­ence of read­ing African-Amer­i­can Clas­sics is enlight­en­ing, excit­ing and hum­bling. One hopes that this vol­ume may be just the first step in an over­all broad­en­ing of the Graph­ic Clas­sics canon, and that the trans­po­si­tion of these lit­er­ary works into the comics medi­um will help them reach a wide audi­ence – not only a whiter audi­ence (though that is like­ly), but an audi­ence among com­ic book read­ers who don't yet real­ize that their tastes also run to the literary.
Kris­t­ian Williams
is the author of
Our Ene­mies in Blue: Police and Pow­er in Amer­i­ca
and
Amer­i­can Meth­ods: Tor­ture and the Log­ic of Dom­i­na­tion
.