Bought and Paid For
Who's behind the president's fundraising machine—and what they expect in return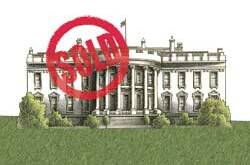 It's offi­cial: Pres­i­dent Bush's re-elec­tion cam­paign is underway.
For those who haven't been pay­ing atten­tion — and Bush, Cheney and their cor­po­rate cronies cer­tain­ly hope you haven't — the pres­i­dent offi­cial­ly launched his cam­paign at a March 20 ​"kick­off" ral­ly in Orlan­do. ​"I'm look­ing for­ward to this cam­paign ahead," Bush told the assem­bled par­ty faith­ful between chants of ​"Four more years!" and ​"USA! USA!" ​"With you at my side, there is no doubt in my mind we're head­ed to a victory."
Bush may claim the ​"polit­i­cal sea­son" is just begin­ning, but he has spent the past nine months criss­cross­ing the coun­try on a dash for cash, per­son­al­ly head­lin­ing 45 mil­lion-dol­lar fundrais­ing events on the way to amass­ing an unprece­dent­ed $170 mil­lion cam­paign war chest. Awestruck by the sheer amount of cash on hand, the media some­times mis­take Bush's piles of mon­ey for pop­u­lar­i­ty. Venal­i­ty is more like it. Bush has turned the elec­tion into an auc­tion, an invi­ta­tion-only oppor­tu­ni­ty for Cor­po­rate Amer­i­ca to prove its loy­al­ty to the president.
The engine in Bush's mon­ey machine has been an elite reg­i­ment of 455 ​"Rangers" and ​"Pio­neers," the hon­orary titles bestowed on fundrais­ers who can col­lect at least $200,000 or $100,000, respec­tive­ly. Legal­ly, each of these indi­vid­u­als is lim­it­ed to a max­i­mum dona­tion of $2,000. But the Bush cam­paign has per­fect­ed a sophis­ti­cat­ed sys­tem of bundling — by which cor­po­rate exec­u­tives, lob­by­ists or oth­er insid­ers pool a large num­ber of con­tri­bu­tions to max­i­mize their polit­i­cal influ­ence. The Rangers and Pio­neers have col­lect­ed at least $64.2 mil­lion so far.
In return, these wor­thies have received access to the admin­is­tra­tion, relaxed reg­u­la­tions, leg­isla­tive favors, tar­get­ed tax breaks, lucra­tive fed­er­al con­tracts, and plum appoint­ments at home and abroad. But some hold more of a stake in Bush's re-elec­tion than oth­ers: The 10 indus­tries pro­filed on the fol­low­ing pages have been among the most gen­er­ous sup­port­ers of the pres­i­dent — and they stand to reap the great­est rewards if Dubya pre­vails in November.
Bull­ish on Bush
Near­ly one in five Rangers and Pio­neers comes from the finan­cial sec­tor. This group of 85 bankers, stock­bro­kers and wealthy pri­vate investors — which has bun­dled at least $12.5 mil­lion for the 2004 Bush cam­paign — includes 20 top Wall Street exec­u­tives. Wall Street firms account for six of the top 10 com­pa­nies whose employ­ees have donat­ed the most to Bush this cycle.
Bush's eco­nom­ic poli­cies — par­tic­u­lar­ly the sweep­ing div­i­dend, cap­i­tal gains and income tax cuts — have lined Wall Street's pock­ets. Now the indus­try is lead­ing the dri­ve to make the Bush tax cuts per­ma­nent, endors­ing admin­is­tra­tion plans to over­haul the retire­ment sys­tem and sali­vat­ing over the prospect of Social Secu­ri­ty privatization.
These same firms have been at the cen­ter of almost every major cor­po­rate scan­dal from Enron to World­com to Martha Stew­art. Yet Wall Street is bank­ing on Bush to muz­zle watch­dogs like New York Attor­ney Gen­er­al Eliot Spitzer and fend off fur­ther reg­u­la­tion of mutu­al funds, deriv­a­tives trad­ing and arcane, high­ly prof­itable tax-avoid­ance schemes. The Wall Street Jour­nal report­ed that hedge fund con­sul­tant Lee Hen­nessee sent out invi­ta­tions to a March 11 Bush fundrais­er with this mes­sage: ​"The cur­rent admin­is­tra­tion is favor­able to the hedge fund indus­try, and we need to do all we can to keep them in office."
Under the Influence
Fundrais­ing for Bush is a win-win sit­u­a­tion for Wash­ing­ton lob­by­ists. Achiev­ing Ranger or Pio­neer sta­tus ensures insid­er access to the admin­is­tra­tion, which these influ­ence-ped­dlers can then turn around and mar­ket to their clients. The client lists of major Bush back­ers read like a cor­po­rate scan­dal sheet — from Boe­ing and Wal-Mart to Tyco and the tobac­co companies.
The 55 Rangers and Pio­neers reg­is­tered as fed­er­al lob­by­ists have bun­dled at least $6.7 mil­lion in con­tri­bu­tions for Bush this cycle. These same lob­by­ists met repeat­ed­ly with Dick Cheney's secret ener­gy task force to do the bid­ding of ener­gy inter­ests, took mil­lions from drug com­pa­nies to help push through the Medicare bill and led the fight for Bush's tax cuts on behalf of the busi­ness community.
While the Bush cam­paign has pro­duced ads attack­ing Sen­a­tor John Ker­ry for being behold­en to ​"spe­cial inter­ests," the pres­i­dent has accept­ed more in direct con­tri­bu­tions from lob­by­ists in 2003 than Ker­ry did in the past 15 years. ​"The issue is hypocrisy in say­ing you're going to take on the spe­cial inter­ests, not who took the most spe­cial inter­est mon­ey," Bush media strate­gist Mark McK­in­non told the Wash­ing­ton Post. ​"You don't hear the pres­i­dent in the Oval Office rail­ing against the spe­cial interests."
Shock­ing Developers
Real estate devel­op­ers, who have donat­ed at least $32.2 mil­lion to Bush cam­paign efforts since 1999, have helped shape the White House's anti-envi­ron­ment agen­da. Work­ing close­ly with its devel­op­er friends and donors, the Bush admin­is­tra­tion repeat­ed­ly has attempt­ed to weak­en the pro­tec­tion of wet­lands. And under Bush, the Endan­gered Species Act — long seen as a major obsta­cle by devel­op­ers — is threat­ened with extinction.
Nowhere is the Bush administration's favor­tism for devel­op­ers more appar­ent than in Flori­da, home to a third of the more than three dozen Rangers and Pio­neers from the real estate indus­try. To over­see the frag­ile west­ern Ever­glades, Pres­i­dent Bush appoint­ed an EPA region­al admin­is­tra­tor who has made it near­ly impos­si­ble to deny per­mits for devel­op­ers wish­ing to build there. EPA biol­o­gist Bruce Bol­er quit after the agency endorsed a devel­op­er-financed study that con­clud­ed wet­lands dis­charge more pol­lu­tion than they absorb.
One of the devel­op­ers who helped finance the study — which implied water qual­i­ty could be improved by replac­ing wet­lands with golf cours­es and man­sions — is Al Hoff­man, a Ranger and finance chair­man of the Repub­li­can Nation­al Com­mit­tee. Hoff­man has described reg­u­la­tors as rad­i­cals ​"who think the world will end if they can't pro­tect that lit­tle tree."
Pow­er Play
In May 1999, Thomas Kuhn, pres­i­dent of the Edi­son Elec­tric Insti­tute, sent a let­ter to his col­leagues in the elec­tric util­i­ty indus­try solic­it­ing sup­port for Bush's nascent pres­i­den­tial cam­paign. Kuhn exhort­ed them to include his cam­paign track­ing num­ber on their checks to ​"ensure that our indus­try is credited."
The indus­try must have earned extra cred­it for the $5.2 mil­lion it con­tributed to Bush in the 2000 elec­tion. Elec­tric util­i­ty offi­cials and their high-priced lob­by­ists served on the Bush tran­si­tion team and met behind closed doors numer­ous times with Cheney's secret ener­gy task force. ​"Just because some­body makes a cam­paign con­tri­bu­tion," Cheney told the Asso­ci­at­ed Press, ​"doesn't mean they should be denied the oppor­tu­ni­ty to express their view to gov­ern­ment officials."
Rec­om­men­da­tions by the Cheney task force led to the undo­ing of a key clean air rule that required elec­tric util­i­ties to install mod­ern anti-pol­lu­tion equip­ment at old, coal-fired plants when they made major upgrades that sig­nif­i­cant­ly increased emis­sions. The rule change will save the util­i­ty com­pa­nies bil­lions. Bring­ing the plants into com­pli­ance would have reduced emis­sions by near­ly 7 mil­lion tons annu­al­ly, cut­ting air pol­lu­tion from U.S. pow­er plants in half.
Next on Bush's agen­da was the Clear Skies ini­tia­tive, which would allow the release of far more sul­fur diox­ide, nitro­gen oxide and air­borne mer­cury than exist­ing reg­u­la­tions — delay­ing by as much as a decade cuts cur­rent­ly required under the Clean Air Act. Kuhn has called Clear Skies ​"an excit­ing oppor­tu­ni­ty for our industry."
The biggest prize of all for the elec­tric util­i­ty indus­try may be the pro­posed repeal of the Pub­lic Util­i­ty Hold­ing Com­pa­ny Act, which would lead to wide­spread dereg­u­la­tion and con­sol­i­da­tion of elec­tric util­i­ties. Repeal­ing PUCHA would put an esti­mat­ed $1 tril­lion in reg­u­lat­ed elec­tric pow­er gen­er­a­tion, trans­mis­sion and dis­tri­b­u­tion facil­i­ties up for sale to the high­est bid­der. This would allow big pow­er com­pa­nies and Bush back­ers like South­ern Co. and Cin­er­gy to merge and expand, encour­ag­ing fur­ther Enron-style debacles.
Oil Slick­sters
The Bush administration's hand­outs to the oil and gas indus­tries have gone beyond a wildcatter's wildest dreams. Oil and gas com­pa­nies, which gave $13.4 mil­lion to Bush cam­paign efforts in 2000, were wel­comed in Wash­ing­ton with open arms. At least a dozen indus­try offi­cials were named to the Bush tran­si­tion team. Not sur­pris­ing­ly, the administration's ener­gy pol­i­cy has focused on expand­ing the sup­ply of fos­sil fuels — large­ly by open­ing up pub­lic lands to explo­ration — rather than reduc­ing demand through effi­cien­cy and alter­na­tive ener­gy sources.
The cen­ter­piece of the administration's strat­e­gy is drilling in the Arc­tic Nation­al Wildlife Refuge, even though this pre­cious ecosys­tem like­ly con­tains only enough oil to sat­is­fy six months of U.S. demand. The Sen­ate reject­ed this scheme again last year, but the admin­is­tra­tion con­tin­ues to press for­ward. Bush's 2005 bud­get includes $2.4 bil­lion in pro­ject­ed rev­enues from oil lease sales in ANWR in 2006.
In 2000, the oil and gas indus­try pro­duced 41 Pio­neers. But in the cur­rent cycle just a dozen indus­try rain­mak­ers are on the list. They include sev­er­al long­time Bush sup­port­ers from Texas such as bil­lion­aire Lee Bass and Nan­cy Kinder (Ken Lay's for­mer sec­re­tary, whose hus­band Richard, was an ex-pres­i­dent of Enron). The oil goliaths such as Cono­coPhillips and Exxon may be hold­ing back until pas­sage of the ener­gy bill, which con­tains bil­lions in indus­try ben­e­fits. Or per­haps these com­pa­nies are keep­ing a low­er polit­i­cal pro­file, hop­ing to avoid a Hal­libur­ton-like backlash.
King Coal
"You did every­thing you could to elect a Repub­li­can pres­i­dent," William Raney, direc­tor of the West Vir­ginia Coal Asso­ci­a­tion told a group of indus­try exec­u­tives in May 2001, after the Bush admin­is­tra­tion reneged on its pledge to reg­u­late car­bon diox­ide emis­sions and aban­doned the Kyoto glob­al warm­ing treaty. ​"You are already see­ing in his actions the pay­back, if you will, his grat­i­tude for what we did."
The pay­backs just kept com­ing. In 2002, the EPA adopt­ed an envi­ron­men­tal­ly dev­as­tat­ing rule pro­mot­ing moun­tain­top removal coal min­ing, which would allow com­pa­nies to bury hun­dreds of miles of streams under piles of rub­ble. A fed­er­al judge found that the rule change was ​"designed sim­ply of the ben­e­fit of the min­ing indus­try." Bush Pio­neer James H. ​"Buck" Har­less sits on the board of Massey Ener­gy, one of the biggest prac­ti­tion­ers of moun­tain­top removal mining.
An even big­ger gift to the min­ing indus­try would be pas­sage of the ener­gy bill. Even the ​"slimmed down" ver­sion of the bill craft­ed to speed its pas­sage still con­tains $7.4 bil­lion in sub­si­dies and tax breaks for the min­ing indus­try. Jack Ger­ard, head of the Nation­al Min­ing Asso­ci­a­tion and anoth­er Bush Pio­neer, told the West Vir­ginia Coal Sym­po­sium in Jan­u­ary that ​"the Ener­gy Pol­i­cy Act may well be the best oppor­tu­ni­ty the min­ing indus­try will have in our lifetimes."
Pre­scrip­tion for Profits
Phar­ma­ceu­ti­cal com­pa­nies and their exec­u­tives have spent half a bil­lion dol­lars since 1999 on lob­by­ing, cam­paign con­tri­bu­tions and indus­try front groups in an all-out effort to pre­vent a Medicare pre­scrip­tion drug ben­e­fit that would give gov­ern­ment the pow­er to nego­ti­ate low­er prices. Decry­ing ​"price con­trols" and clam­or­ing for a ​"mar­ket-based" solu­tion, the nation's drug-mak­ers — already the most prof­itable indus­try in the coun­try — have made it clear they won't tol­er­ate any threat to their bot­tom line.
The Medicare bill passed by Con­gress and signed by Bush last fall is tai­lor-made to their inter­ests. Pro­ject­ed to cost tax­pay­ers at least $530 bil­lion over 10 years, the bill great­ly expands the cus­tomer base for the phar­ma­ceu­ti­cal giants but ensures that the pre­scrip­tion drug ben­e­fit will be admin­is­tered by pri­vate com­pa­nies. In fact, the bill express­ly pro­hibits the gov­ern­ment from nego­ti­at­ing low­er prices.
The drug indus­try also has aggres­sive­ly opposed the ​"re-impor­ta­tion" of less expen­sive­ly priced drugs from Cana­da. Pfiz­er, whose CEO Hank McK­in­nell is a Ranger, has threat­ened to black­list any Cana­di­an phar­ma­cy that sells drugs to Amer­i­cans. The Bush admin­is­tra­tion has marched in lock­step with the drug-mak­ers, insist­ing drugs from Cana­da pose a risk to pub­lic safe­ty. Yet when pressed by Con­gress to sub­stan­ti­ate these claims, one top FDA offi­cial admit­ted, ​"We have very lit­tle evidence."
The real dan­ger, it seems, is to drug com­pa­ny prof­it margins.
Bad for Your Healthcare
Exec­u­tives in man­aged care, hos­pi­tals and nurs­ing homes also stand to prof­it from the mas­sive Medicare pack­age, which promis­es them addi­tion­al bil­lions. For exam­ple, man­aged-care com­pa­nies like Unit­ed­Health — which is head­ed by Pio­neer William McGuire — will take in at least an extra $14.2 bil­lion over 10 years in pay­ments designed to entice them to offer drug cov­er­age, accord­ing to the Con­gres­sion­al Bud­get Office. And Medicare rev­enues for man­aged-care com­pa­nies are expect­ed to increase six-fold from $37 bil­lion in 2003 to $226 bil­lion by 2010.
Mean­while, the pres­i­dent is push­ing fed­er­al med­ical mal­prac­tice leg­is­la­tion, which would insu­late health­care providers from the costs of their own neg­li­gence by lim­it­ing court awards to patients, espe­cial­ly those who have been cat­a­stroph­i­cal­ly injured. Charles ​"Chip" Kahn III, pres­i­dent of the Fed­er­a­tion of Amer­i­can Hos­pi­tals, told the Nation­al Jour­nal: ​"Med­ical-mal­prac­tice reform is a moun­tain­top issue for our mem­bers. That's why peo­ple were moti­vat­ed and why we were suc­cess­ful" at solic­it­ing enough cam­paign con­tri­bu­tions to become a Pioneer.
Bush's push for med­ical mal­prac­tice leg­is­la­tion also earns him points with doc­tors' groups and nurs­ing homes. Con­sid­er the poten­tial ben­e­fits to Ranger W. Andrew Adams, pres­i­dent of the nurs­ing home chain Nation­al Health­care Corp. When it comes to neg­li­gence and lia­bil­i­ty, Adams has obvi­ous con­cerns: As of June 2003, his com­pa­ny faced at least 87 per­son­al injury or wrong­ful death law­suits — includ­ing 46 suits in Flori­da alone, where the com­pa­ny was forced to close up shop after its insur­er can­celed its lia­bil­i­ty pol­i­cy. More law­suits may be on the way: A fire in Sep­tem­ber killed 14 res­i­dents in a com­pa­ny facil­i­ty in Nashville that had not been equipped with sprinklers.
Unfair­ness Inc.
Tort reform also is a top pri­or­i­ty of the insur­ance indus­try, which has giv­en more than $12 mil­lion to Bush's fed­er­al cam­paigns. The Class Action Fair­ness Act — a Bush-backed bill now held up in the Sen­ate — would help insur­ance com­pa­nies and their cor­po­rate clients by push­ing more cas­es from state to fed­er­al courts, where judges are far more like­ly to avoid cer­ti­fy­ing class action lawsuits.
Of the nine insur­ance com­pa­nies with Bush Pio­neers, at least sev­en have faced poten­tial class-action suits for ille­gal­ly deny­ing claims for nec­es­sary med­ical treat­ments, using mis­lead­ing sales prac­tices, deceiv­ing share­hold­ers, retal­i­at­ing against inter­nal whistle­blow­ers, and even fail­ing to pay ben­e­fits on poli­cies held by Holo­caust victims.
None of this fazes Bush, who has praised the indus­try for work­ing ​"long and hard" on the tort reform issue. As one offi­cial boast­ed to an indus­try trade mag­a­zine, ​"Any time the pres­i­dent of the Unit­ed States uses his bul­ly pul­pit to remind the Amer­i­can peo­ple that an out-of-con­trol legal sys­tem hurts con­sumers — that is a good day."
Media Monop­o­lies
On Feb­ru­ary 2, the Fed­er­al Com­mu­ni­ca­tions Com­mis­sion (FCC) swung into action, promis­ing a ​"thor­ough and swift" inves­ti­ga­tion of a bur­geon­ing nation­al media calami­ty: Janet Jackson's Super Bowl striptease.
For his part, Pres­i­dent Bush claimed he dozed off dur­ing the sec­ond quar­ter and missed all the excite­ment. Jackson's ​"wardrobe mal­func­tion" may have gar­nered all the head­lines, but the real out­rage at the FCC under Bush has been the non­stop dereg­u­la­tion and unfet­tered con­sol­i­da­tion of the com­pa­nies con­trol­ling the air­waves. On these issues, the pres­i­dent hoped to catch the pub­lic napping.
Yet the FCC deci­sion to allow one com­pa­ny to own tele­vi­sion sta­tions reach­ing up to 45 per­cent of the U.S. view­ing pub­lic was sec­ond only to the Iraq war in the num­ber of com­plaints received on Capi­tol Hill last year. Even­tu­al­ly, the White House signed off on a ​"com­pro­mise" own­er­ship cap of 39 per­cent — just enough to ensure that nei­ther News Corp. nor Via­com would have to sell any stations.
But return­ing Bush to office — and thus pre­serv­ing the 3‑to‑2 Repub­li­can major­i­ty at the FCC — is cru­cial for the next round of media mega-merg­ers to win approval. After all, that nar­row 3‑to‑2 mar­gin made pos­si­ble the con­tro­ver­sial $3 bil­lion merg­er of Uni­vi­sion and His­pan­ic Broad­cast­ing. Uni­vi­sion Chair­man and CEO Jer­ry Peren­chio, a Pio­neer, prof­it­ed hand­some­ly from the deal, which com­bined his tele­vi­sion net­work with the country's largest Span­ish-lan­guage radio network.
But the Uni­vi­sion merg­er was small pota­toes com­pared to Comcast's plans for media dom­i­na­tion. On Feb­ru­ary 11, the country's largest provider of cable TV and broad­band Inter­net ser­vices made an unso­licit­ed offer to buy Walt Dis­ney for $47.8 bil­lion. If the deal goes through, it would cre­ate the largest media com­pa­ny in the world. Com­cast Cable Pres­i­dent Stephen Burke already has raised $200,000 for Bush's re-election.
Por­tions of this arti­cle orig­i­nal­ly appeared in the Pub­lic Cit­i­zen report Bush's Cam­paign Ads … Brought to You by Spe­cial Inter­ests, which is avail­able in full at www​.White​House​For​Sale​.org.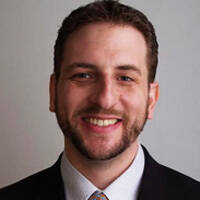 Craig Aaron
is senior pro­gram direc­tor of the nation­al media reform group
Free Press
and a for­mer man­ag­ing edi­tor of
In These Times
.