Busting the Myth of the Food Desert: A Farmer's Market in Milwaukee Sautés Statistics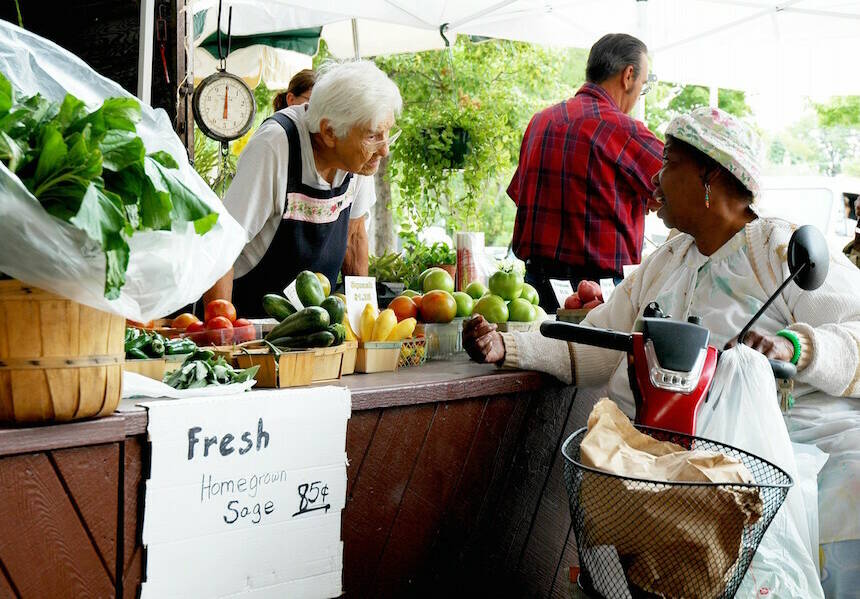 By any eco­nom­ic mea­sure the 53206 zip code — part of a 120 block neigh­bor­hood on Milwaukee's north side — is among Wisconsin's most strug­gling. Six­ty-six per­cent of house­holds earn less than $30,000 per year while the num­ber of vio­lent crimes and the rate of unem­ploy­ment rank con­sis­tent­ly high­er than state and nation­al aver­ages. But how's the food?
In 2009, a Com­mu­ni­ty Food Assess­ment (CFA) found that in this com­mu­ni­ty, where 96 per­cent of the peo­ple are African Amer­i­can, 89 per­cent of the food retail­ers were com­prised of ​"con­ve­nience stores, gas sta­tions, fast food restau­rants and food pantries." This real­i­ty, not unlike a Slurpee®, is cold and utter­ly lack­ing vit­a­mins. But it's not uncom­mon in low-income urban areas. Nei­ther, of course, are the dis­pro­por­tion­ate­ly high­er rates of obe­si­ty, dia­betes and heart dis­ease — mal­adies empir­i­cal­ly linked to the pro­longed con­sump­tion of exact­ly the cui­sine one encoun­ters at con­ve­nience stores, gas sta­tions and fast food restaurants.
Sci­ence sug­gests peo­ple should eat fruits and vegetables
From May to Novem­ber, how­ev­er, the local Fondy Farmer's Mar­ket, now in its 97th year, oper­ates one of the largest and most cul­tur­al­ly diverse open-air mar­kets in the region — con­nect­ing the 53206 com­mu­ni­ty (and sur­round­ing neigh­bor­hoods with sim­i­lar­ly dis­mal access to fresh pro­duce) to 30 local farmers.
Now a grow­ing trend nation­al­ly, Fondy became the first farmer's mar­ket in Wis­con­sin to accept to accept Sup­ple­men­tal Nutri­tion Assis­tance Pro­gram (SNAP) ben­e­fits in the form of Elec­tron­ic Ben­e­fit Cards (EBTs). Going against the stan­dard ​"cash-only" busi­ness mod­el prac­ticed in many open-air mar­kets (a tech­no­log­i­cal headache, at first, for farm­ers sell­ing their goods out­side) has allowed more peo­ple access to fresh food. This applies not just to the fam­i­lies receiv­ing SNAP assis­tance (53 per­cent in this Mil­wau­kee com­mu­ni­ty), but also to the 21st cen­tu­ry con­sumer-at-large who's been sub­con­scious­ly phas­ing out cash in favor of plas­tic for years. In 2014, Fondy EBT sales totaled $43,392 — 10 times the nation­al aver­age of $4,628.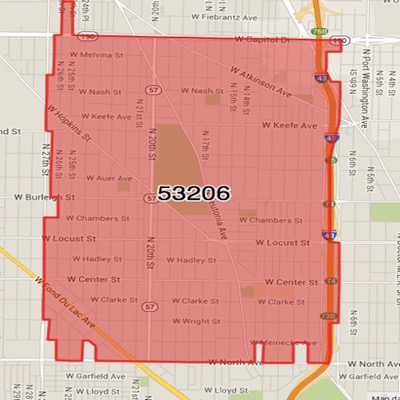 Stop call­ing it a food desert
The exec­u­tive direc­tor of Fondy Farmer's Mar­ket, Young Kim, is a sec­ond gen­er­a­tion Kore­an Amer­i­can from the deep south — born in Tuscaloosa, Alaba­ma, than raised in Louisiana and North Car­oli­na. With a back­ground in social ser­vices, not agri­cul­ture, he's been over­see­ing Fondy Mar­ket, a 501(c)(3), since 2003. Pri­or to mov­ing to Wis­con­sin, Kim, was work­ing with the home­less pop­u­la­tion in Seat­tle, Wash­ing­ton, which, in recent years, has become one of the largest in the nation. Reflect­ing on that expe­ri­ence, Kim says:
"I felt like I was run­ning around inside a house, plac­ing buck­ets of water to catch the rain­drops com­ing through ceil­ing. But I didn't feel like any­body was climb­ing up on the roof and fix­ing it."
The metaphor speaks to a mind­set Kim calls ​"insti­tu­tion­al momen­tum." He says a lot of orga­ni­za­tions formed to address social issues should be active­ly try­ing to put them­selves out of a job. Instead, they find them­selves becom­ing a business.
"When you have a large non-prof­it, one of the ways to demon­strate legit­i­ma­cy is to pro­vide ser­vices to a lot of peo­ple," says Kim. ​"But then you become a ser­vice orga­ni­za­tion [instead of an orga­ni­za­tion try­ing to cor­rect a sit­u­a­tion]. Before you know it, you've become an industry."
Over­com­ing ​"insti­tu­tion­al momen­tum" can seem counter-intu­itive at first. So much so that Kim admits his ini­tial approach to the issues fac­ing the north side of Mil­wau­kee was wrong.
"I called this neigh­bor­hood a ​'food desert,' " says Kim. ​"I thought whole­sale change need­ed to hap­pen and be forced on this neighborhood."
"Food desert," a term used to describe the lack of access to healthy things to eat in an urban area, is one Kim no longer uses. He explains:
"This is a very food opin­ion­at­ed cul­ture. Peo­ple take great pride in being called a good cook and it's not a com­pli­ment bat­ted around light­ly. I've since learned that to do this kind of work the right way — for long-term affect — there needs to be a shar­ing of pow­er. You have to back off and lis­ten. A lot of the good ideas come from the neigh­bor­hood and our cus­tomers themselves."

(Young Kim, Exec­u­tive Direc­tor of the Fondy Food Cen­ter / http://​fondy​mar​ket​.org)
Cul­ture and calories
As Mark Kurlan­sky writes in his 2002 book Choice Cuts: A Savory Selec­tion of Food Writ­ing from Around the World and Through­out His­to­ry, ​"Food is a cen­tral activ­i­ty of mankind and one of the sin­gle most sig­nif­i­cant trade­marks of a cul­ture."
And while the cur­rent state of Amer­i­can food cul­ture (indeed much of it trade­marked) remains hard to pin down — some­where between $6 aspara­gus water and some­thing called a Bacona­tor—it might not be too late to rethink what we eat, why we eat it and where it comes from.
That mind­set, as opposed to ​"insti­tu­tion­al momen­tum," informs Kim's strat­e­gy. He says that every cul­ture in Mil­wau­kee has a healthy eat­ing tra­di­tion and that it's up to every­one to explore — to look back — and find their culi­nary her­itage. Thus, cook­ing demon­stra­tions, com­pe­ti­tions and the inter­ac­tive exchange of healthy recipes are an inte­gral part of the Fondy Mar­ket mission.
Last July, while research­ing African-Amer­i­can cook­ing tra­di­tions pri­or to an upcom­ing week­end col­lard green com­pe­ti­tion, Kim came across a cook­book writ­ten by a woman dur­ing the Harlem Renais­sance. Sift­ing through the pages, he was struck by a sec­tion in which the writer described how chick­ens would be raised specif­i­cal­ly for fry­ing, once a year, in the Spring.
"Of course back then you had to catch a chick­en, kill it, pluck it, gut it and slice it up," says Kim. ​"Then you had to use the fat you saved in a cof­fee can all year — you couldn't go to a gro­cery store and buy a 5 gal­lon jug of canola oil. It was a once in a while thing, a celebration."
When it comes to healthy eat­ing, instant abun­dance can and does have some unin­tend­ed cul­tur­al con­se­quences. Pre­sum­ably for as long as humans have lived in groups, what­ev­er they most liked eat­ing has been a dri­ving part of how that cul­ture defined itself. But while some things nev­er change, tech­nol­o­gy does. In the age of the super­mar­ket and driv-thru, mass-pro­duced cul­tur­al favorites can now be pur­chased, indef­i­nite­ly stored and con­sumed, in any quan­ti­ty, cour­tesy of the frozen food aisle and/​or 24-hour deliv­ery win­dow (the lat­ter cur­rent­ly oper­at­ed by peo­ple who, in the opin­ion of this reporter, will soon be replaced by robots bliss­ful­ly unde­terred by the con­cept of a liv­able wage).
"At some point a lot of the cel­e­bra­to­ry foods that were eat­en as once-in-a-while treats became every­day foods," says Kim. ​"In Mex­i­can-Amer­i­can cui­sine, for exam­ple, there's the tamale. That used to be a very labor-inten­sive treat, involv­ing whole fam­i­lies get­ting togeth­er to make them once or twice a year. Now, thanks to our indus­tri­al­ized food sys­tem, you can get all those ingre­di­ents and make them all the time. But that's not healthy eating."
Indeed, every cul­ture has its favorites and while it's safe to assume the cel­e­bra­to­ry foods we enjoy tast­ed every bit as good to our ances­tors, it becomes impor­tant to remem­ber the con­text of that food's ori­gins. Or bet­ter yet, how that con­text has changed. The fact is, most of the west­ern hemi­sphere is doing less man­u­al labor now than at any time in our past.
"Peo­ple are start­ing to wake up to the fact that they're not work­ing on the farm any­more," says Kim, ​"they're maybe click­ing a mouse, typ­ing, stand­ing up every now and then to go file some­thing — we're not using the same amount of calo­ries as we were when these recipes were cre­at­ed. I think that there needs to be a return back to how our grand par­ents and great-grand­par­ents ate."
The food­ies of
53206
Of course, any attempt to return to a more envi­ron­men­tal­ly bal­anced, sen­si­ble diet is con­tin­gent upon access to fresh alter­na­tives (to, say, Taco Bell's Que­sar­i­to). But for that to hap­pen, peo­ple in a com­mu­ni­ty have to want options. Accord­ing to Kim, his cus­tomers in Mil­wau­kee very much do.
"The grow­ing aware­ness and enthu­si­asm for good food has pen­e­trat­ed all lev­els of soci­ety," he says. ​"The 53206 is strug­gling by every eco­nom­ic mea­sure, but the con­ver­sa­tions tak­ing place here are sophis­ti­cat­ed — I'm often asked, for exam­ple, if the corn we're sell­ing has been genet­i­cal­ly modified."
It isn't. In 2010, the Fondy Farm Project was estab­lished to con­nect local farm­ers (many of them Hmong immi­grants from South­east Asia) with afford­able plots and the agri­cul­tur­al infra­struc­ture need­ed to grow organ­ic pro­duce for the mar­ket. (Locat­ed in rur­al Port Wash­ing­ton, just north of Mil­wau­kee, a more thor­ough descrip­tion of Fondy Farms can be read here.)
It stands to rea­son that a sat­is­fac­to­ry rela­tion­ship between a com­mu­ni­ty and its food might be best estab­lished when res­i­dents under­stand (and trust) where their food comes from.
"I do think that local trumps organ­ic," says Kim in response to a ques­tion about the mer­its of sus­tain­able farm­ing, ​"I would rather eat a local­ly pro­duced toma­to that was grown 30 min­utes away from me than an organ­ic toma­to from Mexico."
"

Agri­cul­ture hasn't been kind to everybody"

Like many cities in the Mid­west and North­east, the major­i­ty of Milwaukee's African-Amer­i­can pop­u­la­tion set­tled here dur­ing the Great Migra­tion — a peri­od between 1910 and 1970 when black peo­ple left the south in droves in hopes of putting cen­turies of enslave­ment and pover­ty behind them. That migra­tion, per­haps put too sim­ply, was moti­vat­ed by a desire to get as far away from South­ern farm­ing tra­di­tions as possible.

"These peo­ple were being exploit­ed through agri­cul­ture and there was a more mod­ern way of life call­ing up north‑in Chica­go, New York, Newark, Boston or Oak­land and a lot of peo­ple made the con­scious deci­sion to leave it behind," says Kim. ​"So when you rein­tro­duce the idea of agri­cul­ture to peo­ple that live in this neigh­bor­hood, you can't assume folks want to be involved with farming."

Rur­al com­mu­ni­ties across the coun­try were in no way immune to the per­va­sive 20th cen­tu­ry march of bright­ly lit ped­dlers of read­i­ly avail­able, afford­able, over­ly-processed caloric garbage. But as our nation set­tles into the obese after­math, the cor­re­la­tion between prox­im­i­ty to arable land and access to trust­wor­thy food can't be ignored. When it comes to sug­gest­ing a strug­gling African-Amer­i­can com­mu­ni­ty should read­i­ly embrace local agri­cul­ture, nei­ther can our col­lec­tive history.

Alice's Gar­den, an orga­ni­za­tion that teach­es urban kids about the process and busi­ness of respon­si­ble agri­cul­ture, and The Wal­nut Way Con­ser­va­tion which, as part of its com­pre­hen­sive approach to local eco­nom­ic devel­op­ment through edu­ca­tion, oper­ates mul­ti­ple high pro­duc­tion com­mu­ni­ty gar­dens, have recent­ly part­nered with the Fondy Mar­ket. Togeth­er, these orga­ni­za­tions are work­ing to pro­duce food while heal­ing the rift between young peo­ple, their com­mu­ni­ties and mis­con­cep­tions regard­ing the future of agriculture.

"This is not about some­body com­ing in from the sub­urbs and lur­ing every­body into becom­ing a veg­e­tar­i­an," says Kim. ​"We're try­ing to get at [food] sus­tain­abil­i­ty but, when I talk about that, I mean all three aspects of it: envi­ron­men­tal, eco­nom­ic and cultural."
A dif­fer­ent kind of optimism
Farmer's mar­kets are spec­ta­cles and every city does it differently.
In Seat­tle, for exam­ple, in addi­tion to pur­chas­ing fresh fruits and veg­eta­bles, open air mar­kets are a good place for com­plete strangers to sort out who start­ed drink­ing kom­bucha first and/​or which chakras ben­e­fit most from hav­ing the Didgeri­doo played over them — all while being while being ser­e­nad­ed by hit-or-miss tunes on a dulcimer.
Fondy Farmer's Mar­ket mix­es in some tunes also. In fact, they hit all of the famil­iar notes one might expect from a social­ly-con­scious, eco-friend­ly orga­ni­za­tion—com­mu­ni­ty, think­ing local and sus­tain­abil­i­ty are all part of the con­ver­sa­tion. But it's their let's‑make-this-taste-good approach and dogged com­mit­ment to imple­ment­ing these buzz­words that make the mar­ket unique.
In Novem­ber 2014, Uni­ver­si­ty of Wis­con­sin-Mil­wau­kee pro­fes­sor and found­ing direc­tor of the Cen­ter for Eco­nom­ic Devel­op­ment, Marc V. Levine, pub­lished Zip­code 53206: A Sta­tis­ti­cal Snap­shot of Inner City Dis­tress in Mil­wau­kee: 2000 – 2012. The report's find­ings — socio-eco­nom­ic cen­sus data illus­trat­ed with easy-to-under­stand bar graphs — were grim. Strict­ly accord­ing to the num­bers, a decade-long attempt at social and eco­nom­ic revival of the neigh­bor­hood had failed on almost every front. ​"Unfor­tu­nate­ly," the report reads, ​"the trend lines in 53206 con­tin­ue to point down­ward." In oth­er words, the report sug­gests that with­out major change in its eco­nom­ic devel­op­ment poli­cies, the 53206 com­mu­ni­ty is poised to dis­ap­point the next aca­d­e­m­ic analy­sis of its unem­ploy­ment, pover­ty, hous­ing and edu­ca­tion­al attain­ment metrics.
While such stud­ies are impor­tant, per­haps even anthro­po­log­i­cal­ly cru­cial, they tell us next to noth­ing about the actu­al peo­ple on which the sta­tis­tics are based. Last July, in response to Levine's find­ings, John Lin­nen and Michael Gos­man came to the defense of the 53206 in a Mil­wau­kee Jour­nal Senti­nal opin­ion piece. They wrote:
"It's cer­tain­ly true that this ZIP code has chal­lenges, and we take no issue with the study. But a sta­tis­ti­cal snap­shot — by its very nature — can't mea­sure how indi­vid­u­als in this area approach life. There are Mil­wau­keeans fight­ing for and believ­ing in the poten­tial of this dif­fi­cult area — chal­leng­ing the ​"snap­shot" and offer­ing an alter­nate nar­ra­tive of oppor­tu­ni­ty and optimism."
How an indi­vid­ual approach­es life is hard to study or mea­sure because it's con­stant­ly chang­ing. The need for food, how­ev­er, remains a con­stant and there are peo­ple work­ing to make an alter­nate, more sus­tain­able nar­ra­tive real. ​"It's like any social issue," says Young Kim, ​"once the wool has been pulled from your eyes, you can't pull it back over them."