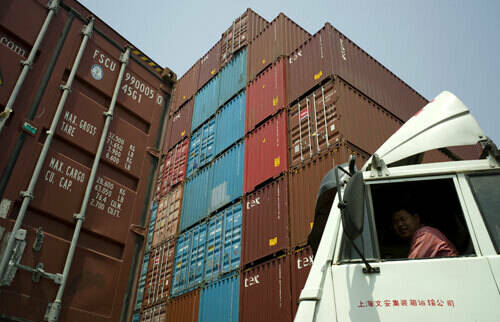 Today, a nearly weeklong wildcat strike by Chinese truck drivers that threatened to shut down the port in Shanghai appeared to have all but fizzled out. The strike was started last Wednesday by truck drivers, who are independent contractors.
They demanded that the government do something about high fuel costs and what some call high fees charged by government agencies and firms. The strike slowed down operations at China's busiest port in Shanghai and threatened to shut it entirely. The Chinese government, concerned about the strikes spreading, met strikers with violence and police beatings when they tried to form a picket line preventing trucks from entering the port.
The rising tide of strikes in China follows strikes last year, when workers engaged in wildcat strikes against Toyota, Honda, and Teleconn – makers of Apple's iPhone. The rising tide of strikes in China is significant, as the government of China prohibits unions other than those controlled by the Communist Party-controlled All-China Federation of Trade Unions, which has suppressed strikes in the past. The truckers' strike was organized by workers themselves through word of mouth and organic relationships, independent of the official union.
In the hopes of preventing more wildcat strikes from spreading, the Chinese government has agreed to improve working conditions for Chinese truck drivers. Officials offered to roll back several of the cost prohibitive fees in China. According to the Wall Street Journal, many workers decided to go back to work after receiving these concessions, thus dampening the appeal of a continued strike. The strike, which could have revolutionized the labor movement in China, appears to be over before the rest of the world even had the opportunity to hear about it.
The strike, of course, was blacked out by China's state-run media. But even more troubling was that, beyond the business press (Wall Street Journal, Financial Times) and the New York Times, U.S. media haven't covered the strike much. The development of an independent trade union movement in China is of central importance to workers in the United States, who see their jobs threatened by lower paid Chinese workers.
Drawing media attention to the strike is crucial for applying pressure on China to allow an independent trade union movement. Yet as they often do with American labor stories, American media have not given the Chinese truck drivers' strike adequate coverage.
This post has been updated to note the New York Times' coverage of the strike.