Citizens United and the 19th Amendment
What campaign finance reformers can learn from America's suffragettes.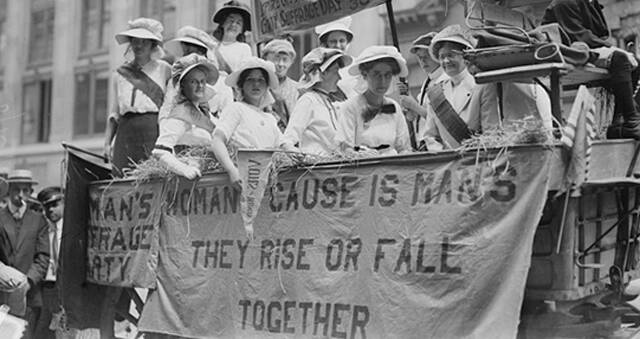 When the Supreme Court hand­ed down the Cit­i­zens Unit­ed deci­sion in Jan­u­ary 2010, Pres­i­dent Oba­ma described it as ​"dev­as­tat­ing to the pub­lic inter­est" and promised that he would work to ​"repair the dam­age that has been done." It was sup­posed to be among his top priorities.
It's impossible to know how far a movement is from achieving its goal until that goal becomes reality.
If work­ing to reverse Cit­i­zens Unit­ed has been one of Obama's pri­or­i­ties, though, it's been a well-kept secret. He rarely men­tions it, and in Feb­ru­ary he reversed him­self and decid­ed accept fund­ing from a Super PAC that's rais­ing mon­ey for his elec­tion cam­paign. (Cit­i­zens Unit­ed allows Super PACs – or ​"polit­i­cal action com­mit­tees" – to raise unlim­it­ed cash con­tri­bu­tions from indi­vid­u­als, almost always on behalf of a par­tic­u­lar can­di­date or cause.)
But in truth, the momen­tum for revers­ing Cit­i­zens Unit­ed was nev­er going to come from the White House, much less from Con­gress. Both are too deeply enmeshed in the sys­tem to invest much effort in reform­ing it. The ener­gy to defeat the rul­ing will come, if it comes from any­where, from old-fash­ioned grass­roots activism. And on that front, the out­look is more promis­ing than you might guess. There's good news and bad news, and some more good news.
The first piece of good news is that Cit­i­zens Unit­ed isn't a par­ti­san issue: a sub­stan­tial major­i­ty of vot­ers favor impos­ing lim­its on the influ­ence of mon­ey and lob­by­ists in Amer­i­can pol­i­tics. In a poll (PDF) released in Jan­u­ary by the firm Green­berg Quin­lan Ros­ner, 55 per­cent of respon­dents said that cor­po­ra­tions should not have the con­sti­tu­tion­al rights accord­ed to indi­vid­u­als. Eighty per­cent favored lim­it­ing cam­paign con­tri­bu­tions and spend­ing, and 89 per­cent of inde­pen­dent vot­ers favored ​"rea­son­able lim­its." Two-thirds of the lat­ter group said that ​"cam­paign finance reform is a very impor­tant fac­tor in their vote." The same was true for 69 per­cent of Democ­rats and 56 per­cent of Republicans.
The bad news is that revers­ing Cit­i­zens Unit­ed is only the first step if we're seri­ous about address­ing cor­rup­tion in Amer­i­can pol­i­tics. To believe that revers­ing the rul­ing a panacea is to believe that ​"our democ­ra­cy was fine and Cit­i­zens Unit­ed broke it. But of course, the democ­ra­cy was already bro­ken," as Lawrence Lessig, who directs the Edmond J. Safra Cen­ter for Ethics at Har­vard, has observed. In his recent book, One Way For­ward, Lessig argues that the Left and the Right can agree that the influ­ence of mon­ey is a major rea­son for the cor­rup­tion of our pol­i­tics. His man­i­festo calls for them to join forces and replace the cur­rent sys­tem with pub­lic financ­ing and lim­it­ed pri­vate donations.
The sec­ond piece of good news is that there is a well-marked path toward achiev­ing both the imme­di­ate goal of over­turn­ing Cit­i­zens Unit­ed and the broad­er goal of replac­ing our cur­rent sys­tem of cam­paign finance. It involves build­ing on the accom­plish­ments of cam­paigns at the state and local lev­els dur­ing the last two decades.
In 1996, Maine passed leg­is­la­tion that pro­vides pub­lic financ­ing to can­di­dates run­ning for all state offices. Ari­zona and Mass­a­chu­setts did the same, both via bal­lot ini­tia­tives, in 1998. (The Ari­zona Cit­i­zens Clean Elec­tions Act was struck down by the U.S. Supreme Court in 2011. The Mass­a­chu­setts law was repealed after the state supreme court declared it uncon­sti­tu­tion­al.) Sev­er­al oth­er states have passed sim­i­lar leg­is­la­tion or have ini­ti­at­ed pilot pro­grams that exper­i­ment with some lev­el of pub­lic financ­ing of elec­tions: Con­necti­cut, Hawaii, New Mex­i­co, North Car­oli­na, New Jer­sey, Ver­mont, West Vir­ginia and Wis­con­sin, where pub­lic financ­ing of the state's Supreme Court elec­tions went into effect just last year. At least two cities – Port­land, Ore­gon, and Albu­querque, New Mex­i­co – have also passed pub­lic-finance legislation.
And in what may become the most momen­tous devel­op­ment yet for clean elec­tions in the Unit­ed States, a coali­tion in New York launched a cam­paign this week to build sup­port for pub­lic financ­ing of the state's elec­tions. The coali­tion con­sists of sev­er­al wealthy back­ers, includ­ing one of the founders of Face­book. But unions and MoveOn​.org have also signed on. It's the kind of ide­o­log­i­cal­ly diverse coali­tion that Lessig envi­sions. The mem­bers hope that New York ​"could become a nation­al mod­el for the effort to free elec­tions from the grip of big mon­ey," accord­ing to an arti­cle in The New York Times.
The long and wind­ing road to reform – a cen­tu­ry ago and today
Build­ing on state-lev­el activism and incre­men­tal progress – with the ulti­mate aim of pass­ing a con­sti­tu­tion­al amend­ment that address­es both Cit­i­zens Unit­ed and the gen­er­al cor­rup­tion of our pol­i­tics – has an impor­tant prece­dent. It was the strat­e­gy used by the woman suf­frage move­ment a cen­tu­ry ago, at a time when pass­ing an amend­ment that guar­an­teed women the right to vote seemed about as like­ly as purg­ing cor­rup­tion from our pol­i­tics seems today.
The state of Wash­ing­ton passed woman suf­frage leg­is­la­tion in 1910, and sev­er­al states fol­lowed suit over the next two years – Ari­zona, Cal­i­for­nia, Kansas and Ore­gon. In the 1912 pres­i­den­tial elec­tion, woman suf­frage became a plank in the Pro­gres­sive Par­ty plat­form. But despite this appar­ent momen­tum, there was lit­tle move­ment toward the goal of pass­ing a con­sti­tu­tion­al amend­ment dur­ing the next four years.
In 1916, Car­rie Chap­man Catt – head of the Nation­al Amer­i­can Woman Suf­frage Asso­ci­a­tion – called on NAWSA's state chap­ters to engage in a ​"red-hot, nev­er ceas­ing cam­paign" to pres­sure state leg­is­la­tures. That cam­paign – along with the agi­ta­tion of a more mil­i­tant fac­tion of suf­fragettes, who focused pri­mar­i­ly on pass­ing a con­sti­tu­tion­al amend­ment – turned the tide in the last third of the decade. Sev­er­al more states grant­ed at least lim­it­ed suf­frage in 1917 and 1918, and the U.S. Sen­ate passed the woman suf­frage amend­ment in 1919. It was rat­i­fied by three-fourths of the states the fol­low­ing year.
At least two rel­e­vant morals can be drawn from this his­to­ry. One is that the lead­ers of the polit­i­cal par­ties might be pres­sured into doing the right thing, but they will rarely lead the way. In 1916, a suf­frag­ist described the Demo­c­ra­t­ic Par­ty as ​"the chief ene­my in our path," because par­ty lead­ers had ​"declared for Suf­frage, state by state" but had done lit­tle to actu­al­ly help achieve vic­to­ry. Woodrow Wil­son was the pro­to­typ­i­cal hedg­ing Demo­c­rat who didn't exact­ly oppose but didn't exact­ly sup­port reform. He didn't endorse the con­sti­tu­tion­al amend­ment guar­an­tee­ing women the right vote until 1918, two years into his sec­ond pres­i­den­tial term – and a year after he had led the Unit­ed States into war on the premise of mak­ing the world ​"safe for democracy."
The oth­er moral is that it's impos­si­ble to know how far a move­ment is from achiev­ing its goal until that goal becomes real­i­ty. When a wave of West­ern states began pass­ing woman suf­frage leg­is­la­tion in 1910, it had been four­teen years since the last state, Ida­ho, had done so. When suf­frage became part of the Pro­gres­sive Party's plat­form in 1912, it must have seemed that vic­to­ry wasn't far off. Yet it took sev­en more years of strug­gle, includ­ing a peri­od when the momen­tum of 1910 – 1912 seemed to fade, to reach the goal. And no one knew, at any point along the path, when or if the con­sti­tu­tion­al amend­ment would ever pass.
So here's a final piece of good news: gen­uine reform might be clos­er than it seems. Even before Cit­i­zens Unit­ed dra­ma­tized the need for cam­paign finance reform, orga­ni­za­tions like Pub­lic Cam­paign and Pub­lic Cit­i­zen had been work­ing for such reform, and Root­strik­ers and Pro­gres­sives Unit­ed (found­ed by Lessig and for­mer Sen. Russ Fein­gold, respec­tive­ly) have now joined the cause. They offer insti­tu­tion­al chan­nels for activism that strikes direct­ly – as the name of Lessig's orga­ni­za­tion sug­gests – at the roots of cor­rup­tion in our polit­i­cal system.
Will that be enough? The one cer­tain thing is that, as Barack Oba­ma used to say, we are the change that we seek. It's now clear that by ​"we," he meant you and me. What sound­ed like a promise in 2008 was actu­al­ly a warn­ing: if we don't do it, it won't get done. The pres­i­dent, even if he has the incli­na­tion, doesn't have the pow­er. The Con­gress is so cor­rupt that it can't even begin to think about how to reform itself.
Yet, for all that, it's just pos­si­ble that we're on the brink of some­thing big. It might be ten years away. It might be a year away. No one knows.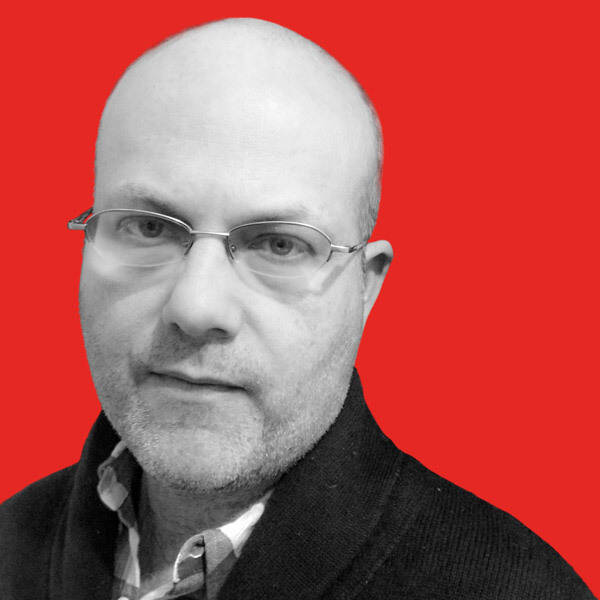 Theo Ander­son
is an In These Times con­tribut­ing writer. He has a Ph.D. in mod­ern U.S. his­to­ry from Yale and writes on the intel­lec­tu­al and reli­gious his­to­ry of con­ser­vatism and pro­gres­sivism in the Unit­ed States. Fol­low him on Twit­ter @Theoanderson
7
.