In 2008, Democratic Socialists Endorsed Him. Now, a DSA Member Is Primarying Him.
Backed by Brand New Congress, Anthony Clark is challenging Rep. Danny K. Davis (D-Ill.), in a sign of how far left politics have moved.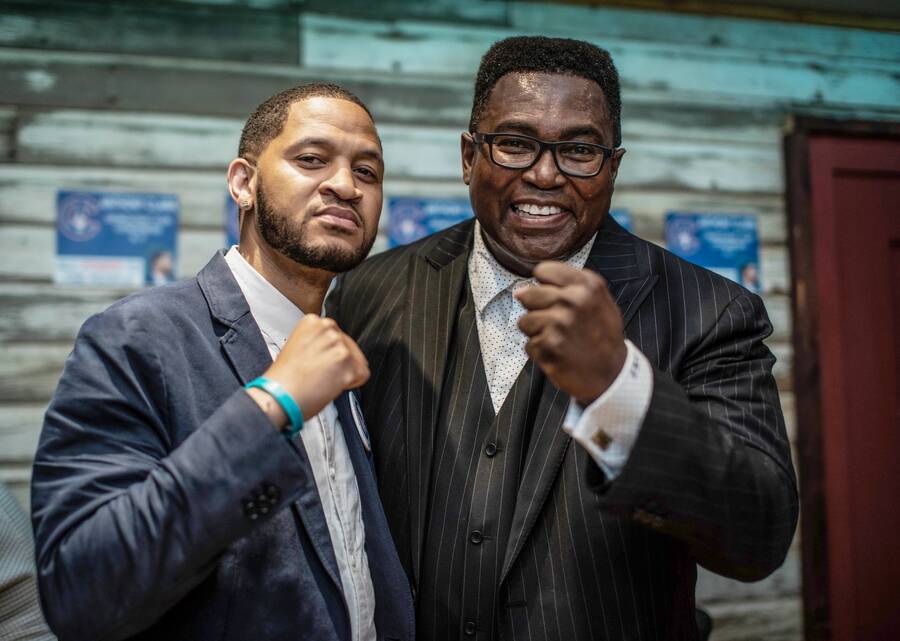 CHICA­GO—Nas' voice led me to Antho­ny Clark's June cam­paign launch par­ty in sub­ur­ban For­est Park, Ill. I had mis­placed the exact address and wan­dered until steered by dis­tant hip-hop rhythms — I had heard that Clark was a hip-hop afi­ciona­do and fol­lowed the hint. The activist edu­ca­tor is mak­ing a sec­ond try to oust Rep. Dan­ny K. Davis from Illi­nois' 7th Con­gres­sion­al Dis­trict, draw­ing a youngish crowd full of polit­i­cal enthusiasm.
"I didn't wake up and say, 'I want to become a politician.' I never had those dreams and I still don't consider myself a politician." —Anthony Clark
Clark won 26 per­cent of the pri­ma­ry vote in 2018 — or, as his sup­port­ers say, ​"almost 30 per­cent" — to Davis' 74 per­cent. The results indi­cate some dis­con­tent with the icon­ic incum­bent, who had nev­er before dipped below 80 percent.
Clark ran in 2018 with the endorse­ment of three pro­gres­sive orga­ni­za­tions: Brand New Con­gress, Jus­tice Democ­rats and the Chica­go Demo­c­ra­t­ic Social­ists of Amer­i­ca (CDSA). Brand New Con­gress has already announced its 2020 endorsement.
Clark proud­ly describes him­self as a demo­c­ra­t­ic social­ist and stress­es his polit­i­cal kin­ship to Rep. Alexan­dria Oca­sio-Cortez (D‑N.Y.) and oth­ers who chal­lenged estab­lish­ment Democ­rats in 2018. Clark's can­di­da­cy is tak­ing shape just as Chica­go is expe­ri­enc­ing an unprece­dent­ed surge of social­ism, per­haps an indi­ca­tion of elec­tions to come.
As the Chica­go Sun-Times put it fol­low­ing the city's April elec­tions: ​"Chica­go had expe­ri­enced the biggest elec­toral vic­to­ry for social­ists in mod­ern Amer­i­can his­to­ry. Mem­bers of the [CDSA] now con­trol one-tenth of the City Council's 50 seats." Chica­go also elect­ed its first black les­bian may­or, who was wide­ly regard­ed as anti-estab­lish­ment. This new elec­toral spa­cious­ness has opened the way for a fuller cri­tique of the polit­i­cal sta­tus quo.
Davis is per­haps as pro­gres­sive as any mem­ber of Con­gress and has been endorsed by CDSA in the past. He is a sto­ried Chica­go char­ac­ter, revered as part of a long-serv­ing trio of black reps from the city. Although he has long voiced pro­gres­sive ideas, his con­stituents increas­ing­ly say his con­gres­sion­al out­put does lit­tle in terms of policy.
"Dan­ny Davis has been inef­fec­tive for some time now," says Paul Sakol, a long-time Chicagoan and one of the old­est CDSA mem­bers at the event. ​"Oh, sure, he occa­sion­al­ly says the right things, but where is his active voice in the strug­gle? He seems tired… I've been an admir­er of Antho­ny even before he got into pol­i­tics, so I see him as a nat­ur­al to suc­ceed Danny."
Clark also crit­i­cizes Davis for ​"sid­ing with Repub­li­cans" to sup­port a May 2018 roll­back of Dodd-Frank reg­u­la­tions for small­er banks, and for tak­ing cor­po­rate donations.
Davis faces anoth­er chal­lenger, Kina Collins, a gun-con­trol advo­cate and an orga­niz­er with Physi­cians for a Nation­al Health Pro­gram, which advo­cates sin­gle-pay­er healthcare.
Clark, who was once in a hip-hop group him­self, The Sons of Sin, had his own DJ team pre­sid­ing as diverse young peo­ple con­tin­ued crowd­ing into the trendy night spot, includ­ing Clark's for­mer stu­dents from Oak Park and Riv­er For­est High School. Clark ini­tial­ly gained notice as a teacher with a strong pen­chant for stu­dent advo­ca­cy, and his ener­getic corps of sup­port­ers per­son­al­ly prais­es his influ­ence. But Clark start­ed off the evening cred­it­ing his own father, Ronald Clark Sr., who spoke about the impor­tance of pater­nal duty, espe­cial­ly as it regards black Amer­i­cans, on the eve of Father's Day.
Dima Ali, an immi­grant from Iraq, says Clark invit­ed her to speak about Trump's Mus­lim ban at a com­mu­ni­ty forum in April 2017. ​"I have no fam­i­ly here, but Antho­ny is my broth­er," she says.
It was Clark's vibrant activism that ini­tial­ly made him attrac­tive to groups like Brand New Con­gress and Jus­tice Democ­rats, who want to inject a renewed spir­it into the party.
"I'll be hon­est with you: In 2018, I was nom­i­nat­ed," Clark told the crowd. ​"I didn't wake up and say, ​'I want to become a politi­cian.' I nev­er had those dreams and I still don't con­sid­er myself a politician.
"When the Brand New Con­gress peo­ple approached me, I was hes­i­tant at first, but after I thought about it, I real­ized, that with all of my work as a teacher and even with my non-prof­it work, I'm only treat­ing symp­toms and I'm still part of the problem."
Clark says a con­gres­sion­al seat would afford him the abil­i­ty ​"to address root caus­es, pol­i­cy and leg­is­la­tion to help redress the dam­age done by a cap­i­tal­ist soci­ety based on white supremacy."
Clark's pol­i­cy pre­scrip­tions are pro­gres­sive: Medicare for All, a Green New Deal, abol­ish ICE, legal­ize cannabis with racial jus­tice pro­vi­sions (Illi­nois will do so in 2020), hous­ing as a human right, a fed­er­al jobs guar­an­tee. Then again, so are Davis'.
But Clark faults Davis for fail­ing to ​"lead and fight" on these issues and oth­ers, espe­cial­ly the jobs guar­an­tee, ​"con­sid­er­ing the 7th's unem­ploy­ment rate is 2.5 times the nation­al average."
In response, Ira Cohen, Davis' com­mu­ni­ca­tions direc­tor, says, ​"I believe it is fair to say that Rep. Davis is a strong and out­spo­ken leader on these issues in the fullest sense of the word. He works close­ly with unions, activist groups, state and local pro­gres­sive leg­is­la­tors, and grass­roots orga­ni­za­tions on leg­isla­tive agen­das in these areas. Rep. Davis preach­es mass strug­gle and sol­i­dar­i­ty because he under­stands, in the end, that is the only path to a tru­ly just society."
Clark is forc­ing the ques­tion: Have Davis' pre­scrip­tions become more sten­to­ri­an than effective?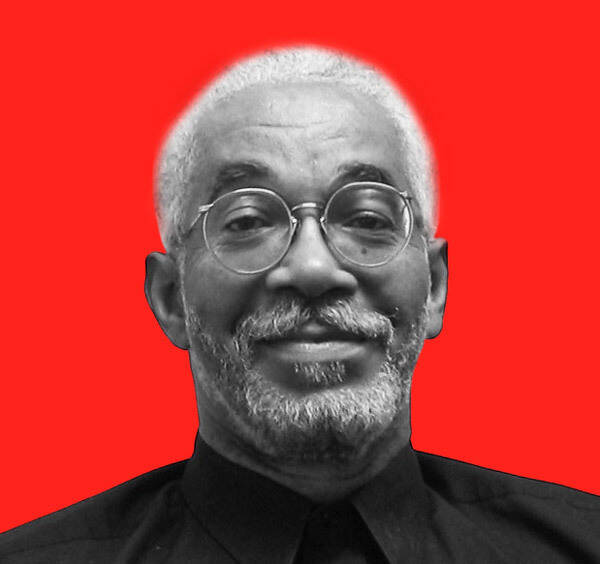 Sal­im Muwakkil
is a senior edi­tor of
In These Times
, where he has worked since
1983
. He is the host of The
Sal­im Muwakkil
show on WVON, Chicago's his­toric black radio sta­tion, and he wrote the text for the book
HAROLD: Pho­tographs from the Harold Wash­ing­ton Years
.