Accused of Supporting Torture, DePaul University Dean Faces Calls For Resignation
Like others who had a hand in the Bush-era torture programs, activists say, Gerald Koocher is facing virtually no consequences for his role in allowing psychologists to participate in "enhanced interrogation" techniques.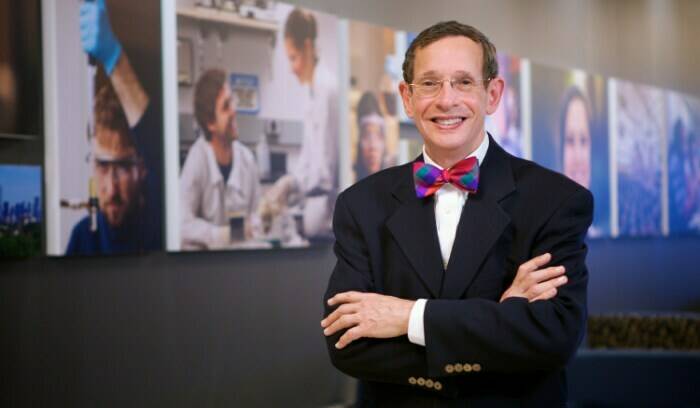 When President Obama took office, he pledged to put a decisive end to so-called ​"enhanced interrogation" practices, which he suggested had constituted a ​"dark and painful chapter in our history." Public opinion's turn against the program seemed to be further confirmed when last year's Senate torture report revealed the program was riddled with abuses and scarcely yielded any results.
Koocher allegedly called the idea of considering international law in crafting ethical guidance—which was favored by the three non-military members of the task force—a "distraction."
Yet many involved with enhanced interrogation continue to occupy prominent posts in the nation's military, political, and academic establishment, apparently unsullied by their involvement in a program that both violated fundamental human rights and failed to meaningfully contribute to national security. For instance, John Yoo, a UC Berkeley law professor who played a pivotal role in the Justice Department's defense of enhanced interrogation, faced calls last year for resignation (and prosecution) from members of the UC community and beyond, but has retained his professorship.
But at Chicago's DePaul University, members of the university community have argued that a leader who they say willfully ignored (and thus defended) human rights abuses should not hold a leadership role — particularly at an institution that claims dedication to social justice.
Gerald Koocher, Dean of DePaul's College of Science and Health, has faced ongoing calls for his resignation as dean following the release of information implicating him in the American Psychological Association's (APA) alleged collusion with the Department of Defense (DoD) to create loose guidelines for psychologists serving in national security roles. The findings are part of the Hoffman report, the result of a seven-month investigation commissioned by the APA to review allegations that the organization worked with government defense agencies to ​"support torture."
The report concludes that, while there is no indication that APA officials had knowledge of enhanced interrogation techniques, evidence suggests that they worked with the DoD to purposefully create high-level guidelines that did not constrain the DoD's use of psychologists in interrogation settings. They did so, the report alleges, with an eye to currying favor with the DoD and promoting the role of psychologists in national security activities. The report names then-APA president-elect Koocher as a ​"key player" in the process of crafting the 2005 PENS Report, which determined that psychologists could ethically assist in interrogations with few meaningful restrictions, and which would quickly be adopted as APA policy.
The report depicts Koocher as a vocal defender of DoD goals in his role as Board liaison to the PENS Report Task Force. On the Task Force, which was composed of six DoD personnel and three civilians, Koocher allegedly took ​"agressive and vocal positions against the three non-DoD members," in a number of specific cases. For instance, during the Task Force meeting, Koocher allegedly called the idea of considering international law in crafting ethical guidance — which was favored by the three non-military members of the task force — a ​"distraction." Koocher also allegedly collaborated on an internal APA ​"media strategy" that defended the role of psychologists in interrogations.
Since the report was made public in July, Koocher has faced harsh condemnation from many in the DePaul community. As reported by student newspaper The DePaulia, on September 7, members of the Liberal Arts & Sciences Academic Council (LASAC) requested that Koocher be removed from the committee to find a new dean for LAS. They argued that Koocher's presence represented a ​"conflict in [their] values" that might tarnish the deanship in the eyes of candidates. Koocher resigned from the committee a day after the complaints were sent in an email to DePaul's President and Provost.
Meanwhile, Vincentians Against Torture, a coalition of students, faculty, alumni and human rights organizations, held a press conference on October 1 to demand Koocher's removal as dean. Speakers at the conference included Dr. Frank Summers, President of the APA's Division of Psychoanalysis, who said that when he emailed Koocher about the complicity of APA members in human rights abuses — providing links to reports from the U.N. and the Red Cross — he was ignored.
"Eventually, weeks later," Summers added, ​"I said ​'Dr. Koocher you haven't responded.' Dr. Koocher says to me ​'Don't hold your breath.'"
The coalition's founder is Jack O'Brien, a DePaul student who launched a petition to strip Koocher of deanship that now has over 700 signatures. In the petition, O'Brien quotes the Hoffman report at length to make the case that Koocher's role as dean is ​"absolutely unacceptable" and that he ​"should be removed immediately."
Members of the coalition seek to hold DePaul — a Catholic university, named for St. Vincent DePaul — accountable to its supposed mission, its ​"Vincentian values." But Koocher, who edits the scholarly journal Ethics & Behavior and who hosts a response to the Hoffman report's allegations at ethic​sre​search​.com, appears to see no serious conflict between those Vincentian values and his actions during the War on Terror, and expresses only mild regret.
In the response, co-written with Ronald Levant, another former APA President (who is also implicated in the report), Koocher and Levant acknowledge that the APA's ​"response to addressing the ethical challenges of psychologists in national security settings" was ​"poorly crafted and executed." Yet, they also claim, ​"We believe that we did the best we could have done knowing what we knew and managing what we could given the data we had access to at the time in or [sic] limited roles as APA Presidents."
So far, university leadership has taken Koocher's side. At a Student Government Association meeting in September, Vice President for Public Relations and Communications Cynthia Lawson compared Koocher's situation to watching basketball and football reruns:
Hindsight is always great. How many of you watch football? How many of you watch basketball? Do you ever, after you watch it, the reruns, say, ​"They should have. They could have, had they done this." But you make the decisions based on the information that you have at the time. And so if you don't have the information, you make decisions based upon the information that you've got. Have you ever made a decision where you found out later, if you had additional information, you might have decided to do something different? And I think that's what Dean Koocher would tell you.
Following further protest, DePaul President Father Dennis Holtschneider issued a letter on October 15 stating that he "[does] not find that the evidence supports the judgments that some have rendered." He adds that DePaul will not conduct an independent investigation or hearing, as some have requested, on the basis that the scope of any university investigation would have to be limited to the university.
But O'Brien, the Vincentians Against Torture founder, argues on his petition's webpage that Holtschneider's letter gets several facts of the case wrong.
Dr. Koocher and his allies want everyone to believe that they were duped or fooled, and are sincerely contrite in the face of new evidence showing the atrocities committed at detainment facilities and psychologist's [sic] roles in these inhumane programs. … But the PENS task force email communications and the Hoffman Report clearly show that the senior members of the APA, including Dr. Koocher, intentionally ignored information on enhanced interrogation practices and psychologists [sic] roles and shot down those who dared to express outrage over the APA collaborating with the DoD. … This issue will not dissipate or simply go away, not on the international stage and not here at DePaul.
For its part, the APA has made an effort to atone: less than a week after the July 2 release of the Hoffman report, the APA removed long-standing ethics director Stephen Behnke from his post (the report named Behnke the leader in behind-the-scenes coordination with the DoD). And the following month, the organization passed a resolution that barred psychologists from assisting in interrogations that are illegal under the Geneva Conventions and the United Nations Convention against Torture.
Yet many implicated in the report's findings, like Koocher, have faced few consequences — unsurprising, considering the wider context in which Obama has declined to pursue prosecution for those involved in enhanced interrogation, claiming ​"nothing will be gained by spending our time and energy laying blame for the past." A few APA executives, however, have elected to retire early, in apparent recognition that the report's conclusions pose serious questions about fitness for leadership.
Be one of the first
Help kick off the new era of In These Times! Without a media that brings people together and creates a written record of the struggles of workers, their voices will be fragmented and forgotten.
The mission of In These Times is to be that written record, and to guide and grow those movements.
We have a lot of work ahead of us, and that work starts today. Early support is the most valuable support, and that's why we're asking you to pitch in now. If you are excited for this new era of In These Times, please make a donation today.
Tom Ladendorf
is an American writer and musician who lives in Cologne, Germany, and a former In These Times editorial intern.