Smells Like Environmental Racism
That stench permeating Detroit? It's other cities' burning trash.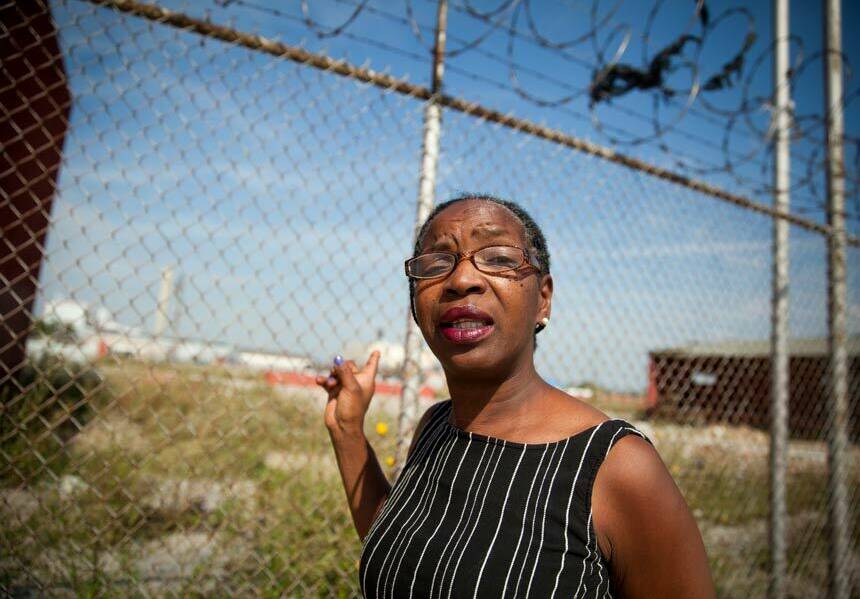 DETROIT— One morn­ing in Detroit's Mid­town neigh­bor­hood, I saw the air turn a heavy yel­low­ish-green, like a thick fog. It stunk so bad­ly, it hurt to breathe. Those who braved trav­el­ing through it risked nau­sea and even vomiting.
The incinerator, owned by Detroit Renewable Energy, violates several air quality standards, including but not limited to odor.
Kim Schroed­er remem­bers count­less days in recent sum­mers when her chil­dren haven't been able to go out­side because of the odor. ​"The smell was stom­ach-churn­ing," she says.
Some from the ​'burbs might just tell you it's the ​"smell of Detroit," but it's more than that. Schroed­er calls it the ​"sick­ly sweet smell of rot­ting garbage," and it comes from one of the largest garbage incin­er­a­tors in the Unit­ed States, two miles away.
"It's been a health nui­sance since it was built," says San­dra Turn­er-Handy, com­mu­ni­ty engage­ment direc­tor for the Michi­gan Envi­ron­men­tal Coun­cil and, with Schroed­er, a mem­ber of the Zero Waste Detroit coalition.
The incin­er­a­tor burns trash from across the region. Schroed­er is plan­ning an edu­ca­tion­al cam­paign in coun­ties across Michi­gan that ship garbage to Detroit, includ­ing afflu­ent Oak­land, Washt­e­naw and Kent coun­ties, and as far away as Cana­da and Ohio. She encour­ages peo­ple to find out where their garbage is going and to ​"lob­by their reps to deal with their garbage, rather than dump it on a poor city."
Turn­er-Handy works to increase curb­side recy­cling in Detroit in order to reduce the amount of local waste going to the incin­er­a­tor. The pro­gram is grow­ing, but less than 15 per­cent of city house­holds participate.
Near­ly 90 per­cent of those liv­ing with­in a mile of the incin­er­a­tor are peo­ple of col­or. African Amer­i­cans are twice as like­ly to be hos­pi­tal­ized for asth­ma in Detroit than whites, and the hos­pi­tal­iza­tion rate due to asth­ma in some ZIP codes is six times the state aver­age. Of America's largest cities, Detroit has the high­est asth­ma rate among young chil­dren, accord­ing to a study con­duct­ed by Johns Hop­kins Bloomberg School of Pub­lic Health.
"Low-income peo­ple and peo­ple of col­or are sta­tis­ti­cal­ly so much more like­ly to live next to a pol­lut­ed site," says Nicholas Schroeck, direc­tor of the Transna­tion­al Envi­ron­men­tal Law Clin­ic at Wayne State Uni­ver­si­ty. Detroit, he says, has ​"the most pol­lut­ed ZIP codes in the state of Michi­gan. When you take high rates of asth­ma next to sources of indus­tri­al pol­lu­tion, you see patterns."
Schroeder's step­daugh­ter has asth­ma, and Schroed­er her­self recent­ly had breast can­cer. She wants to know if it's relat­ed to the incin­er­a­tor, since she has no genet­ic indi­ca­tor for the dis­ease. Yet, as the nec­es­sary stud­ies have not been done, there is no hard evi­dence that the incin­er­a­tor — or any oth­er indus­try, such as the Marathon gas refin­ery or the U.S. Steel plant — is respon­si­ble. Schroed­er wants the issue to be stud­ied further.
Thanks to pres­sure from com­mu­ni­ty groups, law­suits, bad press and a 1 – 800 num­ber to report odor, the Michi­gan Depart­ment of Envi­ron­men­tal Qual­i­ty (the same folks who said Flint's water was safe to drink) and the state attor­ney general's office have issued new pol­lu­tion con­trols on the incin­er­a­tor in recent years. But, says Schroed­er, this has ​"not suf­fi­cient­ly improved our qual­i­ty of life. The smell still hov­ers in many neighborhoods."
Even with these con­trols, the incin­er­a­tor, owned by Detroit Renew­able Ener­gy, vio­lates sev­er­al air qual­i­ty stan­dards, includ­ing but not lim­it­ed to odor. Vio­la­tions of par­tic­u­late mat­ter, sul­fur diox­ide and car­bon diox­ide — all three known to cause res­pi­ra­to­ry issues and oth­er ail­ments, with the poten­tial to cause death— con­tin­ue. As bad as the smell is, says Turn­er-Handy, ​"It's what you can't see and smell that's gonna hurt us the most."
But shut­ting down the incin­er­a­tor — or any indus­tri­al plant in Detroit — is extreme­ly dif­fi­cult once a per­mit is issued, says Schroeck. He believes it's cru­cial to stop these kinds of facil­i­ties before they start.
Mean­while, Detroit's pop­u­la­tion con­tin­ues to decline. ​"I'm hop­ing the city will real­ize, if you're expect­ing a new pop­u­la­tion to move in, it's not agree­able if there's an incin­er­a­tor," says Turner-Handy.
"I want to know if I have to move," Schroed­er says. ​"I love Detroit. The sense of com­mu­ni­ty here is fan­tas­tic. … But if there's health issues we're intro­duc­ing to our fam­i­lies by liv­ing here, we need to know that."
Valerie Vande Panne
is an inves­tiga­tive fel­low with
In These Times
' Leonard C. Good­man Insti­tute for Inves­tiga­tive Reporting.