Detroit's Underground Economy: Where Capitalism Fails, Alternatives Take Root
Over decades of poverty, Detroiters have fostered a resilient informal economy based on trust.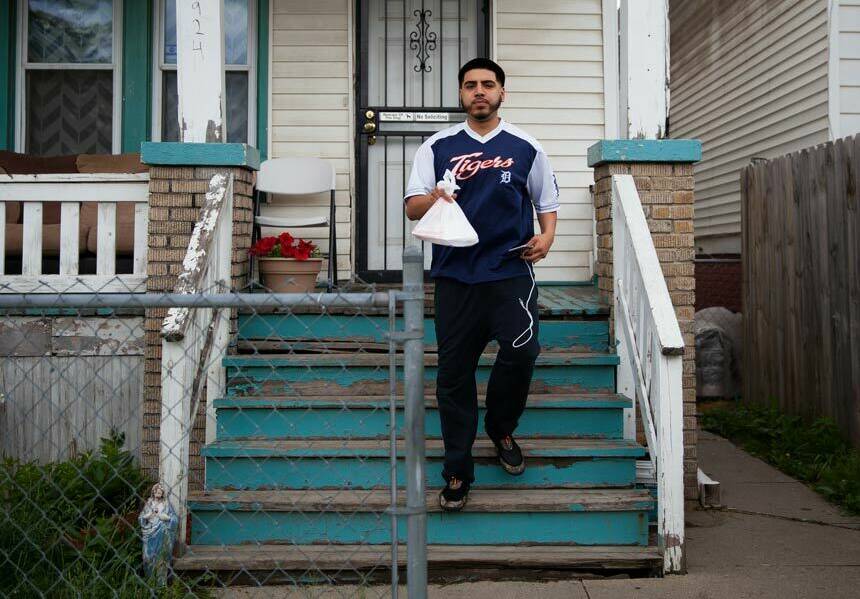 You might have heard about the Detroit come­back. It's a pop­u­lar nar­ra­tive in media silos these days, a tale of invest­ment and revi­tal­iza­tion. Young peo­ple look roman­ti­cal­ly to the city as a ​"blank can­vas" — prop­er­ty is cheap, they gush, and the city is com­ing back.
"That's how these little circles of community are marked—by what you share," says Graeber.
The prob­lem is this come­back is a myth. The pover­ty rate is near­ly 40 per­cent, and despite the influx of young whites lured by promis­es of a Detroit Renais­sance, the pop­u­la­tion con­tin­ues to decline, from a peak of 1.8 mil­lion in 1950 to 670,000 today. Approx­i­mate­ly 70,000 house­holds have had their water turned off for lack of pay­ment since 2014, and about 17,000 occu­pied homes are at risk of fore­clo­sure this year.
The city's so-called renais­sance has reached only small por­tions of its 139 square miles, leav­ing much of the pop­u­la­tion — which is more than 80 per­cent African-Amer­i­can — behind.
But over decades of pover­ty, Detroi­ters have learned to get by with­out access to tra­di­tion­al cash or cred­it. There's a resilient infor­mal econ­o­my root­ed in neigh­bor­hoods and com­mu­ni­ties: Barter, gifts, time trad­ing and under­ground busi­ness­es are ubiquitous.
Take the vibrant net­work of off-the-books enter­pris­es such as beau­ty salons in base­ments, auto repair shops in back alleys and garages, and, as in Luis Bus­tos' case, restau­rants in people's homes.
Bus­tos, 21, fell off a lad­der in 2016, putting him in a wheel­chair for three months. With house pay­ments plus a car insur­ance pay­ment of $270 per month (Detroit's auto insur­ance rate is the nation's high­est), he need­ed mon­ey — but after the acci­dent, he didn't want to go back to the roof­ing jobs he'd pre­vi­ous­ly relied on. So he start­ed sell­ing tor­tas (Mex­i­can sand­wich­es) like his mom used to make, with fresh bread, sauce, milane­sa, chori­zo and chicken.
He now runs a restau­rant out of his kitchen, deliv­er­ing food around the neigh­bor­hood or serv­ing it up in his liv­ing room. Although he wants to get a license when he can afford it, he's can­did that he lacks one cur­rent­ly. ​"I didn't have mon­ey to pay for a license, and I didn't have time to wait months for per­mis­sion," he says. ​"No one was gonna give me a job, so I had to make a job myself. I woul­da lost the house."
While he does adver­tise over social media, he's also become word-of-mouth famous for his food, which mat­ters in an area where smart­phones and inter­net access can be rel­a­tive­ly sparse. He's able to make a bit of mon­ey, too, but also real­izes the impor­tance of help­ing oth­ers. ​"Some peo­ple might not have noth­ing to eat, so I tell them to come over. There's food here."
Through­out much of the city, there's an under­stand­ing that with no jobs to be had, fel­low com­mu­ni­ty mem­bers are strug­gling, too. It's a neces­si­ty, then, to engage in a cur­ren­cy of community.
Tra­di­tion­al­ly, econ­o­mists have viewed barter exchange as a prim­i­tive pre­cur­sor to mod­ern mon­ey sys­tems. But anthro­pol­o­gist David Grae­ber argues in his 2011 book, Debt: The First 5,000 Years, that it's just the oppo­site: Barter emerges when mon­ey and economies fail.
And Detroit's econ­o­my has failed. Spec­tac­u­lar­ly. It is no sur­prise, then, that barter, gift, trade and under­ground busi­ness­es have become as essen­tial as cash and cred­it are elsewhere.
With­out for­mal record keep­ing or ways of track­ing pri­vate exchanges, it is dif­fi­cult to mea­sure just how preva­lent this sur­vival econ­o­my has become. But by all accounts, it's pervasive.
The style of exchange dif­fers based on the rela­tion­ship. Barter, Grae­ber said in a phone inter­view, is gen­er­al­ly used when peo­ple don't know each oth­er well.
But ​"peo­ple who have long-term rela­tion­ships with each oth­er share accord­ing to their abil­i­ty and need" — unlike barter, these gifts aren't one-for-one. ​"It's very close to com­mu­nism," Grae­ber says."You know it'll even out in the end. You can do that with peo­ple you [know] will always be there."
To some extent, gift economies exist with­in every tight-knit group. ​"That's how these lit­tle cir­cles of com­mu­ni­ty are marked — by what you share," says Grae­ber. But ​"in sit­u­a­tions with lack of mon­ey, that expands to be much more important."
Per­haps the phys­i­cal embod­i­ment of the idea is a small store­front, Detroi­ters Help­ing Each Oth­er, in south­west Detroit. The space resem­bles a Good­will out­let, except — due to lack of funds for elec­tric­i­ty — the only light that comes in is through the open front door.
Appli­ances, fur­ni­ture, kitchen­ware, cloth­ing — a lit­tle of every­thing seems to be here, avail­able free of charge to those who need it. Peo­ple give what they can, when they can (and many donors also take from the shop when they need to). Some items are donat­ed from peo­ple in oth­er parts of Michi­gan who want to help Detroi­ters out direct­ly. Peo­ple know not to take what they don't need, and to give when­ev­er and what­ev­er they can. It's a cru­cial com­mu­ni­ty sup­port net­work for those in cri­sis — and over the last four years, it's become deeply inte­grat­ed into many Detroi­ters' lives.
The city's res­i­dents don't just give or barter goods and ser­vices. Like many com­mu­ni­ties around the world, they also trade time. South­west Detroit's time bank is par­tic­u­lar­ly active, and includes indi­vid­u­als as well as local busi­ness­es, such as an elder care facil­i­ty and a gar­den sup­ply store. For every hour spent giv­ing a ser­vice, par­tic­i­pants earn an hour of receiv­ing a ser­vice. For exam­ple, Mary Clare Duran, 65, fre­quent­ly pro­vides sewing and alter­ations through the South­west Detroit Time­bank. She then requests yard work from oth­er mem­bers. The per­son who does the yard work might then spend their hours on, for exam­ple, auto repair or child­care. It's a way, says Duran, to save money.
One of the biggest chal­lenges to time bank­ing — which is pri­mar­i­ly facil­i­tat­ed online — is the dig­i­tal divide. But Detroi­ters have found cre­ative ways around that in oth­er sec­tors of the infor­mal econ­o­my, man­ag­ing to set up ride shares, for instance, with­out an app. Nya­sia Valdez, 22, received her driver's license in 2015, and began shar­ing her car with neigh­bors and cowork­ers. Togeth­er, they've formed their own ride-share net­work, giv­ing rides, ask­ing one anoth­er for a lift, shar­ing cars and keys. Valdez says their cir­cum­stance fos­ters trust. There's an under­stand­ing, she says, when ​"I'm strug­gling too, we can help each other."
These rela­tion­ship-based, non-mon­e­tary economies are easy to fetishize — just look at the Burn­ing Man fes­ti­val, where peo­ple spend thou­sands of dol­lars to cel­e­brate being cash-free and com­mu­ni­ty-ori­ent­ed. But in Detroit, this method of get­ting by is born of human instinct in a time of need.
"We've been sold an idea that a mod­ern, con­ve­nient solu­tion is the key to hap­pi­ness and suc­cess," but peo­ple aren't hap­py, says Hal­i­ma Cas­sells, founder of Free Mar­ket of Detroit, a swap meet where every­one brings at least one item to give away and every­thing is free to take. ​"Peo­ple like being trust­ed and being in an envi­ron­ment where they are trust­ed. You can't buy that."
Valerie Vande Panne
is an inves­tiga­tive fel­low with
In These Times
' Leonard C. Good­man Insti­tute for Inves­tiga­tive Reporting.