Do We Need Wolves?
The Endangered Species Act is under attack as Congress moves to delist wolves.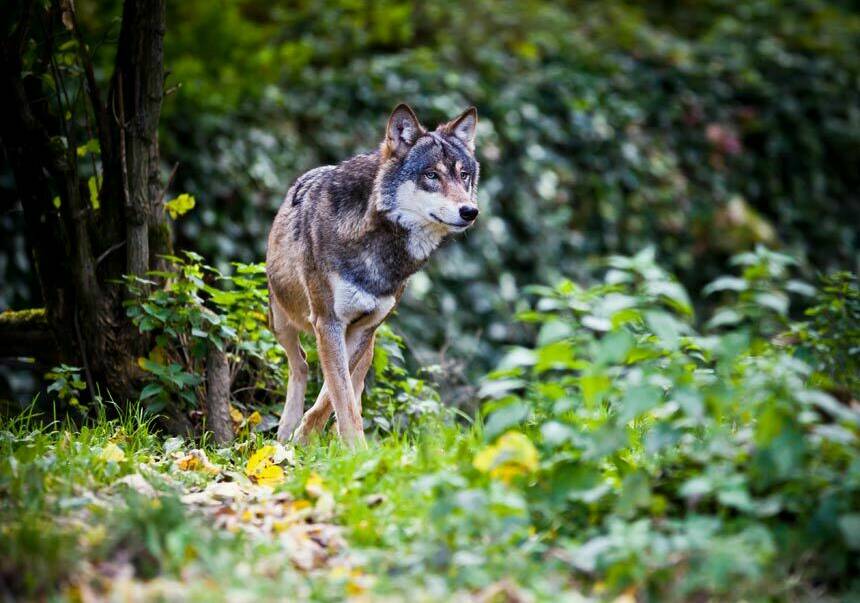 "I've been around ani­mals all my life," says Mar­cia Mihalek. ​"Heck, I had a pet rac­coon." Mihalek and her hus­band, James, oper­ate Rolling Acres Ranch, a 400-acre horse and cat­tle farm in rur­al North­ern Wis­con­sin, nine miles south­west of Ash­land, that's been in the Mihalek fam­i­ly for gen­er­a­tions. In the past year, at least 12 calves have gone miss­ing, and she main­tains that a local pack of wolves is to blame. ​"I have noth­ing against wildlife, but I need to be able to make a liv­ing, too," she says. ​"We don't have time to sit out there with rifles and con­trol these things."
'I have nothing against wildlife, but I need to be able to make a living too. We don't have time to sit out there with rifles and control these things.'
Wolves are resource­ful, social crea­tures. They are also apex preda­tors with warm pelts. His­tor­i­cal­ly, humans have empha­sized the lat­ter and, when it comes to fer­al threat assess­ment, erred on the side of cau­tion. Euro­pean set­tlers, tak­ing no chances, opt­ed to wipe out wolves entire­ly. They had their rea­sons. It also sent an alpha mes­sage you could make coats out of.
These days, unless a wolf is going for your throat, your abil­i­ty to deliv­er that mes­sage has been judi­cial­ly com­pro­mised. In Decem­ber 2014, the depart­ments of nat­ur­al resources of Min­neso­ta, Wis­con­sin and Michi­gan informed state res­i­dents that they can no longer legal­ly kill a wolf except in the defense of human life. U.S. Dis­trict Judge Beryl A. How­ell had over­turned a 2012 deci­sion of the U.S. Fish and Wildlife Ser­vice (USFWS) to lift fed­er­al pro­tec­tion of gray wolves in the west­ern Great Lakes region. Call­ing the USFWS deci­sion ​"arbi­trary and capri­cious," How­ell took region­al man­age­ment of local wolf pop­u­la­tions away from the three states and placed it back into fed­er­al hands. Her rul­ing came on the heels of a sim­i­lar Sep­tem­ber U.S. Dis­trict Court deci­sion involv­ing wolves in Wyoming.
For ranch­ers, it means they're no longer per­mit­ted to kill wolves prey­ing on their live­stock. As Mihalek sees it, ​"Some­body out in Wash­ing­ton is mak­ing deci­sions for us, once again."
Maybe not for long. The 114th Con­gress is mov­ing to pass leg­is­la­tion (in some cas­es with bipar­ti­san sup­port) that would over­turn Howell's rul­ing and allow states to con­tin­ue the wolf man­age­ment prac­tices in which they've invest­ed mil­lions of dol­lars over the past three years, includ­ing a series of high­ly con­tro­ver­sial, hasti­ly imple­ment­ed recre­ation­al hunt­ing and trap­ping sea­sons. In addi­tion, the pro­posed leg­is­la­tion may have far-reach­ing impli­ca­tions for the Endan­gered Species Act (ESA).
Whether or not Howell's deci­sion stands, the rever­sal in fed­er­al pol­i­cy – a fur-trap­ping buzz kill or an envi­ron­men­tal tri­umph, depend­ing on your point of view – marks anoth­er loop in a com­pli­cat­ed knot of wolf-cen­tered pol­i­cy. Ranch­ers demand the right to pro­tect their herds as they see fit. Hunters and trap­pers resent any inter­fer­ence in their annu­al chance to nab the top preda­tor. Mean­while, envi­ron­men­tal­ists and wildlife advo­cates are fight­ing to give the native species a chance to recov­er as much of its for­mer habi­tat as pos­si­ble, while remind­ing us that wolves, sharp teeth and all, have both an eco­log­i­cal pur­pose and an inher­ent right to exist. States are now scram­bling to find a bal­anc­ing act that works for their con­stituents and region­al economies – one that demon­strates an abil­i­ty to respon­si­bly man­age the return of a near­ly erad­i­cat­ed car­ni­vore with­out fed­er­al oversight.
In the beginning
For thou­sands of years the wolf cov­ered more North Amer­i­can ter­ri­to­ry than any oth­er mam­mal, with a habi­tat stretch­ing from the mid­dle of Mex­i­co to the Arc­tic. Coex­ist­ing along­side Native Amer­i­cans, who had eco­log­i­cal­ly sophis­ti­cat­ed man­age­ment prac­tices of their own, an esti­mat­ed 250,000 lived in what's now the Unit­ed States.
In 1630, 10 years after the Mayflower anchored in Ply­mouth Har­bor, the Mass­a­chu­setts Bay Colony estab­lished a cash incen­tive for set­tlers to elim­i­nate wolves. By 1642, the emerg­ing colonies had ordi­nances on the books legal­ly requir­ing small towns to bait and main­tain wolf traps on a dai­ly basis. These arrange­ments caught on. Meth­ods evolved and cur­ren­cies changed, but 200 years lat­er a man could still make a liv­ing lac­ing dead bison with strych­nine and wait­ing for packs to feed. In 1915, Uncle Sam got seri­ous about the wolf ​'s exter­mi­na­tion and sanc­tioned his own team of pros – known as ​"wolfers" – to hunt down tens of thousands.
These days, for many of us, it can be dif­fi­cult to pic­ture a sce­nario that jus­ti­fies elim­i­nat­ing an entire species from a con­ti­nent. But the nation­al pol­i­cy of wolf exter­mi­na­tion was root­ed, some­what, in his­tor­i­cal neces­si­ty. For Euro­pean set­tlers fac­ing one exis­ten­tial cri­sis after anoth­er, the wolf ​'s spot at the top of the food chain made it a clear threat. Neg­a­tive per­cep­tions of the wolf as a man-eat­ing beast were also root­ed in the old coun­try. Wolves, being oppor­tunis­tic scav­engers, fed on the scores of bod­ies medieval war­fare and the Black Plague left on the Euro­pean land­scape. That kind of bad PR can take gen­er­a­tions to overcome.
"A com­bi­na­tion of dis­ease pat­terns, like rabies, wit­nessed in Europe and the mythol­o­gy that grew up around the wolf left peo­ple fear­ful," says Adri­an Wyde­ven, the head wolf recov­ery biol­o­gist for the Wis­con­sin Depart­ment of Nat­ur­al Resources from 1990 until 2013 and co-edi­tor of the book Recov­ery of Gray Wolves in the Great Lakes Region of the Unit­ed States. By the mid-twen­ti­eth cen­tu­ry, only a few gray wolves remained in the low­er 48 – around 500 in north­ern Min­neso­ta and 20 on Isle Royale, a 200-square-mile island in Lake Supe­ri­or that is part of Michi­gan. But then some­thing clicked.
In the ear­ly 1960s, a bur­geon­ing envi­ron­men­tal move­ment began point­ing out that a num­ber of native species were on a one-way trip out, the wolf among them. Oper­at­ing under the assump­tion that all ani­mals have their place in the nat­ur­al world, the move­ment began influ­enc­ing our approach to wild animals.
In 1966, the Endan­gered Species Preser­va­tion Act autho­rized the Sec­re­tary of the Inte­ri­or to iden­ti­fy and com­pile a list of species world­wide fac­ing like­ly or immi­nent extinc­tion. The wolf was added to the list in 1967, but pro­tec­tions were lim­it­ed. In 1973, under the Nixon admin­is­tra­tion, the USFWS imple­ment­ed the Endan­gered Species Act (ESA). The ESA's goal remains as ambi­tious as it was con­tro­ver­sial: to pro­tect crit­i­cal­ly threat­ened species and their habi­tats from fur­ther dete­ri­o­ra­tion, even when eco­nom­i­cal­ly incon­ve­nient. In 1974, four sub­species of the gray wolf were added to the endan­gered species list, and in 1978, all wolves were list­ed – effec­tive­ly mak­ing it ille­gal to kill them under any cir­cum­stances except self-defense.
Once under fed­er­al pro­tec­tion, Min­neso­ta wolf packs nat­u­ral­ly expand­ed their ter­ri­to­ry east­ward to Wis­con­sin and Michigan's Upper Penin­su­la. Out west, some wolves migrat­ed south from Cana­da, and the first den was dis­cov­ered in Montana's Glac­i­er Nation­al Park in 1986. In the 1990s, 66 Cana­di­an wolves were rein­tro­duced to the north­ern Rock­ies, in Yel­low­stone Nation­al Park and cen­tral Ida­ho. New packs formed and num­bers grew.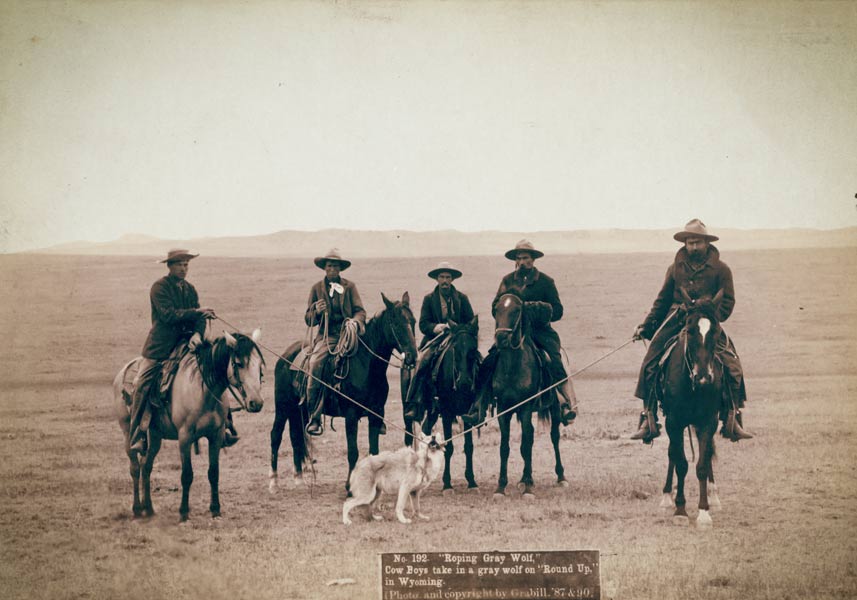 (US Library of Congress)
Wolf ecol­o­gy
Amer­i­can zool­o­gist Robert Paine intro­duced the term ​"troph­ic cas­cade" ("troph­ic" relat­ing to feed­ing and nutri­tion, and ​"cas­cade" in a descend­ing sense) in 1980 to describe the holis­tic impact a top preda­tor has on its envi­ron­ment. A wolf, for exam­ple, plays an intri­cate role in main­tain­ing a bal­anced ecosys­tem by influ­enc­ing the pop­u­la­tion of small­er ani­mals, plants and evenu­tal­ly insects.
While the the­o­ry of troph­ic cas­cade has its crit­ics, the rein­tro­duc­tion of wolves to Yel­low­stone Nation­al Park pro­vides a good case study. George Mon­biot, author of Fer­al: Rewil­d­ing the Land, the Sea and Human Life, has observed, ​"the wolves, small in num­ber, trans­formed not just the ecosys­tem of Yel­low­stone Nation­al Park … but also its phys­i­cal geog­ra­phy." He main­tains that by keep­ing herds of mule deer and elk on the move, wolves reversed over-graz­ing along the park's rivers, allow­ing new growth along the banks. These trees and shrubs pre­vent ero­sion, keep­ing the rivers chan­neled, while pro­vid­ing food for beavers, whose dams cre­ate pools of water that offer habi­tat for otters, muskrat and migra­to­ry water­fowl. When wolves eat deer, the left­over car­rion pro­vides sus­te­nance for eagles, ravens and oth­er scav­engers. Gray wolves also eat coy­otes, which means more small rodents for eagles, hawks, fox and mem­bers of the weasel fam­i­ly like badgers.
Since the wolf ​'s recov­ery, when­ev­er deer num­bers decline, hunters have tend­ed to blame an out-of-con­trol wolf pop­u­la­tion. While it's true that deer (white-tailed along the West­ern Great Lakes, mule deer in the Rock­ies) com­prise an inte­gral part of the wolf ​'s diet — it's esti­mat­ed that an adult wolf kills and eats the equiv­a­lent of 15 to 20 per year — the sci­ence sug­gests the wolf ​'s effect on deer pop­u­la­tions may actu­al­ly be a net positive.
"In North­ern Wis­con­sin and Min­neso­ta, over large geo­graph­i­cal areas, wolves tend to have rel­a­tive­ly lim­it­ed impact on the deer herd [size]," says Wyde­ven. ​"The wolf's impact on pop­u­la­tion is more local­ized and more like­ly to influ­ence behav­ior than numbers."
By keep­ing herds on the move and select­ing the weak­est prey, for exam­ple, wolves can cull the sick­est mem­bers of a deer pop­u­la­tion while leav­ing the health­i­est most like­ly to repro­duce. As a result, pre­da­tion of deer by wolves may assist in address­ing dis­eases like chron­ic wast­ing — a scourge of deer populations.
Con­trary to pop­u­lar opin­ion, wolves are also good at reg­u­lat­ing them­selves. ​"Frankly, that might be one of the lessons we could learn from them," says Peter David, who works as a wildlife biol­o­gist for the Great Lakes Indi­an Fish and Wildlife Com­mis­sion (GLIFWC). Based in Odanah, Wis­con­sin, the com­mis­sion rep­re­sents 11 Ojib­we tribes in Min­neso­ta, Wis­con­sin and Michi­gan, help­ing them exer­cise their off-reser­va­tion treaty rights, such as fish and wild rice har­vest­ing, through­out the treaty-ced­ed ter­ri­to­ries. ​"Peo­ple some­times get the idea that wolves dic­tate deer num­bers, but it's more gen­er­al­ly the oth­er way around." In oth­er words, a scarce food sup­ply like­ly impacts wolf breed­ing behavior.
The state of the wolf
By 2009, about 5,500 wolves had made their home in the con­ti­nen­tal Unit­ed States — 3,900 in the West­ern Great Lakes and 1,600 in the North­ern Rock­ies. Where sup­port­ers of the wolf's come­back saw encour­ag­ing progress, the USFWS saw evi­dence that the gray wolf was out of dan­ger and removed it from the endan­gered species list. Inte­ri­or Sec­re­tary Ken Salazar announced, ​"The recov­ery of the gray wolf through­out sig­nif­i­cant por­tions of its his­toric range is one of the great suc­cess sto­ries of the Endan­gered Species Act."
Sta­tis­ti­cal­ly, that was true. Nine­ty nine per­cent of the species that have made it onto the fed­er­al government's endan­gered list have yet to make it off. Cyn­i­cal­ly, the list serves as a mor­bid life­time achieve­ment award — acknowl­edg­ing the impres­sive careers of once preva­lent crea­tures who prob­a­bly won't be on the stage much longer.
The USFWS deci­sion was a con­tro­ver­sial one, and legal chal­lenges abound­ed — dis­putes rang­ing from tax­o­nom­ic cat­e­go­riza­tions of sub­species to geo­graph­ic def­i­n­i­tions of orig­i­nal habi­tat — cre­at­ing a reg­u­la­to­ry hold­ing pat­tern. In many states, fed­er­al over­sight expe­ri­enced a yo-yoing between delist­ing, relist­ing and down­list­ing the species before the USFWS imple­ment­ed its final rul­ing in 2012 to delist the gray wolf entirely.
More con­tro­ver­sial than the deci­sion to delist, how­ev­er, was how in that same year, six states – Min­neso­ta, Wis­con­sin, Michi­gan, Wyoming, Mon­tana and Ida­ho – went about mar­ket­ing and imple­ment­ing their now-legal wolf hunt­ing and trap­ping sea­sons. For many, the tim­ing – the fact that the recent­ly recov­ered wolf was now the tar­get of a mul­ti-state hunt – was hard to wrap one's head around. Eth­i­cal debates about what wolf hunt­ing and trap­ping meth­ods would be tol­er­at­ed made region­al head­lines. In the end, out­rage focused on the num­ber of wolves tak­en. Minnesota's first hunt, in 2012, result­ed in the ​"har­vest­ing" of an esti­mat­ed 25 per­cent of the state's wolves.
A state's pri­ma­ry moti­va­tion for hav­ing a wolf sea­son isn't always cut-and-dried. Though it's wide­ly believed that reduc­ing the wolf pop­u­la­tion through hunt­ing pre­vents live­stock depre­da­tion and pro­tects big-game pop­u­la­tions, some wildlife sci­en­tists dis­agree. Most depre­da­tion of live­stock occurs in the spring dur­ing calv­ing sea­son, where­as hunt­ing sea­sons are typ­i­cal­ly in late fall and ear­ly winter.
"A gen­er­al sport har­vest is an incred­i­bly inef­fi­cient tool to address depre­da­tion prob­lems," says David. ​"First, most depre­da­tions are hap­pen­ing months before the sea­son takes place, so [the har­vest] doesn't pro­vide any imme­di­ate relief." Fur­ther­more, he says, in Wis­con­sin and most oth­er states, ​"it isn't tar­get­ing the ani­mals that are caus­ing prob­lems. If I had a store and I had a shoplift­ing prob­lem, I don't deal with it by tak­ing out ran­dom cus­tomers in the store."
Wolf advo­cates sup­port the use of non-lethal man­age­ment prac­tices, such as trap­ping and removal, and bet­ter edu­ca­tion to help address con­flicts. They also point to the toll the hunt takes not just on the wolves who are killed or trapped, but on their pack. ​"There is a con­cert­ed effort to por­tray wolves as lit­tle more than fur-cov­ered DNA," says Mau­reen Hack­ett, founder of the Min­neso­ta-based group Howl­ing for Wolves, which oppos­es the wolf hunt. ​"Wolves have empa­thy for the suf­fer­ing of their own. Under the stress of a state-orga­nized wolf hunt, the pack's social struc­ture is dimin­ished. Any male or female can repro­duce, but the breed­ing pair con­trols repro­duc­tion with­in the pack. Things get messed up when you start tak­ing apart these struc­tures. With­out lead­er­ship, pups don't have old­er wolves teach­ing them how to be wolves. They have a ded­i­cat­ed fam­i­ly unit, and we're run­ning around tear­ing that apart."
Not every­one shares her con­cern. ​"If you find oil or nat­ur­al gas on your prop­er­ty, the val­ue goes up. If you find an endan­gered species, your land becomes vir­tu­al­ly worth­less because the crit­ter pre­vents pro­duc­tive use," writes Mari­ta Noon, the exec­u­tive direc­tor of Ener­gy Makes Amer­i­ca Great Inc., in a col­umn pub­lished on sev­er­al con­ser­v­a­tive web­sites. The title of her arti­cle, ​"Shoot, shov­el and shut up!" is also the slo­gan embla­zoned on t‑shirts and hood­ies (avail­able in black and pink) mar­ket­ed on NoWolves​.com.
Hack­ett puts it this way: ​"There's a cer­tain group of peo­ple — small but active — who just want to kill wolves. They see the only good wolf being a dead wolf. They write us on our Face­book page, tell us how excit­ed they are to go out and kill wolves, with or with­out a per­mit. We call them ​'haters.' "
To be clear, not all wolf hunters and trap­pers are ​"haters" seek­ing to rid the world of the domes­ti­cat­ed dog's sole ances­tor. At the heart of this con­tro­ver­sy are peo­ple par­tic­i­pat­ing in an activ­i­ty that, no mat­ter how unap­pe­tiz­ing the mod­ern mass­es find it, goes back thou­sands of years. Vis­it one of the hand­ful of trap­ping-cen­tric online forums and you'll find diverse accounts of the tri­als and joys of trap­ping. Of course there are the Ted Nugent types lament­ing the arro­gance of any ​"law" that attempts to stand between them and their Book of Gen­e­sis-man­dat­ed domin­ion over any god­damn crit­ter they might deem a tar­get, and this type can dom­i­nate an online forum. But you'll also find an excit­ed grand­fa­ther look­ing for­ward to tak­ing his grand­kid out on their first joint fur-find­ing excur­sion, or folks dis­cussing their envi­ron­ment, the ani­mals in it and the myr­i­ad vari­ables at play when it comes to ​"har­vest­ing" a wolf.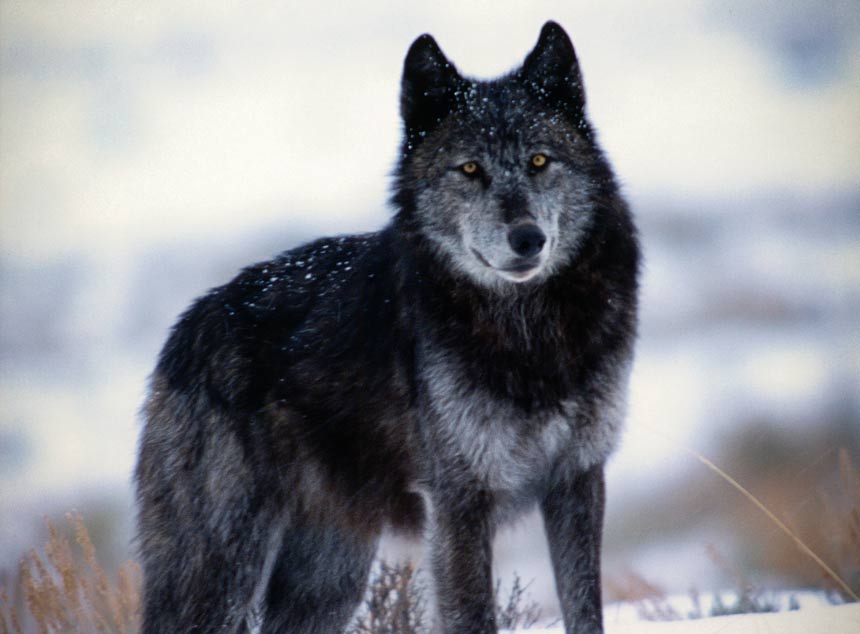 U‑Black was one of the first wolves born in Yel­low­stone Nation­al Park fol­low­ing their rein­tro­duc­tion In 1995. As she matured, she left her pack and joined a new one, lat­er becom­ing the alpha leader (HFW / Dan Hartman).
Wolf man­age­ment
In the three years since the USFWS put the respon­si­bil­i­ty for man­ag­ing the gray wolf back in the hands of the states, their job had been three­fold: address­ing con­flicts where wolves and peo­ple clash, imple­ment­ing recre­ation­al hunt­ing and trap­ping sea­sons, and, most impor­tant­ly, mak­ing sure the wolf isn't killed off again. That would be embarrassing.
Man­age­ment strate­gies to main­tain wolf pop­u­la­tions have var­ied wide­ly from one state to the next. Wis­con­sin, under the lead­er­ship of Gov. Scott Walk­er ® and a Repub­li­can leg­is­la­ture, has (con­sid­er­ably) the most pro-har­vest­ing agen­da. It is unusu­al in active­ly seek­ing to reduce the wolf pop­u­la­tion, by enforc­ing a max­i­mum num­ber of wolves the state will tol­er­ate: 350. Accord­ing to the 2013 – 2014 wolf count, 660 wolves live in the state. Michi­gan and Min­neso­ta, in con­trast, have min­i­mum thresh­olds, num­bers that they want to keep the wolf pop­u­la­tion well above (200 and 1,600, respec­tive­ly), and have a less per­mis­sive hunt­ing policy.
"If you real­ly val­ued wolves, you'd want a high­er pop­u­la­tion goal than [Wis­con­sin has] right now," says David. ​"The state's cur­rent pop­u­la­tion goal of 350 – and its inter­pre­ta­tion by the cur­rent admin­is­tra­tion as a cap rather than a min­i­mum – reflects the demands of a small num­ber of spe­cial inter­est groups." Those groups include the Wis­con­sin Bear Hunters' Asso­ci­a­tion, the state chap­ter of Safari Club Inter­na­tion­al and Unit­ed Sports­men of Wis­con­sin, all of which active­ly lob­by in sup­port of a hunt. Since 2008, hun­dreds of thou­sands of dol­lars have been spent in Wis­con­sin to fur­ther a pro-hunt agen­da, tens of thou­sands of which have gone to Walk­er via polit­i­cal donations.
"The state of Wis­con­sin," says David,"is treat­ing wolves like ver­min, like a prob­lem, not an eco­log­i­cal resource."
Unaware of the polit­i­cal machi­na­tions sur­round­ing its come­back, the gray wolf has man­aged to go from an endan­gered pest to a recov­er­ing icon­ic species and then back to dodg­ing traps, snares and bul­lets in the time it has tak­en most Mil­len­ni­als to cov­er their own wire­less plan. The wolf ​'s fate now rests in the hands of the fed­er­al judi­cia­ry, Con­gress and the White House.
On Feb. 10, in response to the rul­ing of Judge Beryl A. How­ell, Rep. John Kline (R‑Minn.) intro­duced the West­ern Great Lakes Wolf Man­age­ment Act to a con­gres­sion­al house com­mit­tee. If passed, the bill would pro­hib­it any wolf in Min­neso­ta, Wis­con­sin and Michi­gan from being cov­ered under the Endan­gered Species Act. His bill would also give each state exclu­sive juris­dic­tion over the man­age­ment of wolves with­in its bor­ders. In a let­ter to Kline's con­stituents and oth­er stake­hold­ers, his leg­isla­tive assis­tant Pat Pel­leti­er wrote:
Con­gress­man Kline knows how much harm wolves can cause to live­stock and the agri­cul­ture com­mu­ni­ty; the over­pop­u­la­tion of gray wolves in the West­ern Great Lakes region con­tributes to the decline of live­stock, pets and oth­er ani­mals in the wild. … We would appre­ci­ate your support.
Anoth­er bill to gut Howell's deci­sion was intro­duced by Rep. Reid Rib­ble (R‑Wis.) a few days lat­er. Cospon­sors include Reps. Collin Peter­son (D‑Minn.), Dan Ben­ishek (R‑Mich.) and Cyn­thia Lum­mis (R‑Wyo.). If passed, H.R. 884 would take gray wolves in Wis­con­sin, Min­neso­ta, Michi­gan and Wyoming (home of most of Yel­low­stone Nation­al Park) off the endan­gered species list and remove the bill's pro­vi­sions from any ​"judi­cial review" in fed­er­al court.
While the live­stock indus­try and pro-wolf-hunt­ing orga­ni­za­tions like Safari Club Inter­na­tion­al no doubt sup­port this leg­is­la­tion, on Feb. 18, on behalf of numer­ous wildlife advo­cates, the Humane Soci­ety subb­mit­ted an open let­ter to Con­gress urg­ing them to oppose both bills on the grounds that ​"the best avail­able sci­ence indi­cates that the gray wolf occu­pies a mere frac­tion of its his­toric range and there­fore has not yet recov­ered from cen­turies of sys­temic per­se­cu­tion." The let­ter, signed by 50 sci­en­tists, adds that ​"the species could occu­py much more of its for­mer range if the threats (pri­mar­i­ly, human-caused mor­tal­i­ty and inad­e­quate reg­u­la­to­ry mech­a­nisms) were prop­er­ly mita­gat­ed." Wolves aside, some envi­ron­men­tal­ists see these bills as a larg­er end-run around the ESA and its pow­er to pro­tect species and ecosys­tems. Once referred to as ​"the Magna Car­ta of the envi­ron­men­tal move­ment," the ESA can stop devel­op­ment projects, from real estate to min­ing, if the USFWS deter­mines such projects dis­rupt ​"crit­i­cal habi­tat" essen­tial for the sur­vival of a species list­ed as ​"threat­ened" or ​"endan­gered."
Shahla Wern­er, direc­tor of the Sier­ra Club-John Muir Chap­ter in Wis­con­sin, says the effects of the Rib­ble bill could be far reach­ing. ​"This could set a dan­ger­ous prece­dent in Con­gress for delist­ing the wolf and under­min­ing the courts," she says, though she notes that the prece­dent may have already been set with leg­is­la­tion passed in 2011 that delist­ed wolves in Ida­ho, Mon­tana, and parts of Ore­gon, Wash­ing­ton and Utah. Such a prece­dent, says Wern­er, ​"could poten­tial­ly leave the Endan­gered Species Act open to dis­man­tling, one species at a time, until it real­ly doesn't have any teeth anymore."
Cit­i­zen wolf
The wolf has preyed on domes­ti­cat­ed live­stock since we humans first unveiled our inge­nious brands of docile ungu­lates. In the 1st cen­tu­ry, Greek offi­cials were pay­ing wolf boun­ties in sil­ver drach­mas. Today, food aggres­sion and ter­ri­to­r­i­al dis­putes remain at the heart of human-wolf inter­ac­tion. Until we fig­ure out how to make cows and sheep out of bricks, wolf man­age­ment prac­tices must respect the threat wolves pose to the liveli­hoods of ranch­ers like Mar­cia and James Mihalek. Cer­tain cir­cum­stances will like­ly require lethal mea­sures. But after years of con­ser­va­tion efforts, the wolf is back, and we can't kill it off again in the low­er 48 with­out look­ing cos­mi­cal­ly stu­pid. Coex­is­tence presents the only path for­ward. Part of the chal­lenge will be undo­ing a mind­set that's been imag­initev­ly cul­ti­vat­ed for thou­sands of years. No oth­er ani­mal has infil­trat­ed myth and metaphor — fueled our capac­i­ty to anthro­po­mor­phize — as suc­cess­ful­ly as the wolf. Many of us work jobs we hate to ​"keep the wolf from the door." In ancient Rome pros­ti­tutes were called she-wolves. From a Judeo-Chris­t­ian per­spec­tive, ​"the Lord is my shep­herd" pre­cise­ly because Satan is wolf-like enough to war­rant one. Every­thing from ​"The Three Lit­tle Pigs" to The Wolf of Wall Street to Duran Duran being hun­gry like one cre­ates an image of the wolf as a blood­thirsty beast, rather than sim­ply a crea­ture try­ing to eat.
The late Cana­di­an nat­u­ral­ist and author Far­ley Mowat, best known for coun­ter­ing neg­a­tive per­cep­tions of the wolf in his clas­sic book Nev­er Cry Wolf (adapt­ed into the 1983 Dis­ney film), wrote, ​"We have doomed the wolf not for what it is, but for what we delib­er­ate­ly and mis­tak­en­ly per­ceive it to be – the mythol­o­gized epit­o­me of a sav­age ruth­less killer – which is, in real­i­ty, no more than a reflect­ed image of our­self." If our goal is to reframe our rela­tion­ship with wolves and learn how to exist along­side them, we might look to one of the few cul­tures that ever pulled it off.
"Peo­ple some­times look at the tribes as extrem­ists when it comes to issues like this," says David at GLIFWC. ​"I often try to argue that dif­fer­ent­ly. There are those who put the wolf on a pedestal, in a sacred posi­tion, and those who just detest wolves and want to crunch them under their heel. In all hon­esty, for the tribes, it's nei­ther of those. It's mid­dle ground real­ly: this is your broth­er, some­body you're side by side with, nei­ther above you or below you. It's real­ly a kind of mod­er­ate position."
For the Ojib­we in Min­neso­ta, Wis­con­sin, Michi­gan, Mon­tana and North Dako­ta, respect for the wolf extends back to a bond forged in their cre­ation sto­ry, one in which ma'iingan (the wolf) is a skilled sur­vival­ist, a teacher and a spir­i­tu­al ally. In The Mishomis Book, spir­i­tu­al leader Eddie Ben­ton-Banai from the Lac Courte Oreilles band explains that the Cre­ator direct­ed ​"orig­i­nal man" and ma'iingan to trav­el the world togeth­er. On these trav­els, they became broth­ers. When the jour­ney was over, the Great Spir­it indi­cat­ed that, though they would take sep­a­rate paths, they would be for­ev­er linked: ​"What shall hap­pen to one of you, shall also hap­pen to the oth­er. Each of you will be feared, respect­ed and mis­un­der­stood by the peo­ple who will lat­er join you on the earth."
Fear and mis­un­der­stand­ing have already been accom­plished. Respect might take time. But con­sid­er­ing that 57 mil­lion house­holds in this coun­try vol­un­tar­i­ly cohab­i­tate with four-legged car­ni­vores with names like Spot, appre­ci­at­ing Native respect for the wolf, or sim­ply acknowl­edg­ing the apex predator's right to live in its nat­ur­al envi­ron­ment, might not be too dif­fi­cult of a stretch.