Donald Rumsfeld's Ugly Suits
U.S. citizens suing the former defense secretary for torture may finally get a day in court.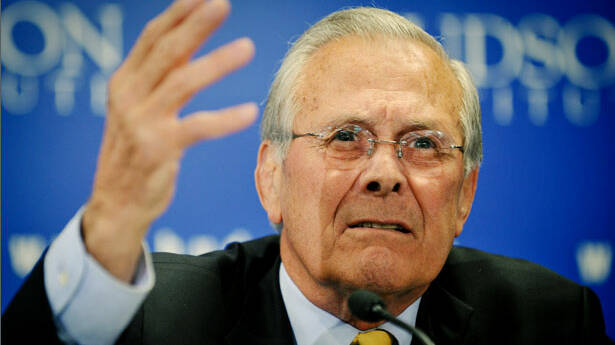 For the first time since the Bush admin­is­tra­tion stripped ​"war on ter­ror" detainees of due process rights and rede­fined inter­ro­ga­tion tech­niques to include tor­ture, a fed­er­al appel­late court has ruled against a high-lev­el U.S. offi­cial in an anti-tor­ture case. That means for­mer Defense Sec­re­tary Don­ald Rums­feld could become the first Bush-era offi­cial held liable for torture.
Don­ald Vance and Nathan Ertel, two Amer­i­cans who worked as secu­ri­ty con­trac­tors in Iraq in 2005, are suing Rums­feld and oth­er unnamed defen­dants for the abu­sive treat­ment they endured while detained at Camp Crop­per, a U.S. Army-run prison in Baghdad.
On August 8, the 7th Cir­cuit Court of Appeals upheld a low­er dis­trict court's rul­ing that denied Rumsfeld's attempt to dis­miss the civ­il case. Con­tin­u­ing Bush-era legal gym­nas­tics, Pres­i­dent Obama's Jus­tice Depart­ment defend­ed Rums­feld in court by claim­ing that con­sti­tu­tion­al rights do not extend to Amer­i­cans in war zones and that Rums­feld didn't know depriv­ing sleep, deny­ing food and run­ning blind­fold­ed inmates into walls qual­i­fies as torture.
"The defen­dants are argu­ing for a tru­ly unprece­dent­ed degree of immu­ni­ty from lia­bil­i­ty for grave con­sti­tu­tion­al wrongs com­mit­ted against U.S. cit­i­zens," Cir­cuit Judge David Hamil­ton wrote in the deci­sion. ​"The the­o­ry would immu­nize every enlist­ed sol­dier in the war zone and every offi­cer in between … from civ­il lia­bil­i­ty for delib­er­ate tor­ture and even cold-blood­ed mur­der of civil­ian U.S. citizens."
Thanks to a prece­dent set last year by the dis­trict court rul­ing for Don­ald Vance and Nathan Ertel v. Don­ald Rums­feld, et al., the U.S. Dis­trict Court for the Dis­trict of Colum­bia upheld a sim­i­lar civ­il case against Rums­feld, John Doe v. Don­ald Rums­feld, et al., on August 2.
Togeth­er, Vance and Doe are the only cas­es out of more than a dozen brought against Bush admin­is­tra­tion cab­i­net-lev­el offi­cials for their alleged roles in war on ter­ror trans­gres­sions to be allowed to pro­ceed to tri­al. All oth­er claims have been dis­missed, often blocked by the ​"state secrets" defense, which main­tains that U.S. nation­al secu­ri­ty would be com­pro­mised if infor­ma­tion about the cas­es were made public.
One such case was that of Khaled el-Mas­ri, a Lebanese-born Ger­man cit­i­zen whom the CIA mis­took for an al-Qae­da oper­a­tive with an iden­ti­cal name. In 2004, the CIA held him in a black-site prison in Afghanistan for four months, reg­u­lar­ly beat him and then aban­doned him – ema­ci­at­ed and pen­ni­less – in the boon­docks of Alba­nia. El-Mas­ri sued for­mer CIA Direc­tor George Tenet and oth­ers, only to have the Supreme Court dis­miss the case in 2007.
Most recent­ly, in May, the U.S. Supreme Court grant­ed immu­ni­ty to for­mer Attor­ney Gen­er­al John Ashcroft, rul­ing that Abdul­lah Kidd, a U.S. cit­i­zen, could not sue Ashcroft per­son­al­ly for his treat­ment by FBI agents in 2003. Kidd was held as a sus­pect for two weeks with­out prob­a­ble cause, and alleged that the FBI, under Ashcroft's super­vi­sion, held him as a mate­r­i­al wit­ness for a sep­a­rate tri­al to jus­ti­fy his detain­ment. The FBI nev­er called him to testify.
The fact that the court was unan­i­mous in its deci­sion – despite the con­so­la­tion from four jus­tices that the rul­ing did not say the FBI's actions were legal – may por­tend trou­ble for the future of Vance and Ertel's claims against Rums­feld. Chief Jus­tice John Roberts was con­cerned about the chill­ing effect that allow­ing suits against offi­cials could have on pub­lic service.
Mike Kanovitz, the attor­ney for Vance, Ertel and Doe, said that the Supreme Court's rul­ing against Kidd shouldn't affect the future of Vance. ​"In Ashcroft's case, they were look­ing at ​'absolute immu­ni­ty,' a spe­cif­ic kind of immu­ni­ty for pros­e­cu­tors, which, being the for­mer Attor­ney Gen­er­al, was avail­able to Ashcroft."
The ​"qual­i­fied immu­ni­ty" that Rums­feld sought with his defense is avail­able to high-lev­el offi­cials who prove that a ​"rea­son­able per­son" would not have known that his actions vio­lat­ed the law. Because, as Vance and Doe allege, Rums­feld craft­ed the guide­lines for ​"enhanced inter­ro­ga­tion" meth­ods, changed them repeat­ed­ly to skirt con­gres­sion­al leg­is­la­tion lim­it­ing their use and in 2003 sent Major Geof­frey Miller with orders to ​"git­mo­tize" Camp Crop­per, the courts have decid­ed not to extend such immu­ni­ty to Rumsfeld.
Rums­feld has to decide what comes next, says Kanovitz. He could appeal Doe and ask the 7th Cir­cuit court to take anoth­er look at Vance, before peti­tion­ing the Supreme Court to hear his case.
If Vance, Ertels and Doe win their cas­es and receive finan­cial resti­tu­tion, Attor­ney Gen­er­al Eric Hold­er might be embold­ened to pur­sue crim­i­nal charges against Rums­feld and oth­er Bush admin­is­tra­tion offi­cials who over­saw human rights abus­es. But don't count on it: Oba­ma has pub­licly stat­ed that he doesn't want to be ​"look­ing back­wards" at the issue and suc­cess­ful­ly pres­sured Spain – in a 2009 let­ter lat­er pub­lished by Wik­iLeaks – to drop its war-crimes inves­ti­ga­tion of for­mer Vice Pres­i­dent Dick Cheney and Attor­ney Gen­er­al Alber­to Gon­za­lez, among oth­ers. As ever, Bush admin­is­tra­tion offi­cials remain very far from prison.
Joel Han­d­ley
, a for­mer assis­tant edi­tor at In These Times, is a Chica­go-based inde­pen­dent jour­nal­ist and free­lance editor.