Drafting Honduran Democracy
As repression continues, the National Front of the Popular Resistance plans a constitutional convention.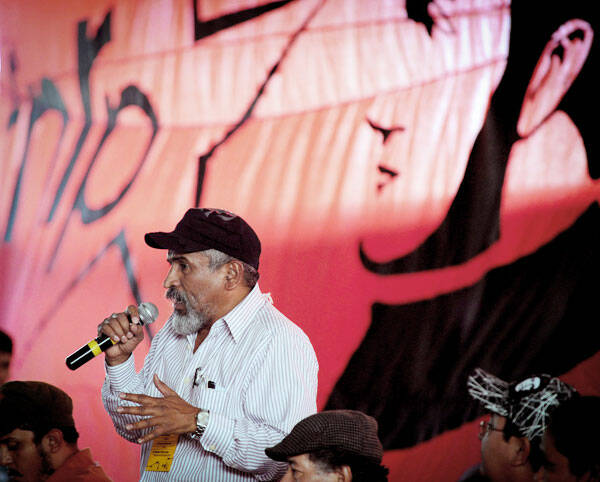 We wanted to make sure you didn't miss the announcement of our new Sustainer program. Once you've finished reading, take a moment to check out the new program, as well as all the benefits of becoming a Sustainer.

TEGUCIGALPA – This is what democracy looks like: On February 26, 2011, the National Front of the Popular Resistance (FNRP) held its inaugural Constitutional Assembly in the Honduran capital of Tegucigalpa. Some of the delegates were peasants. Others were professors. But there were no military strongmen and no puppet politicians. Instead, 1,500 ordinary citizens, elected by municipalities from across the country, met to debate and vote on a series of resolutions aimed at crafting a new, more participatory national charter.
"It's a historic moment," FNRP Coordinator Juan Barahona told In These Times. ​"Never before have the Honduran people had a political voice with which to speak. … Always they have lived as slaves of the oligarchy."
The FNRP – comprised of teachers, students, trade unionists, human rights NGOs and many other progressive groups – sprung up in the wake of the military coup against President Manuel Zelaya in June 2009. Zelaya had enraged the nation's elites by bowing to popular pressure for constitutional reform and attempting to hold a nonbinding opinion poll on the issue. Since the putsch, Honduras has been plagued by human rights abuses as the government has sought to repress pro-democracy demonstrators. More than 100 people have died, and thousands more have been beaten, gassed and illegally detained during demonstrations.
Because of the ongoing human rights violations, the delegates to the Constitutional Assembly voted against forming a political party to take part in traditional elections. Until the human rights abuses stop, says Barahona, the FNRP will focus on mobilizing and organizing its large base for June 28, 2011, the two-year anniversary of the coup, when a smaller pool of elected delegates will meet to hammer out a new constitution.
The FNRP has gathered more than 1.3 million signatures from Honduran voters in favor of constitutional reform. But despite this show of popular support, much-disputed President Porfirio Lobo has refused to confirm that he will permit changes to the current constitution, which was authored in 1982 under a brutal military dictatorship. According to Barahona, the people will not wait for Lobo's permission. ​"There is nothing the coup-mongers can do to kill our hunger for liberty. Just as in Egypt, just as in Libya, the people are rising up."
While the Obama administration has been quick to praise the democratic revolutions taking place across the oil-rich Middle East, it has taken a very different attitude toward the ideologically similar grassroots movement in Honduras. The State Department has asked the U.S. Congress to allocate $68 million for Honduras this fiscal year, and human rights experts say much of that money will go toward training and military hardware. ​"There's no question that funding from the U.S. is resulting in human rights abuses," says Jennifer Atlee, codirector of the Friendship Office of the Americas, a Maryland-based think tank. Atlee believes a new constitution could help alleviate what she calls ​"the historical and systemic causes of exploitation in Honduras."
Like Resistance leader Barahona, Atlee sees similarities between what is going on in Honduras and the Middle East. ​"The masses can no longer bear the lack of freedom," she says, ​"and the world has had to accept that."
Be a Sustainer
We surveyed thousands of readers and asked what they would like to see in a monthly giving program. Now, for the first time, we're offering three different levels of support, with rewards at each level, including a magazine subscription, books, tote bags, events and more—all starting at less than 17 cents a day. Check out the new Sustainer program.