Drone Justice is Blind
There's no way President Obama can fairly review each drone strike.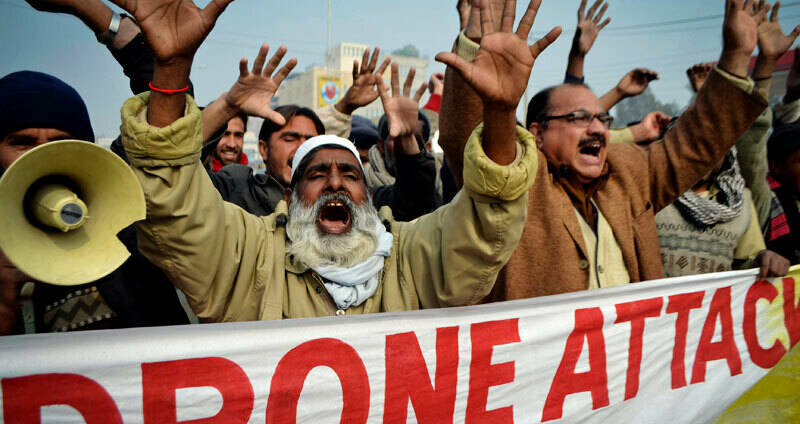 For the first time in his­to­ry, the Unit­ed States gov­ern­ment has pro­claimed its legal right to assas­si­nate any per­son, any­where on the globe, as long as our chief exec­u­tive believes that per­son to be a ter­ror­ist. Pres­i­dent Barack Oba­ma has said that most of the peo­ple we are incin­er­at­ing are ​"al-Qae­da sus­pects who are up in very tough ter­rain along the bor­der between Afghanistan and Pakistan."
To whom did each targeted person pose a threat? Were they a threat to U.S. military bases or CIA installations located within their country? Were they a threat to corporate interests located within their country? Were they a threat to the regime that governs their country and allows us to fly the drones?
Pre­cise num­bers are hard to come by, due to the secre­cy under which the drone pro­gram oper­ates. But the var­i­ous groups that track drone strikes agree that since Oba­ma took office, more than 350 strikes in Pak­istan, Yemen and Soma­lia have killed at least 2,400 peo­ple. This means, out­side of Afghanistan, U.S. drones are killing on aver­age at least 47 peo­ple a month. If you include drone strikes in Afghanistan, the num­bers are much larg­er.
The administration's claim as to the legal­i­ty of these strikes relies on the fic­tion that a rig­or­ous review of evi­dence takes place before a ​"ter­ror­ist" is tar­get­ed. How­ev­er, no mat­ter how smart and rea­son­able Oba­ma might be, he is not per­son­al­ly review­ing the evi­dence against most of the peo­ple we are killing. In fact, accord­ing to CNN, at least half of drone strike deaths have been the result of ​"sig­na­ture strikes," in which drone oper­a­tors decide, based on visu­al evi­dence of sus­pi­cious behav­ior, to fire on peo­ple whose iden­ti­ties they don't even know. As one gov­ern­ment offi­cial told the New York Times, to the CIA, ​"three guys doing jump­ing jacks" looks sus­pi­cious­ly like a ter­ror­ist train­ing camp.
We are told that drone killings neu­tral­ize immi­nent threats to Amer­i­ca, but we need only con­sid­er the num­bers to know we are being lied to. There can­not be 50 peo­ple every month who were on the verge of launch­ing an attack on the U.S. until they were ​"neu­tral­ized" by a drone. We there­fore must ask: To whom did each tar­get­ed per­son pose a threat? Were they a threat to U.S. mil­i­tary bases or CIA instal­la­tions locat­ed with­in their coun­try? Were they a threat to cor­po­rate inter­ests locat­ed with­in their coun­try? Were they a threat to the régime that gov­erns their coun­try and allows us to fly the drones?
As new details emerge about the drone pro­gram in Pak­istan, the administration's offi­cial expla­na­tions begin to unrav­el. We now know, as Mark Mazzetti report­ed in the April 6 New York Times, that the first strike occurred in June 2004, when the Unit­ed States used a Preda­tor drone to assas­si­nate Nek Muham­mad, a Pash­tun tribesman, at the request of Pak­istan. The drone also killed two boys, ages 10 and 16. In return for this killing, Pak­istan allowed the CIA to deploy Preda­tor drones in its airspace.
And as report­ed by the McClatchy news­pa­pers based on a review of clas­si­fied intel­li­gence reports, under Pres­i­dent Oba­ma, the drone pro­gram has con­tin­ued to tar­get and kill not just senior al-Qae­da lead­ers, but also ​"hun­dreds of sus­pect­ed low­er-lev­el Afghan, Pak­istani and uniden­ti­fied ​'oth­er' mil­i­tants in scores of strikes in Pakistan's rugged trib­al area."
In the rare cas­es in which Oba­ma does per­son­al­ly review evi­dence and approve a drone strike, he is hear­ing only one side of the sto­ry. Just as crim­i­nal sus­pects always seem guilty after a brief­ing by law enforce­ment, Mus­lim men liv­ing in remote and law­less regions of Pak­istan or Yemen will always seem like ter­ror­ists to Oba­ma after a CIA brief­ing. More­over, much of the infor­ma­tion used for drone tar­get­ing comes from infor­mants, who are noto­ri­ous­ly unre­li­able. For exam­ple, agent ​"Curve­ball" com­posed elab­o­rate draw­ings of Saddam's mobile weapons labs that exist­ed only in Curveball's head, but were nev­er­the­less used to jus­ti­fy the Iraq War.
Our found­ing fathers val­ued an adver­sar­i­al sys­tem of jus­tice because they under­stood that gov­ern­ment offi­cials, even smart and well-mean­ing ones, are not always right.
Law enforce­ment agents and pros­e­cu­tors might find it con­ve­nient nev­er to have any­one oppose or even ques­tion their evi­dence, but the good ones also rec­og­nize the inher­ent dan­ger of such an unbal­anced system.
I recent­ly defend­ed a mur­der case in Charleston, Ill. If you spoke only to the pros­e­cu­tors and detec­tives, you would have heard how three wit­ness­es observed my client, Chris Oliv­er, kick­ing and stomp­ing a devel­op­men­tal­ly dis­abled man to death, and you would have been eas­i­ly con­vinced that Oliv­er is a killer.
But because Oliv­er had a defense lawyer and an inves­ti­ga­tor on his side, we were able to show the jury that two of the prosecution's wit­ness­es were severe­ly men­tal­ly ill, had giv­en numer­ous con­flict­ing sto­ries and had been pres­sured by the police to impli­cate Oliv­er, and that the third wit­ness had him­self been impli­cat­ed in the beat­ing and named Oliv­er only after cut­ting a deal with the state. We also intro­duced time sheets and cell phone records over­looked by the police, which showed that Oliv­er was not even present for the attack but was called to the scene after the beat­ing to care for the vic­tim. After hear­ing both sides of the sto­ry, the jury in Charleston quick­ly acquit­ted Oliv­er of mur­der.
Sad­ly, all we will ever know about the thou­sands of humans incin­er­at­ed by our drones is that the CIA believed them to be terrorists.