The Democratic Party Didn't Pass a Ban on Fracking—But They Came Very Close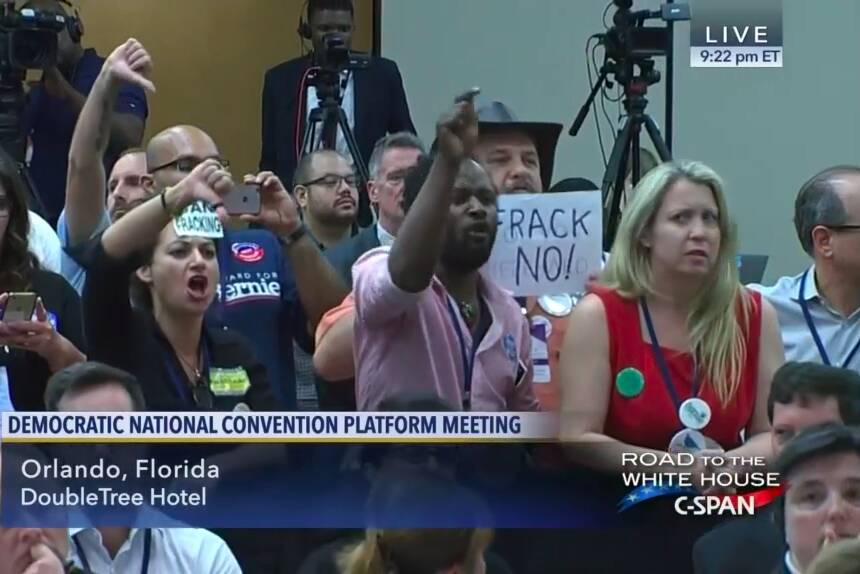 Over the week­end, at a hotel in Orlan­do, Fla., the Demo­c­ra­t­ic Party's two fac­tions met to debate how pro­gres­sive they want the par­ty to be. You too can watch all of the DNC's Plat­form Com­mit­tee Meet­ing here, but one par­tic­u­lar­ly inter­est­ing exchange on frack­ing stands out.
Though­out the day, Bernie Sanders' rev­o­lu­tion-mind­ed pro­gres­sives clashed with Hillary Clinton's be-care­ful-with-the-apple­cart fol­low­ers over every­thing from the Trans-Pacif­ic Part­ner­ship, min­i­mum wage, sin­gle-pay­er health care, mar­i­jua­na decrim­i­nal­iza­tion and the envi­ron­ment. Con­sid­er­ing the lev­el of dis­course tak­ing place simul­ta­ne­ous­ly in Baton Rouge, ​"clashed" might be too strong a word. But before par­ty com­pro­mis­es were agreed upon, there were some tears, boos and walk-outs.
When it came to frack­ing, the exchange was rau­cous. Like Sanders, who made a ban on hydraulic frac­tur­ing a cen­tral part of his envi­ron­men­tal pol­i­cy, many of his sup­port­ers believe that the recent nat­ur­al gas boom isn't worth the flam­ma­ble drink­ing water, earth­quakes and cli­mate change that come with it. Hillary Clin­ton, whose pos­tions on frack­ing are more ​"nuanced", appears nowhere near as com­fort­able say­ing adiós to a lucra­tive swath of the ear­ly 21st cen­tu­ry ener­gy industry.
At the Plat­form Com­mit­tee meet­ing, the task of con­vey­ing the high stakes of frack­ing went to Josh Fox — the Oscar-nom­i­nat­ed film­mak­er of Gasland and not­ed frac­tivist. Fox knew that Democ­rats wouldn't adopt his frack­ing ban amend­ment, but he gave this speech to the com­mit­tee anyway:
There is a polit­i­cal rev­o­lu­tion going on in this coun­try. And frack­ing has no place in it. In fact, a lot of it is because of frack­ing. Because Amer­i­cans have had enough of being abused by the oil and gas indus­try in our own backyard.

I am a mem­ber of a front­line com­mu­ni­ty in the Delaware Riv­er Basin. We have a mora­to­ri­um on frack­ing. I live one mile from New York State. We have a ban on frack­ing due to pub­lic health concerns.

They told us we would nev­er have a ban on frack­ing, but peo­ple rose up and peo­ple did not quit and for eight years we bad­gered every politi­cian in the state and we won that bat­tle, and we can win it here.

Why would we sup­port a ban on frack­ing in all those places and not extend that across the nation? Are the chil­dren and peo­ple of the state of New York bet­ter some­how? Deserv­ing of more pro­tec­tion? Have bet­ter sci­ence some­how? Or immune to volatile organ­ic com­pounds and car­cino­gens pumped into our water tables, than the rest of the Unit­ed States? I don't think so.

This gov­ern­ment has been coopt­ed by the nat­ur­al gas indus­try for far too long, and we are here to take it back. So I request that a ban on frack­ing is in this platform.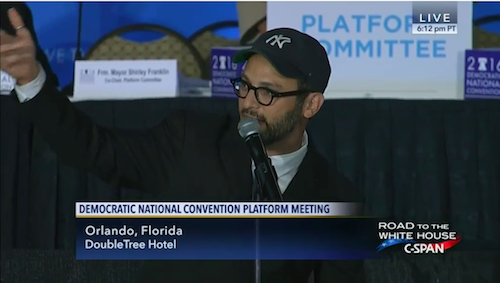 Josh Fox, film­mak­er and activist, address­es the Demo­c­ra­t­ic plat­form com­mit­tee. (Image: C‑SPAN)
This intro­duc­tion was met with loud applause and Fox was grant­ed 5 addi­tion­al min­utes to con­tin­ue mak­ing the case for a mora­to­ri­um. He used the oppor­tu­ni­ty to explain how he per­son­al­ly went from dis­cov­er­ing what frack­ing was to doc­u­ment­ing the peo­ple and com­mu­ni­ties left in the industry's destruc­tive wake:
When the frack gas indus­try first came to my house, and they asked me to lease my land for frack­ing — some­thing that nobody in 2008 had ever real­ly heard about and there was no sci­ence on it — they came to me and said, ​"No it's just a fire hydrant in the mid­dle of your field, it's going to be fine. No prob­lems. No wor­ries." But I heard that that project was start­ed by Dick Cheney, so I had a few sus­pi­cions. So I went around the coun­try and report­ed on it. I made two films—Gasland and Gasland Part 2—one of them was nom­i­nat­ed for an Oscar. They went all over the coun­try report­ing on the prob­lems of frack­ing — water con­t­a­m­i­na­tion, air pol­lu­tion, a pub­lic health cri­sis every­where the indus­try goes, land scar­ring, the con­t­a­m­i­na­tion of our gov­ern­ment through the buy­ing of our pub­lic offi­cials on every lev­el — state, fed­er­al and local. This is an abom­i­na­tion and a hor­ror. And at that moment I'd nev­er felt more alone in my entire life.

Every­one in this room knows what it feels like to be alone in the face of huge oppo­si­tion. Every per­son in this room knows what it's like to face down an ene­my that is gigan­tic, that is so big that you can't even com­pre­hend it. But a friend of mine in Arkansas says nev­er look at the size of the ene­my. Nev­er ever, ever, ever think about the size of the ene­my because you'll lose. All across Amer­i­ca we have huge vic­to­ries against frack­ing — all across the world. There's a ban on frack­ing in France, a ban on frack­ing in Ger­many, a ban on frack­ing in the Nether­lands, a ban on frack­ing in parts of Aus­tralia and in South Africa. Because all across the world peo­ple acknowl­edge that this process is fatal­ly flawed, it can­not be cor­rect­ed, there are too many prob­lems to it.

So what hap­pened across Amer­i­ca? Peo­ple orga­nized and they rose up. Peo­ple like Amy Ellsworth, who was show­er­ing in the dark in Col­orado, because her water was explo­sive and she was so afraid that a spark from her light bulb would blow up her bath­room that she was show­er­ing in the dark. I can imag­ine her stand­ing there, naked and ter­ri­fied … but some­thing happened.

Or in Arkansas, where they had a thou­sand earth­quakes in one month, in one town. In Guy Arkansas, a woman named Susan Frye attached a plumb bob to her cof­fee table and every time a micro­quake came along, she would look at the earth­quake web­site and say ​"there was anoth­er one." And then a 4.7 came along and knocked her hus­band out of his La-Z-Boy chair. And I imag­ine, as he hit the ground, some­thing hap­pened to him.

Or the G fam­i­ly, in Penn­syl­va­nia, that had a 5 well hor­i­zon­tal pad 150 feet from my friend Jere­mi­ah G's mother's bed­room win­dow. Their pond was con­t­a­m­i­nat­ed, their water was flam­ma­ble. And they had to sign a nondis­clo­sure agree­ment, giv­ing away their first amend­ment rights, just to get out of Gasland. And I imag­ine, as they closed the door for the last time and fig­ured out they didn't have to lock it, some­thing hap­pened to them.

Sev­en­teen mil­lion Amer­i­cans live with­in one mile of a frack gas well. And you know where they live? They live in swing states. They live in Penn­syl­va­nia. They live in Ohio. They live in Michi­gan. They live in North Car­oli­na. They live in Flori­da. That's right! They live in New Mex­i­co. They live in Col­orado. Do you want me to go on? Do you want, as the Demo­c­ra­t­ic Par­ty, to sac­ri­fice those two to three per­cent­age points in every state? Do you want to give away those votes? Because these are sin­gle-issue vot­ers. They will not vote to frack their own back­yards. They won't do it. We are not giv­ing away those votes. We need our Demo­c­ra­t­ic Par­ty back. We do not want to lose in Novem­ber. We don't.

And now a new hor­ror vis­it­ed on the Amer­i­can peo­ple — frack gas pow­er plants being pro­posed all across this nation, 300 of them. And we know that frack gas is the worst fuel that we can devel­op for cli­mate change. The sin­gle worst. Worse even than our pre­vi­ous worst fuel: coal. Coal is an awful, awful fuel but the nat­ur­al gas indus­try came, and they lied, and they said, ​"We're bet­ter." But we know now that because of all the methane leak­age, and the CO2, that the total emis­sions pro­file of frack gas is worse. It's worse. It will heat the plan­et faster and it will bring us past our stat­ed goals of the Paris Cli­mate Accords of two degrees.

Do you know what hap­pens when we go past two degrees? We have five to nine meters of sea lev­el rise. That would sink New York, Wash­ing­ton, D.C., Bal­ti­more — half of this state — Oak­land, Berkley. What are we fight­ing for? I am fight­ing for New York. I am fight­ing for Philadel­phia. I am fight­ing for Wash­ing­ton, D.C. I am fight­ing for our major east­ern coastal cities. We can't have those 300 frack gas pow­er plants. We can't have them if we also want to have the East Coast. That's what the sci­ence says.

That is why we need a ban on fracking.
The room cheered again and chants peaked the micro­phones. Read­ing the vibe on CSPAN, one would have expect­ed the crowd to vote in ener­getic favor of a com­plete ban. They didn't. Next at bat was Trevor Houser, a part­ner with the Rhodi­um Group and Clin­ton sup­port­er, who had the unen­vi­able task of fol­low­ing Fox's pas­sion­ate speech with a par­ty-line, Deb­bie-down­er moment, pack­aged as an eco­nom­ic real­i­ty check, in which he made a slight­ly Scott Walk­er sound­ing case for jobs that implied an ulti­mate con­fi­dence in extrac­tive indus­try safe­ty measures.
"Some­thing tells me I'm not going to be as pop­u­lar as Josh Fox was," said Houser, before plead­ing with the room to hear him out:
So my view is this: The same water pol­lu­tion con­cerns, methane con­cerns, seis­mic­i­ty con­cerns that you all care about — I believe we can solve those with­out overnight cut­ting off two-thirds of all nat­ur­al gas sup­ply in this coun­try, push­ing us back to coal, and threat­en­ing the liveli­hoods of mil­lions of union house­holds many of whom also live in bat­tle­ground states.
Houser unequiv­o­cal­ly praised the EPA and drew par­al­lels to past vic­to­ries that, in his view, suc­cess­ful­ly medi­at­ed envi­ron­men­tal reg­u­la­tion and the economy:
When we had air pol­lu­tion from steel pro­duc­tion in Pitts­burg, the response was not ​"let's ban steel pro­duc­tion." We effec­tive­ly reduced the pol­lu­tion from steel pro­duc­tion and we can do the same thing here….At least we should try first. At least we should try before throw­ing mil­lions of union house­holds under the bus. We at least owe them that.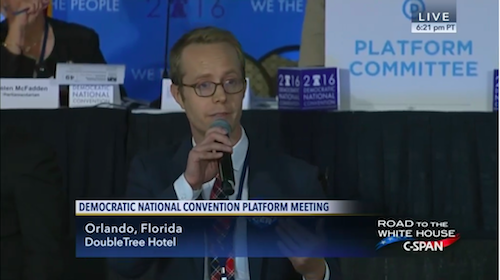 Trevor Houser makes the case against a frack­ing mora­to­ri­um. (Image: C‑SPAN)
In the end, Fox with­drew the ban amend­ment and the Demo­c­ra­t­ic Par­ty agreed on the fol­low­ing compromise:
Sec­ondary Amend­ment to Amend­ment 41:
Democ­rats are com­mit­ted to clos­ing the Hal­libur­ton loop­hole that stripped the Envi­ron­men­tal Pro­tec­tion Agency of its abil­i­ty to reg­u­late hydraulic frac­tur­ing, and ensur­ing tough safe­guards are in place, includ­ing Safe Drink­ing Water pro­vi­sions, to pro­tect local water sup­plies. We believe hydraulic frac­tur­ing should not take place where states and local com­mu­ni­ties oppose it. We will reduce methane emis­sions from all oil and gas pro­duc­tion and trans­porta­tion by at least 40 – 45% below 2005 lev­els by 2025 through com­mon-sense stan­dards for both new and exist­ing sources and by repair­ing and replac­ing thou­sands of miles of leaky pipes. This will both pro­tect our cli­mate and cre­ate thou­sands of good-pay­ing jobs.
Though this pol­i­cy falls short of the total ban on frack­ing that Sanders and his sup­port­ers called for (and will con­tin­ue to fight for), his cam­paign web­site cel­e­brat­ed the com­pro­mise as ​"the most aggres­sive plan to com­bat cli­mate change in the his­to­ry of the par­ty" and a huge over­all win:
The accord com­mits Democ­rats to fight for a price on car­bon, methane and oth­er green­house gas­es and for mas­sive invest­ment in renew­able ener­gy sources like wind and solar power.

It will also fur­ther advance the goals of the grass­roots envi­ron­men­tal move­ment by apply­ing the for­mu­la that was used to eval­u­ate and ulti­mate­ly oppose the Key­stone XL pipeline to all future fos­sil fuel pipeline projects. All fed­er­al deci­sion mak­ing should look at the proposal's impact on the cli­mate, accord­ing to the new plat­form language.
And per­haps most importantly:
While the plan does not ban frack­ing nation­al­ly as Sanders has called for, it will sig­nif­i­cant­ly lim­it frack­ing by forc­ing com­pa­nies to dis­close the chem­i­cals they pump into the ground by elim­i­nat­ing the Hal­libur­ton Loop­hole. It also pro­tects the right of states and local­i­ties to ban fracking.
The right for com­mu­ni­ties to decide whether extrac­tion takes place is a big deal. Many activists, includ­ing Thomas Linzey, the co-founder of the Com­mu­ni­ty Envi­ron­men­tal Legal Defense Fund (CELDF), believe reassert­ing local demo­c­ra­t­ic con­trol is the best anti­dote to out-of-con­trol cor­po­rate influ­ence. No mat­ter what hap­pens, as pol­i­cy debates con­tin­ue, it's clear why Sanders has stayed in this race. Mean­while, the Repub­li­cans met in Cleve­land on Mon­day to begin ham­mer­ing out the par­tic­u­lars of their own plat­form. I'll report on that next.