Election Fray in Honduras
Human rights violations, voter turnout questions stain effort to elect legitimate post-Zelaya president.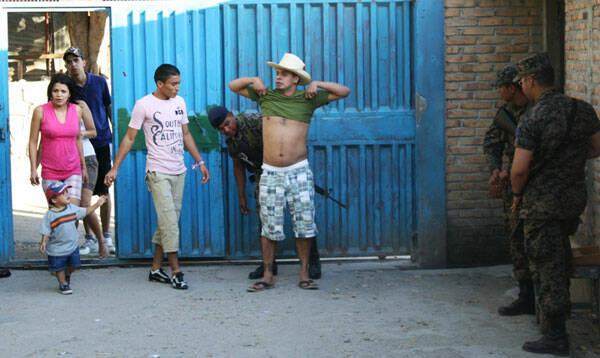 TEGU­CI­GAL­PA, HON­DURAS – The mil­i­tary-backed de fac­to gov­ern­ment in Hon­duras named Por­firio ​"Pepe" Lobo to be the new head of State on Sun­day, Novem­ber 29, after a con­tro­ver­sial elec­tion that many local and inter­na­tion­al human rights experts had denounced as both fraud­u­lent and illegal.
The result of the elec­tion, in which the gov­ern­ment says 49 per­cent of Hon­duran vot­ers par­tic­i­pat­ed, remains unrec­og­nized by most nations of the world. The Unit­ed States has rec­og­nized it.
Adding to the polit­i­cal tur­moil, the U.S.-brokered peace plan designed to heal the social cri­sis col­lapsed a few days after the vote, when the Hon­duran Con­gress vot­ed on Wednes­day against allow­ing deposed pres­i­dent Mel Zelaya to fin­ish out his term.
But Lobo, the new­ly-mint­ed pres­i­dent-elect, seems con­fi­dent he can bring peace to a frac­tured nation.
"This will be a gov­ern­ment of uni­ty and rec­on­cil­i­a­tion," Lobo said dur­ing his vic­to­ry speech Sun­day night, speak­ing at hotel in the cap­i­tal of Teguc­gal­pa. Lobo, who rep­re­sents the far-right Nation­al­ist par­ty, is a wealthy ranch­er, with strong ties to the lucra­tive Hon­duran tim­ber indus­try. ​"These elec­tions have shown the world that democ­ra­cy exists in Hon­duras," Lobo said.
But much of the human rights com­mu­ni­ty remains unconvinced.
"There's no way you can have free and fair elec­tions when there's this kind of oppres­sion going on," said Karen Spring, who was in Hon­duras to mon­i­tor elec­tions for Rights Action, a Con­necti­cut-based non­prof­it. ​"Democ­ra­cy is a process. But in Hon­duras there's been mar­tial law for months… And all that time peo­ple were being shot and killed and beaten."
Anoth­er dis­put­ed president
The crowd at Lobo's vic­to­ry recep­tion Sun­day night was small but fren­zied. His sup­port­ers sang along with a qua­si-reli­gious fer­vor to Lobo's cam­paign theme songs, while they wait­ed for the far-right polit­i­cal vet­er­an to appear. Large screens mount­ed above the crowd showed a steady mon­tage of pup­pies, men on horse­back, and var­i­ous blue-col­lar labor­ers hap­pi­ly going about their work.
Despite his assur­ances that it was time for ​"a new Hon­duras," Lobo made lit­tle men­tion of spe­cif­ic pol­i­cy goals or human devel­op­ment ini­tia­tives in his speech, pre­fer­ring instead to focus on patri­ot­ic rhetoric.
"We are a free, inde­pen­dent and sov­er­eign coun­try; we won't accept impo­si­tions or divi­sive polit­i­cal com­pro­mis­es," he said. Lobo also promised to call a ​"nation­al dia­logue" to address the social and eco­nom­ic prob­lems plagu­ing the nation. ​"Nobody will be left out," he promised.
Hon­duras was thrown into chaos last June 28, when legal­ly-elect­ed pres­i­dent Mel Zelaya was oust­ed in a mil­i­tary-backed coup, exiled and replaced by de fac­to pres­i­dent Rober­to Michelet­ti, a mem­ber of Zelaya's own par­ty. Michelet­ti has agreed to hand over pow­er to Lobo on Jan­u­ary 28, a move many say would com­plete the coup-legit­imiza­tion process.
Zelaya – who, iron­i­cal­ly, is also a wealthy ranch­er from the same part of the coun­try as Lobo, and who defeat­ed Lobo in the pres­i­den­tial race in 2005 – had angered polit­i­cal and busi­ness elites by attempt­ing to reform a rigid­ly strat­i­fied Hon­duran society.
In mid-Sep­tem­ber, he slipped into Hon­duras, tak­ing refuge in the Brazil­ian Embassy, where he's been trapped ever since, sur­round­ed by hun­dreds of Hon­duran sol­diers and police. In a let­ter released from the embassy, he asked Hon­durans not to rec­og­nize the election.
Treaty col­laps­es
Before the elec­tions, the U.S. had been one of the few nations to hint that it might rec­og­nize the out­come. But Con­gress' fail­ure to rein­state Zelaya calls all that into question.
In an offi­cial state­ment, the U.S. State Depart­ment referred to the deci­sion ​"dis­ap­point­ing." But mem­bers of Hon­duran Con­gress seemed firm in their deci­sion. The Con­gress, which also vot­ed in favor of Zelaya's ouster in June, vot­ed 111 to 14 in favor of keep­ing him out of office for the remain­der of his term, which ends on Jan­u­ary 28.
"Zelaya and his minor­i­ty of thinkers like to spread lies," said Nation­al­ist Con­gress­man Car­los Kat­tan, speak­ing Wednes­day evening at the Nation­al Con­gress Build­ing. ​"He had no right to put this coun­try in a dan­ger­ous sit­u­a­tion, and dam­age its cred­i­bil­i­ty. [T]hey are con­spir­a­tors against our nation," Kat­tan said.
The pow­er­ful, paci­fist, anti-coup resis­tance move­ment, how­ev­er, con­tends that the Hon­duran Con­gress itself is rid­dled with corruption.
"They vot­ed against Zelaya because they are rep­re­sen­ta­tives of the inter­ests of the oli­garchy," said resis­tance leader Juan Bara­hona, in a cell phone inter­view. ​"They are the ones who want­ed the coup… They see Zelaya as a threat to their inter­ests. A chal­lenge to their eco­nom­ic pow­er, because he sought to make small changes in the system."
Bara­hona, who is also a top advi­sor to pres­i­dent Zelaya, said the resis­tance would con­tin­ue whether the pres­i­dent was restored or not. ​"We will not roll over and sur­ren­der," said Bara­hona, who's mas­sive Front Against the Coup con­tin­ues to mobi­lize peace­ful ral­lies and march­es across the coun­try, despite the ongo­ing oppres­sion. ​"We will con­tin­ue in peace, and we will con­tin­ue as long as nec­es­sary," Bara­hona said.
A human rights emergency
"We are in a des­per­ate human rights state of emer­gency," said Bertha Oli­va, direc­tor of the Com­mit­tee for Dis­ap­peared Per­sons in Hon­duras (COFADEH). Oli­va cit­ed a broad range of con­firmed abus­es on and about elec­tion day, includ­ing ille­gal deten­tions, beat­ings, and even ​"tor­ture and murder."
In the five months since the putsch, COFADEH has con­firmed that author­i­ties have fre­quent­ly used live rounds against non­vi­o­lent demon­stra­tors, and at least 27 mem­bers of the resis­tance have been killed since the coup, includ­ing, most recent­ly, a retired teacher and well-known resis­tance organizer.
Accord­ing to COFADEH doc­u­ments, Gradis Espinal, 56, was forced into a marked police patrol car on Novem­ber 25, in broad day­light in front of sev­er­al wit­ness­es. The out­spo­ken educator's body was found the next day, just a few miles to the north­east, in a bar­rio called Las Casitas on the out­skirts of the capital.
Oth­ers have been caught in the cross­fire with even more dev­as­tat­ing results. A 33 year-old dairy work­er named Angel Sal­ga­do was shot in the head by sol­diers after acci­den­tal­ly dri­ving too close to a check­point in the cap­i­tal on Novem­ber 26. Two oth­er inno­cent civil­ians were also struck by 5.56 mm M16 rounds when sol­diers opened fire. Sal­ga­do lin­gered for sev­er­al days on life sup­port, before dying on Wednes­day, about the same time Con­gress was vot­ing against Zelaya.
"They didn't tell my broth­er to get out of the car, and they didn't give him or the oth­er pas­sen­gers any kind of warn­ing," said Albert Sal­ga­do, the wound­ed man's broth­er. ​"The sol­diers just start­ed shoot­ing at point blank range." Accord­ing to the offi­cial police report, the round entered just behind Salgado's left ear, and exit­ed near the top-left side of his skull.
Sal­ga­do was mar­ried with a four-year-old son.
"The gov­ern­ment that has tak­en over the coun­try is ulti­mate­ly respon­si­ble," Albert Sal­ga­do said of his brother's death. ​"Because [the de fac­to gov­ern­ment] has giv­en so much pow­er to the police and the army."
Election day was marked by violence against peaceful protesters. Police and soldiers used tear gas and truncheons to break up a peaceful protest march of about 500 people in the country's largest city.
Vot­er turnout discrepancies
Because Zelaya and the resis­tance move­ment were call­ing on Hon­duran cit­i­zens to abstain from the elec­tions, there was a great deal of spec­u­la­tion, going into the vot­ing, about what per­cent­age of the 4.6 mil­lion Hon­durans reg­is­tered to vote would actu­al­ly do so. Dur­ing the last pres­i­den­tial vote, which Zelaya won in 2005, only 55 per­cent of the elec­torate participated.
Accord­ing to Felix Moli­na, a Hon­duran polit­i­cal jour­nal­ist who hosts a pop­u­lar radio talk show on a sta­tion called Radio Glob­al, the rate of absten­tion in Hon­duran pres­i­den­tial elec­tions has been ris­ing steadi­ly for the last 27 years, ever since the first elec­tions held under the cur­rent Con­sti­tu­tion, which was authored by a U.S. backed mil­i­tary dic­ta­tor­ship in 1982.
"Absten­tion has gone up and up," he said. ​"So why would they think that this year – just a few months after a very unpop­u­lar mil­i­tary coup – there would be a larg­er turnout than [the last elec­tions]? I just can't believe that's possible."
The Supreme Elec­toral Tri­bune of Hon­duras report­ed a 61.3 per­cent turnout fig­ure on Sun­day. Con­se­quent­ly, CNN and Fox News both ran with this fig­ure on elec­tion night. But crit­ics accused the EST of delib­er­ate­ly fudg­ing their pro­jec­tion data in the hours after the elec­tion, by report­ing only the results from wealthy areas around the cap­i­tal, where vot­er turnout is tra­di­tion­al­ly much high­er. (This Real News Net­work video argues that the ini­tial high turnout fig­ure was fab­ri­cat­ed by coup lead­ers to legit­imize the elec­tion in the eyes of inter­na­tion­al observers.)
A non­govern­men­tal obser­va­tion group, Haga­maos Democ­ra­cia, did a ran­dom sta­tis­ti­cal sam­pling that showed a much low­er nation­wide fig­ure: 47.6 per­cent. On Decem­ber 4, the gov­ern­ment revised its offi­cial turnout fig­ure down to 49 per­cent, Agence France Presse report­ed.
Oth­er irreg­u­lar­i­ties in the way the EST han­dled the elec­tions have also raised sus­pi­cions. The cell phone-based vot­er cor­rob­o­ra­tion sys­tem ​"mal­func­tioned," caus­ing hours-long delays in tal­ly­ing the votes. ​"The putschists wish to legit­imize the coup, and so they have a real incen­tive to manip­u­late the facts," said Andres Pavon, pres­i­dent of the Com­mit­tee for the Defense of Human Rights in Hon­duras (CODEH), anoth­er promi­nent activist orga­ni­za­tion. ​"They have every­thing to gain if par­tic­i­pa­tion tops abstention."
"It real­ly is a black and white issue," said Karen Spring, the Rights Action observ­er. ​"The real pur­pose of these elec­tions is to legit­imize the coup government."
Mil­i­ta­rized elections
Elec­tion day itself was marked by vio­lence against peace­ful pro­test­ers. Police and sol­diers used tear gas and trun­cheons to break up a peace­ful protest march of about 500 peo­ple in the country's largest city, San Pedro Sula, short­ly after noon on Sunday.
Wit­ness­es report­ed that the attack was unpro­voked, and that the police sud­den­ly began fir­ing tear gas as the march moved toward the cen­ter of town. Nine were detained, and sev­er­al peo­ple had to be hos­pi­tal­ized for their injuries, includ­ing a Reuters cameraman.
Police and sol­diers were a com­mon sight in the cap­i­tal on elec­tion day.
In the poor­er sec­tions of the city, male vot­ers were frisked and in some cas­es even strip-searched at the entrances. There were no long lines to vote, and most of the jour­nal­ists and observers report­ed a decid­ed­ly low turnout. By ear­ly after­noon the streets of the usu­al­ly bustling city were deserted.
"It's not like it should be," said Karen Andonar, as she was walk­ing to the exit after vot­ing on Sun­day. ​"Usu­al­ly peo­ple are in the streets cel­e­brat­ing on elec­tion day. But this year everyone's afraid."
But Jer­ry Weller, a for­mer U.S. Con­gress­man from Illi­nois who went to Hon­duras with the Wash­ing­ton Senior Observ­er Group, said he saw noth­ing to be wor­ried about in Tegucigalpa.
"I saw free, fair and trans­par­ent elec­tions. I saw enthu­si­asm. Peo­ple had a very good spir­it," said Weller, who issued a press release endors­ing the elec­tions before any pre­lim­i­nary results were in. " What we wit­nessed today, at least at the polling sta­tions [was] pos­i­tive coop­er­a­tion," said Weller, who went on to describe the Hon­duran armed forces as ​"very pro­fes­sion­al" dur­ing an inter­view at the elec­tion head­quar­ters in the Mar­riot hotel.
When asked if he could cite any his­tor­i­cal exam­ples of ​"free, fair and trans­par­ent" elec­tions tak­ing place under a coup-installed, mil­i­tary dic­ta­tor­ship, for­mer Con­gress­man Weller replied, ​"This coun­try wants to move for­ward. The elec­tions are an impor­tant part of that process."
But oth­ers remain skep­ti­cal of the elec­toral process under the coup installed government.
"We met with a com­mu­ni­ty group last night, and they're scared because the police are hang­ing out at their hous­es at night, because they're part of the non­vi­o­lent resis­tance move­ment," said Justin Eric­son, Uni­ver­si­ty of Michi­gan stu­dent who flew to Hon­duras with the Quixote Cen­ter, a Wash­ing­ton D.C.-based NGO. Eric­son and the rest of his del­e­ga­tion – about two dozen peo­ple from all over the Unit­ed States – car­ried signs and marched in front of the U.S. Embassy in Tegu­ci­gal­pa on Sunday.
Accord­ing to Karen Spring of Rights Action, that sense of fear extend­ed to the polling places them­selves. ​"How can peo­ple vote in peace, when there's such a huge mil­i­tary pres­ence [at the polling place]? How can you make a good polit­i­cal deci­sion when you know there's an armed offi­cer watch­ing you?" she said.
Oth­ers wor­ry that the elec­tion prob­lems run even deep­er than intim­i­da­tion by soldiers.
"This entire elec­toral process is ille­gal," said Nec­tali Rodesno, a lawyer who was work­ing in an ele­men­tary school that had been con­vert­ed into a polling place for elec­tion day.
"The elec­toral law states that nei­ther police, nor sol­diers, can be less than 100 meters dis­tant from the polling places. How­ev­er, we can see that law is not being obeyed," Rodesno said, ges­tur­ing to a check point just a few meters away where armed troops in cam­ou­flage searched vot­ers com­ing through the gate.
"The putschists know they can break the elec­toral law, just as they have bro­ken so many oth­ers," the lawyer said, ​"because the armed forces already gov­ern this country."
Editor's note: This arti­cle has been updat­ed since it was orig­i­nal­ly pub­lished on InThe​se​Times​.com Thurs­day, Decem­ber 3.