Why We Always Cover Union Fights From the Perspective of Workers, Not Bosses
We've been covering the labor movement for decades. And we're not quitting.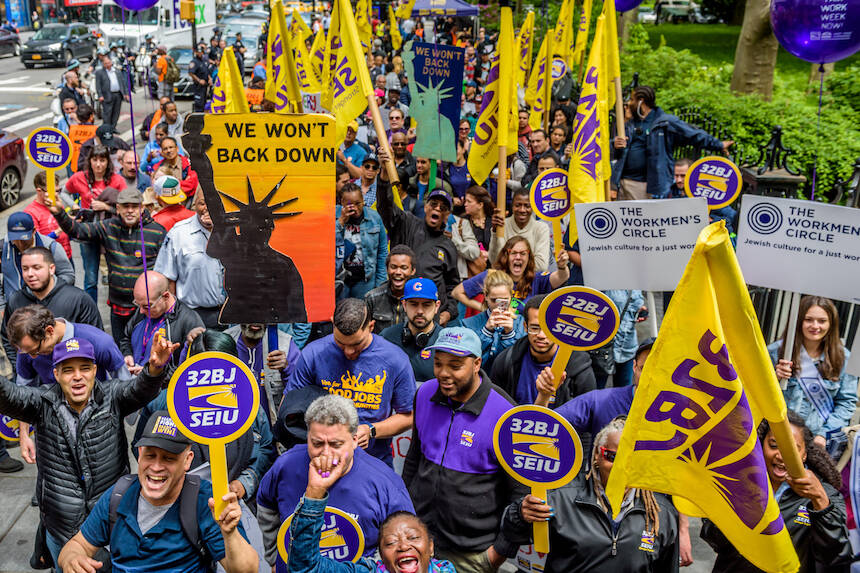 This month marks the 10th birth­day of our con­tin­u­ing labor report­ing project, Work­ing In These Times. While In These Times has long been a cham­pi­on of the union move­ment, WITT stepped it up with dai­ly report­ing at InThe​se​Times​.com. Our Gold­en Rule: Report from the per­spec­tive of work­ers, not bosses.
Review­ing some of the more than 4,500 sto­ries, I am struck by the work­ers we've met. There's for­mer turkey plant work­er Esmun­do Juarez Car­ran­za, fired for tak­ing a bath­room break. ​"They treat­ed us worse than ani­mals," he says.
There's Saman­tha Rodriguez, who report­ed sex­u­al harass­ment to her boss at a Wal­mart ware­house, only to have him ask her out. She says: ​"I pride myself on being an inde­pen­dent woman. I do remod­el­ing, I hang dry­wall, I put in floors. … I went to ware­hous­es because I like doing that kind of work. Now, I won't step foot in a ware­house. I refuse to."
There's YMCA work­er Lin­da Aguilar, who says: ​"The Y claims they want to ​'dis­rupt the cycle of pover­ty.' But it's not lost on me that they're employ­ing most­ly Black and Brown women, and they're pay­ing them pover­ty wages."
There's Fight for $15 leader Dou­glas Hunter, a sin­gle father and $9.25-an-hour McDonald's work­er: ​"Many peo­ple thought we were crazy two years ago when we walked off our jobs in New York and demand­ed $15 an hour. They don't think we're crazy now."
Cor­po­rate Amer­i­ca has spent 50 years turn­ing a weak labor law régime even more to its advan­tage. Democ­rats have done lit­tle to stop them, while Repub­li­cans cheer them on. U.S. union den­si­ty has declined from 20.1% in 1983 to 10.5% today. That means 90% of work­ers are at the mer- cy of their boss­es. Most can be fired at will.
Our orig­i­nal labor reporter, David Moberg, nev­er one to be a Pollyan­na, said orga­nized labor was ​"stuck, but stir­ring" in 1976. In 2015, he wrote a piece titled, ​"Sav­ing Labor's Sink­ing Ship."
But in read­ing the past 10 years of report­ing, I see work­ers tak­ing up the oars.
I became Work­ing In These Times' edi­tor in 2012, a com­plete novice to the beat. (When reporter Bruce Vail talked about ​"the Fed," I thought he meant the Fed­er­al Reserve, not the AFL-CIO.) Labor was riv­en by turf bat­tles, like the noto­ri­ous inter-union ​"nurse wars" in Cal­i­for­nia. The inno­v­a­tive ener­gy was in work­ers' cen­ters, which rep­re­sent­ed those hin­dered from union­iz­ing by law: domes­tic work­ers, ware­house work­ers, restau­rant work­ers, car-wash work­ers. The Chica­go teach­ers were just about to walk out and the pub­lic launch of Fight for $15 was still four months away.
I nev­er would have guessed that fast-food work­ers would make $15 a basic demand or that teach­ers in a dozen states would fol­low Chica­go and walk out, not to men­tion that Nation­al Domes­tic Work­ers Alliance Direc­tor Ai-jen Poo would be Meryl Streep's 2018 Gold­en Globes date.
Lit­tle of this activ­i­ty, how­ev­er, has increased union den­si­ty, and the Supreme Court's 2018 Janus deci­sion chips away at pub­lic-sec­tor unions, orga­nized labor's last bastion.
Per­haps we should instead focus on union propen­si­ty—the fight­ing union spir­it, as old-school labor folks might say. WITT proves that spir­it alive and well. A grow­ing strike wave indi­cates a stir­ring. As the singer-orga­niz­er Joe Hill put it:
If the work­ers take a notion, they can stop all speed­ing trains / Every ship upon the ocean, they can tie with mighty chains / Every wheel in the cre­ation, every mine and every mill / Fleets and armies of the nations, will at their com­mand stand still.
David Moberg, for­give me, but I'll say it: The labor move­ment is on the move. We look for­ward to intro­duc­ing our read­ers to the work­ers who pow­er it in the years to come.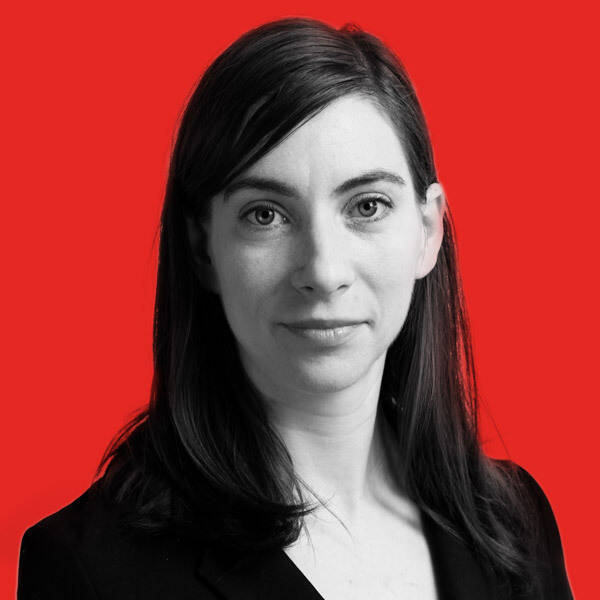 Jes­si­ca Stites is Exec­u­tive Edi­tor of In These Times, where she runs the Leonard C. Good­man Insti­tute for Inves­tiga­tive Report­ing and edits sto­ries on labor, neolib­er­al­ism, Wall Street, immi­gra­tion, mass incar­cer­a­tion and racial jus­tice, among oth­er top­ics. Before join­ing ITT, she worked at Ms. mag­a­zine and George Lakof­f's Rock­ridge Insti­tute. Her writ­ing has been pub­lished in the Los Ange­les Review of Books, Ms., Bitch, Jezebel, The Advo­cate and Alter­Net. She is board sec­re­tary of the Chica­go Read­er and a for­mer Chica­go Sun-Times board member.