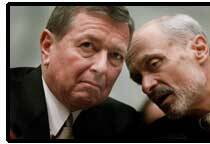 On June 2, 1919, a bomber blew him­self up on Attor­ney Gen­er­al A. Mitchell Palmer's doorstep. Nei­ther the attack­er nor his co-con­spir­a­tors, who set off bombs in sev­en oth­er cities that same hour, were iden­ti­fied. But after police found anar­chist lit­er­a­ture in the rub­ble, the Jus­tice Depart­ment launched a mas­sive roundup of for­eign radicals.
The Palmer Raids — named after the attor­ney gen­er­al but coor­di­nat­ed by a young bureau­crat named J. Edgar Hoover — detained as many as 10,000 alleged anar­chists and Com­mu­nists over the next year. Doing away with war­rants and any sem­blance of due process, the gov­ern­ment deport­ed hun­dreds of non-cit­i­zens for rad­i­cal beliefs or asso­ci­a­tions with sup­pos­ed­ly sedi­tious groups. Defend­ing these excess­es, Palmer said that when you're ​"try­ing to pro­tect the com­mu­ni­ty against moral rats you some­times get to think­ing more of your trap's effec­tive­ness than of its law­ful construction."
Gripped with fear — two mail bombs had explod­ed the pre­vi­ous April and anoth­er 16 were dis­cov­ered at the post office addressed to Supreme Court jus­tices and sen­a­tors — most Amer­i­cans didn't object to mea­sures promis­ing to pro­tect them from bomb-throw­ing for­eign­ers. Two days after the biggest raids in Jan­u­ary 1920, the Wash­ing­ton Post edi­to­ri­al­ized, ​"There is no time to waste on hair­split­ting over infringe­ment of liberty."
Despite the hys­te­ria, none of those swept up in the drag­net were tied to the ter­ror­ist attacks. But the Palmer Raids estab­lished what George­town law pro­fes­sor David Cole calls ​"leit­mo­tifs in the his­to­ry of polit­i­cal repres­sion in mod­ern Amer­i­ca." The tar­gets, Cole observes in his book Ene­my Aliens, were peo­ple who ​"might pose a poten­tial future threat," not those who actu­al­ly had com­mit­ted crimes. All of the detainees were for­eign nation­als who didn't enjoy the same pro­tec­tions as U.S. cit­i­zens. Offi­cials pur­sued these indi­vid­u­als via immi­gra­tion rather than crim­i­nal pro­ceed­ings — deny­ing them a pub­lic tri­al, coun­sel and the pre­sump­tion of inno­cence. And the pre­text for deport­ing these ​"rad­i­cals" was noth­ing more than ​"guilt by asso­ci­a­tion," with no evi­dence of any vio­lent or crim­i­nal acts.
Sound famil­iar? The Palmer Raids bear an uncan­ny resem­blance to the tac­tics used by the Bush admin­is­tra­tion to round up Arab and Mus­lim men after the ter­ror­ist attacks of Sept. 11, 2001. The plot is almost iden­ti­cal, with John Ashcroft play­ing the Palmer role. As the attor­ney gen­er­al told the Sen­ate in Decem­ber 2001: ​"To those who scare peace-lov­ing peo­ple with phan­toms of lost lib­er­ty, my mes­sage is this: Your tac­tics only aid ter­ror­ists, for they erode our nation­al uni­ty and dimin­ish our resolve."
Yet in times of nation­al cri­sis, the gaze of the gov­ern­ment inevitably turns not toward those guilty of car­ry­ing out ter­ri­ble crimes, but to inno­cent out­siders: racial and eth­nic minori­ties, the poor, polit­i­cal dis­si­dents and immi­grants. And like Palmer and Hoover before them, there's every indi­ca­tion that Ashcroft and Bush too will find them­selves on the wrong side of history.
— —  —  —  —  —  — -
In Ene­my Aliens, Cole dis­man­tles the argu­ments put for­ward by Ashcroft and oth­ers to jus­ti­fy the crack­down on non-cit­i­zens. In a schol­ar­ly but nev­er som­no­lent trea­tise, he shows that the trade-off between the lib­er­ties of for­eign nation­als and cit­i­zens is an illu­so­ry dou­ble stan­dard — which is not only coun­ter­pro­duc­tive to nation­al secu­ri­ty, but moral­ly wrong and con­sti­tu­tion­al­ly sus­pect. ​"What we do to for­eign nation­als today," Cole writes, ​"often paves the way for what will be done to Amer­i­can cit­i­zens tomorrow."
This point is espe­cial­ly dis­tress­ful con­sid­er­ing how for­eign nation­als — par­tic­u­lar­ly those of Arab or Mus­lim descent — have been treat­ed post‑9/​11. From the fin­ger­print­ing of for­eign vis­i­tors to the indef­i­nite incar­cer­a­tions and unremit­ting inter­ro­ga­tions of the Ashcroft Raids, the war on ter­ror­ism has been waged most­ly via anti-immi­grant measures.
Cole esti­mates that 5,000 for­eign nation­als have been detained in the Ashcroft Raids, yet not one has been charged with involve­ment in the attacks on the World Trade Cen­ter or the Pen­ta­gon. (Remem­ber that alleged co-con­spir­a­tor Zacarias Mous­saoui was arrest­ed before the attack.) This doc­trine of pre­ven­tive deten­tion appears to be a total fail­ure. The Jus­tice Depart­ment still refus­es to release the offi­cial num­ber of detainees, let alone their names, lead­ing Cole to won­der whether the real con­cern about secre­cy ​"may have been not that Al Qae­da would find out what was going on, but that the Amer­i­can peo­ple would find out."
Harass­ing entire pop­u­la­tions through abu­sive roundups and forced reg­is­tra­tion pro­grams is no way to pre­vent ter­ror­ism. ​"If author­i­ties have rea­son to believe there might be poten­tial ter­ror­ists lurk­ing in Arab and Mus­lim immi­grant com­mu­ni­ties," Cole argues, ​"it would make sense to work with the mil­lions of law-abid­ing mem­bers of those com­mu­ni­ties to obtain their assis­tance in iden­ti­fy­ing poten­tial threats."
Instead, the admin­is­tra­tion con­tin­ues to defend its pre­rog­a­tive to detain for­eign nation­als with­out due process and to expel them sole­ly on the basis of polit­i­cal speech or guilt by asso­ci­a­tion. What's more, the pres­i­dent insists on the unim­ped­ed right to declare any per­son at any time to be an ​"ene­my com­bat­ant," revok­ing con­sti­tu­tion­al rights at will.
It's just a mat­ter of time before the government's inva­sive pow­ers are extend­ed to the cit­i­zen­ry. Already, the Patri­ot Act requires any insti­tu­tion or busi­ness to turn over records on indi­vid­u­als deemed rel­e­vant to a ter­ror­ism inves­ti­ga­tion. Author­i­ties also have frozen the assets of a num­ber of large Mus­lim char­i­ties — with­out a hear­ing or alle­ga­tions of crim­i­nal con­duct — sim­ply because of their asso­ci­a­tion with groups on the government's blacklist.
Cole seems opti­mistic that the courts will cur­tail the excess­es of the Bush admin­is­tra­tion. A recent string of court deci­sions already has called into ques­tion key pro­vi­sions of the Patri­ot Act. This spring, the Supreme Court will decide whether the hun­dreds of for­eign nation­als held at Guan­tanamo have a right to chal­lenge their deten­tion in court. The jus­tices also will con­sid­er whether — as in the case of Amer­i­can-born Tal­iban fight­er Yass­er Ham­di — U.S. cit­i­zens can be declared ​"ene­my com­bat­ants" and impris­oned indef­i­nite­ly. The case of Jose Padil­la — the alleged ​"dirty bomber" cap­tured not in Afghanistan but at O'Hare air­port — almost cer­tain­ly will be added to the dock­et. One only hopes that Cole's superb book some­how finds its way into the Supreme Court's inner sanctum.
— —  —  —  —  —  — -
Where Cole con­sid­ers the con­sti­tu­tion­al impli­ca­tions of the domes­tic war on ter­ror­ism, Chris­t­ian Par­en­ti is more con­cerned with the sociopo­lit­i­cal con­se­quences of gov­ern­ment con­trol. In The Soft Cage, Par­en­ti exam­ines much of the same his­to­ry as Cole, but he comes at the issue from a more the­o­ret­i­cal and cul­tur­al per­spec­tive. Through this prism, ​"9÷11 looks less like a seis­mic shift from free­dom to tyran­ny and more like an aggres­sive and oppor­tunis­tic accel­er­a­tion of this country's long, slow decline into the soft cage" of ubiq­ui­tous surveillance.
What made Parenti's pre­vi­ous book, Lock­down Amer­i­ca, stand out was its meld­ing of rad­i­cal polit­i­cal analy­sis with on-the-ground report­ing. There's less shoe-leather jour­nal­ism in The Soft Cage. But armed with a journalist's instincts and a well-thumbed copy of Foucault's Dis­ci­pline and Pun­ish, Par­en­ti tracks the devel­op­ment of sur­veil­lance from the slave patrols to the mod­ern dig­i­tal rev­o­lu­tion, in which ​"Amer­i­cans have embraced their loss of pri­va­cy with patri­ot­ic vig­or and pop-cul­ture nonchalance."
Par­en­ti makes fine use of his­tor­i­cal doc­u­ments, dig­ging up adver­tise­ments search­ing for run­away slaves and dusty ledgers filled with mug shots of Chi­nese immi­grant ​"rogues." He uncov­ers a pam­phlet pub­lished in 1936 as part of an effort to fin­ger­print the entire pop­u­la­tion of Berke­ley, Cal­i­for­nia. In it, the Cit­i­zens Com­mit­tee on Uni­ver­sal Reg­is­tra­tion in Cal­i­for­nia declares, ​"Who­ev­er so reg­is­ters him­self is proud of being iden­ti­fied with mod­ern soci­ety and is will­ing to play the game accord­ing to the rules."
The nation­al dri­ve for uni­ver­sal fin­ger­print­ing — start­ed by (who else?) J. Edgar Hoover — was pre­sent­ed as a pub­lic safe­ty issue. But Par­en­ti argues its real pur­pose was con­trol­ling racial minori­ties, polit­i­cal dis­si­dents and the poor. The claims that fin­ger­print­ing would reduce crime, pre­vent child kid­nap­ping or help ID amne­sia vic­tims were implau­si­ble at best. The Berke­ley police offered a more hon­est ratio­nale: Fin­ger­print­ing would ​"bring about the iden­ti­ty of, and enable us to fol­low the move­ment and activ­i­ties of, Com­mu­nists, Anar­chists and Radicals."
Par­en­ti seizes on Foucault's notions of the ​"panop­ti­con" — a cir­cu­lar prison dreamed up by the util­i­tar­i­an philoso­pher Jere­my Ben­tham, in which pris­on­ers know they could always be watched and thus are forced to ​"inter­nal­ize the gaze" of their cap­tors. The panop­ti­con is a metaphor for the mod­ern state, the ​"per­fect cage in which sur­veil­lance har­ness­es the cap­tive to play the role of both ward and war­den." So it is that the state achieves much more pow­er through sur­veil­lance than it ever could with brute force.
Fol­low­ing from Fou­cault, Par­en­ti shows how tech­nolo­gies devel­oped for dif­fer­ent, even innocu­ous pur­pos­es expand to sup­port a sys­tem of dis­ci­pli­nary con­trol. As tech­nol­o­gy pro­lif­er­at­ed with the dig­i­tal rev­o­lu­tion, we grad­u­al­ly became more accept­ing of being under con­stant watch. Par­en­ti explains: ​"The emerg­ing archi­tec­ture of the soft cage of total sur­veil­lance is per­haps most fright­en­ing because it is so mun­dane, decen­tral­ized and even convenient."
Indeed, con­ve­nience is sold in exchange for per­son­al infor­ma­tion, track­ing our taste pref­er­ences and trav­el plans. But along with cred­it cards, ATMs and auto­mat­ed toll­booths came ​"an unplanned, unex­am­ined exten­sion of state pow­er and social dis­ci­pline." Those cred­it cards record pur­chas­es and move­ments. Most ATMs have sur­veil­lance cam­eras. ​"There are risks in social anonymi­ty," Par­en­ti writes. ​"But the risks of omni­scient and omnipo­tent state and cor­po­rate pow­er are far worse."
— —  —  —  —  —  — -
Par­en­ti shows that the advance of sur­veil­lance tech­nolo­gies and the expan­sion of their reach can't be sep­a­rat­ed from efforts to sti­fle dis­sent. The sur­veil­lance net­works sprout­ing in major cities dis­pro­por­tion­ate­ly tar­get racial minori­ties; one recent study found blacks twice as like­ly as whites to be watched ​"for no obvi­ous rea­son." The closed-cir­cuit cam­eras pro­lif­er­at­ing in schools, on street cor­ners and out­side gov­ern­ment build­ings are used by police to spy on polit­i­cal pro­test­ers. Today's Pinker­tons pack cam­corders to intim­i­date strik­ing work­ers. As Par­en­ti notes, ​"sur­veil­lance has a polit­i­cal­ly chill­ing effect."
Yet Par­en­ti con­cludes that only ​"sus­tained protest" can estab­lish lim­its on gov­ern­ment and cor­po­rate sur­veil­lance. He dis­cred­its the idea that the inno­cent and law-abid­ing have noth­ing to wor­ry about, argu­ing that pri­va­cy isn't sim­ply an indi­vid­ual ​"qual­i­ty of life" issue. ​"The right to be let alone," as Supreme Court Jus­tice Louis Bran­deis once defined it, is — or must become — a polit­i­cal issue as well.
There are a few hope­ful signs that the pub­lic is begin­ning to rec­og­nize the fun­da­men­tal threats to their inalien­able rights. Pop­u­lar out­rage met John Poindexter's data-min­ing schemes, thwart­ed efforts to insti­tute a nation­al ID card, and sunk Oper­a­tion TIPS — which called on meter read­ers and let­ter car­ri­ers to spy on their neigh­bors. Dis­sent­ing voic­es have risen among librar­i­ans, con­ser­v­a­tives like for­mer House Major­i­ty Leader Dick Armey, and even Democ­rats, who start­ed clap­ping dur­ing the State of the Union when Bush men­tioned that ​"key pro­vi­sions of the Patri­ot Act are set to expire next year." Most remark­ably the New York City Coun­cil recent­ly joined dozens of oth­er locales in repu­di­at­ing the Patri­ot Act.
You can be sure John Ashcroft is close­ly mon­i­tor­ing these developments.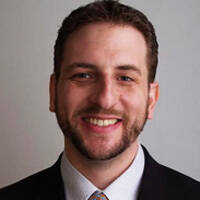 Craig Aaron
is senior pro­gram direc­tor of the nation­al media reform group
Free Press
and a for­mer man­ag­ing edi­tor of
In These Times
.