Lauren Greenfield's Look at the Children of the New Gilded Age
The creator of The Queen of Versailles on the "hamster wheel of wanting more and more."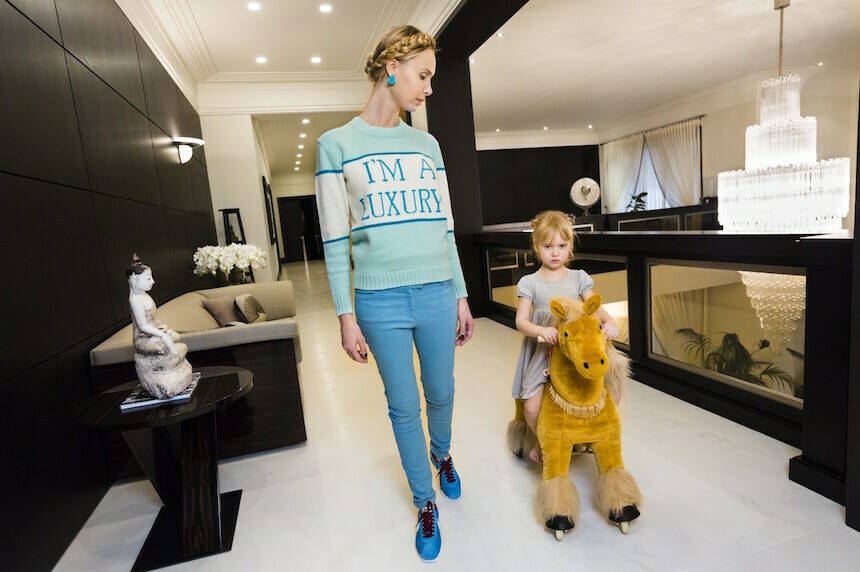 Gen­er­a­tion Wealth, Lau­ren Greenfield's 25-year ret­ro­spec­tive on the pur­suit of the Amer­i­can dream, first opened at the Annen­berg Space for Pho­tog­ra­phy in Los Ange­les and is now on dis­play at the Inter­na­tion­al Cen­ter of Pho­tog­ra­phy in New York through Jan. 7, 2018. In These Times spoke with Green­field about the exhi­bi­tion and her book of the same name.
"I think Trump's narcissistic qualities are really representative of the culture."
How did you become inter­est­ed in wealth?
I had been look­ing at sto­ries around con­sumerism and body image in pop­u­lar cul­ture. Then the 2008 finan­cial crash hap­pened while I was mak­ing the movie The Queen of Ver­sailles, about the fam­i­ly build­ing the biggest house in Amer­i­ca, a 90,000-square-foot palace inspired by Ver­sailles. When their sto­ry became a super­sized fore­clo­sure sto­ry, I saw how we were caught in this ham­ster wheel of want­i­ng more and more. This was not lim­it­ed to the rich but was across race, across bor­ders, across age. When you tell some­body that they're not good enough, that makes them want to buy some­thing to rec­ti­fy that, and that's a great motor for capitalism.
How do you think we got here?
One was the explo­sion in mar­ket­ing, espe­cial­ly to the most vul­ner­a­ble. I had spent a lot of time look­ing at kids and girls, specif­i­cal­ly, and how adver­tis­ing influ­enced them. When you tell some­body that they're not good enough, that makes them want to buy some­thing to rec­ti­fy that, and that's a great motor for cap­i­tal­ism. What I saw was that it was­n't just girls. It was also peo­ple who were aging, peo­ple in for­mer Com­mu­nist coun­tries want­i­ng to com­pete with the West and poor peo­ple. The explo­sion in tech­nol­o­gy had put that on tur­bo drive.
I also saw the 1980s as this water­shed moment with peo­ple think­ing that mon­ey made you a good per­son. Peo­ple used to com­pare them­selves to their neigh­bors who had a lit­tle bit more than they did. What hap­pened in the 25 years since was that peo­ple were spend­ing more time with tele­vi­sion char­ac­ters who kept becom­ing more afflu­ent. Keep­ing up with Jone­ses lit­er­al­ly became Keep­ing Up with the Kar­dashi­ans. Kim Kar­dashi­an [who Green­field has pho­tographed] not only rep­re­sent­ed the fam­i­ly peo­ple were aspir­ing to, but she also start­ed with a sex tape. It felt like we were liv­ing in a post-moral world where it did­n't mat­ter how you became rich and famous as long as you did.
Going through your pho­tos, did you have any a‑ha moments on the cur­rent finan­cial situation?
There was an a‑ha char­ac­ter in Flo­ri­an Homm, a hedge fund man­ag­er in Ger­many who had been worth $800 mil­lion and was accused of fraud. He went on the run and did jail time in Italy (he was released on a tech­ni­cal­i­ty), and real­ized he was chas­ing the wrong god. He want­ed to tell the sto­ry about what he learned.
The weird thing was that I had known him in col­lege. He was the only per­son I knew who had a vin­tage con­vert­ible car because even then, he was doing busi­ness and was rich. Years lat­er I read about him in the New York Times: He had fled to Ger­many and was on the FBI's most want­ed list. He'd tra­versed the same 25 years that I had but from a com­plete­ly dif­fer­ent van­tage point. I pho­tographed and inter­viewed him, he was incred­i­bly insight­ful but also had been kind of the worst of the worst. He'd lost every­thing, not just his mon­ey, but his mar­riage, his chil­dren, his free­dom — he was still a fugi­tive from jus­tice in the Unit­ed States. Some peo­ple are skep­ti­cal: Did he real­ly learn his les­son? But for me, it does­n't mat­ter. That's one of the ques­tions of the book. I saw it through the lens of addic­tion: How low of rock bot­tom do we have to hit before we change our behavior?
What con­nec­tions do you notice between the expres­sions of wealth you've cap­tured and Pres­i­dent Trump's pro­jec­tion of success?
I think there are a lot of com­mon­al­i­ties. He has an over-the-top aes­thet­ic of wealth. Gild­ed apart­ments and Corinthi­an columns are aris­to­crat­ic sym­bols of wealth and pow­er. He's also com­plic­it in the com­mod­i­fi­ca­tion of women through beau­ty pageants and as expres­sions of suc­cess. We see this on the cov­er of my book, with the wife of an oli­garch wear­ing a sweater that says, ​"I'm a lux­u­ry." I think Trump's nar­cis­sis­tic qual­i­ties are real­ly rep­re­sen­ta­tive of the cul­ture. He's the ulti­mate ​"fake it till you make it."
Han­nah Steinkopf-Frank
is a Chica­go-based free­lance writer and pho­tog­ra­ph­er. Her work has appeared in the Chica­go Tri­bune, Atlas Obscu­ra, Bitch Media, the Colum­bia Jour­nal­ism Review, JSTOR Dai­ly and Paper Mag­a­zine, among others.