Gay Marriage Tests 'Minnesota Nice'
A constitutional amendment proposal comes to the Land of Lakes, a microcosm of the nation.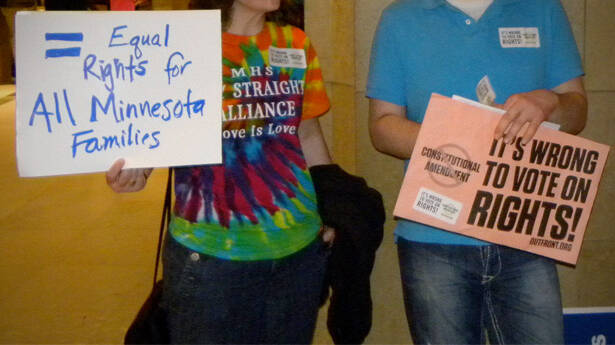 MIN­NEAPO­LIS – This hol­i­day sea­son, Min­nesotans in favor of same-sex mar­riage rights are being encour­aged to talk pol­i­tics and reli­gion at the din­ner table.
In Minnesota, as in other states, about half of voters tell pollsters that they support same-sex marriage rights, which means this fight could go down to the wire.
Turn­ing a pop­u­lar Amer­i­can adage on its head, Min­nesotans Unit­ed for All Fam­i­lies released a ​"Hol­i­day Con­ver­sa­tion Starter" just before Thanks­giv­ing that encour­aged fam­i­lies to engage in a ​"con­ver­sa­tion about why mar­riage mat­ters with the peo­ple you see every day."
Min­nesotans United's goal is to defeat a pro­posed state con­sti­tu­tion­al amend­ment that would ban same-sex mar­riage, which will be up for vote in Novem­ber 2012. If the amend­ment fails, gay mar­riage won't be legal in the Land of Lakes, but the leg­is­la­ture or state courts could even­tu­al­ly rec­og­nize it. To date, con­sti­tu­tion­al bans on same-sex mar­riage have passed by pop­u­lar ref­er­en­dum in 29 oth­er states. A ban has been reject­ed once, by Ari­zo­nans in 2006, though vot­ers approved the same mea­sure two years later.
After being seized by Repub­li­cans fol­low­ing land­slide elec­tions in 2010, the state leg­is­la­ture passed an amend­ment in May that defines mar­riage exclu­sive­ly as a union between one man and one woman. The vote fell near­ly along par­ty lines, though four Repub­li­cans broke ranks and vot­ed against the amend­ment, includ­ing fresh­man John Kriesel, who lost both legs in Iraq in 2006 while serv­ing with the Min­neso­ta Nation­al Guard.
"This amend­ment does not rep­re­sent what I went to fight for," Kriesel said in the capi­tol as pro­test­ers chant­ed near­by in the rotun­da. ​"Hear that out there? That's the Amer­i­ca I fight for, and I'm proud of that," he added, invok­ing the sto­ry of Andrew Wil­fahrt, a gay Min­neso­ta sol­dier who was killed in Afghanistan in ear­ly 2011.
A coali­tion of both nation­al and local LGBT orga­ni­za­tions imme­di­ate­ly launched Min­nesotans Unit­ed for All Fam­i­lies, and with­in 48 hours, it had signed up near­ly 1,000 vol­un­teers to defeat the mea­sure. Under the coalition's umbrel­la are nation­al groups such as the Human Rights Cam­paign and Free­dom to Mar­ry, and local groups includ­ing Out­Front Min­neso­ta and Project 515.
Two months lat­er, Demo­c­ra­t­ic Gov­er­nor Mark Day­ton vetoed the amend­ment, though his veto will not keep the bill off the bal­lot. ​"Sym­bol­ic as it may be, I am exer­cis­ing my legal respon­si­bil­i­ty to either sign or veto it," wrote Day­ton. ​"The path of social progress, of human com­pas­sion and under­stand­ing, would be trag­i­cal­ly reversed by this amend­ment. Min­nesotans are bet­ter than this."
This swing state on the prairie in many ways rep­re­sents a micro­cosm of the nation. Divid­ed in St. Paul between a Demo­c­rat in the governor's man­sion and Repub­li­cans in the leg­is­la­ture, Minnesota's gov­ern­ment shut down for three weeks last sum­mer, just as the fed­er­al gov­ern­ment near­ly did. The cul­tur­al gap between the Twin Cities and ​"out­state" is vast: where­as the LGBT mag­a­zine The Advo­cate named Min­neapo­lis the ​"gayest city in Amer­i­ca" last year, much of rur­al Min­neso­ta still resem­bles May­ber­ry. The state's mem­bers of Con­gress include both lib­er­al Demo­c­rat Kei­th Elli­son, the only Mus­lim mem­ber of the House, and Tea Par­ty idol Michele Bachmann.
In Min­neso­ta, as in oth­er states, about half of vot­ers tell poll­sters that they sup­port same-sex mar­riage rights, which means this fight could go down to the wire. Richard Carl­bom, Min­nesotans United's cam­paign man­ag­er, believes the cam­paign will be won through one-on-one con­ver­sa­tions, not divi­sive fin­ger-point­ing. ​"We can't lead with lan­guage about hatred or big­otry. That turns peo­ple off," says Carl­bom. ​"The peo­ple who will decide this are not haters or big­ots, they're con­flict­ed. We need to help peo­ple unrav­el their inner conflict."
That's where Min­nesotans United's Hol­i­day Con­ver­sa­tion Starter comes into play. The online guide offers din­ner table talk­ing points like this one:
The hol­i­days for me are all about fam­i­ly and being togeth­er. I was talk­ing to my gay/​lesbian (friend, col­league, etc.) and I real­ized that it is about the same things for them. Which got me think­ing about mar­riage for gay and les­bian cou­ples and I real­ized that I think that all lov­ing, com­mit­ted cou­ples should be able to get married.
Sta­tis­tics clear­ly show that the younger one is, the more like­ly one is to sup­port same-sex mar­riage rights. That said, Carl­bom has been amazed at the diverse cross sec­tion of Min­nesotans he's met at the more than 100 house par­ties his orga­ni­za­tion has thrown, includ­ing old­er rur­al and sub­ur­ban cit­i­zens, lob­by­ists and businessmen.
Whee­lock Whit­ney, an 85-year-old life­long Repub­li­can and for­mer guber­na­to­r­i­al can­di­date, recent­ly donat­ed $10,000 to the coali­tion and encour­aged oth­er Repub­li­cans to fol­low suit. At a press con­fer­ence in Octo­ber, he said, ​"There's noth­ing, absolute­ly noth­ing, in my val­ue sys­tem that sup­ports mar­riage bans for our constitution."