As Lava Consumes Hawaii, Residents Are Responding with Disaster Communism
From geologists to acupuncturists, community members offer support to the displaced.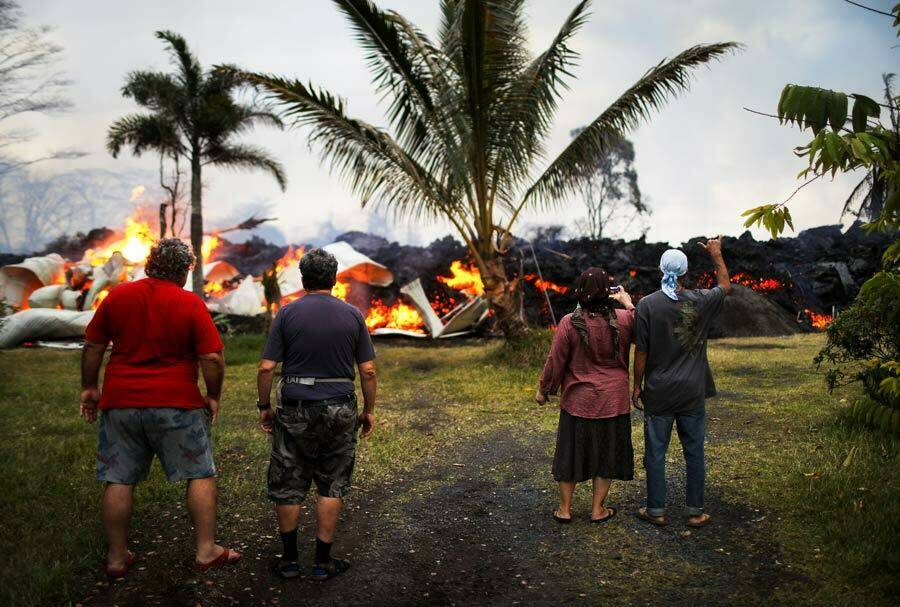 PAHOA, HAWAI'I — Near­ly two months after the Kilauea vol­cano began its mas­sive erup­tions, a main inter­sec­tion of the Big Island's Puna dis­trict is filled with huge tents con­tain­ing every­thing evac­uees might need: meals (pro­vid­ed by World Cen­tral Kitchen), tents, house­hold neces­si­ties, cloth­ing, ani­mal feed, live music, acupunc­ture and med­i­ta­tion — all for free. The tents also offer less tan­gi­ble aid. Cha­sity ​"Chas" Qui­hano, a native Hawai'ian and ​"cap­tain" of the aid cen­ter, known as Pu'uhonua o Puna ("place of refuge in Puna"), explains, ​"Some­times [peo­ple] have so much going on they don't know what they need. Some­times, all peo­ple want is a hug or comfort."
Call it disaster communism: people coming together to fulfill each other's most pressing needs, each according to their ability.
Hawai'i's vol­canic erup­tion has been a slow-motion hor­ror sto­ry. Fis­sure 8, erupt­ing since May 5, has grown from a crack in the mid­dle of a road to a cone 20 sto­ries high, with all the signs of becom­ing its own, new vol­cano. The main flow of lava from the fis­sure has filled in the once pris­tine Kapo­ho Bay, killing marine life. Tox­ic gas called vog floats out of it, and anoth­er tox­ic gas, laze, forms when the lava hits the ocean.
The hor­ror of a typ­i­cal earth­quake or hur­ri­cane may last a day or a week, after which peo­ple are often able to rebuild. Here in Hawai'i, 30 to 60 feet of lava has total­ly con­sumed roads, homes and farms. There is no rebuild­ing on top of the lava, even after it cools. It will be years, per­haps decades, before the peo­ple of the island are able to reclaim what's been lost — and that's if the lava stops flowing.
As of mid-July, more than 700 homes were lost to the lava and approx­i­mate­ly 2,000 peo­ple had been dis­placed. Com­mu­ni­ty sup­port sys­tems like Pu'uhonua o Puna have sprung up out of sheer neces­si­ty. Call it dis­as­ter com­mu­nism: peo­ple com­ing togeth­er to ful­fill each other's most press­ing needs, each accord­ing to their ability.
Biol­o­gist John Stall­man and geol­o­gist Philip Ong vol­un­teer at Pu'uhonua o Puna, meet­ing with locals one-on-one to help them under­stand what's hap­pen­ing. The dis­as­ter is a ​"huge emo­tion­al, psy­cho­log­i­cal cri­sis," Stall­man says. Much of what the two sci­en­tists do is help evac­uees come to terms with the real­i­ty of their sit­u­a­tion, explain­ing the geo­log­i­cal details in layman's terms.
This com­mu­ni­ty work aug­ments gov­ern­ment and non­prof­it relief efforts. The Red Cross has set up a shel­ter in col­lab­o­ra­tion with the coun­ty, and local home­less ser­vice orga­ni­za­tion Hope Ser­vices Hawaii teamed up with the Hawai'i Nation­al Guard 230th Engi­neer Com­pa­ny, com­mu­ni­ty mem­bers, and dozens of local busi­ness­es to build tem­po­rary hous­ing. In 30 days, they built 20 microstruc­tures with show­ers and toi­lets. ​"When you give peo­ple the oppor­tu­ni­ty to help oth­ers, this is what can hap­pen," says Brandee Meni­no, CEO of Hope Services.
With so much col­lab­o­ra­tion and no loss of human life, it's easy to roman­ti­cize what's hap­pen­ing here. But dis­place­ment is trau­mat­ic. Many of the new­ly home­less lived on off-the-grid farms and are now strug­gling to live in a shel­ter, in close prox­im­i­ty to oth­er peo­ple and with­out their farm ani­mals for the first time in decades. Oth­ers have lost restau­rants or small busi­ness­es whose prod­ucts they sold or bartered in order to sub­sist. Glenn McK­in­ney, 71, a lean African-Amer­i­can man, evac­u­at­ed with his cat Keka to a noisy out­side area of the Red Cross shel­ter. Both strug­gle with the bus­tle of the shel­ter: ​"We live iso­lat­ed, qui­et lives," McK­in­ney explains. Keka is now liv­ing in woods near­by. McK­in­ney seems lost. ​"There's real­ly noth­ing that I can see or do," he says. ​"I might be able to return [home] if the land doesn't get cov­ered." For now, the shel­ter, like Pu'uhonua o Puna and Hope's tran­si­tion­al hous­ing, pro­vides refuge.
Local gen­er­al con­trac­tor Bron­son Haunga, one of the vol­un­teer coor­di­na­tors of the Hope Ser­vices build, believes the project can ​"serve as a mod­el for how peo­ple can take care of their own," even out­side of dis­as­ter zones. Not­ing that there are home­less peo­ple and men­tal health crises every­where, he urges oth­ers to take action in their own com­mu­ni­ties. ​"Don't wait," he advis­es. ​"Don't have end­less meet­ings. Just do."
Valerie Vande Panne
is an inves­tiga­tive fel­low with
In These Times
' Leonard C. Good­man Insti­tute for Inves­tiga­tive Reporting.