Heroin Doesn't Care Where It Is: HHS to Distribute Naloxone to Rural Areas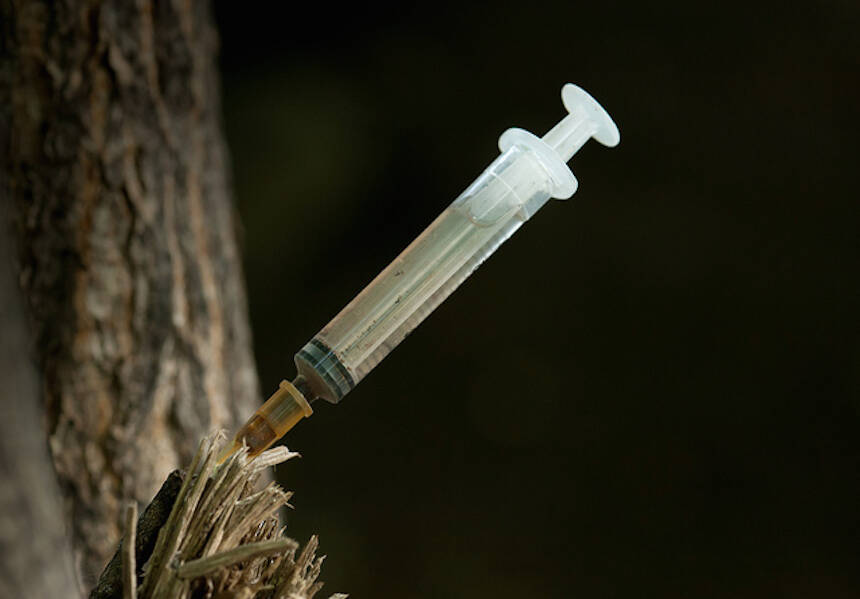 The Cen­ter for Dis­ease Con­trol (CDC) recent­ly found that, since 2010, 28 states have expe­ri­enced a rise in the num­ber of hero­in relat­ed deaths. Many of the coun­ties most affect­ed are in rur­al areas. The chang­ing demo­graph­ics of hero­in use — the long-con­sid­ered inner city plight now over­whelm­ing sub­ur­ban and small towns — is not with­out explanation.
The abuse of pre­scrip­tion painkillers has been a grow­ing nation­al prob­lem for over 20 years. Gener­ic drugs like hydrocodone and oxy­codone — brand­ed as Vicodin and Oxy­Con­tin (and Per­co­cet) respec­tive­ly — are phar­ma­ceu­ti­cal grade opi­oids that sup­press how our ner­vous sys­tems respond to pain sig­nals. These drugs work. They are also high­ly addic­tive and expen­sive. Once depen­dent, the addict can quick­ly find him or her­self at the mer­cy of an un-fil­l­able pre­scrip­tion. Enter heroin.
Like many dis­eases, left untreat­ed, addic­tion pro­gress­es. And at some point, almost invari­ably, accom­mo­dat­ing a drug habit boils down to eco­nom­ics. Unfor­tu­nate­ly, all too often in this coun­try, so does treat­ment. The Rur­al Assis­tance Cen­ter (RAC), explains that, in addi­tion to geo­graph­ic iso­la­tion, ​"low­er socio-eco­nom­ic sta­tus, high­er rates of risk behav­iors, lim­it­ed job oppor­tu­ni­ties and few­er physi­cians," all con­tribute to the health care dis­par­i­ties preva­lent in many rur­al areas. Mean­while, where opi­oid pills can cost $50 or $60 for a seem­ing­ly sat­is­fac­to­ry fix, hero­in can achieve the same (albeit more potent) ends for as lit­tle as $10.
As Mex­i­can drug car­tels grow increas­ing­ly adept at mov­ing their prod­uct into new mar­kets out­side of major cities, hero­in presents a cheap­er alter­na­tive to those indi­vid­u­als already famil­iar with, if not depen­dent on, rou­tine opi­oid use. That's not to say that some peo­ple will not try hero­in sim­ply because it's there, but the afore­men­tioned CDC study also con­clud­ed that the major­i­ty of new hero­in users used pre­scrip­tion drugs first. Mean­while, com­mu­ni­ty health care and social ser­vice providers in small towns in states like Maine, Ten­nessee, Ohio and West Vir­ginia find them­selves unpre­pared to han­dle the social and med­ical fall­out of a drug noto­ri­ous for acci­den­tal­ly killing its user.
As data gath­er­ing orga­ni­za­tions like the CDC, the Nation­al Coun­cil on Alco­holism and Drug Depen­dence, Amer­i­can Soci­ety of Addic­tion Med­i­cine and Nation­al Insti­tute on Drug Abuse work to accu­rate­ly gauge the sever­i­ty of the prob­lem (no easy task), the U.S. Depart­ment of Health and Human Ser­vices (HHS) recent­ly estab­lished a fund to make avail­able, to rur­al com­mu­ni­ties, a drug that can save lives by revers­ing the body's innate response to an overdose.
For Imme­di­ate Release: Grants aim to reduce opi­oid over­dos­es in rur­al communities
(09÷17÷15)
Today, HHS Sec­re­tary Sylvia M. Bur­well announced a $1.8 mil­lion in $100,000 grants to help 18 rur­al com­mu­ni­ties in 13 states to reduce mor­bid­i­ty and mor­tal­i­ty relat­ed to opi­oid overdoses.
The Rur­al Opi­oid Over­dose Rever­sal (ROOR) Grant Pro­gram sup­ports the pur­chase and dis­tri­b­u­tion of nalox­one (a drug that revers­es symp­toms of a drug over­dose), and the train­ing for its use by licensed health­care pro­fes­sion­als and emer­gency respon­ders in rur­al areas. Accord­ing to the CDC, pre­scrip­tion opi­oid abuse is more com­mon in rur­al com­mu­ni­ties. In 2013, rates of death involv­ing an over­dose of pre­scrip­tion opi­oids were high­er in rur­al coun­ties than urban counties.
"Opi­oid injuries and over­dos­es are very real and have a dev­as­tat­ing impact on far too many fam­i­lies," says Bur­well, who has made address­ing opi­oid abuse, depen­dence and over­dose a pri­or­i­ty. ​"But there are actions we can take to save lives and turn these trends around. This fund­ing is crit­i­cal to get­ting nalox­one into the hands of the peo­ple who can use it to save lives, reduc­ing opi­oid relat­ed deaths in rur­al com­mu­ni­ties across this coun­try and curb­ing the opi­oid epidemic."
The pilot pro­gram, devel­oped by HHS' Fed­er­al Office of Rur­al Health Pol­i­cy at the Health Resources and Ser­vices Admin­is­tra­tion (HRSA), will sup­port part­ner­ships formed at the local lev­el to coor­di­nate care. As a require­ment of the grant, each awardee must be part of a rur­al part­ner­ship com­pris­ing two or more orga­ni­za­tions rep­re­sent­ing local emer­gency respon­ders, health facil­i­ties, aca­d­e­m­ic orga­ni­za­tions, fire depart­ments, law enforce­ment, and oth­er non-prof­it or for-prof­it enti­ties involved in the pre­ven­tion and treat­ment of opi­oid over­dos­es. The part­ner­ships will work togeth­er to increase the avail­abil­i­ty and use of nalox­one in rur­al com­mu­ni­ties. They will also empha­size the impor­tance of refer­ring those with an opi­oid addic­tion to an appro­pri­ate sub­stance abuse treat­ment center.
"The inci­dence of opi­oid over­dos­es in rur­al com­mu­ni­ties is alarm­ing," says HRSA Act­ing Admin­is­tra­tor Jim Macrae. ​"This fund­ing will help com­mu­ni­ties save lives and direct those who need help to avail­able services."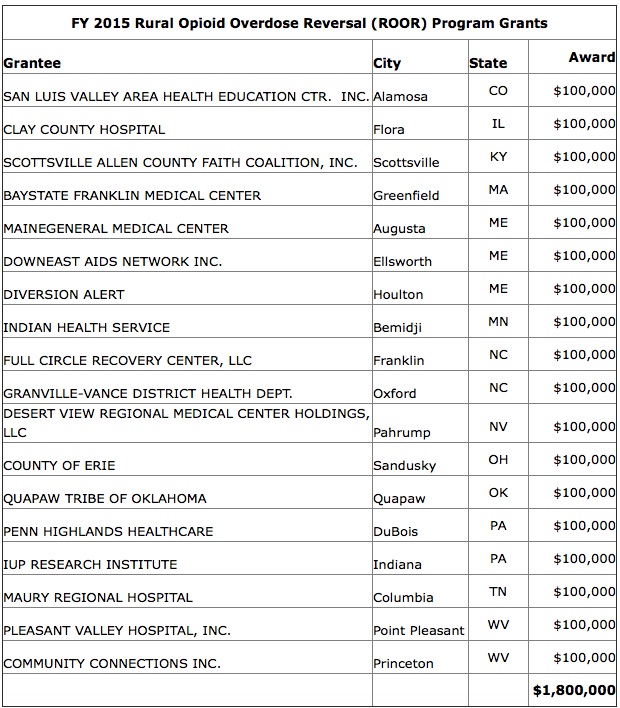 For more infor­ma­tion on FORHP's rur­al pro­grams, vis­it http://​www​.hrsa​.gov/​r​u​r​a​l​h​e​a​l​t​h​/​i​n​d​e​x​.html.