How the Left's Long March Back Will Begin in the States
Progressives' answer to ALEC is helping to build power from the ground up.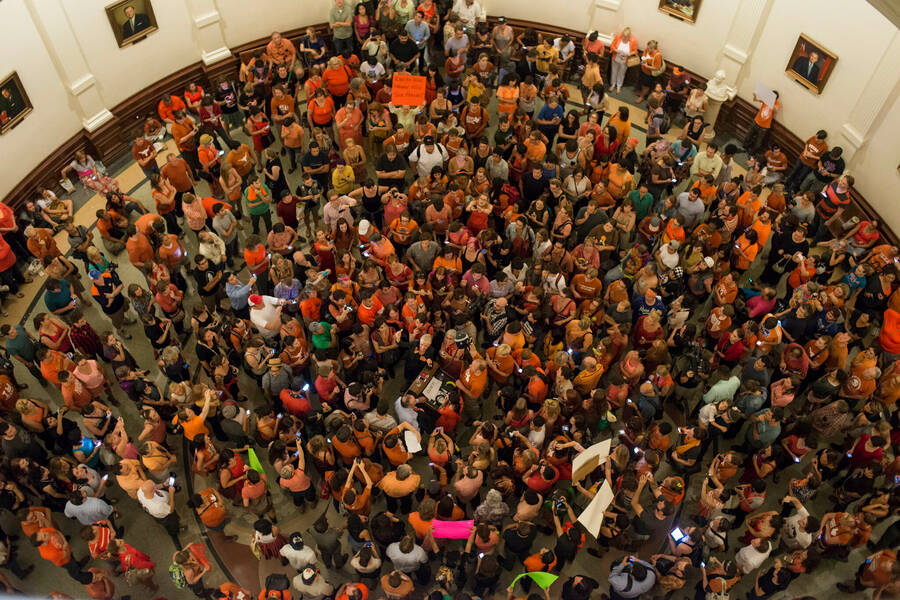 Since the 2010 elec­tion, in which the GOP won pow­er in a major­i­ty of state­hous­es, pro­gres­sives have often lament­ed the influ­ence of the Amer­i­can Leg­isla­tive Exchange Coun­cil (ALEC), which cre­ates tem­plate bills that allow leg­is­la­tors to eas­i­ly repli­cate right-wing laws across states. It's been a dri­ving force, for exam­ple, in the spread of ​"right-to-work" leg­is­la­tion as the GOP's strength in the states con­tin­ues to grow.
'For too long, we've been very focused at the federal level. And we're seeing what happens when you put all your eggs in that basket and suddenly the basket breaks.'
The State Inno­va­tion Exchange (SiX) was found­ed in 2014 as a pro­gres­sive answer to ALEC. It works with state leg­is­la­tors in a vari­ety of ways to advance leg­is­la­tion, edu­cate law­mak­ers and build a pro­gres­sive pow­er base in the states. Last year, staff mem­bers met with groups of leg­is­la­tors in about 20 states, to help them estab­lish their pol­i­cy pri­or­i­ties and under­stand the issues bet­ter. SiX's pri­or­i­ties include cli­mate change, preda­to­ry lend­ing, crim­i­nal jus­tice reform, edu­ca­tion, elec­tion reform, and work­er wages and benefits.
Most state leg­is­la­tures don't meet year-round, and many leg­is­la­tors have oth­er, full-time jobs. ​"The rule is that they meet for a few months of they year and get paid a pit­tance," says Sam Munger, SiX's direc­tor of strate­gic engage­ment. ​"They have oth­er jobs and lit­tle or no staff. That's one thing that ALEC has real­ly cap­i­tal­ized on. It can show up with a tem­plate bill and shove it in someone's face, and they're over­whelmed. So they're very vul­ner­a­ble to that."
Munger says that, by ​"try­ing to sup­port state leg­is­la­tors and make them bet­ter at what they do," SiX is help­ing pro­gres­sives build and reassert pow­er from the ground up. In These Times recent­ly spoke with him about the past, present and future of state-lev­el politics.
We hear a lot about ALEC and all the neg­a­tive things that are hap­pen­ing in the states. Are there any bright spots?
There are lots of states that are doing good and inter­est­ing things, both above and below the radar. Ore­gon has done quite a bit over the last cou­ple of cycles. It passed mod­ern ​"motor vot­er" reg­is­tra­tion, where peo­ple are auto­mat­i­cal­ly opt­ed in when they get a license. Anoth­er thing that Ore­gon did — and that oth­er states ought to think about repli­cat­ing — is that, a few cycles ago, when Democ­rats were in the minor­i­ty, some groups formed what they called the ​"Fair Shot for All" coali­tion. They iden­ti­fied four or five top pol­i­cy pri­or­i­ties, like a high­er min­i­mum wage, paid sick days and end­ing police pro­fil­ing. So it was a con­crete set of pri­or­i­ties that cut across a lot of groups. They put a cer­tain amount of resources into talk­ing about it, and when they took the major­i­ty, they passed four out of five. And came back the fol­low­ing ses­sion and passed an increase in the min­i­mum wage.
Do you work pri­mar­i­ly with leg­is­la­tors in Demo­c­ra­t­ic-lean­ing states, where you prob­a­bly have a bet­ter chance of success?
We get more requests and more enthu­si­asm, to some degree, from folks in red states than in blue. In some cas­es, because they are some­what iso­lat­ed and are look­ing for back­up. But also, in keep­ing with some of the broad demo­graph­ic changes in the coun­try, you see that, even in red states, the major met­ros tend to be home to rather pro­gres­sive pop­u­la­tions. So, in Okla­homa — which was among the states that vot­ed for [Don­ald] Trump by the largest mar­gin — Okla­homa City has grown and got­ten young, and it's got a whole set of very pro­gres­sive people.
And it's not just that they are pro­gres­sive, but they're young, and their ener­gy goes to think­ing cre­ative­ly and con­struc­tive­ly about how to both move pol­i­cy effec­tive­ly but also how to build for the future. And there are these shifts in a lot of states. Geor­gia is anoth­er one with increas­ing­ly diverse and young urban areas. Or North Car­oli­na. It's a few years ahead, in terms of the demo­graph­ic shift. But absent ger­ry­man­der­ing, in North Car­oli­na you would see pro­gres­sives prob­a­bly in the major­i­ty both in the state leg­is­la­ture and in the con­gres­sion­al del­e­ga­tion. In places like Ten­nessee and Geor­gia, absent ger­ry­man­der­ing, it would be very close in the legislatures.
The sto­ry of the right-wing takeover of state leg­is­la­tures is often told through the lens of the
2010

elec­tion and its after­math, espe­cial­ly the ger­ry­man­der­ing of dis­tricts by the GOP and the Supreme Court's Cit­i­zens Unit­ed deci­sion. Is there a ver­sion of that sto­ry that focus­es, instead, on what pro­gres­sives and Democ­rats failed to do?

I tend to start that sto­ry in the 1970s, when ALEC was found­ed, at a time when Democ­rats — often quite pro­gres­sive Democ­rats — con­trolled both state leg­is­la­tures in 37 states, and Repub­li­cans con­trolled five. It was almost the com­plete inverse of how things are now. There weren't a lot of con­ser­v­a­tive nation­al and pol­i­cy enti­ties. And rich peo­ple hadn't yet orga­nized into a coher­ent bloc.

The short ver­sion is that move­ment con­ser­v­a­tives [begin build­ing a net­work of insti­tu­tions, like the Her­itage Foun­da­tion, Cato Insti­tute, Man­hat­tan Insti­tute and Amer­i­cans for Pros­per­i­ty]. And it's a very long-view effort, which I think we're very poor at on the Left, espe­cial­ly when it comes to invest­ment. The first time ALEC got togeth­er, in 1973 or ​'74, they had about 26 leg­is­la­tors show up. So it's a very small gath­er­ing, and that per­sists through­out the entire 1970s. On the Left, if an orga­ni­za­tion put togeth­er that kind of track record, donors would lose inter­est so quick­ly. Indi­vid­ual donors on the Left, and foun­da­tions, don't want to be the first peo­ple into the pool or to fund rad­i­cal new projects, and they don't want to stick around. They want to put in a cou­ple years of fund­ing, enough to take cred­it for what­ev­er good hap­pens, and then bail and go fund some­thing else. And that's why we have trou­ble competing.

Any­way, the Cham­ber of Com­merce pumped in about $2 mil­lion per year through the 1970s. It's in the ear­ly 1980s, when Ronald Rea­gan is elect­ed — he had a close rela­tion­ship with ALEC, and showed up at all their con­fer­ences and hired peo­ple from there in his admin­is­tra­tion — that's when it kind of takes off, and con­tin­ues to get more and more mon­ey. So that when, after 2010, con­ser­v­a­tives are actu­al­ly in con­trol of state leg­is­la­tures, they have this mas­sive appa­ra­tus in the form of ALEC. And you see a huge explo­sion of ter­ri­ble ideas spread, instant­ly, and go from one place to like 38 places, overnight. Because that's what you can do with a real­ly robust network.

Dur­ing that peri­od, the Left doesn't real­ly do any­thing anal­o­gous. One rea­son is that, from at least the time of the Civ­il War, states' rights has been asso­ci­at­ed with a con­ser­v­a­tive, racist phi­los­o­phy. And a basic, back­ground assump­tion for a lot of pro­gres­sives is that states are kind of back­ward, and that good, pos­i­tive change comes from the fed­er­al lev­el. So a lot of our orga­niz­ing has been at a nation­al lev­el — how the Depart­ment of Jus­tice can be more for­ward think­ing or how to make the EPA a more robust enti­ty. We've thought about nation­al lev­el reg­u­la­tion, and assumed that's the way we would push change for­ward. And we assumed the states were sort of back­wards and con­ser­v­a­tive con­trolled enti­ties, even before they real­ly were.

Anoth­er piece of it is that the Left is more a coali­tion move­ment, made up of a lot of dif­fer­ent caus­es. The Right has its coali­tion com­po­nents — social con­ser­v­a­tives and cor­po­rate con­ser­v­a­tives. But it has had a more coher­ent philo­soph­i­cal iden­ti­ty, about less gov­ern­ment and more indi­vid­ual free­dom. And that makes it inher­ent­ly a bit more top down. And also, his­tor­i­cal­ly, one of the Left's strengths has been these strong grass­roots move­ments — civ­il rights, labor, women's rights, envi­ron­men­tal groups. That's its strength, but it can make it real­ly frac­tious. The Right has been smarter about going straight to the levers of pow­er. And I think, frankly, most of that comes from cor­po­ra­tions. They got real­ly instru­men­tal and strate­gic about what they have to do to max­i­mize their prof­it, and fig­ur­ing out which lev­el of gov­ern­ment will be eas­i­est for them to influ­ence. And with very sin­gle-mind­ed pur­pose­ful­ness they've dri­ven at it, and they've bought the pow­er that they need to buy.
It's an all-hands-on deck moment when pro­gres­sive are orga­niz­ing and ral­ly­ing to defend and pre­serve basic demo­c­ra­t­ic norms. How do you make the case that this state-lev­el work is just as impor­tant as red alert at the fed­er­al level?
In think­ing about orga­niz­ing and being strate­gic, the his­to­ry of the long, slow buildup on the Right and the fail­ure of the Left to match that explains the cur­rent moment that we're in. The way the Left had ced­ed ground in states, and the Right had seed­ed it — whether you think the Tea Par­ty was a grass­roots upris­ing of angry white folks, or a Koch broth­ers pseu­do-grass­roots move­ment, it was super effec­tive in dri­ving the nation­al debate. And we real­ly had no answer at the state and local level.
In part, it's about strat­e­gy and pow­er build­ing. In part, it's about recon­nect­ing with our roots. For too long, we've been very focused at the fed­er­al lev­el. And we're see­ing what hap­pens when you put all your eggs in that bas­ket and sud­den­ly the bas­ket breaks and you have no pow­er base to return to. So, in terms of think­ing 20, 30, 40 years out, it's impor­tant to rec­og­nize how much pow­er states have. You can see all that dam­age that's been done over the past few years — vot­er sup­pres­sion, destruc­tion of labor, pro­mo­tion of fos­sil fuels — a lot of that has hap­pened at the state lev­el. So I think we need a 20- to 30-year plan to build an effec­tive infra­struc­ture. And in the short run, we have to be in a bet­ter posi­tion to head off some of the ter­ri­ble things that the states are doing right now. That's not to say that peo­ple focus­ing on the fed­er­al lev­el are wrong. But Trump won't be there for­ev­er, maybe not even for four years. And the under­ly­ing dynam­ics will con­tin­ue to be there.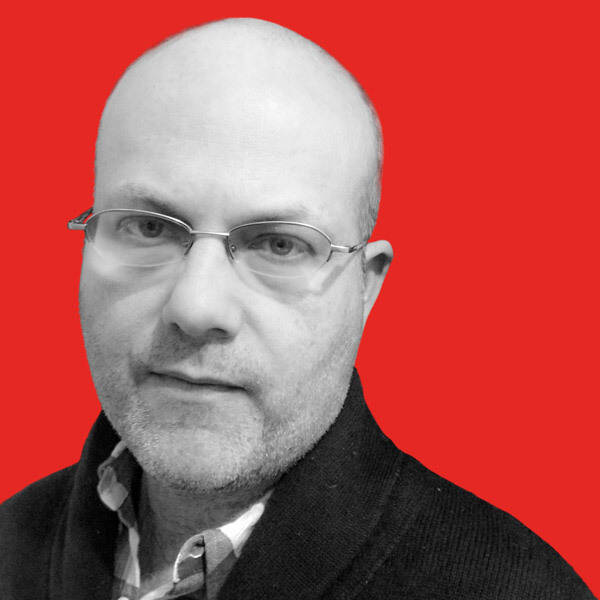 Theo Ander­son
is an In These Times con­tribut­ing writer. He has a Ph.D. in mod­ern U.S. his­to­ry from Yale and writes on the intel­lec­tu­al and reli­gious his­to­ry of con­ser­vatism and pro­gres­sivism in the Unit­ed States. Fol­low him on Twit­ter @Theoanderson
7
.