Below the Surface of ICE: The Corporations Profiting From Immigrant Detention
Activists are targeting the companies that make ICE run.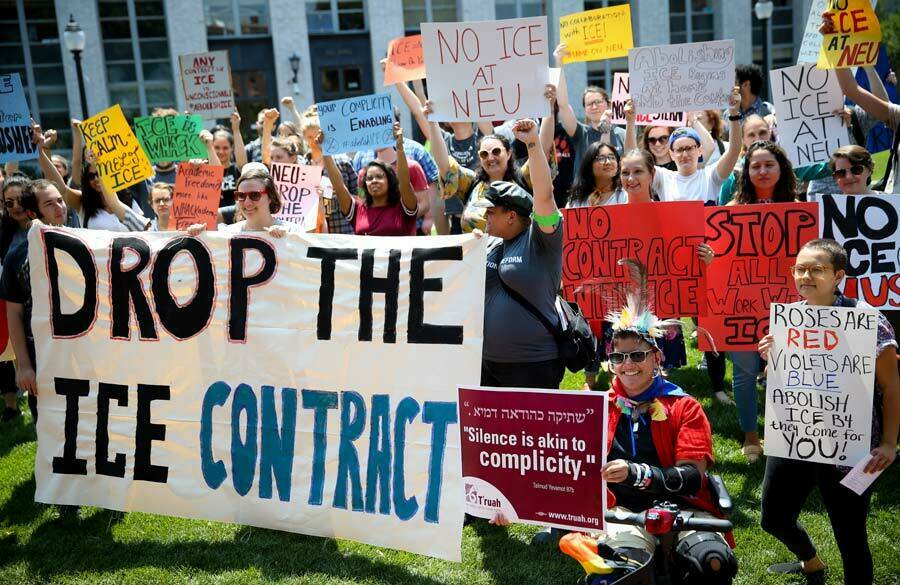 About 60 mem­bers of ICE Out of LA faced off with a hand­ful of Trump sup­port­ers out­side Los Ange­les Police Depart­ment head­quar­ters July 23. The Immi­gra­tion and Cus­toms Enforce­ment (ICE) abo­li­tion­ist group was there to con­front Coun­ty Sher­iff Jim McDon­nell, accused of trans­fer­ring immi­grants into fed­er­al cus­tody. The Trump fans were there to troll.
Under private contractors, allegations of inedible food, verbal and physical abuse, children covered in lice, and forced ingestion of drugs are commonplace.
"We tell McDon­nell to stop sid­ing with peo­ple who pro­mote hate in our com­mu­ni­ty," one young Lati­no pro­test­er shout­ed through a bull­horn. ​"He can abol­ish ICE here." It was every­thing you'd expect from a polit­i­cal demon­stra­tion focused square­ly, if opti­misti­cal­ly, on chang­ing the mind of a sin­gle policymaker.
Two days lat­er, 2,400 miles away, activists with Make the Road New York and oth­er groups tried a dif­fer­ent approach. They blocked Park Avenue under­neath the Upper East Side roof-lev­el pent­house of JPMor­gan Chase CEO Jamie Dimon, rather than out­side a gov­ern­ment build­ing. Their speak­ers blared the now-infa­mous cries of detained migrant chil­dren for their parents.
JPMor­gan Chase holds no direct con­tract with ICE and doesn't han­dle finan­cial ser­vices at ICE facil­i­ties, but it does enable and prof­it from the pri­vate-prison duop­oly of Geo Group and Core­Civic, which oper­ate most U.S. migrant deten­tion cen­ters. Since Don­ald Trump took office, JPMor­gan has increased its stock­hold­ings in Geo Group and Core­Civic 15,600 per­cent. The bank has also pro­vid­ed at least $167.5 mil­lion in debt financ­ing to the two com­pa­nies, which rely on bor­rowed money.
Going after ICE con­trac­tors' cash flow indi­cates a new direc­tion in activist orga­niz­ing since the Trump admin­is­tra­tion began its con­tro­ver­sial fam­i­ly sep­a­ra­tion pol­i­cy. ICE relies on pri­vate con­trac­tors to car­ry out its deten­tion oper­a­tions, so one way to abol­ish ICE might be to make its asso­ci­a­tion so tox­ic that it los­es its collaborators.
Prac­ti­cal­ly every enti­ty that squeezes a dol­lar from the agency or helps it round up immi­grants is being exposed, tar­get­ed and swarmed by protesters.
Tra­di­tion­al immi­gra­tion activists are now being joined by anti-war, fem­i­nist and cli­mate action groups, and oth­ers. The broad coor­di­na­tion is pos­si­ble because the U.S. immi­gra­tion sys­tem bleeds into so many areas of pro­gres­sive ire, from police bru­tal­i­ty and labor abuse to the ongo­ing wave of pri­va­ti­za­tion and finan­cial­iza­tion. ​"We real­ly pri­or­i­tize build­ing inter­sec­tion­al coali­tions," says Daniel Car­ril­lo, exec­u­tive direc­tor of ENLACE, a racial and eco­nom­ic jus­tice group.
That inter­sec­tion­al­i­ty has become crit­i­cal to left move­ments, with the shock of Trump's immi­gra­tion poli­cies reveal­ing the amoral spec­ta­cle of late cap­i­tal­ism. We've seen anti-cor­po­rate cam­paigns before in Amer­i­ca, but few on this scale, bring­ing togeth­er so many dis­parate groups— even cor­po­rate employ­ees — demand­ing that com­pa­nies cease prof­it­ing from human mis­ery. The back­lash against ICE just might pro­vide a mod­el for a pol­i­tics and eco­nom­ics that val­ues dig­ni­ty over the bal­ance sheet.
Sev­er­al agen­cies play a role in fam­i­ly sep­a­ra­tion. Cus­toms and Bor­der Pro­tec­tion han­dles undoc­u­ment­ed bor­der cross­ings. The Office of Refugee Reset­tle­ment shel­ters unac­com­pa­nied minors. But ICE, as the inte­ri­or depor­ta­tion force and the largest migrant jail­er, has become the avatar for the system's cruelties.
ICE was estab­lished dur­ing the gold­en age of Bush-era pri­va­ti­za­tion in 2003. Though ICE tracks, cap­tures and trans­ports immi­grants and impris­ons an aver­age dai­ly pop­u­la­tion of over 41,000 (with plans to increase that to 52,000 in 2019), the part of the agency car­ry­ing out that work, Enforce­ment and Removal Oper­a­tions, only has 6,000 employ­ees. The vast major­i­ty of the immi­gra­tion machine is left to pri­vate-sec­tor contractors.
Accord­ing to data from the Urban Jus­tice Center's Cor­rec­tions Account­abil­i­ty Project, 72 per­cent of all migrants under ICE's con­trol sleep in pri­va­tized deten­tion beds, most­ly man­aged by pri­vate prison behe­moths Geo Group and Core­Civic (for­mer­ly Cor­rec­tions Cor­po­ra­tion of Amer­i­ca). In 2017, Geo Group and Core­Civic togeth­er earned $985 mil­lion from ICE con­tracts, more than a third of what ICE spends each year on cus­tody oper­a­tions. The cor­po­ra­tions get paid whether the beds are full or not, arguably pro­vid­ing gov­ern­ment an incen­tive to seek out pris­on­ers so as not to ​"waste money."
Geo Group and Core­Civic each run mas­sive fam­i­ly deten­tion cen­ters in south Texas, nick­named ​"baby jails" even before the cur­rent cri­sis. They also man­age ICEded­i­cat­ed facil­i­ties for adults and many of the fed­er­al pris­ons and local jails ICE sub­lets to lock up migrants. This prac­tice is like­ly to expand: ICE post­ed a request in June for up to 15,000 more fam­i­ly beds at a cost of $1.7 bil­lion annu­al­ly. And if ICE piv­ots to elec­tron­ic mon­i­tor­ing, Geo Group holds that con­tract, too.
Pri­vate prison com­pa­nies don't just oper­ate facil­i­ties; they build them. As legal enti­ties, both pri­vate prison com­pa­nies claim sta­tus as real estate invest­ment trusts. This tax shel­ter saved Geo Group $43.6 mil­lion in 2017 alone, and it boosts rev­enue as well. Own­ing and oper­at­ing deten­tion cen­ters, accord­ing to Core­Civic esti­mates, earns six times more prof­it per pris­on­er than just man­ag­ing oper­a­tions. Immi­grant deten­tion account­ed for about a quar­ter of each company's rev­enue in 2017.
After the Jus­tice Depart­ment announced the zero tol­er­ance pol­i­cy in April, thou­sands of chil­dren sep­a­rat­ed from their par­ents became ​"unac­com­pa­nied minors" under the con­trol of the Office of Refugee Reset­tle­ment, which also con­tracts out its cus­tody oper­a­tions. Shut­tered Wal­marts, hotels, tem­po­rary tents and even emp­ty office build­ings in Phoenix (where chil­dren bathe in sinks) have been con­vert­ed into migrant child jails. Over a dozen pri­vate con­trac­tors man­age facil­i­ties, from non­prof­it South­west Key, which has earned at least $955 mil­lion on con­tracts since 2015, to defense con­trac­tor MVM Inc. And when chil­dren rotate into fos­ter care, for-prof­it com­pa­nies like Cayu­ga Cen­ters take them on. Shel­ter­ing unac­com­pa­nied minors is now a $1 bil­lion busi­ness, with more con­tracts on the way.
Migrants must be fed and cared for while detained; none of that work is han­dled by ICE staff. Instead, kitchen, phone, med­ical, trans­la­tion and finan­cial ser­vices are con­tract­ed most­ly to spe­cial­ists that per­form the same tasks in pri­vate pris­ons. ICE even con­tracts out its inspec­tions; a recent inspec­tor gen­er­al report found that one pri­vate inspec­tor, the Nakamo­to Group, had waved through sub­stan­dard facilities.
Oth­er con­trac­tors trans­port migrants between facil­i­ties or deport them to home coun­tries. When com­mer­cial air­lines balked at trans­port­ing minors ripped from their fam­i­lies, defense con­trac­tors stepped in, includ­ing Gen­er­al Dynam­ics and MVM, which has earned $123 mil­lion since 2014 for trans­porta­tion ser­vices. CSI Avi­a­tion has a con­tract to run ​"ICE Air" for char­ter depor­ta­tion flights.
Far from shel­ters and shut­tles, con­trac­tors sup­ply logis­ti­cal sup­port for immi­gra­tion agen­cies. Con­sult­ing firm Deloitte earned $18 mil­lion in 2017 for case man­age­ment. Sales­force has a soft­ware con­tract with Cus­toms and Bor­der Pro­tec­tion. Microsoft han­dles ICE's data pro­cess­ing. An obscure sur­veil­lance firm called Pen-Link pro­vides ICE with ​"real-time track­ing" through cell phone and geolo­ca­tion data. Anoth­er logis­tics infra­struc­ture con­tract with Palan­tir, a Sil­i­con Val­ley data-min­ing firm owned by lib­er­tar­i­an Trump sup­port­er Peter Thiel, uses Amazon's cloud com­put­ing stor­age.
ICE spent $1.7 bil­lion on close to 5,000 con­trac­tors in 2017, the most mon­ey this decade. ​"The immi­gra­tion sys­tem is used as a vehi­cle to extract wealth from com­mu­ni­ties, or at the very least as a vehi­cle to laun­der tax­pay­er mon­ey into the pri­vate sec­tor," says Bian­ca Tylek, direc­tor of the Cor­rec­tions Account­abil­i­ty Project.
The moti­va­tion to max­i­mize rev­enue by cut­ting cor­ners con­tributes to a night­mar­ish expe­ri­ence for detainees. Under pri­vate con­trac­tors, alle­ga­tions of ined­i­ble food, ver­bal and phys­i­cal abuse, inad­e­quate med­ical atten­tion, chil­dren cov­ered in lice, and forced inges­tion of psy­chotrop­ic drugs are com­mon­place. Many migrants work in the facil­i­ties for just $1 a day under vir­tu­al slave con­di­tions. Mem­bers of Con­gress have com­plained that deten­tion phone oper­a­tors charge par­ents sep­a­rat­ed from chil­dren up to $8 a minute to speak to them.
More than 1,200 alle­ga­tions of sex­u­al assault at both pub­lic and pri­vate­ly run adult deten­tion facil­i­ties were filed between 2010 and 2017, and police reports indi­cate hun­dreds more inci­dents vic­tim­iz­ing chil­dren. One HIV-pos­i­tive work­er at South­west Key was charged in August with molest­ing at least eight minors; oth­er South­west Key cas­es involve chil­dren as young as 6. ​"If you're a preda­tor, it's a gold mine," said one psy­chi­a­trist. Uncon­firmed reports of sui­cides and deaths in cus­tody cap off the grim scene.
These abus­es have become a fact of life in pri­vate immi­gra­tion deten­tion, with bil­lions of dol­lars paid in legal set­tle­ments over the alle­ga­tions. But as nation­al atten­tion focused on the bor­der, Amer­i­cans couldn't escape the shock­ing real­i­ty. ​"We are see­ing the unveil­ing of how immi­gra­tion enforce­ment treats humans like ani­mals," said Ana Maria Archi­la, co-exec­u­tive direc­tor of the Cen­ter for Pop­u­lar Democracy.
Immi­gra­tion agen­cies have no prob­lem with pri­vate con­trac­tors absorb­ing the blame when abuse com­plaints arise. Out­sourc­ing also shields facil­i­ties from Free­dom of Infor­ma­tion Act (FOIA) requests. While the Supreme Court con­firmed in 2017 that the gov­ern­ment must release details of its pri­vate prison con­tracts, the sub­con­trac­tors that pro­vide pri­vate prison com­pa­nies with things like food and med­ical ser­vices don't have to com­ply with FOIA requests. ​"Pri­vate prison com­pa­nies are almost like a gen­er­al con­trac­tor in a con­struc­tion deal," says Tylek. ​"They sub­con­tract out the ser­vices, and those sub­con­tracts can't be FOIA'd because there's no con­tract with the government."
But because of the relent­less pri­va­ti­za­tion of the immi­gra­tion sys­tem, activists have new pres­sure points: con­trac­tors who must answer to investors, financiers, work­ers and, in some cas­es, mil­lions of consumers.
"If we actu­al­ly do want to change pol­i­cy, we need to know who has the pow­er," says Jere­my Mohler, com­mu­ni­ca­tion spe­cial­ist for In the Pub­lic Inter­est, an anti-pri­va­ti­za­tion research group and one of many orga­ni­za­tions that have pieced togeth­er the net­work of ICE enablers. ​"And a lot of the pow­er is invest­ed in these corporations."
In June, pro­gres­sive groups from the Fam­i­lies Belong Togeth­er coali­tion to express revul­sion at the spec­ta­cle of chil­dren being ripped from their fam­i­lies. Fol­low­ing the mod­el of the Women's March and the March for Our Lives against gun vio­lence, Fam­i­lies Belong Togeth­er planned mass demon­stra­tions. The breadth of the coali­tion was excep­tion­al, bring­ing togeth­er envi­ron­men­tal­ists at 350​.org and Clean Water Action, pro­gres­sive Jews at J Street and Bend the Arc, Nation­al Domes­tic Work­ers Alliance, the Cen­ter for Repro­duc­tive Rights, End Rape on Cam­pus, the Amer­i­can Fed­er­a­tion of Teach­ers, Rock the Vote, and hun­dreds more.
It didn't take much for groups to jus­ti­fy their involve­ment. ​"Two-thirds of the peo­ple impact­ed by immi­gra­tion pol­i­cy are women and chil­dren; this is very much a woman's issue," says Kristin Rowe-Finkbein­er, exec­u­tive direc­tor of Mom­sRis­ing, one of the coali­tion lead­ers. Mom­sRis­ing was involved in immi­gra­tion advo­ca­cy before the fam­i­ly sep­a­ra­tion pol­i­cy sparked mass out­rage, but the issue took on new res­o­nance after­ward. ​"None of us want to explain to future great-grand­chil­dren what we did when his­to­ry went in the wrong direction."
The June 30 march­es, with hun­dreds of thou­sands par­tic­i­pat­ing in near­ly 750 cities across the coun­try, revealed the movement's pop­u­lar­i­ty. One of the coalition's first requests after the march­es was to cut off fund­ing to the pri­vate prison duop­oly, not only by sev­er­ing their ICE con­tracts but by going after their lenders. ​"If the banks stop financ­ing [pri­vate prison com­pa­nies], it cre­ates a huge polit­i­cal and logis­ti­cal chal­lenge for the admin­is­tra­tion," says Matt Nel­son, exec­u­tive direc­tor of Pre­sente, a lead­ing Fam­i­lies Belong Togeth­er partner.
In the Pub­lic Inter­est researched in 2016 how six banks— Bank of Amer­i­ca, JPMor­gan Chase, BNP Paribas, Sun­Trust, U.S. Ban­corp and Wells Far­go — pro­vide revolv­ing cred­it, term loans and cor­po­rate bond under­writ­ing to Core­Civic and Geo Group. The banks fund the con­struc­tion of new deten­tion cen­ters, acqui­si­tions of small­er com­pa­nies and gen­er­al cash­flow. Accord­ing to an April report pub­lished by the Cen­ter for Pop­u­lar Democ­ra­cy, between 90 and 95 per­cent of Core­Civic and Geo Group's cash on hand was bor­rowed in 2017. Inter­est pay­ments on that debt equaled $217.5 mil­lion. As of March 2018, the two com­pa­nies car­ried $3.1 bil­lion in debt. These six banks, in addi­tion to prof­it­ing from the pri­vate prison duop­oly, are vital to its exis­tence. And banks have to face con­sumers, mak­ing them an invit­ing tar­get for activists.
Fam­i­lies Belong Togeth­er sin­gled out JPMor­gan Chase and Wells Far­go, whose image has already been bat­tered by a cas­cad­ing series of scan­dals, for a peti­tion dri­ve. Numer­ous orga­ni­za­tions joined in, col­lect­ing over 100,000 sig­na­tures from cus­tomers and con­cerned cit­i­zens. ​"Jamie Dimon put out a state­ment that his heart goes out to the fam­i­lies," says Ana Maria Archi­la, co-exec­u­tive direc­tor of the Cen­ter for Pop­u­lar Democ­ra­cy. ​"It is not pos­si­ble to say you're stand­ing for an inclu­sive soci­ety while facil­i­tat­ing the growth of an indus­try caging humans."
The goal of the protest at Dimon's apart­ment was to embar­rass him in his Upper East Side neigh­bor­hood. Pro­test­ers includ­ed undoc­u­ment­ed immi­grants and for­mer detainees at Core­Civic facil­i­ties. ​"We want­ed to send Dimon a clear mes­sage and have the peo­ple that live around him know what's going on," says Make the Road New York spokesper­son Yatziri Tovar. It came one day after anoth­er demon­stra­tion in front of the New Jer­sey home of a Wells Far­go board mem­ber. Direct con­trac­tors have also faced protests in at least 16 cities. In July, two dozen activists chained them­selves in the Cen­ter­ville, Utah, office of Man­age­ment & Train­ing Cor­po­ra­tion, which runs a hand­ful of ICE jails. The Dream Defend­ers con­duct­ed a nation­al day of action at Geo Group facil­i­ties August 7, which shook the com­pa­ny so much it issued a cease and desist accus­ing the group of ​"incit­ing a dan­ger­ous ​'dis­rup­tion.'"
Win With­out War, an anti-war group, demand­ed that mil­i­tary con­trac­tors Gen­er­al Dynam­ics and MVM drop their con­tracts. Demand Progress, which nor­mal­ly orga­nizes around net neu­tral­i­ty and NSA spy­ing, called on Sales­force to stop work­ing with Cus­toms and Bor­der Pro­tec­tion. ​"We got involved because we saw the nexus between big, unac­count­able tech com­pa­nies and gov­ern­ment oppres­sion, espe­cial­ly sur­veil­lance," says Robert Cruick­shank, cam­paign direc­tor of Demand Progress. ​"These tech com­pa­nies are mak­ing it eas­i­er for law enforce­ment to tar­get and harass peo­ple, espe­cial­ly peo­ple of col­or and immigrants."
The tech indus­try is now fac­ing an awk­ward predica­ment: fend­ing off work­er-led orga­niz­ing. The immi­gra­tion-focused upris­ing grew organ­i­cal­ly from left-lean­ing Sil­i­con Val­ley engi­neers and coders' stance against col­lab­o­ra­tion with the Trump admin­is­tra­tion. They scored a major vic­to­ry at Google in June when the com­pa­ny can­celled arti­fi­cial intel­li­gence work for the Defense Depart­ment. ​"Work­ers were learn­ing how to wield pow­er with­in their com­pa­nies," says Yana Calou, an orga­niz­er with Cowork​er​.org, which has been assist­ing tech employ­ees in these fights.
Weeks after the Google vic­to­ry, work­ers cir­cu­lat­ed open let­ters at Ama­zon, Microsoft and Sales­force, ask­ing CEOs to can­cel their immi­gra­tion con­tracts. Chief exec­u­tives lament­ed the plight of migrants and insist­ed that none of their work involved sep­a­rat­ing fam­i­lies, which pla­cat­ed nobody. ​"Tech infra­struc­ture is absolute­ly inte­gral to all of [ICE's] oper­a­tions," says Calou. ​"If they were real­ly con­cerned about reunit­ing fam­i­lies, they would be build­ing tech for the families."
To blunt crit­i­cism, Sales­force tried to donate $250,000 to RAICES, an immi­grant jus­tice group rais­ing mon­ey to post bonds for detainees. RAICES reject­ed the mon­ey, respond­ing that ​"when it comes to sup­port­ing oppres­sive, inhu­mane, and ille­gal poli­cies … the only right action is to stop." Sev­er­al busi­ness users of Salesforce's soft­ware threat­ened to end their rela­tion­ship with the firm if the immi­gra­tion con­tract remained.
Out­side groups ampli­fied work­er voic­es with peti­tions and ral­lies. More than 300,000 peo­ple signed a let­ter from the racial jus­tice group Col­or of Change sup­port­ing employ­ee demands at Microsoft and encour­ag­ing oth­er tech work­ers to join.
The orga­niz­ing has bled over into anti-dis­crim­i­na­tion rights on the job, more diver­si­ty in hir­ing poli­cies, and an eth­i­cal frame­work for prof­it­ing from the tools they cre­ate. Orga­ni­za­tions like the Tech Work­ers Coali­tion and Sil­i­con Val­ley Ris­ing pro­mote this cross-pol­li­na­tion and pitch in on bar­gain­ing work with jan­i­tors and cafe­te­ria work­ers on tech cam­pus­es. Calou views it as part of the same awakening.
"This is the first time we've seen this hap­pen in tech com­pa­nies: a group think­ing of them­selves as work­ers," she notes. ​"The more they're orga­nized as work­ers, the bet­ter they can advo­cate for them­selves and show solidarity."
Movimien­to Cosecha (The Har­vest Move­ment), an immi­grant jus­tice orga­ni­za­tion, defines com­plic­i­ty with ICE as being involved in or facil­i­tat­ing depor­ta­tions. The group tar­gets even more casu­al con­nec­tions, like when Cus­toms and Bor­der Pro­tec­tion agents board­ed Grey­hound bus­es ask­ing for iden­ti­fi­ca­tion from Lat­inx pas­sen­gers or when Motel 6 alleged­ly gave ICE infor­ma­tion on Lat­inx guests.
"The more insti­tu­tions stop work­ing with ICE, the more peo­ple are forced to ask them­selves, which side am I on?" says Arielle Clynes, an orga­niz­er with Cosecha.
Cosecha's No Busi­ness with ICE cam­paign kicked off in ear­ly July at an Ama­zon book­store in Manhattan's Colum­bus Cir­cle. ​"We want­ed to make a state­ment that if Ama­zon does busi­ness with ICE, we're not going to let them do busi­ness at all," Clynes says. Cosecha activists blocked the entrance with a ral­ly and shut down the store for the day.
The pres­sure esca­lat­ed dur­ing a July 31 day of action in 10 cities. In Boston, hun­dreds marched at North­east­ern Uni­ver­si­ty, which holds a $7.8 mil­lion tech­no­log­i­cal research con­tract with ICE; twelve were arrest­ed after lying down in the street in front of uni­ver­si­ty Pres­i­dent Joseph Aoun's home. In Philadel­phia, eight pro­test­ers were arrest­ed after occu­py­ing the lob­by of the Com­cast Cen­ter for 90 min­utes; Com­cast pro­vides inter­net access to ICE. In New York, Cosecha part­nered with Sci­ence for the Peo­ple on a march from Microsoft and Sales­force head­quar­ters to an Ama­zon Books on 34th Street. In Palo Alto, the group tar­get­ed Palan­tir head­quar­ters.
Oth­er Cosecha protests focused on munic­i­pal offi­cials. Local coor­di­na­tion with ICE has spiked in the Trump era, with DMVs, hos­pi­tals and even pub­lic schools shar­ing per­son­al data on immi­grant fam­i­lies. In lib­er­al cities like Los Ange­les and Philadel­phia, activists are demand­ing that pub­lic offi­cials live up to their val­ues, but even red­der towns like Grand Rapids, Mich., and Williamson Coun­ty, Texas, have seen protests.
The next wave of the cam­paign will tar­get investors in the lucra­tive immi­grant deten­tion indus­try. The Amer­i­can Fed­er­a­tion of Teach­ers (AFT) released a report August 10 iden­ti­fy­ing 26 hedge funds hold­ing over $4 bil­lion in stock in Geo Group, Core­Civic and Gen­er­al Dynam­ics. The report urges pub­lic pen­sions serv­ing AFT's teach­ers, which car­ry over $3 tril­lion in assets under man­age­ment, to dump those hedge funds from their port­fo­lios. AFT Pres­i­dent Ran­di Wein­garten con­demned the hedge funds for ​"abet­ting the administration's poli­cies of fam­i­ly sep­a­ra­tion and the per­ma­nent harm it has caused children."
Ben­e­fi­cia­ries of immi­gra­tion-relat­ed invest­ments include the bur­geon­ing class of mul­ti-mil­lion­aire politi­cians. Illi­nois Gov. Bruce Rauner ® has mon­ey in a pri­vate equi­ty fund that owns Cor­rect Care Solu­tions, a health­care provider that serves immi­grant jails. Mon­tana Rep. Greg Gian­forte ® bought at least $100,000 in Core­Civic stock in Jan­u­ary. Super­PACs for Flori­da Gov. Rick Scott ®, who is now run­ning for U.S. Sen­ate, took hun­dreds of thou­sands of dol­lars from Geo Group.
But the firms spread their cash around to both par­ties. Democ­rats in Con­gress have scram­bled to clean up their cam­paign trea­suries. Records show the Demo­c­ra­t­ic Con­gres­sion­al Cam­paign Com­mit­tee, the cam­paign arm for House Democ­rats, tak­ing a direct $10,000 dona­tion from Geo Group in Novem­ber 2017, and over $380,000 through­out the 2018 elec­tion cycle bun­dled by lob­by­ists con­nect­ed to pri­vate prison com­pa­nies. New York Gov. Andrew Cuo­mo has been crit­i­cized for tak­ing mon­ey from land­lords who rent out field offices to ICE.
The pres­sure put on any­one prof­it­ing from or enabling ICE com­ple­ments the direct-action tac­tics of a grow­ing move­ment known as Occu­py ICE. Abo­li­tion­ists have phys­i­cal­ly blocked entrances to ICE build­ings in San Fran­cis­co, Louisville, and Taco­ma, Wash., lead­ing to con­fronta­tions with law enforce­ment. In Port­land, Ore., ICE tem­porar­i­ly closed its facil­i­ty; in Los Ange­les, one entrance has been bar­ri­cad­ed since late June. An Occu­py ICE block­ade in Den­ver drew a SWAT team and ICE employ­ees had to dri­ve across the lawn to leave the build­ing. ​"As much as we can, we'd like to inter­rupt their abil­i­ty to do their job," says one of the pro­test­ers arrest­ed in Den­ver, who request­ed anonymi­ty while his case is pending.
The mul­ti-pronged cam­paign against ICE and its pri­vate-sec­tor part­ners is hav­ing an impact. After media scruti­ny, MVM can­celed its lease on the Phoenix office build­ing hous­ing migrant chil­dren. Con­sult­ing firm McK­in­sey ter­mi­nat­ed its con­tract with ICE, although its man­age­ment con­sul­tant work for the agency had already been com­plet­ed. New York state direct­ed all its pen­sion funds to divest from Geo Group and Core­Civic, fol­low­ing New York City and Philadel­phia. At least 10 mem­bers of Con­gress have reject­ed Geo Group dona­tions, along with state Demo­c­ra­t­ic par­ties in Cal­i­for­nia and Flori­da. Many politi­cians and par­ties have passed on dona­tions to orga­ni­za­tions pro­tect­ing immi­grants at the border.
But the move­ment is hop­ing for a sig­na­ture vic­to­ry. So far, no house­hold names, like Gen­er­al Dynam­ics or Microsoft, have sev­ered con­tracts with immi­gra­tion author­i­ties, and Ama­zon recent­ly promised its ​"unwa­ver­ing" com­mit­ment to work with law enforce­ment. ICE abo­li­tion­ists plan to keep up the pres­sure. ​"We don't see activism fatigue; we see peo­ple step­ping up," says Kristin Rowe-Finkbein­er of MomsRising.
Per­haps the most progress has been made in get­ting cities to can­cel ICE con­tracts. Philadel­phia May­or Jim Ken­ney revoked ICE's access to a city law enforce­ment data­base, a huge win for local orga­niz­ing groups. Atlanta May­or Keisha Lance Bot­toms pre­vent­ed city jails from accept­ing new ICE detainees. And at least six cities and coun­ties have can­celed ICE con­tracts to use deten­tion cen­ters in their areas.
Bob Libal, exec­u­tive direc­tor of Grass­roots Lead­er­ship, recounts the organization's vic­to­ry in sub­ur­ban Williamson Coun­ty, Texas. The coun­ty vot­ed in June to end its con­tract in Jan­u­ary 2019 for the T. Don Hut­to Deten­tion Cen­ter, a Core­Civic-run women's facil­i­ty long accused of ram­pant abuse, though ICE could scram­ble to try and rene­go­ti­ate. Grass­roots Lead­er­ship used the tes­ti­mo­ny of 40 Hut­to detainees sep­a­rat­ed from their fam­i­lies to sway coun­ty com­mis­sion­ers. ​"We had peo­ple going to the coun­ty every week to read let­ters of women detained there," Libal says. ​"It was real­ly the pow­er­ful expe­ri­ence that won."
Some immi­grant rights groups are wary of coun­ty clo­sures because of the poten­tial impact on cur­rent detainees. When Con­tra Cos­ta Coun­ty, Calif., Sher­iff David Liv­ingston revoked ICE's con­tract to house migrants at the West Coun­ty Deten­tion Facil­i­ty, the group Free­dom for Immi­grants feared detainees would be moved across state lines, far from their fam­i­lies and legal resources. ​"Can­cel­ing the con­tract shows that these protests are work­ing," says Liz Mar­tinez, advo­ca­cy and com­mu­ni­ca­tions direc­tor for Free­dom for Immi­grants. But the real goal, she says, is ​"to get peo­ple out of detention."
Libal, whose Grass­roots Lead­er­ship has been try­ing to close down the Hut­to deten­tion cen­ter since it opened in 2006, says it was crit­i­cal for the move­ment to gain momen­tum. ​"You have to fight back some­where, and one way to be effec­tive is to win local bat­tles," he says.
Geo Group has lost at least one con­tract because of its asso­ci­a­tion with fam­i­ly sep­a­ra­tion. Lan­cast­er Coun­ty, Penn., reject­ed a Geo Group attempt to take over prison re-entry ser­vices, even though the con­tract had noth­ing to do with immi­gra­tion. ​"If they get paint­ed as the fam­i­ly sep­a­ra­tor, that's going to hurt them across the board," says Jere­my Mohler of In the Pub­lic Interest.
Attack­ing the mon­ey alone will not ful­fill the end goal; abol­ish­ing ICE will require leg­is­la­tion. But in the mean­time, mak­ing ICE tox­ic can have pow­er­ful effects, pre­vent­ing a return to the pre-Trump sta­tus quo of undoc­u­ment­ed immi­grants being treat­ed abom­inably in vir­tu­al obscu­ri­ty. It's already shown up in polling data; in just a few short months, ICE is net unfa­vor­able, even less pop­u­lar than the IRS. When a con­cept bleeds into the cul­ture, as Abol­ish ICE signs are being seen at sport­ing events and the Stat­ue of Lib­er­ty, that sig­nals the ground is shift­ing. ​"Even peo­ple who don't want to abol­ish ICE real­ly hate ICE," says Sean McEl­wee, who pop­u­lar­ized the Abol­ish ICE slo­gan. ​"It's defined in an incred­i­bly neg­a­tive way, and that makes it hard to do its job."
Com­bin­ing street protests with research on who prof­its from the immi­gra­tion sys­tem — a Gor­dian knot of opaque sub­con­tract­ing and financ­ing rela­tion­ships that activists have been pick­ing at for years — is crit­i­cal to that effort. When every uni­form, every catered meal, every trans­porta­tion shut­tle, every­thing ICE does is con­test­ed, it throws sand into the gears of its operation.
ICE's extreme pri­va­ti­za­tion was a cat­a­lyst to pro­duce these pres­sure points, but it also speaks to a dis­con­nect between cap­i­tal­ism and moral­i­ty, and how fam­i­ly sep­a­ra­tion reveals those fis­sures. The ICE fight is about human rights but also labor rights — the rights of work­ers to exert demo­c­ra­t­ic con­trol over com­pa­ny con­tracts and reject immoral work. It's about small towns with dried-up economies that have no choice but to become America's migrant jail­ers. It's about the influ­ence of lob­by­ists, and also financiers. It's about how the pub­lic gets a say in how pub­lic mon­ey should be spent. It's about the over-crim­i­nal­iza­tion that gets the undoc­u­ment­ed on ICE's radar. It's even about our ener­gy pol­i­cy, with cli­mate refugees soon to fol­low the cur­rent wave of asy­lum seek­ers flee­ing violence.
"A lot of times in our pol­i­tics, there's a sin­gu­lar focus on who is elect­ed and who might hold for­mal reins of pow­er," says Kevin Con­nor, co-founder of Lit­tle Sis, which has focused on ties between polit­i­cal and finan­cial elites for years. ​"This is a moment where peo­ple are see­ing a pow­er struc­ture above and beyond that. Research sys­tems and orga­niz­ing can lay the ground­work for this kind of moment where that pow­er struc­ture can be chal­lenged more directly."