Illinois' Injustice System
Budget cuts are hard on ex-cons trying to make good.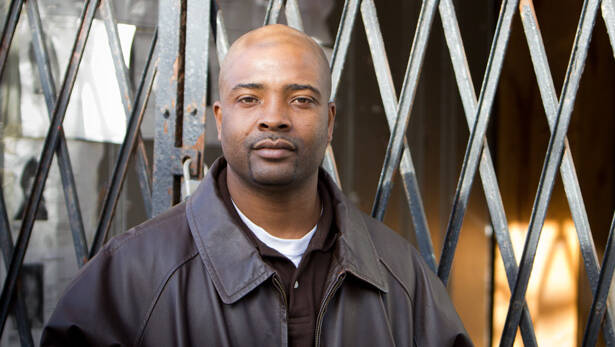 CHICAGO – From where he stands today, Kerry Owens is optimistic. He was released from an Illinois prison in November, after serving a year for retail theft. Owens, 41, has been in and out of the criminal justice system before, but his most recent sentence, for his first felony conviction, has changed his life forever.
Rev. Tommie Johnson equates the task at hand for social services to the harrowing plight of the Israelites under the pharoah's command: 'They're telling us we have to make brick without straw.'
He resolved to live differently by volunteering, kicking the addiction that led him to steal $300 worth of merchandise, and enrolling at a local community college. But as a convicted felon, it is now harder than ever to get a job, find an apartment and receive social services.
Owens previously worked as a custodian, and while in prison he earned a certificate for commercial custodian services. But persistent high unemployment and his felony record have left him looking for work. ​"There's nothing out there," he says. ​"They're certifying us for jobs that don't exist."
As one of more than 16,000 black male ex-offenders estimated to have been released to Chicago in 2011, Owens is not alone in his struggle. Experts estimate that the unemployment rate for ex-offenders in the city is well over 50 percent, compared to an overall unemployment rate of 10.1 percent. (Nationally, rates for ex-convicts are similar, while the U.S. unemployment rate has fallen to 8.6 percent.)
If history is any guide, rates for black males, who account for two-thirds of Illinois' prison population, are likely even higher. In 2005, in a comparatively favorable job environment, an Urban Institute report found that a year after being released, only 28 percent of black males surveyed were employed, while 60 percent had been employed before their arrests. Recent reports on ex-offenders show higher employment rates, but those reports also count ​"at least one week of work" during the previous year as ​"employment."
Determined not to fall back into his old habits, Owens volunteers at the Westside Health Authority, a community center in Austin, one of the six Chicago neighborhoods – along with Humboldt Park, Englewood, West Englewood, North Lawndale and East Garfield Park – that receive a disproportionate majority of the city's returning ex-offenders, and account for higher unemployment and arrest rates than the city as a whole. ​"I'm not bitter, I'm better, [and] productive in the same place I did my crimes in," he says. ​"I'm no longer part of the problem. I'm part of the solution."
But Owens is part of an increasingly small group of prisoners and ex-prisoners in Chicago who received at least a minimal level of support from social services – services that have become a major target of state and local governments looking to cut costs. In attempts to close budget deficits, since 2007 Illinois and Chicago have cut extensively from programs that benefit inmates and ex-offenders, including education, job training, healthcare, drug treatment programs and housing.
Conviction, prison, release – and then repeat
According to a 2010 report by the John Howard Association (JHA), which has been monitoring Illinois prisons and working for reform since 1901, 14 percent of Illinois' prison population was enrolled in college education programs in 2002. By 2009, after Illinois cut funding for the programs, only 10 percent of prisoners were enrolled.
Similarly, there were 136 vocational education programs in Illinois state prisons in 2002, but only 96 by 2009. Even those that offer job training, like Vandalia Correctional Center where Owens was locked up, limit the programs to low-level offenders and prisoners close to their release dates. Owens was one of only 45 inmates (out of a total of 1,748 at the prison) who were enrolled in job training at the time of a June 2011 JHA prison tour report. JHA executive director John Maki says, ​"We're seeing prohibitively long waiting lists at nearly all facilities."
Illinois' financial delinquency has caused further problems in drug treatment centers and housing. According to Geri Cooper, manager of Hardin House Women's Recovery House on the South Side, the program only has 14 participants, even though the waiting list for acceptance is more than a year long, because it can't rely on funding. The Illinois Department of Corrections (IDOC) used to pay for five months of housing at the center, but now pays only for two. And even though many of Hardin House program's clients are required by courts or parole boards to attend psychological therapy, the state no longer covers it. Participants now must pay $15 per session, not easy for the recently-released and sometimes homeless women to whom the organization caters.
Perhaps most damaging are cuts to mental health services, which leave the penal system as de facto psychiatric wards. In May 2011, Cook County Sheriff Tom Dart threatened to sue Illinois for its negligence and told Chicago's WLS-TV that the Cook County Jail was ​"the largest mental health provider in the state," where one fifth of the jail's population has been diagnosed with a mental illness. After facing cuts of $114 million between 2009 and 2011, mental health services in Chicago received a devastating blow in November, when the City Council unanimously passed a 2012 budget that closes five of the city's 12 mental health clinics.
As preventive and rehabilitative services have been reduced, incarceration rates have increased and recidivism has persisted. ​"There's an increased demand for prison space as social services are cut," says Maki. From 2005 to 2009, Illinois' incarcerated population remained fairly constant, at just over 45,000 prisoners. By September 2011, it had increased to well over 48,000, according to IDOC. While recidivism rates, or the percentage of ex-prisoners who have re-offended within three years of their release, have dropped slightly during the same time, from 53.4 percent in 2007 to 51.1 percent in 2010, they remain higher now than a decade ago (44.1 percent in 1998).
Reverend Tommie Johnson, a recovery support services coordinator for Treatment Alternatives for Safe Communities (TASC) and the founder and director of Outside the Walls Ministries in North Lawndale, equates the task at hand for social services to the harrowing plight of the Israelites under the pharaoh's command: ​"They're telling us we have to make brick without straw." Like other social service workers, Johnson understands the desperate acts of those facing dire circumstances, and that the cycles of convictions and recidivism start early in the lives of many of Chicago's poor black youth.
The new masons
When conflicts arise between Englewood youth, Chris Bufford intervenes. As the lead organizer for juvenile justice with the Southwest Youth Collaborative, which offers mentoring, leadership training and many other programs to youth in the city's Southwest neighborhoods, Bufford uses his own experience as an ex-offender to help them understand the economic and social forces behind their behavior. ​"We expand from their individual problems to the whole dynamic around the community," he says, ​"to teach them how to restore the damage they've caused victims and their neighborhood."
Today, Bufford says, ​"Things are worse. The suffering is more apparent. Young people don't have a way to make a dollar." But resorting to the street economy has long been one of few opportunities for economic advancement immediately available. ​"Ask any adult criminal when they needed help, and they'll tell you, ​'You should have hollered at me when I was 12, probably younger.' "
From Bufford's perspective, the recession has not made the lives of poor black males worse. ​"It's sad to say, but the recession is taking [the government] in the right direction," as Democratic politicians like Gov. Pat Quinn and Cook County Board President Toni Preckwinkle explore alternative treatments and ways to reduce inmate populations. Some have called for easing sentences of nonviolent offenders, which comprise 70 percent of Illinois' prison population.
"But," Bufford adds, "[Politicians'] main thing is to save money, not help young people."
This story continues ​"The Other Chicago," an In These Times series supported by the Local Reporting Initiative of Community News Matters, underwritten by The Chicago Community Trust and administered by The Community Media Workshop and The Chicago Reporter.
Joel Handley
, a former assistant editor at In These Times, is a Chicago-based independent journalist and freelance editor.