A New Deal for Wall Street: Trump's Plans for Mass Privatization Are a Colossal Giveaway to the 1%
Trump wants to sell off our infrastructure—and Democrats helped pave the way.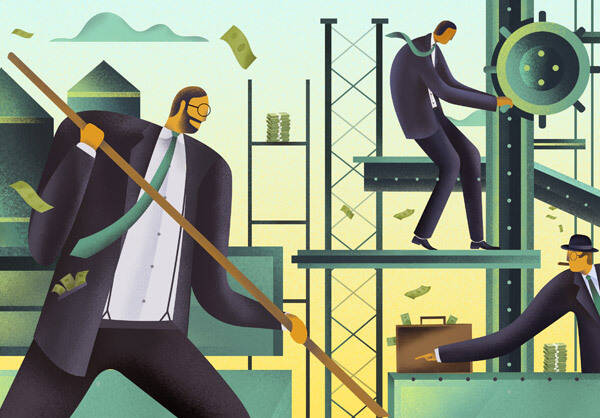 Nos­tal­gia for the New Deal is not typ­i­cal­ly the prove­nance of the Right, but in a Novem­ber inter­view with the Hol­ly­wood Reporter, right-wing news exec-turned-Trump strate­gist Steve Ban­non sug­gest­ed the new president's tril­lion-dol­lar infra­struc­ture plan would recre­ate the heady days of the Works Progress Administration:
"I at times tell my colleagues that I kind of feel like a missionary, out trying to sell religion."
"With neg­a­tive inter­est rates through­out the world, it's the great­est oppor­tu­ni­ty to rebuild every­thing. Ship yards, iron works, get them all jacked up. We're just going to throw it up against the wall and see if it sticks. It will be as excit­ing as the 1930s, greater than the Rea­gan rev­o­lu­tion— con­ser­v­a­tives, plus pop­ulists, in an eco­nom­ic nation­al­ist movement."
One might be tempt­ed to dis­miss this bizarre pitch as, say, the prod­uct of a late-night game of ide­o­log­i­cal Mad Libs. But Trump and Bannon's appar­ent rejec­tion of neolib­er­al ortho­dox­ies, includ­ing fis­cal aus­ter­i­ty and free trade, inspired hope that pro­gres­sives might actu­al­ly be able to nego­ti­ate with Trump on a small num­ber of eco­nom­ic issues — if they could avoid col­lab­o­rat­ing in an oth­er­wise racist, reac­tionary agen­da. Infra­struc­ture, in par­tic­u­lar, was an area where the new admin­is­tra­tion implied it might break with con­ven­tion­al wis­dom and endorse mas­sive fed­er­al spend­ing. For decades, gov­ern­ing Repub­li­cans and Democ­rats have neglect­ed this sec­tor in the name of fis­cal respon­si­bil­i­ty. As a result, our bridges, lev­ees, water treat­ment sys­tems and oth­er infra­struc­ture require tril­lions of dol­lars in repairs, accord­ing to the Amer­i­can Soci­ety of Civ­il Engi­neers — not to men­tion the new invest­ments in tran­sit and renew­able ener­gy we urgent­ly need to curb cli­mate change. Fast for­ward to Trump's ​"infra­struc­ture week" in June, how­ev­er, and it's clear that neolib­er­al­ism is alive and well under his admin­is­tra­tion. In a flashy White House cer­e­mo­ny on June 5 — timed, it seemed, to dis­tract the pub­lic from the Comey hear­ings — the pres­i­dent announced a ​"great new era in Amer­i­can avi­a­tion," mean­ing he was ask­ing Con­gress to pri­va­tize the air-traf­fic con­trol sys­tem. In place of actu­al fed­er­al invest­ment, Trump has sig­naled that he plans to ramp up fed­er­al tax incen­tives for pub­lic-pri­vate part­ner­ships that hand con­trol of our infra­struc­ture to Wall Street firms, which are ready and will­ing to man­age it in exchange for hefty fees. That's a strat­e­gy pio­neered, in part, by Wall Street-backed Democ­rats such as Chica­go May­or Rahm Emanuel and New York Gov. Andrew Cuo­mo. Their slow-burn pri­va­ti­za­tion of local assets appears to have laid the ground­work for a scorched-earth cam­paign by Wall Street to buy up our infra­struc­ture under Trump.
If you want a vision of that future, to bor­row from George Orwell, imag­ine a human hand scroung­ing up coins to feed the meter — for­ev­er. Our high­ways, air­ports, san­i­ta­tion sys­tems, util­i­ties and water sys­tems might start to look a lot more like the park­ing meters Chica­go pri­va­tized in an infa­mous 2008 deal that gave investors, includ­ing Mor­gan Stan­ley, the right to col­lect all rev­enues for 75 years in exchange for an upfront pay­ment to the city. After hik­ing rates, the new pri­vate own­ers are on track to make their invest­ment back by 2020, not to men­tion the $41 mil­lion and count­ing in fees for ​"lost rev­enue" they receive from the city every time a road closes.
These sorts of deals are more than just a headache for dri­vers. A 2014 study by Roo­sevelt Uni­ver­si­ty soci­ol­o­gist Stephanie Farmer found that Chicago's park­ing-meter deal also tied the hands of city plan­ners in build­ing equi­table, envi­ron­men­tal­ly sus­tain­able tran­sit, because the city was con­trac­tu­al­ly oblig­at­ed to pay Mor­gan Stan­ley for each park­ing spot replaced by a bike or bus lane. That points to per­haps the biggest threat posed by Trump's plan: By wrest­ing con­trol of key pol­i­cy deci­sions from elect­ed gov­ern­ment and lock­ing in deals for peri­ods that often exceed human life­times, pri­va­ti­za­tion hob­bles our col­lec­tive pow­er to address some of the most press­ing chal­lenges we face, from fight­ing cli­mate change to dis­man­tling racial and eco­nom­ic inequality.
IT CAME FROM THE LAND DOWN UNDER
The White House has yet to release a for­mal pro­pos­al on infra­struc­ture, but there are plen­ty of indi­ca­tions of the tack it wants to take. Trump's 2018 bud­get blue­print actu­al­ly cuts exist­ing sources of pub­lic fund­ing for high­ways and endors­es pri­va­ti­za­tion of pub­licly owned pow­er grids and high­way rest stops. A White House fact sheet released in June sug­gests the allo­ca­tion of an addi­tion­al $200 bil­lion for infra­struc­ture, with­out spec­i­fy­ing whether this would come from direct spend­ing or tax breaks for pri­vate devel­op­ers. The remain­ing $800 bil­lion, it seems, would be gen­er­at­ed through some sort of pri­vate-sec­tor alchemy.
In a June op-ed in the Guardian, for­mer Clin­ton labor sec­re­tary Robert Reich not­ed that, in one such sce­nario, ​"for every dol­lar devel­op­ers put into a project, they'd actu­al­ly pay only 18 cents — after tax cred­its — and tax­pay­ers would con­tribute the oth­er 82 cents through their tax dollars."
To be fair, how­ev­er, Trump's infra­struc­ture agen­da is already cre­at­ing jobs — or at least, one job: the spe­cial assis­tant to the pres­i­dent for infra­struc­ture pol­i­cy. In Feb­ru­ary, that post was award­ed to DJ Grib­bin, a close fam­i­ly friend of for­mer Vice Pres­i­dent Dick Cheney. Grib­bin was, until 2015, the man­ag­ing direc­tor and head of gov­ern­ment advi­so­ry at the finan­cial ser­vices firm Mac­quar­ie Cap­i­tal, where he spe­cial­ized in design­ing pub­lic-pri­vate part­ner­ships. This isn't Gribbin's first spin through the revolv­ing door. Pri­or to sign­ing on with Mac­quar­ie, he was an offi­cial with the Fed­er­al High­way Admin­is­tra­tion in the George W. Bush admin­is­tra­tion. Before that, Grib­bin spent six years as the direc­tor of pub­lic sec­tor busi­ness devel­op­ment for Koch Indus­tries. Accord­ing to a June report by the Checks & Bal­ances Project, a full 70 per­cent of senior Trump admin­is­tra­tion offi­cials have worked for var­i­ous arms of the Koch advo­ca­cy network.
Nick­named ​"the vam­pire kan­ga­roo" for its insa­tiable thirst for pub­lic assets world­wide, Aus­tralia-based Mac­quar­ie is on a short list of firms that could ben­e­fit enor­mous­ly from a sell-off of U.S. infra­struc­ture. In par­tic­u­lar, In These Times iden­ti­fied at least six peo­ple (includ­ing Grib­bin) work­ing on infra­struc­ture and trans­porta­tion pol­i­cy for the Trump admin­is­tra­tion who have direct ties to finan­cial and con­sult­ing firms that stand to prof­it from infra­struc­ture privatization.
Gary Cohn assumed the helm of Trump's eco­nom­ic coun­cil fresh from the pres­i­den­cy of Gold­man Sachs, which has dis­cussed in reg­u­la­to­ry fil­ings dat­ing back to 2008 its intent to buy and oper­ate U.S. infra­struc­ture, as the Inter­na­tion­al Busi­ness Times report­ed in May. (Cohn has said he plans to recuse him­self from any mat­ters direct­ly relat­ed to Gold­man.) Mean­while, Black­stone Group CEO Stephen Schwarz­man is report­ed­ly advis­ing Trump on infra­struc­ture as the head of his Strate­gic and Pol­i­cy Forum, an unof­fi­cial cab­i­net of busi­ness advis­ers. Schwarzman's firm recent­ly launched a new invest­ment fund it hopes will even­tu­al­ly pro­vide $100 bil­lion of pur­chas­ing pow­er for infra­struc­ture projects, pri­mar­i­ly in the Unit­ed States, accord­ing to Bloomberg.
Why do some of the world's biggest banks and pri­vate-equi­ty firms want to become toll col­lec­tors? For one thing, invest­ments in high­ways, air­ports and pub­lic util­i­ties are gen­er­al­ly con­sid­ered low-risk, giv­en the like­li­hood that peo­ple will con­tin­ue dri­ving, fly­ing and using elec­tric­i­ty. They also have the poten­tial for high return if the new own­ers can raise tolls, slash oper­at­ing costs (most­ly from the pock­et­books of work­ers) or intro­duce cre­ative new user fees.
A glob­al wave of pri­va­ti­za­tion by cash-strapped gov­ern­ments in the 1990s opened the door for financiers to pur­chase and man­age infra­struc­ture en masse. Mac­quar­ie pio­neered a new approach when the firm real­ized that it could pur­chase the right to man­age a pub­lic asset, then spin out own­er­ship to investors, col­lect­ing fees at every stage of the process. If things went off the rails, the investors — often pen­sion funds or indi­vid­ual retirees — would be the ones left hold­ing the bag. The ​"Mac­quar­ie mod­el" caught fire on Wall Street. Pri­vate invest­ment in infra­struc­ture rose to a record $413 bil­lion last year, accord­ing to the data firm Prequin.
HIGH­WAY EVANGELISM
For the past decade, Mac­quar­ie and Gold­man Sachs have been instru­men­tal in push­ing this mod­el in U.S. cities and states, often with the assis­tance of local Demo­c­ra­t­ic offi­cials. Mac­quar­ie was part of a con­sor­tium of investors that pulled off the first pri­va­ti­za­tion of a U.S. pub­lic toll road in 2005, when then-Chica­go May­or Richard Daley sold the Chica­go Sky­way for $1.8 bil­lion, giv­ing investors rights to the road for 99 years; the tolls have since dou­bled while wages for toll col­lec­tors were slashed. (A 2006 review of the lease agree­ment by the NW Finan­cial Group, an advi­so­ry firm, con­clud­ed that the pub­lic sec­tor could have gen­er­at­ed just as much rev­enue, ask­ing, ​"If road users are will­ing to pay high­er tolls, why not cap­ture those funds for the pub­lic good?")
Gold­man, mean­while, took home $9 mil­lion in fees for its ser­vices advis­ing the city of Chica­go on the sale. Speak­ing to Moth­er Jones in 2007, Mark Flo­ri­an, then-chief oper­at­ing offi­cer of Goldman's munic­i­pal finance divi­sion, said that this was an ​"eye-open­ing" expe­ri­ence. Flood­ed with calls from eager investors, Gold­man real­ized it could effec­tive­ly get away with high­way rob­bery by work­ing both ends of road pri­va­ti­za­tion deals: advis­ing local gov­ern­ments for a tidy fee, while also offer­ing its investors a way to cash in. Gold­man quick­ly launched a $6.5 bil­lion dol­lar infra­struc­ture invest­ment fund, and Flo­ri­an pro­ceed­ed to vis­it more than 35 state­hous­es to ​"help spur the mar­ket." He told Moth­er Jones, ​"I at times tell my col­leagues that I kind of feel like a mis­sion­ary — out try­ing to sell the reli­gion." Among the new con­verts was then-New Jer­sey Gov. Jon Corzine, him­self a for­mer Gold­man Sachs CEO, who tried to sell the New Jer­sey Turn­pike in 2007. (He with­drew the plan after pub­lic outcry.)
In May 2006, Flo­ri­an and a new Mac­quar­ie hire, DJ Grib­bin, tes­ti­fied before Con­gress to cham­pi­on this new mech­a­nism of high­way financ­ing. Grib­bin laud­ed the poten­tial to ​"lib­er­ate" dead cap­i­tal by hand­ing it to the pri­vate sec­tor, but called on the fed­er­al gov­ern­ment to address ​"the length and the chal­lenges of going through the envi­ron­men­tal [review] process." (Inci­den­tal­ly, Trump is promis­ing to do just that.) Build­ing trades union mem­bers protest Trump's pres­ence at their annu­al con­fer­ence in April.
Mac­quar­ie also flexed its mus­cles to influ­ence state and local pol­i­tics as a mem­ber of the Koch-backed Amer­i­can Leg­isla­tive Exchange Coun­cil (ALEC). For decades, the ALEC agen­da has helped set the stage for infra­struc­ture pri­va­ti­za­tion by ​"depriv­ing the gov­ern­ment of key rev­enue," says Lisa Graves, exec­u­tive direc­tor of the Cen­ter for Media and Democ­ra­cy, which runs the web­site ALEC Exposed. ​"If you make it hard­er for gov­ern­ments to raise tax­es, you cre­ate a sit­u­a­tion where the gov­ern­ment has to resort to pub­lic-pri­vate partnerships."
That's not all. In 2011, as chair of ALEC's sub­com­mit­tee on trans­porta­tion and infra­struc­ture, Mac­quar­ie senior vice pres­i­dent Geoff Segal intro­duced a mod­el bill that pro­mot­ed pri­va­ti­za­tion by estab­lish­ing a state ​"office of pub­lic-pri­vate part­ner­ships." At least five states and cities have estab­lished such offices, most recent­ly Wash­ing­ton, D.C. More than 30 states have passed leg­is­la­tion enabling some form of pub­lic pri­vate infra­struc­ture partnerships.
While many of these laws have per­tained to pri­va­ti­za­tion of trans­porta­tion, financiers have their eyes on oth­er pub­lic assets as well. In 2006, Mac­quar­ie bought Thames Water, Britain's biggest water com­pa­ny. Rates rose steeply, yet qual­i­ty suf­fered. In 2011, the com­pa­ny was fined £204,000 over a series of inci­dents where ​"untreat­ed sewage burst from a sew­er the com­pa­ny had failed to repair into streets and gar­dens" in a Lon­don bor­ough, accord­ing to a report in the Guardian.
A hand­ful of U.S. cities have already hand­ed over man­age­ment of their water sys­tems to Wall Street firms, with dubi­ous results. A Decem­ber 2016 New York Times inves­ti­ga­tion found that water rates in Bay­onne, N.J., had risen near­ly 28 per­cent since 2012, when the Wall Street-struc­tured pri­va­ti­za­tion deal took effect. Some res­i­dents of the work­ing-class city have fall­en so behind on water bills that the city has placed liens on their homes, putting them at risk of fore­clo­sure. To quell pub­lic oppo­si­tion to the deal, city offi­cials ini­tial­ly promised res­i­dents a four-year rate freeze — one that nev­er mate­ri­al­ized, the Times found, because the pri­va­ti­za­tion con­tract guar­an­teed a min­i­mum rev­enue stream.
Such con­straints under­score that the prob­lem with such deals isn't mere­ly finan­cial, says Don­ald Cohen, exec­u­tive direc­tor of the anti-pri­va­ti­za­tion group In the Pub­lic Inter­est. ​"It's the issue of con­trol. You're giv­ing a cor­po­ra­tion con­trac­tu­al pow­er over the stuff that we count on every day. You're reduc­ing the flex­i­bil­i­ty of elect­ed offi­cials to do their job for all of us."
THE ART OF A NEW DEAL
If Wall Street is look­ing toward the infra­struc­ture mar­ket as its next big cash cow, it faces a major chal­lenge: There are only so many projects avail­able to invest in. The Unit­ed States is an attrac­tive mar­ket, but local projects have typ­i­cal­ly been financed through the munic­i­pal bond mar­ket, which pro­vides rel­a­tive­ly mea­ger returns.
The prospect of a slew of new pub­lic-pri­vate part­ner­ships under Trump, there­fore, has both Wall Street and pri­vate oper­a­tors sali­vat­ing. Among the indus­try groups that have lob­bied the admin­is­tra­tion and Con­gress on an infra­struc­ture over­haul so far this year, accord­ing to fed­er­al lob­by­ing dis­clo­sures, are Black­Rock, the world's largest invest­ment man­age­ment com­pa­ny; the Secu­ri­ties Indus­try and Finan­cial Mar­kets Asso­ci­a­tion, a Wall Street trade group; Amer­i­can Water, a pri­vate water com­pa­ny; two pri­vate tolling com­pa­nies; and free-mar­ket pros­e­ly­tiz­er Her­itage Action for America.
On the final day of Trump's infra­struc­ture week, a group of two dozen New York­ers gath­ered for an unsanc­tioned rechris­ten­ing of Penn Sta­tion, which the state is con­sid­er­ing sell­ing. The new name that com­mu­ni­ty activists announced in a mock rib­bon-cut­ting, ​"Black­stone Sta­tion," was part protest, part por­tent. New York Com­mu­ni­ties for Change (NYCC), the group that orga­nized the action, sought to high­light Trump's ties to the Black­stone Group, which already invests in railways.
But equal­ly con­cern­ing, says NYCC Exec­u­tive Direc­tor Jonathan West­in, are Gov. Andrew Cuomo's ties to the firm. One of his top advis­ers pre­vi­ous­ly earned mil­lions as a Black­stone exec and retains a finan­cial inter­est in the firm, accord­ing to a 2015 finan­cial dis­clo­sure. Cuo­mo pro­posed pri­va­tiz­ing the sta­tion ear­li­er this year, and it's not hard to imag­ine the state sell­ing it to a firm like Black­stone, with a bless­ing— and per­haps tax cred­its — from the fed­er­al government.
​"There's poten­tial for a very dan­ger­ous coali­tion between Don­ald Trump and Wall Street-backed Democ­rats," says Westin.
In Novem­ber 2016, top Con­gres­sion­al Democ­rats, includ­ing House and Sen­ate minor­i­ty lead­ers Nan­cy Pelosi and Chuck Schumer, sig­naled their will­ing­ness to work with Trump on infra­struc­ture. They soured on the idea as more details emerged and now vow to oppose ​"nation­wide Trump tolls." But advo­cates like West­in wor­ry that when push comes to shove, paving the way for infra­struc­ture pri­va­ti­za­tion will prove a bipar­ti­san issue. Schumer, in par­tic­u­lar, isn't known for his resolve when it comes to Wall Street. Gold­man Sachs has donat­ed more than $575,000 to Schumer's cam­paigns; Black­stone has giv­en near­ly $220,000 and was Schumer's third largest donor in the 2016 elec­tions. As a mem­ber of the Sen­ate finance and bank­ing com­mit­tees, he vot­ed for the repeal of the Glass-Stea­gall Act, helped design the 2008 bank bailout and opposed efforts in his own par­ty to raise tax­es on pri­vate equi­ty and hedge funds.
At the local lev­el, where most infra­struc­ture projects must be approved, politi­cians, unions and com­mu­ni­ty groups could eas­i­ly be ​"seduced" by Trump's faux-pop­ulist rhetoric and the promise of jobs, warns Mark Grif­fith, exec­u­tive direc­tor of the Brook­lyn Move­ment and co-direc­tor of the nation­wide Mil­lions of Jobs coali­tion, which includes NYCC, Indi­vis­i­ble, AFSCME, Com­mu­ni­ca­tions Work­ers of Amer­i­ca, and oth­er labor and pro­gres­sive groups. The coali­tion hopes to make it more dif­fi­cult for Trump to sell his plan. When the pres­i­dent spoke at a pri­vate mari­na in Cincin­nati, flanked by pri­vate devel­op­ers as part of infra­struc­ture week, Mil­lions of Jobs helped mobi­lize a near­by protest where demon­stra­tors held signs read­ing, ​"Cincin­nati is Not for Sale." The coali­tion is also lob­by­ing local offi­cials to sign on to a set of 10 prin­ci­ples that any infra­struc­ture plan should adhere to, includ­ing direct pub­lic invest­ment and pri­or­i­ti­za­tion of racial and gen­der equi­ty, envi­ron­men­tal jus­tice and work­er pro­tec­tions. Near­ly 50 local and state lead­ers have signed on thus far, includ­ing Indi­anapo­lis Coun­cilmem­ber Jared Evans, whose dis­trict is home to the clos­ing Car­ri­er and Rexnord fac­to­ries that made head­lines dur­ing the 2016 elections.
In the long run, Mil­lions of Jobs hopes to push for some­thing akin to the alter­na­tive infra­struc­ture plan intro­duced by the Con­gres­sion­al Pro­gres­sive Cau­cus on May 25, which would be fund­ed by a Wall Street trans­ac­tion tax and clo­sure of the tax defer­ral loop­hole. The $2 tril­lion plan, called a ​"21st cen­tu­ry New Deal," promis­es to ​"employ 2.5 mil­lion Amer­i­cans in its first year, to rebuild our trans­porta­tion, water, ener­gy and infor­ma­tion sys­tems, while mas­sive­ly over­haul­ing our country's unsafe and inef­fi­cient schools, homes and pub­lic buildings."
Win­ning any such new deal will require mass mobi­liza­tion, a tough prospect when some seg­ments of the labor move­ment are under Trump's sway and many vul­ner­a­ble com­mu­ni­ties are busy putting out dai­ly fires. While infra­struc­ture isn't the ​"sex­i­est" issue, ​"it's impor­tant for women, for neigh­bor­hoods of col­or, for rur­al areas to be cen­tered and under­stand that their inter­ests are at stake," says Grif­fith. ​"It's in the inter­est of the Trump admin­is­tra­tion to real­ly paper over those equi­ty con­ver­sa­tions. We need to make sure that when we talk about infra­struc­ture, we talk about com­mu­ni­ty broad­band, about water sys­tems that don't poi­son us, about cli­mate change and heat vulnerability."
That's par­tic­u­lar­ly impor­tant giv­en that a mas­sive infra­struc­ture give­away to Wall Street could help lock in its dom­i­nance of our econ­o­my and pol­i­tics for a gen­er­a­tion, fur­ther stack­ing the deck against real pop­ulist move­ments. ​"When these deals go through, they can last a life­time," says the Cen­ter for Media and Democracy's Graves. ​"If there is not care­ful atten­tion paid to what is tran­spir­ing, this could be an alba­tross that we're sad­dled with long after Trump him­self is gone."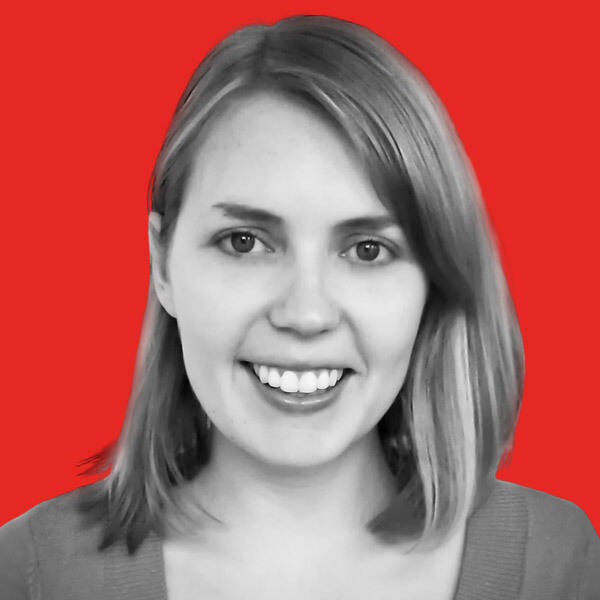 Rebec­ca Burns
is an award-win­ning inves­tiga­tive reporter whose work has appeared in The Baf­fler, the Chica­go Read­er, The Inter­cept and oth­er out­lets. She is a con­tribut­ing edi­tor at In These Times. Fol­low her on Twit­ter @rejburns.