Cattle, Guns, Birds and Boredom: Inside the Oregon Occupation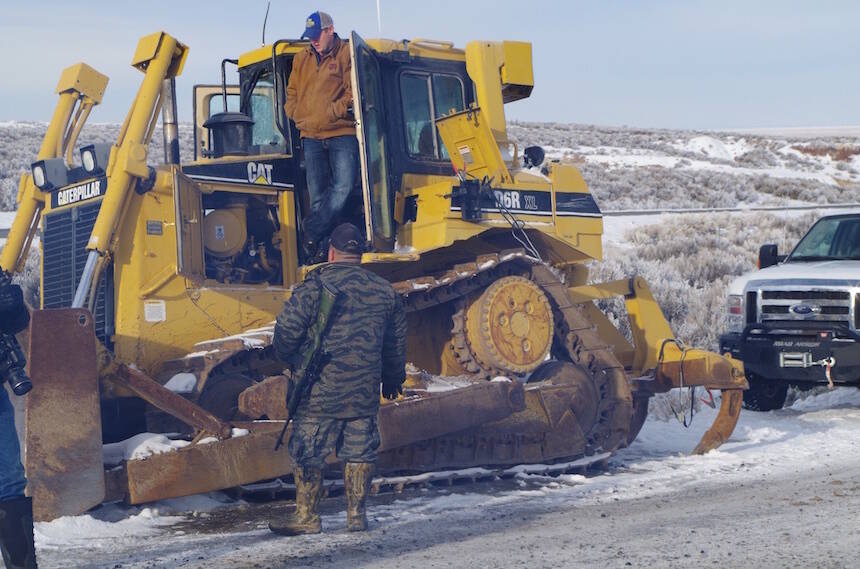 Editor's note of Jan­u­ary 27: On Jan­u­ary 26, the day after this sto­ry was post­ed, the FBI report­ed that one of the peo­ple occu­py­ing the Mal­heur Wildlife Refuge was shot and killed by law enforce­ment fol­low­ing a traf­fic stop out­side of Burns, Ore., dur­ing which Ammon Bundy, his broth­er Ryan and three oth­er indi­vid­u­als asso­ci­at­ed with the occu­pa­tion were arrest­ed. The man killed was LaVoy Finicum, a ranch­er from north­ern Ari­zona who is pic­tured and ref­er­enced below. Two oth­er peo­ple were arrest­ed lat­er in Burns, one of whom was Pete San­til­li, a YouTube blog­ger from Cin­n­ci­nati who is also quot­ed below. An eighth per­son turned them­selves in in Peo­ria, Ariz. All eight of those in cus­tody face fed­er­al felony charges of con­spir­a­cy to impede offi­cers of the Unit­ed States from dis­charg­ing their offi­cial duties through the use of force, intim­i­da­tion or threats. The refuge is still being occu­pied by mili­tia mem­bers, though the pro­tes­tors report that there are no longer any chil­dren at the facil­i­ty. Through­out the night David Fry, quot­ed below, released inter­mit­tent livestreams on YouTube report­ing on what he referred to as the group's ​"final stand."
What fol­lows is the sto­ry I report­ed from the occu­pa­tion of the Mal­heur Wildlife Refuge before this all went down:
On the night of Jan­u­ary 10, I pull into the Burns High School park­ing lot. It's icy, over­filled with dou­ble-parked trucks, media vans and law enforce­ment vehi­cles. Inside, bun­dled up res­i­dents of Har­ney Coun­ty, Ore., have gath­ered on the bleach­ers of the gym­na­si­um. Thir­ty miles to the east, on the Mal­heur Wildlife Refuge, an armed group call­ing them­selves Cit­i­zens for Con­sti­tu­tion­al Free­dom con­tin­ues their occu­pa­tion of the fed­er­al land they seized 8 nights pri­or, mak­ing inter­na­tion­al headlines.
That day, class­es in Burns, a high desert town of 2,800, had resumed for the first time since news of the stand­off broke. Schools had been closed for a week due to secu­ri­ty con­cerns and this was the sec­ond such com­mu­ni­ty meet­ing — a chance for on-edge res­i­dents to get updates, hear from their elect­ed offi­cials, and pub­li­cal­ly express their views and fears.
Inside the bright­ly lit gym — jam packed with towns­peo­ple, reporters and cops in full tac­ti­cal gear — a micro­phone was being passed to those who wished to speak. A mid­dle-aged man in a base­ball cap had the floor and was explain­ing that, while he thinks the Bundys should go home for their own safe­ty, and does not con­done their actions in any way, he sym­pa­thizes with their frus­tra­tion over what he sees as decades of eco­nom­i­cal­ly dis­as­trous envi­ron­men­tal poli­cies wrought by an over­bear­ing, out-of-touch fed­er­al government.
He tells the audi­ence, ​"The oth­er night, after the first meet­ing, I went home and at 2 in the morn­ing I woke up — I could not turn my brain off." He explains he decid­ed to get on his com­put­er and write a poem — a poem he'd like to share. After ask­ing every­body to bear with him, and a reminder that he's not a pro­fes­sion­al poet, he begins reading:
Envi­ron­men­tal­ists, oh the envi­ron­men­tal­ists — they think they know it all.

Most of which live in the city, in those build­ings big and tall.

They breathe the thick dark air and live in nasty smog,

Then try to tell us how to live our lives as they sit and write their blogs.

They call us red­necks, hicks, cling­ing to our guns and reli­gion, and they think it's real­ly funny,

But we all know they don't real­ly care about our lands, as they catch all that lib­er­al money.

Our local fed­er­al agen­cies, with whom we work and know we can rely,

Many of which grew up here — farm­ers, log­gers and ranch­ers them­selves — are just try­ing to get by.

It's the ones who make the poli­cies in D.C. — the one's we call the Feds,

They wave their ink filled wands, with­out the facts, like a snake with many heads.…

It's time we make a stand, get edu­cat­ed and come up with a solution.

We have a map, it's already laid out for us, it's called the Constitution. …

Most of this entire coun­try on the map is most­ly red,

Except for a few costal states, whom with­out us might not get fed.
He paus­es to make sure the audi­ence knows his remarks are not direct­ed at local Bureau of Land Man­age­ment (BLM) employ­ees, many of whom he ​"loves," but rather at the bureau­crats in Wash­ing­ton, D.C. With pal­pa­ble emo­tion, his address to politi­cians crescendos:
It's high time you add our farm­ers, log­gers and ranch­ers to your list of endan­gered species!
The crowd­ed gym­na­si­um erupts with applause, as if Burns High had just scored a basket.
The con­sen­sus of the towns­peo­ple was clear: The Bundys need to leave now, before they get shot. But when it comes to speak­ing out against fed­er­al land man­age­ment poli­cies, we under­stand why they're angry. This appeared to counter much of what had been report­ed in the news. Per­son after per­son stood up to the micro­phone to encour­age the Bundys to leave, often vehe­ment­ly denounc­ing their meth­ods as way-too-rad­i­cal, but then went on to express some sym­pa­thy or grat­i­tude (or both) for the occupation's over­all premise.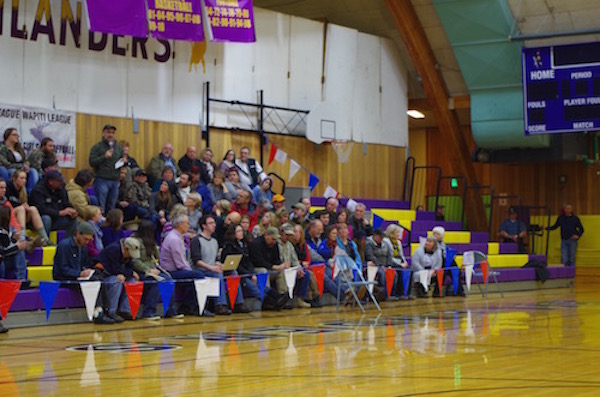 Har­ney Coun­ty res­i­dents gath­er in the Burns High School gym­na­si­um to dis­cuss the occu­pa­tion. (Pho­to: John Collins / Rur­al Amer­i­ca In These Times)
A meet­ing at the gate
Ear­li­er that evening, I was sit­ting around a camp­fire with three pro­tes­tors tasked with guard­ing the main entrance to the refuge. The sun was set­ting, it was 19 degrees and oth­er mem­bers of the media had left for the day.
The man in charge of the post was a well-spo­ken and philo­soph­i­cal guy who had no trou­ble artic­u­lat­ing why he didn't rec­og­nize the fed­er­al gov­ern­ment. He'd def­i­nite­ly read the Con­sti­tu­tion, and some­where along the way inter­pret­ed it to mean that when it came to the refuge, or any pub­lic land for that mat­ter, the gov­ern­ment had no more author­i­ty than ​"a Macy's mall-cop."
As I lis­tened, try­ing to fol­low his line of rea­son­ing, I couldn't help imag­in­ing the whole thing going south for these guys — heli­copters, drones, a coor­di­nat­ed assault. It remind­ed me of a Jack Reach­er book.
One mem­ber of the group was 20-some­thing, lack­ing the intel­lec­tu­al horse­pow­er of his bud­dy and I guessed, fair­ly or not, a pas­sen­ger on the band­wag­on. His fiancé had bro­ken up with him after see­ing an Ida­ho news broad­cast that called the refuge occu­piers ter­ror­ists. This real­ly bummed him out. He said he missed drink­ing beer (pro­hib­it­ed on the com­pound) and fish­ing but, whether he under­stood the par­tic­u­lars or not, remained sold on the cause. His job was to occa­sion­al­ly move the truck parked per­pen­dic­u­lar­ly across the dri­ve­way, block­ing vehic­u­lar access to the occu­pied struc­tures below. (The dozen or so seized struc­tures, with excep­tion of the watch­tow­er, were a ways down a long dri­ve­way and not vis­i­ble from the entrance.) This was some­thing he could only do if he received an ​"OK-copy-roger" over his hand­held radio.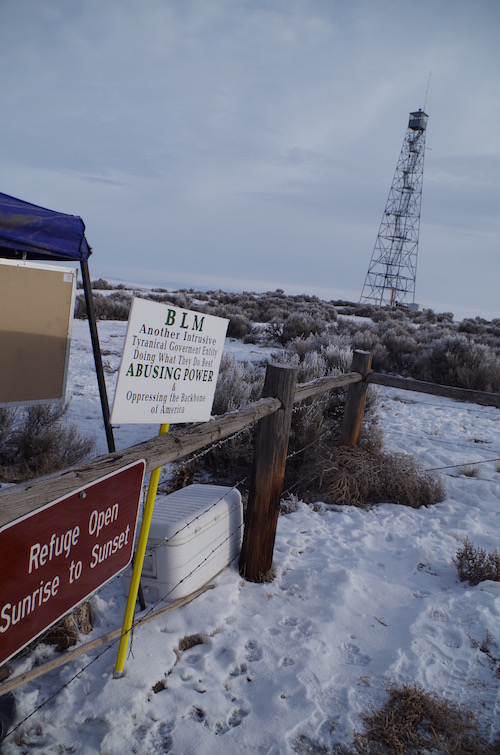 Sill­hou­ettes could be seen in the Mal­heur Wildlife watch­tow­er. (Pho­to: John Collins / Rur­al Amer­i­ca In These Times)
Anoth­er remind­ed me of a guy I did roof­ing jobs with in North­ern Wis­con­sin — love­able when you got to know him but per­haps prone to mak­ing ter­ri­ble deci­sions with firearms. And that's what struck me as more than a lit­tle spooky about the sit­u­a­tion. ​"We're ready to die if we have to," I heard over and over again. For what, again? I thought.
Occa­sion­al­ly a pick­up truck would pull up from out of state and guys in cow­boy hats would get out to take pic­tures next to the entrance sign, some­times with their fam­i­lies in tow. Oth­ers dropped off food. Hav­ing seen Stephen Colbert's Oreo sketch, I asked how they were doing on the calo­rie front and one of the guys took his phone out to show me a pho­to of all the sup­plies they'd stashed since the media report­ed they for­got to bring any. ​"We have enough for months," he said. It did look like a lot. (In addi­tion to care pack­ages, the Cit­i­zens for Con­sti­tu­tion­al Free­dom have received parcels con­tain­ing sex toys, tam­pons and your run-of-the-mill hate mail.)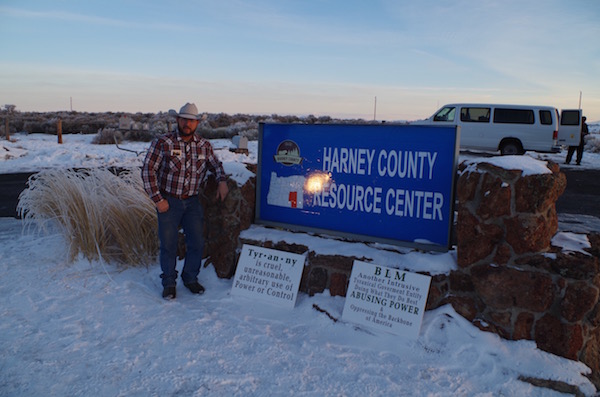 A man stops by the Mal­heur Wildlife Refuge to have his pic­ture tak­en. (Pho­to: John Collins / Rur­al Amer­i­ca In These TImes)
Twice a four-wheel­er came up from the refuge car­ry­ing a replace­ment guard and fresh bat­ter­ies for the walkie-talkies. (The mili­tia has com­man­deered all of the facility's trucks and earth­mov­ing equip­ment. The BLM, not antic­i­pat­ing a hos­tile takeover, left keys in the igni­tions.) I was told I couldn't enter the refuge that night, but to come back in the morning.
Before leav­ing, I found myself won­der­ing how this sit­u­a­tion they'd cre­at­ed could end well and decid­ed there was wis­dom in the fed­er­al government's deci­sion to keep the occu­pa­tion a ​"local law enforce­ment mat­ter" and let it play out. The town was crawl­ing with FBI agents. I won­dered if they had some­one inside.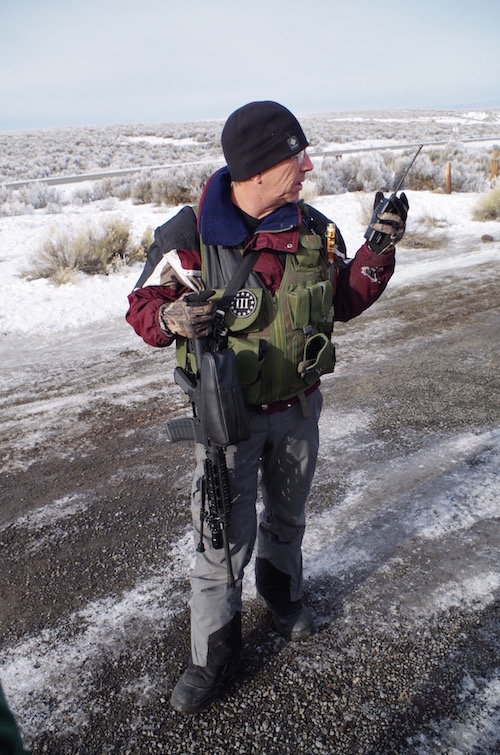 Scot­ty Wills, from Ida­ho, is a mem­ber of the Three Per­centers (3%ers) — a para­mil­i­tary patri­ot move­ment found­ed in 2008 to pre­vent the ​"over­reach of the fed­er­al gov­ern­ment." (Pho­to: John Collins / Rur­al Amer­i­ca In These Times)
The Ham­monds and Bundys
Cliv­en Bundy, Neva­da ranch­er and father of 14, became a house­hold anti-fed­er­al­ist name in 2014, but his trou­ble with the gov­ern­ment goes back decades. In 1993, the BLM deter­mined that hun­dreds of thou­sands of acres in south­ern Neva­da need­ed to be pro­tect­ed from graz­ing in order to save the desert tor­toise. To protest this move, Bundy refused to pay the gov­ern­ment for his graz­ing per­mits on fed­er­al land — $1.35 per ani­mal unit month (AUM) ($16.20 per head annu­al­ly) in West­ern states — while con­tin­u­ing to use it.
In March 2014, fed­er­al agents respond­ed to the dis­pute by seiz­ing some of Bundy's cat­tle. This cul­mi­nat­ed in a larg­er stand­off in which hun­dreds of pro­test­ers and an armed mili­tia con­verged in Bunkerville, Nev., demand­ing the gov­ern­ment back down and return the cattle.
Anx­ious not to trig­ger anoth­er Waco, the gov­ern­ment did back down and, as far as they're con­cerned, Cliv­en Bundy still owes them in excess of $1 mil­lion. Wide­ly hailed as a patri­ot by con­ser­v­a­tive pun­dits in the standoff's ear­ly days, sup­port tapered off when a video sur­faced in which Bundy spec­u­lat­ed that black peo­ple (who he referred to as ​"the Negro") were bet­ter off as slaves than they are today receiv­ing gov­ern­ment assistance.
There are 800,000 ranch­ers and cat­tle pro­duc­ers in the Unit­ed States but two of Cliv­en Bundy's sons, Ammon and Ryan, are lead­ing the occu­pa­tion of the Mal­heur Wildlife Refuge. Ammon, 41, own­er of an auto repair busi­ness out­side Phoenix, Ariz. and his old­er broth­er Ryan (of Utah), arrived in Har­ney Coun­ty on Jan­u­ary 2 to take part in a ral­ly orga­nized to protest the re-incar­cer­a­tion of Dwight and Steven Ham­mond — father and son Ore­gon ranchers.
In 1964, Dwight Ham­mond Jr., 74, and his wife Susan pur­chased 6,000 acres in Har­ney Coun­ty. Today, Ham­mond Ranch­es, Inc. owns and runs cat­tle on over 12,000 acres. Until recent­ly, the Hammond's oper­a­tion also includ­ed sum­mer graz­ing per­mits on 26,000 acres of adja­cent pub­lic land. This changed in 2012 when, despite the family's promi­nent sta­tus in the com­mu­ni­ty, Ham­mond and his son Steven, 46, were found guilty of set­ting ille­gal fires on those pub­lic lands. Their graz­ing per­mits have been denied ever since.
The arson charges stemmed from two sep­a­rate inci­dences in 2001 and 2006 — the Hardie-Ham­mond Fire and Krum­bo Butte Fire (respec­tive­ly) — and accounts of what hap­pened (and why) vary great­ly depend­ing on who you talk to. The Hammond's main­tained through­out the tri­al that the ear­li­er fire, which ulti­mate­ly burned 139 acres of BLM con­trolled land, was set in an effort to clear a por­tion of Ham­mond land of inva­sive west­ern juniper trees so their cat­tle could graze. The prac­tice is not uncom­mon in ranch­ing but this blaze got out of hand and spread onto pub­lic land. The pros­e­cu­tion, how­ev­er, alleged that the fire was in fact an attempt to cov­er up an ille­gal deer hunt. The 2006 fire, the Hammond's said, was a con­trolled back blaze start­ed to pro­tect their win­ter feed from an approach­ing wild fire. In this case, the pros­e­cu­tion insist­ed Ham­mond was aware of the coun­ty­wide fire ban that was in place at the time and put the lives of young fire­fight­ers in the area at risk.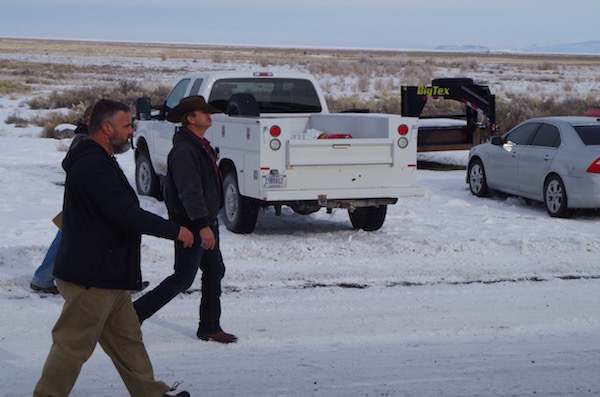 Ryan Bundy (right) takes a walk around the refuge. (Pho­to: John Collins / Rur­al Amer­i­ca In These Times)
Why the protest?
The jury found them guilty, but this is not the crux of the dis­pute. Due to the fed­er­al nature of the arson charges against them, the Hammond's faced sen­tenc­ing under the Antiter­ror­ism and Effec­tive Death Penal­ty Act of 1996 (AED­PA). Signed into law by Pres­i­dent Bill Clin­ton fol­low­ing the bomb­ings of the World Trade Cen­ter garage and Okla­homa City fed­er­al build­ing, the act man­dates a min­i­mum five-year sen­tence for crimes that apply. Though con­vict­ed under the AED­PA, at sen­tenc­ing the Hammond's coun­cil suc­cess­ful­ly per­suad­ed then Dis­trict Judge Michael Hogan that this pun­ish­ment was too severe — insist­ing it did not fit the crime and was ​"uncon­sti­tu­tion­al." Hogan agreed, saying:
"These peo­ple have been a salt in their com­mu­ni­ty and liked, and I appre­ci­ate that…I am not going to apply the manda­to­ry minimum…to do so under the Eighth Amend­ment would result in a sen­tence which is gross­ly dis­pro­por­tion­ate to the sever­i­ty of the offens­es here. And with regard to the Antiter­ror­ism and Effec­tive Death Penal­ty Act of 1996, this sort of con­duct could not have been con­duct intend­ed under that statute."
Spar­ing the old man what many Ham­mond sup­port­ers called a ​"death sen­tence," Dwight was sen­tenced to three months while Steven received one year for his role in the ear­li­er fire. The Ham­monds were fur­ther ordered to pay the BLM $400,000. They served this time, paid the mon­ey and were released in 2013 and 2014. But the ordeal was far from over.
Doubt­ing that Judge Hogan had the author­i­ty to reduce a manda­to­ry sen­tence, then U.S. Attor­ney for the state of Ore­gon Aman­da Mar­shall along with fed­er­al pros­e­cu­tor Frank Papag­ni chal­lenged the rul­ing and, in 2014, per­suad­ed the Ninth Court of Appeals to review, and ulti­mate­ly dis­miss, the Dis­trict Court's lenien­cy. Last Octo­ber, after the Supreme Court reject­ed the Ham­monds' peti­tions for cer­tio­rari, Chief Judge Ann Aiken ordered both men back to prison to com­plete the five-year sen­tence man­dat­ed by the AED­PA, minus time already served.
Act­ing U.S. Attor­ney Bil­ly Williams said about the rul­ing, ​"Con­gress sought to ensure that any­one who mali­cious­ly dam­ages Unit­ed States' prop­er­ty by fire will serve at least 5 years in prison. These sen­tences are intend­ed to be long enough to deter those like the Ham­monds who dis­re­gard the law and place fire fight­ers and oth­ers in jeopardy."
That did it. On Jan­u­ary 2, sup­port­ers of the Ham­monds, infu­ri­at­ed that the two promi­nent ranch­ers had been tried as ter­ror­ists, staged a demon­stra­tion in the town of Burns to protest the fed­er­al court's deci­sion. (The Ham­monds had been allowed to stay home for the hol­i­days but were ordered to report to fed­er­al prison in San Pedro, Calif., the fol­low­ing Mon­day, Jan­u­ary 4, which they did.) After the planned ral­ly in Burns, a fac­tion of demon­stra­tors led by Ammon and Ryan Bundy split from the larg­er group and head­ed in a con­voy of trucks to seize the refuge, then unoc­cu­pied. Though a sur­prise to many, the esca­la­tion was not spontaneous.
In a Face­book post denounc­ing the local sher­iff and fed­er­al government's treat­ment of the Ham­monds — some­thing he viewed as a tyran­ni­cal abuse of pow­er wor­thy of dras­tic action — Ammon Bundy urged ​"patri­ots to stand up" and ​"come pre­pared" to the refuge. He added, ​"This is not a deci­sion we've made at the last minute."
How much land does the fed­er­al gov­ern­ment own (and why)?
West­ern range wars are not a new devel­op­ment. The fed­er­al gov­ern­ment began its for­ay into the admin­is­tra­tion of non-state acreage in 1803, when it acquired 530,000,000 in the Louisiana Pur­chase. (Pri­or to that, fed­er­al ​"land man­age­ment" had con­sist­ed most­ly of exter­mi­nat­ing Native peo­ple east of the Mis­sis­sip­pi.) The notion of per­ma­nent fed­er­al land own­er­ship, how­ev­er, did not take hold until the ear­ly 20th century.
Iron­i­cal­ly, it was the per­ceived need of the fed­er­al gov­ern­ment to medi­ate dis­putes between home­stead­ers, ranch­ers, log­gers, min­ers and Native peo­ple — to set­tle land, water and graz­ing con­flicts among groups com­pet­ing for the same resources — that led many ranch­ers to sup­port fed­er­al own­er­ship in the first place. But as the west's pop­u­la­tion and econ­o­my surged, it also became appar­ent reg­u­la­tions would be need­ed to pre­vent the com­plete destruc­tion of shared habi­tat by com­pet­ing inde­pen­dent inter­ests — the ​"tragedy of the com­mons."
Today, the fed­er­al gov­ern­ment does own 640 mil­lion acres (or 28 per­cent of land in the Unit­ed States) and near­ly half of this land is in 11 west­ern states (Ari­zona, Cal­i­for­nia, Col­orado, Ida­ho, Mon­tana, Neva­da, New Mex­i­co, Ore­gon, Utah, Wash­ing­ton and Wyoming). The task of admin­is­tra­tion is pri­mar­i­ly divid­ed among four agen­cies: the BLM, the Fish and Wildlife Ser­vice (FWS), the Nation­al Park Ser­vice (NPS) and the For­est Ser­vice (FS) — all of which are over­seen by the Depart­ment of the Inte­ri­or (DOI) except for the FS which falls under Depart­ment of Agri­cul­ture (USDA) jurisdiction.
In 1908, Pres­i­dent Theodore Roo­sevelt des­ig­nat­ed what lat­er became the Mal­heur Wildlife Refuge as an Indi­an reser­va­tion and bird sanc­tu­ary. At the time, hunters had all but dec­i­mat­ed North Amer­i­can bird pop­u­la­tions in their pur­suit of feath­ers — plumage to sus­tain the boom­ing lady's hat indus­try. Many species recov­ered and east­ern Ore­gon pro­vides crit­i­cal habi­tat and nest­ing grounds for hun­dreds of species of migra­to­ry birds. Over time, the FWS has expand­ed the amount of land it pro­tects in Har­ney Coun­ty, often buy­ing out ranch­ers in the process. The Mal­heur Wildlife Refuge is one small part of what some rur­al peo­ple view as a larg­er West­ern problem.
Before the reduc­tion in pub­lic land avail­able for graz­ing, east­ern Oregon's tim­ber indus­try saw an even greater rise and fall. As recent­ly as 1973, thanks to indus­tri­al saw mill oper­a­tions, Har­ney Coun­ty was the wealth­i­est coun­ty in the state by per capi­ta income. This changed when the Hines mill, the last of the major play­ers, closed in the ear­ly 1980s. At the time, com­pa­ny pres­i­dent How­ell Howard attrib­uted their inabil­i­ty to turn a prof­it on dwin­dling access to gov­ern­ment-owned forests, adding: ​"This tim­ber short­age is being made more acute by envi­ron­men­tal­ists' demands for more wilder­ness areas and by the fail­ures of Con­gress to pro­vide funds and man­pow­er to the For­est Ser­vice so that agency can man­age the forests for the high­est yields."
Decades lat­er, the blame has not shift­ed. Har­ney Coun­ty now ranks among the state's poor­est, with a medi­an fam­i­ly income of less than $37,000, and the peo­ple I heard speak lament the fed­er­al government's envi­ron­men­tal agen­da — some­thing they likened to an oppres­sive force, guilty of sys­tem­at­i­cal­ly destroy­ing their liveli­hoods. They spoke of the cam­paign to get the spot­ted owl on the endan­gered species list in the 1990s and how, more recent­ly, efforts to pro­tect the greater sage grouse had result­ed in what they view as one fed­er­al land grab after anoth­er. These efforts, aimed at con­ser­va­tion, did restrict land use.
They see the gov­ern­ment, malev­o­lent­ly aligned with a con­de­scend­ing lib­er­al media, as hope­less­ly out-of-touch with their day-to-day lives and the out-of-town­er Bundys know exact­ly what to say to cap­i­tal­ize on this frus­tra­tion. ​"Their lands and their resources have been tak­en from them — to the point where it's putting them lit­er­al­ly in pover­ty," said Ammon Bundy. ​"And this facil­i­ty here [the Mal­heur Nation­al Wildlife Refuge head­quar­ters] has been a tool into doing that. It is the peo­ple's facil­i­ty, owned by the peo­ple. And it has been pro­vid­ed for us to be able to come togeth­er and unite, and mak­ing a hard stand against this over­reach, this tak­ing of the peo­ple's land and resources."
Back to the refuge
I returned the fol­low­ing morn­ing hop­ing to get inside. New faces were milling around the camp­fire, still burn­ing. I was told I was ear­ly — that the day's press brief­ing wouldn't start for two hours — but was wel­come to keep warm around the fire and record what was said (some­thing I'd been told not to do the evening before). A man named Dar­row Burke, 57, was split­ting wood. Ask­ing where the logs came from, I was told a fam­i­ly from Burns had deliv­ered them with the promise of more if need­ed. ​"The love here is more than you'd find at church," some­body said.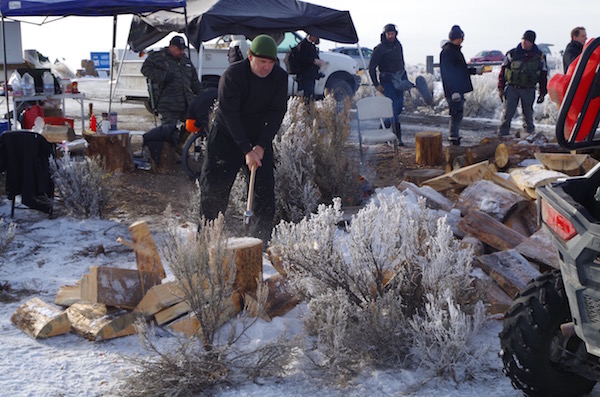 Dar­row Burke, of Uki­ah, Cali., chop­ping fire­wood. He would over­turn his van on the icy road into town a few days lat­er but was unin­jured and not arrest­ed. (Pho­to: John Collins / Rur­al Amer­i­ca In These Times)
Also sit­ting near the fire was a man in a wheel­chair — a dou­ble amputee wear­ing a ​'Bye Feli­cia' T‑shirt, hold­ing a worn out bible as he told pro­fan­i­ty-laced sto­ries about all the times he almost died — a fre­quent occur­rence I soon learned. He invit­ed me to sit down next to him and intro­duced him­self as James Ranger Stan­ton, BMCS Mas­ter Div­er, Ret. from Ft. Sum­n­er, N.M. He explained he'd been sit­ting at home when he saw a TV news broad­cast out of Albu­querque that referred to those at the refuge as ​"ter­ror­ists." This pissed the Navy vet­er­an of 20 years off so much that he put on his legs, told his wife not to wor­ry, and drove him­self all the way to Burns. Not direct­ly affil­i­at­ed with the var­i­ous mili­tias (I count­ed four dif­fer­ent ones — the Cit­i­zens for Con­sti­tu­tion­al Free­dom, Oath Keep­ers, 3 Per­centers of Ida­ho and the Pacif­ic Patri­ot Net­work), Stan­ton was there to show his sup­port. We end­ed up talk­ing for the bet­ter part of an hour. He said he didn't always believe in God but that a life­time of ​"seek­ing truth" changed that. There were two kinds of peo­ple in the world — the decent kind and ​"no good sons of bitch­es." Politi­cians dri­ve him crazy. Pres­i­dent Oba­ma? Not a fan. Don­ald Trump? He wipes his ass with toi­let paper depict­ing the bil­lion­aire on every sheet. But Ben Car­son he likes — Stan­ton thinks he can save the country.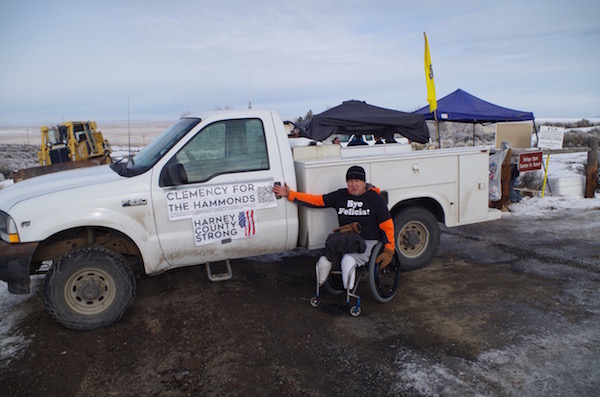 James Ranger Stan­ton, from Ft. Sum­n­er N.M., is a retired U.S. Navy vet­er­an. (Pho­to: John Collins / Rur­al Amer­i­ca In These Times)
"I'm here to do the best I can to serve my fel­low man in a last ditch effort to save free­dom for my kids and grand­kids," he says. ​"And tell Oba­ma I am will­ing and ready to go to prison for clemen­cy for the Ham­monds. I am sick of this injustice."
A man on horse­back approach­es from the refuge car­ry­ing an Amer­i­can flag. Anoth­er reporter tells me it's Duane Ehmer and that this ride has become a dai­ly rit­u­al. I ask her how to spell ​"Ehmer" and she says, ​"I don't know, but check the New York Times from yesterday."
Ehmer says he owns a weld­ing shop in Irrigon, Ore., adding, ​"but then I'm a part-time cow­boy on top of that because you have to have more than one job around here or you'll starve to death." An awk­ward silence fol­lows and I ask the only ques­tion I can think of: ​"What did you guys have for din­ner last night?" ​"Meat­loaf," he says.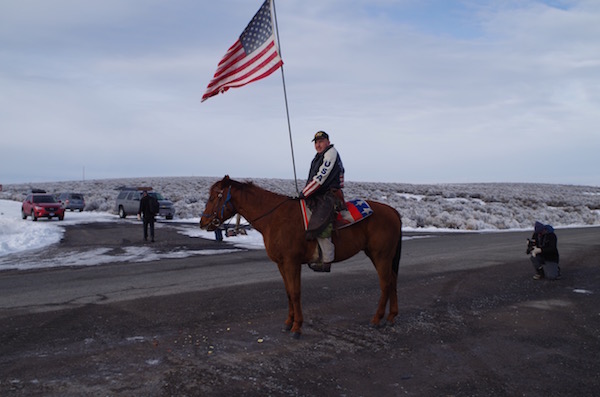 Duane Ehmer and his horse, Hell­boy, walk around the Mal­heur Wildlife Refuge. (Pho­to: John Collins / Rur­al Amer­i­ca In These Times)
The press brief­ing con­venes in the park­ing lot and LaVoy Finicum, a ranch­er from north­ern Ari­zona, explains that Ammon Bundy is engaged in a dis­cus­sion with author­i­ties about a pos­si­ble end to the stand­off that com­ing Fri­day (this nev­er hap­pens) and won't be able to take ques­tions. He reit­er­ates his sup­port of the Ham­monds and implores peo­ple watch­ing to con­sid­er what their free­dom means to them. Then he cedes the micro­phones to Joseph San­toro, a Col­orado rep­re­sen­ta­tive from the Pacif­ic Patri­ot Net­work (PPN) who's recent­ly arrived to offer the organization's ser­vices as medi­a­tor between law enforce­ment, the F.B.I. and the Bundy's ​"in the event they are need­ed." The brief­ing con­cludes with a pro­gres­sive­ly unhinged prayer from Stan­ton, implor­ing Amer­i­ca to ​"wake up" and ​"stand with us" (hav­ing no legs, he gets out of his wheel­chair and props him­self up on the ground). He screams some­thing I did­n't under­stand and a small group of peo­ple say, ​"Amen."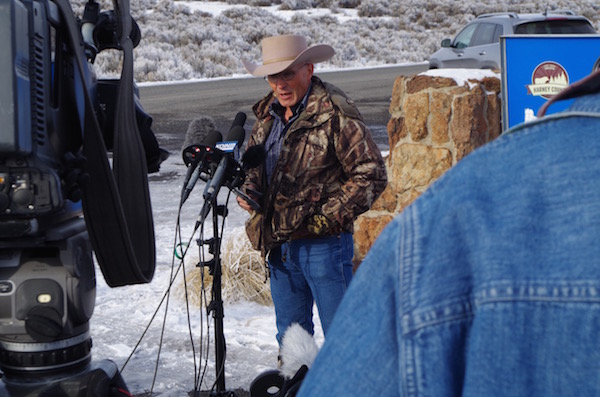 LaVoy Finicum, a ranch­er from north­ern Ari­zona, address­es the media. (Pho­to: John Collins / Rur­al Amer­i­ca In These TImes)
After what seemed like (and was) hours, Ehmer invit­ed mem­bers of the press down for a tour of the refuge. I fol­lowed behind his horse and Amer­i­can flag, flanked by an inde­pen­dent film crew, a local reporter and Pete San­til­li, a rightwing YouTube jour­nal­ist who was noth­ing short of thrilled to be cov­er­ing this ​"Con­sti­tu­tion­al crisis."
As build­ings came into view, there were more than I'd expect­ed. The dri­ve­ways and walk­ways between the dozen or so struc­tures had been plowed or shov­eled which must have tak­en some time. What else did they have to do? And I saw more cars and trucks than I did peo­ple before being led to a build­ing con­tain­ing old lum­ber and machine parts — a stor­age shed. Here, our guide who's name I didn't catch, alter­nat­ed between point­ing out hap­haz­ard­ly stored equip­ment and look­ing into the cam­eras in hopes of com­pelling any­body watch­ing to be as dis­gust­ed as he was at ​"how the gov­ern­ment treats our property."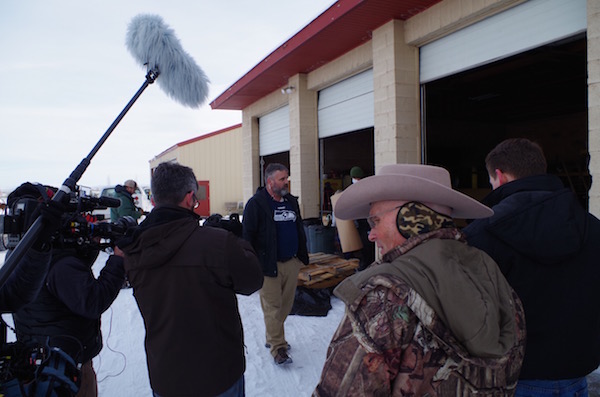 Jason Patrick, from Geor­gia, quit an $80,000 a year roof­ing job to join the occu­pa­tion. (Pho­to: John Collins / Rur­al Amer­i­ca In These TImes)
This theme was tak­en a step fur­ther as we walked over to a much larg­er struc­ture — a long garage with its doors rolled opened — that was in the process of being swept, scrubbed and washed clean by a dozen pro­tes­tors wear­ing OSHA approved res­pi­ra­tors. A trail­er was parked out front and get­ting loaded with what­ev­er the par­tic­i­pants deter­mined was junk. Asked what they were doing, Jason Patrick, an avid fol­low­er of Con­sti­tu­tion­al caus­es, explained they were doing what the BLM had failed to do and were work­ing to leave the refuge ​"bet­ter than they found it."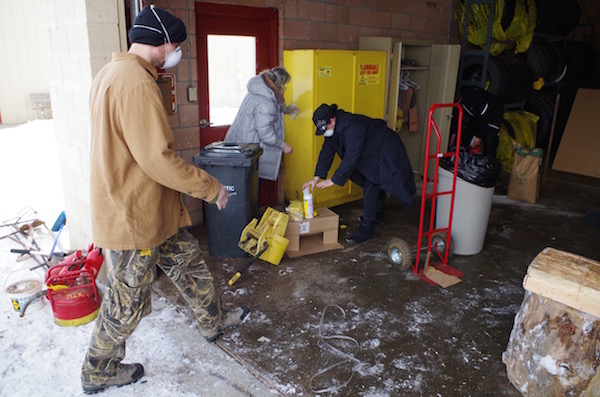 Occu­piers clean out BLM build­ings at the Mal­heur Wildlife Refuge. (Pho­to: John Collins / Rur­al Amer­i­ca In These TImes)
In the dis­tance I could see a skid-steer trudg­ing along in the snow and was told they'd been remov­ing a stretch of BLM fenc­ing to open up land for an adja­cent rancher.
The anti-fed­er­al­ist-mili­tia-hop­ing-to-spark-a-rev­o­lu­tion angle of the sto­ry was begin­ing to look like a group of peo­ple vol­un­tar­i­ly sub­ject­ing them­selves to unpaid man­u­al labor in a remote part of the Ore­gon wilder­ness in Jan­u­ary. My feet were get­ting cold and I decid­ed to start back up the dri­ve­way to the entrance. On the way, I stopped to talk to a young man who was stand­ing next to his car.
David Fry, 27, explained that, despite being on pro­ba­tion for a mar­i­jua­na offense, he felt it was impor­tant to dri­ve to the refuge from Ohio.
"We all live on this earth. If we trash our own house, that's ter­ri­ble," says Fry. ​"We've got this gas leak in Cal­i­for­nia — it's like the biggest ever record­ed. You've got Fukushi­ma just dump­ing radi­a­tion into the Pacif­ic Ocean. All these prob­lems are hap­pen­ing. How long do we have to just keep let­ting things go? Before our house becomes uninhabitable?"
I men­tioned that many peo­ple don't asso­ciate this occu­pa­tion with envi­ron­men­tal awareness.
"We're here to take a stand against the gov­ern­ment," says Fry. ​"I sup­port the Ham­monds, who were tried as ter­ror­ists for some­thing so small. We're com­ing here to orga­nize. We as Amer­i­cans need to stand unit­ed because divid­ed we fall."
Fry came across as lucid, but a clos­er look at his social media his­to­ry revealed video rants about ​"Zion­ist Jews," 9⁄11 being an inside job and calls for Oba­ma to be exe­cut­ed for trea­son — com­ments Fry, with his new found sta­tus as IT guy for the mili­tia move­ment, insists were tak­en out of context.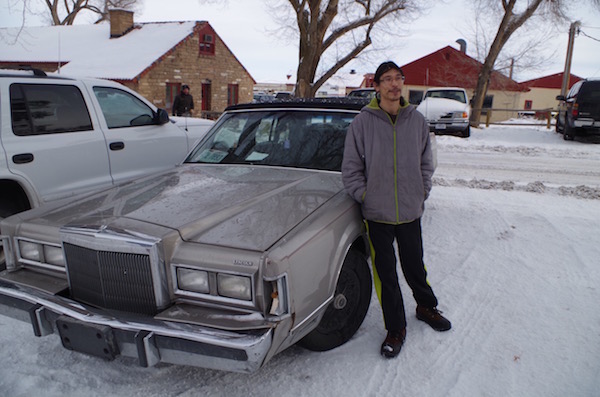 Fry, 27, pos­ing in front of the car he drove from Ohio to par­tic­i­pate in the occu­pa­tion. (Pho­to: John Collins / Rur­al Amer­i­ca In These TImes)
WTF?
I'd dri­ven 450 miles to get to Burns, which gave me 450 miles of wind­shield time on the dri­ve back to hash out what I'd seen. I turned on the heat and found an FM trib­ute to David Bowie. Had the Bundys heard he died yes­ter­day? Should I have said something?
I stopped for lunch at the only restau­rant on the 100-mile stretch of high­way out of town and became the only cus­tomer in a fam­i­ly run place — father behind the counter and his son in the kitchen. He asked where I was com­ing from. ​"Burns," I said. ​"Well, I'll tell you this," he said, ​"the Ham­monds are good peo­ple — they'd come in here all the time." He went back to read­ing his news­pa­per, I ate and got back in the car.
Was the stand­off real­ly about the Ham­monds? Or were the Bundys seiz­ing an oppor­tu­ni­ty to incite already frus­trat­ed peo­ple? This isn't hard to do these days, but I doubt cat­tle ranch­ing will be the straw that breaks the camel's back. Con­sti­tu­tion­al or not, BLM graz­ing fees are 93 per­cent less expen­sive than their pri­vate coun­ter­parts. The pri­va­ti­za­tion of pub­lic land, in fact, presents enor­mous poten­tial finan­cial down­sides to those cur­rent­ly using pub­lic land for pri­vate prof­it — ulti­mate­ly a priv­i­lege, not a right. Per­haps there are bet­ter ways to man­age them but fed­er­al lands are held in trust for all Amer­i­cans, not just for the ben­e­fit of those who live near them.
The occu­pa­tion aside, Burns is a com­mu­ni­ty wrestling with the ques­tion of local con­trol. Peo­ple are strug­gling to sup­port them­selves. But is this because of an oppres­sive gov­ern­ment or because the nature of what's valu­able is fun­da­men­tal­ly chang­ing? Tech­nol­o­gy and glob­al­iza­tion — pow­er­ful forces — are in the process of alter­ing what, where and when work is val­ued. Under­stand­ing this does­n't make bills any eas­i­er to pay right now but, if we're going to adapt, it's impor­tant to acknowl­edge what no longer works so that we can ulti­mate­ly find out what will.
In the pur­suit of region­al pros­per­i­ty each community's pri­or­i­ties will vary, but the desire for a sus­tain­able econ­o­my is inher­ent to all of them. What about trust­ing the peo­ple with an actu­al stake in their com­mu­ni­ty — skin in the game — to man­age their best inter­ests? There is a need to pro­tect sen­si­tive habi­tats that would oth­er­wise be exploit­ed by rov­ing cor­po­rate nomads. But if the fed­er­al gov­ern­ment is going to cling to cred­i­bil­i­ty on this mat­ter, it should stop pass­ing sweep­ing pro­tec­tions that dis­pro­por­tion­ate­ly affect indi­vid­u­als while green-light­ing mas­sive indus­tri­al projects that ben­e­fit a cor­po­rate few. That just ticks peo­ple off.
I com­pared what I saw in Burns to what I read about it in the news. Was the media play­ing a role that was pro­duc­tive, or reduc­tive? These days every cri­sis gets turned into a lens for cul­tur­al pro­jec­tion. I'd seen the dif­fer­ent ways the stand­off was get­ting lever­aged around the Inter­net in the con­text of oth­er people's frus­tra­tions and some worked bet­ter than others.
It would­n't be tough to argue, for exam­ple, that had the occu­piers not been white they'd be dead or in jail by now. That one tracked. And the irony that a group of white men wav­ing Amer­i­can flags, upset that the fed­er­al gov­ern­ment had stolen their land and was destroy­ing their way of life was not lost on the Burns Paiute Tribe.
"The tribe sup­ports the pros­e­cu­tion of the occu­py­ing indi­vid­u­als. Under terms of the Burns Paiute Tribe's treaty with the Unit­ed States, the gov­ern­ment guar­an­teed it would pro­tect the safe­ty and prop­er­ty of the North­ern Paiute peo­ple," wrote trib­al chair Char­lotte Rodrique in a mes­sage to the FWS.
But then there were those ral­ly­ing to online com­ment sec­tions — Amer­i­ca's pan­ic room — to make some vari­a­tion on the claim ​"these ter­ror­ists should be car­pet bombed because they're no bet­ter than ISIS." And that one doesn't track for me. There's a right and wrong way to go about being angry, and these pro­tes­tors select­ed the lat­ter — but they're not ter­ror­ists. They con­sid­er them­selves Paul Reveres, warn­ing the rest of us of impend­ing tyran­ny. They don't want to kill anyone.
Lodged deep in the extreme con­ser­v­a­tive mind­set is a pow­er­ful com­pul­sion to ​"go back." In this case, back to a time when more peo­ple cut down trees (and there were more to cut down); back to when more peo­ple spent their days on horse­back with a gun at their side to hunt food; back to when extract­ing resources from big holes in the ground could sus­tain a town for gen­er­a­tions; and back to when you could burn what you want­ed and it would all blow away. This is more than an exer­cise in nos­tal­gia. For more than 200 years, this brand of inter­ac­tion with the nat­ur­al world (and mas­sive gov­ern­ment invest­ment) helped cre­ate the pros­per­i­ty that brought us to where we are today. It worked! For­get for a moment that this prob­a­bly isn't a recipe for suc­cess in the 21st century.
Rather than demo­niz­ing this per­spec­tive, we could try to under­stand that fan­ta­siz­ing about a past and pro­ject­ing that onto the present offers some­thing increas­ing­ly hard for many American's to find: a sense of secu­ri­ty. In oth­er words, look­ing back fond­ly isn't crazy. It's cozy. Add to that a grow­ing pop­ulist sen­ti­ment that the gov­ern­ment-as-we-know-it is inca­pable of deliv­er­ing on what it promis­es — the now ubiq­ui­tous notion that we are being helmed by a polit­i­cal class with a knack for acknowl­edg­ing prob­lems then some­how find­ing expen­sive ways to make them per­sist (drugs, pover­ty, Mid­dle East­ern dic­ta­tors and unaf­ford­able health insur­ance, etc.) — you're going to see legions of peo­ple des­per­ate for some­thing famil­iar whether or not it's prac­ti­cal, legal or sane.
Half-way through the Mt. Hood pass, the President's final State of the Union Address came on Ore­gon Pub­lic Radio. An odd jux­ta­po­si­tion to two days spent scop­ing out an anti-fed­er­al­ist move­ment, but appro­pri­ate. I want­ed a pair of the Pres­i­den­t's rose-col­ored glass­es. Whether Biden finds a cure for can­cer or not, it was nice to hear some optimism.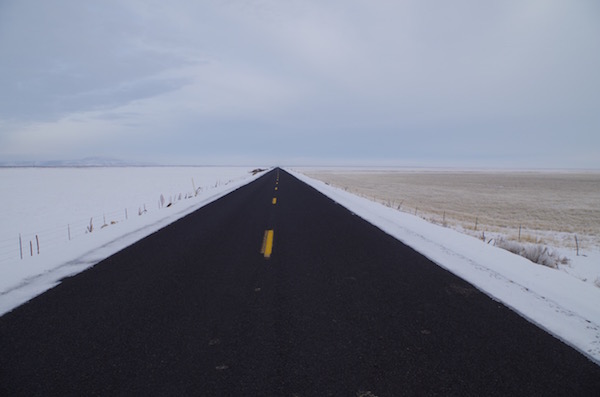 Ore­gon state high­way 205. (Pho­to: John Collins / Rur­al Amer­i­ca In These Times)
[If you like what you are read­ing, help us spread the word. ​

"

Like" Rur­al Amer­i­ca In These Times on Face­book. Click on the ​

"

Like Page" but­ton below the bear on the upper right of your screen.]