Why This Iraq War Vet Is Speaking Out Against Trump's Reckless Foreign Policy
To expand the anti-war movement, Maggie Martin is connecting struggles against U.S. militarism at home and abroad.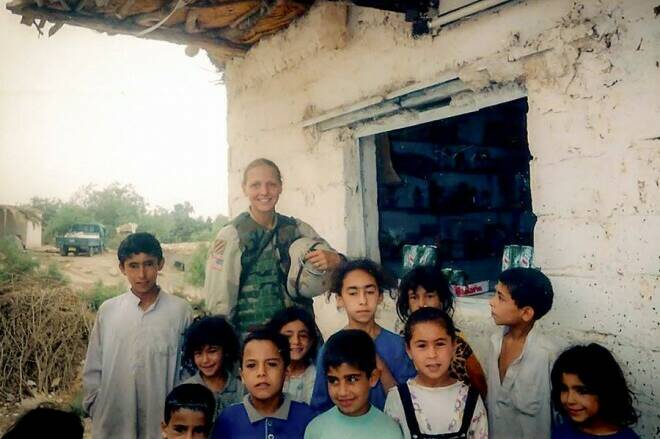 Mag­gie Mar­tin is a for­mer Army sergeant who served three tours in Kuwait and Iraq and is now co-direc­tor of About Face: Vet­er­ans Against the War. In light of Don­ald Trump's esca­la­tion in Syr­ia and the nom­i­na­tion of Mike Pom­peo to Sec­re­tary of State, In These Times spoke to Mar­tin about her work.
How did you end up oppos­ing the war?
It start­ed with my first deploy­ment to Kuwait in 2002 and just see­ing the racism of my fel­low sol­diers, the way they were talk­ing about the Bedouins who were liv­ing in the desert. Dur­ing the Iraq inva­sion, I was charged with guard­ing local Iraqi cit­i­zens doing odd jobs for us. We talked all day, and I got to know them and felt clos­er to them than the peo­ple I was serv­ing with. It wasn't until lat­er I learned there had been anti­war move­ment while I was part of the invasion.
Why should we oppose con­tin­ued U.S. involve­ment in the Mid­dle East?
Evi­dence is clear that U.S. mil­i­tary inter­ven­tion doesn't help the pop­u­la­tions where it occurs, and I think the hypocrisy is pret­ty clear in the way the Trump admin­is­tra­tion wants to ban refugees from these coun­tries yet uses human­i­tar­i­an need as an excuse to use mil­i­tary force.
What are your hopes for a mass movement?
We can't count on the Demo­c­ra­t­ic Par­ty, so we're going to have to find a way to shake up the cur­rent pow­er struc­ture. Our orga­ni­za­tion is build­ing beyond the tra­di­tion­al anti­war move­ment of the 1960s. Those folks are impor­tant, but we're real­ly try­ing to con­nect across move­ments and talk about how mil­i­tarism is impact­ing all of us. All of the direct impacts abroad, what we're see­ing with the mil­i­ta­riza­tion of our police and our schools, on the bor­ders. We're part of the Poor People's Cam­paign, the Grass­roots Glob­al Jus­tice Alliance, we're involved in The Major­i­ty, a coali­tion anchored in Black Lives Mat­ter and the Move­ment for Black Lives. I think join­ing with those folks is the way to make mil­i­tarism an issue that's on the pub­lic agenda.
Tan­ner Howard
is a free­lance jour­nal­ist and In These Times edi­to­r­i­al intern. He's also a mem­ber of the Demo­c­ra­t­ic Social­ists of Amer­i­ca, orga­niz­ing pri­mar­i­ly around hous­ing and edu­ca­tion justice.