The Women Activists Rejecting Biden's Pro-War "Feminism"
Why anti-war feminists don't want hawkish women like Michèle Flournoy in positions of power.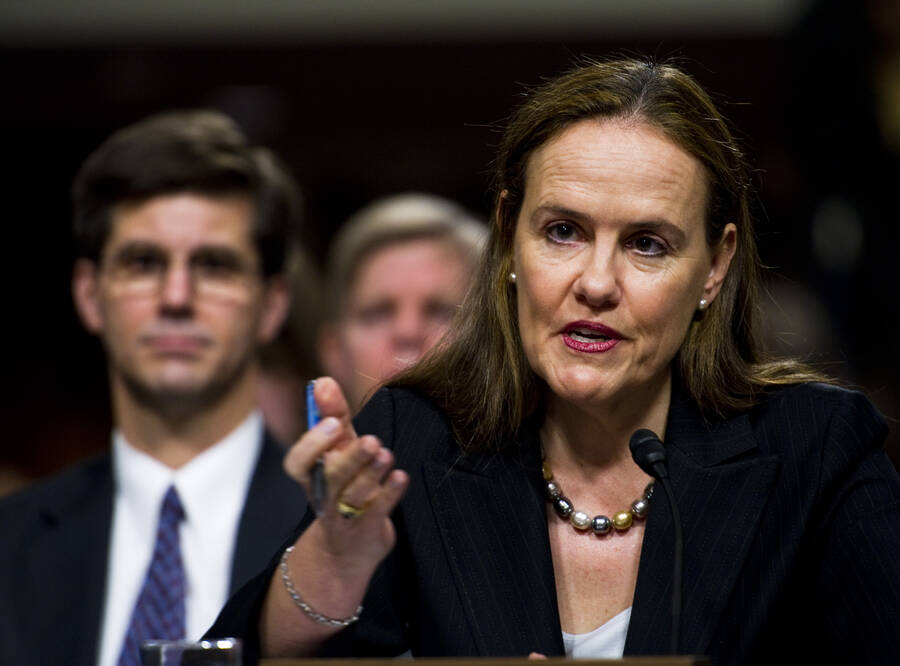 As the incom­ing admin­is­tra­tion of Joe Biden is cel­e­brat­ed for advanc­ing women's rights through the like­ly appoint­ment of hawk­ish women to high-sta­tus posi­tions, anti-war fem­i­nists are seek­ing to counter the broad­ly held assump­tion that putting a woman's face on pro-war pol­i­cy and empire is a mark of progress.
This con­cern has been brew­ing for some time. In Feb­ru­ary, two dozen women and gen­der-non­con­form­ing peo­ple from anti-war and fem­i­nist orga­ni­za­tions across the Unit­ed States gath­ered at a meet­ing in New York to address two key prob­lems: In the Unit­ed States, the largest mil­i­tary empire in the world, a fem­i­nist analy­sis is sore­ly miss­ing from pub­lic dis­course about Amer­i­can war and mil­i­tarism. And even worse, a shal­low under­stand­ing of fem­i­nism is fre­quent­ly used to jus­ti­fy vio­lent U.S. inter­ven­tions, as most clear­ly show­cased in Afghanistan, where the call to ​"res­cue" women from the Tal­iban has been used to jus­ti­fy a bloody U.S. inva­sion and pro­tract­ed occu­pa­tion that's now more than 19 years old.
What emerged from this con­ver­gence was a new polit­i­cal effort to orga­nize for a ​"fem­i­nist for­eign pol­i­cy," an endeav­or these orga­niz­ers say requires an end to U.S. mil­i­tarism — both abroad in the form of wars and med­dling, and at home at the hands of police and pris­ons. The defund­ing of the Pen­ta­gon, these orga­niz­ers say, should be accom­pa­nied by greater invest­ment in pub­lic goods like child­care, health­care, schools and a clean envi­ron­ment. The under­tak­ing is led by Women Cross DMZ, MADRE and Grass­roots Glob­al Jus­tice Alliance, but includes par­tic­i­pa­tion from Move­ment for Black Lives, About Face: Vet­er­ans Against The War, and oth­er groups. It draws from an anti-impe­ri­al­ist fem­i­nist tra­di­tion, par­tic­u­lar­ly one pio­neered by Black women like Audre Lorde and Angela Davis, and is premised on the prin­ci­ple that the U.S. mil­i­tary is a fun­da­men­tal­ly misog­y­nist force that enacts gen­dered vio­lence around the world. ​"We need fem­i­nist women, anti-mil­i­tarist women, women with an inter­na­tion­al­ist lens," says Chris­tine Ahn, an orga­niz­er of the ini­tia­tive and exec­u­tive direc­tor of ​Women Cross DMZ, a group that aims to end the Kore­an War. ​"I know those are big broad brush­strokes, but we are just get­ting started."
With the incom­ing Biden admin­is­tra­tion, this group has its work cut out for it. Dur­ing the pri­ma­ry, Biden stood out as one of the more pro-war can­di­dates in the Demo­c­ra­t­ic field. He infa­mous­ly played an influ­en­tial role build­ing sup­port for the 2003 U.S. inva­sion of Iraq as the chair of the pow­er­ful Sen­ate For­eign Rela­tions Com­mit­tee. He has a career-long track record of back­ing Israel's wars and aggres­sion toward Pales­tini­ans, includ­ing ​"tar­get­ed killings" in the ear­ly 2000s. And under the Oba­ma admin­is­tra­tion, he went along with the dis­as­trous 2011 inter­ven­tion in Libya (although he lat­er claimed to have worked behind the scenes to oppose the Libya inter­ven­tion, a claim for which there is no inde­pen­dent­ly ver­i­fi­able evi­dence). He also backed Obama's occu­pa­tion of Afghanistan, sup­port­ed drone wars around the world, and pushed to expand the drug war in Cen­tral Amer­i­ca. While Biden said on the cam­paign trail that he is against the Yemen war, he only took this posi­tion once he was no longer in the admin­is­tra­tion that ini­ti­at­ed U.S. involve­ment in the war, and he did not make his oppo­si­tion cen­tral to his campaign.
Yet, despite this record, Biden has already received glow­ing press cov­er­age for his expect­ed appoint­ment of a woman, Michèle Flournoy, to lead the Pen­ta­gon as Defense Sec­re­tary. The Asso­ci­at­ed Press ran the head­line, ​"Biden like­ly to break bar­ri­ers, pick woman to lead Pen­ta­gon," while Busi­ness Insid­er declared Biden ​"is expect­ed to make his­to­ry by appoint­ing a woman to head the Pen­ta­gon for the first time."
Anti-mil­i­tarist fem­i­nists have a key objec­tion: Flournoy embod­ies exact­ly the pro-war ori­en­ta­tion they oppose. She sits on the board of mil­i­tary con­trac­tor Booz Allen Hamil­ton, and in 2007 co-found­ed the hawk­ish lib­er­al think tank Cen­ter for a New Amer­i­can Secu­ri­ty (CNAS), which is fund­ed by weapons con­trac­tors includ­ing Northrop Grum­man Cor­po­ra­tion, Lock­heed Mar­tin and Raytheon. Her pro-war track record dates back to the Bill Clin­ton admin­is­tra­tion, as Branko Marcetic report­ed, and helped shape the Oba­ma years — when she served both in the admin­is­tra­tion as Under Sec­re­tary of Defense for Pol­i­cy from 2009 to 2012 and exert­ed influ­ence after­ward from her perch at CNAS. Flournoy strong­ly sup­port­ed the 2011 mil­i­tary inter­ven­tion in Libya, pushed for Obama's strat­e­gy of pro­tract­ed occu­pa­tion of Afghanistan, and opposed the com­plete with­draw­al of U.S. troops from Iraq under Oba­ma. She was also a fer­vent sup­port­er of Obama's pro­posed Trans-Pacif­ic Part­ner­ship, a pro-cor­po­rate ​"free trade" deal, and she pressed Oba­ma to lift the ban on export­ing domes­tic oil, a move that has been a boon for domes­tic oil extrac­tion and wors­ened the cri­sis of cli­mate change.
Mean­while, Biden is expect­ed to appoint oth­er women to pow­er­ful roles, includ­ing, pos­si­bly, Susan Rice, as his Sec­re­tary of State. As UN ambas­sador under Oba­ma, Rice played a key role in the push for the 2011 inter­ven­tion in Libya, along­side Saman­tha Pow­er and Hillary Clin­ton (that dis­as­trous inter­ven­tion was cheered at the time as a war led by women). As U.S. Nation­al Secu­ri­ty Advi­sor, Rice argued in favor of inter­ven­tion in Syr­ia and sup­port­ed U.S. par­tic­i­pa­tion in the bru­tal war on Yemen (although she report­ed­ly did oppose a pro­posed inva­sion of the port of Hodei­dah by the Unit­ed Arab Emi­rates, which lat­er took place under Trump). Biden has already sought out a brief­ing from Pow­er, who as UN ambas­sador played an impor­tant role in shield­ing Sau­di Ara­bia from scruti­ny for its atroc­i­ties in the Yemen war, although she lat­er came out against that war once she was no longer in a posi­tion of power.
Still, Biden has been cel­e­brat­ed for his ​"diverse" cab­i­net, and some have even sug­gest­ed that it's anti-fem­i­nist to crit­i­cize his for­eign pol­i­cy picks. Mieke Eoyang, an MSNBC con­trib­u­tor and senior vice pres­i­dent of Third Way Nation­al Secu­ri­ty, a Wall Street-backed mil­i­taris­tic think tank, said on Twit­ter on Novem­ber 13, ​"White pro­gres­sives train­ing their fire on women and women of col­or who are under con­sid­er­a­tion to lead the nat sec depart­ments makes me deeply uncom­fort­able about their ally­ship for those com­mu­ni­ties. Espe­cial­ly when the nat sec com­mu­ni­ty is dom­i­nat­ed by white men."

"To think about feminism as a movement that secures the rights of women, but then disregard the rights of women who shouldn't be bombed, shouldn't be living under the consequences of U.S. interventionism, to negate their experiences—it isn't really feminism."
But Ahn tells In These Times that, giv­en these women's track records, rep­re­sen­ta­tion alone is insuf­fi­cient: The oper­a­tive ques­tion for fem­i­nists should be, How will these appoint­ments mate­ri­al­ly impact the lives of hun­dreds of mil­lions of peo­ple, includ­ing women? ​"Tropes of human­i­tar­i­an inter­ven­tion that crys­tal­lized dur­ing the Oba­ma admin­is­tra­tion by peo­ple like Saman­tha Pow­er real­ly need chal­leng­ing," she says. ​"It's going to take fem­i­nists to do that. Flournoy, Rice and Pow­er are not advance­ments: They're the very women who green­light­ed the U.S. inva­sion of Libya."
"It's not enough to have these women in posi­tions of pow­er," Ahn adds. ​"What kind of women are we advocating?"
Cindy Wies­ner, the exec­u­tive direc­tor of Grass­roots Glob­al Jus­tice Alliance, a net­work of com­mu­ni­ty groups, agrees. ​"We must be wary of the diver­si­ty of neolib­er­al­ism," she tells In These Times. ​"Just because a cis­gen­der woman is put in lead­er­ship to lead the Pen­ta­gon, that does not mean it is a win for the women's movement."
Shireen Al-Adei­mi is a Yemeni-Amer­i­can activist against the war in Yemen who is not involved in this par­tic­u­lar fem­i­nist for­ma­tion but is sym­pa­thet­ic with its cri­tiques. ​"To think about fem­i­nism as a move­ment that secures the rights of women, but then dis­re­gard the rights of women who shouldn't be bombed, shouldn't be liv­ing under the con­se­quences of U.S. inter­ven­tion­ism, to negate their expe­ri­ences — it isn't real­ly fem­i­nism," she says.
While this new fem­i­nist for­ma­tion is sober about the chal­lenges ahead, it did not hes­i­tate to cel­e­brate Trump's loss of both the Elec­toral Col­lege and pop­u­lar vote. At a Novem­ber 11 dis­cus­sion about for­eign pol­i­cy under Biden, Wies­ner laud­ed the oust­ing of a ​"misog­y­nist, racist author­i­tar­i­an." Indeed, Trump over­saw bloat­ed mil­i­tary bud­gets, esca­lat­ed the war in Yemen and moved the U.S. embassy to Jerusalem in a clear provo­ca­tion toward Pales­tini­ans. He brought the Unit­ed States with­in a hair's breadth of war with Iran, and bru­tal­ly ratch­eted up sanc­tions on the coun­try as it was hit hard by the pan­dem­ic. And he placed peo­ple with arms indus­try con­nec­tions in pow­er­ful posi­tions, among them Mark Esper, a for­mer lob­by­ist for Raytheon. (Trump recent­ly fired Esper from his role as sec­re­tary of defense, along with a num­ber of oth­er senior mil­i­tary officials.)
But at the Novem­ber 11 dis­cus­sion, speak­ers empha­sized that anti-mil­i­tarist fem­i­nists have a long path ahead. ​"In this Biden-Har­ris vic­to­ry, we need to be able to put pres­sure to force the admin­is­tra­tion away from aus­ter­i­ty mea­sures or from beef­ing up the mil­i­tary bud­get and real­ly push­ing, con­tin­u­ing to push, the move­ment demands around divest­ment, defund­ing of police, the divest­ment out of ICE, out of the mil­i­tary." Wies­ner under­scored the impor­tance, instead, of invest­ing in a ​"regen­er­a­tive, anti-racist, fem­i­nist economy."
Accord­ing to Ahn, there are a num­ber of high-pri­or­i­ty demands that Biden needs to imme­di­ate­ly address: ​"He needs to be pushed on end­ing the war on Yemen, the war on North Korea, the war on Afghanistan. I feel that we need to be tak­ing on the issue of sanc­tions, a bipar­ti­san tool that is wide­ly accept­ed — and a real­ly impor­tant pol­i­cy area fem­i­nists could bring some voice to." But beyond that, Ahn says there is a need for a ​"total­ly new frame­work" — one premised in undo­ing the harm wrought by U.S. militarism.
One key chal­lenge is to do basic edu­ca­tion about how the U.S. mil­i­tary appa­ra­tus, includ­ing its 800 mil­i­tary bases around the world, is anti­thet­i­cal to fem­i­nism. Toward this end, Ahn, Wies­ner, and their col­lab­o­ra­tor Yifat Susskind of the fem­i­nist orga­ni­za­tion MADRE, pub­lished a Newsweek op-ed on Novem­ber 17 that notes, ​"The brunt of U.S. mil­i­tarism is deeply misog­y­nis­tic. In the U.S., Nava­jo women and their chil­dren have high lev­els of ura­ni­um in their blood­streams as a result of nuclear weapons test­ing from decades ago. And in Fal­lu­jah, Iraq, women are still deal­ing with the lega­cy of U.S. bomb­ings that took place near­ly 20 years ear­li­er, giv­ing birth to babies with con­gen­i­tal dis­abil­i­ties who often can­not survive."
The fem­i­nist initiative's posi­tion paper, mean­while, adds to the grow­ing body of fem­i­nist cri­tique of war, and con­cerns about the cyn­i­cal use of fem­i­nist brand­ing to advance the pro-war pol­i­tics of politi­cians, includ­ing 2016 pres­i­den­tial hope­ful Hillary Clin­ton. In an In These Times arti­cle pub­lished in 2018, writer Roqayah Chamsed­dine crit­i­cized an impe­ri­al­ist ori­en­ta­tion to fem­i­nism that ​"tells women that they too can take part in this vio­lence if they would only devel­op their own cru­el and mil­i­ta­rized girl's club."
Activists hope that, through orga­niz­ing, anti-mil­i­tarist fem­i­nism can car­ry the day. ​"If we are tru­ly fem­i­nist," says Ahn, ​"we should be try­ing to build a more just and equi­table world."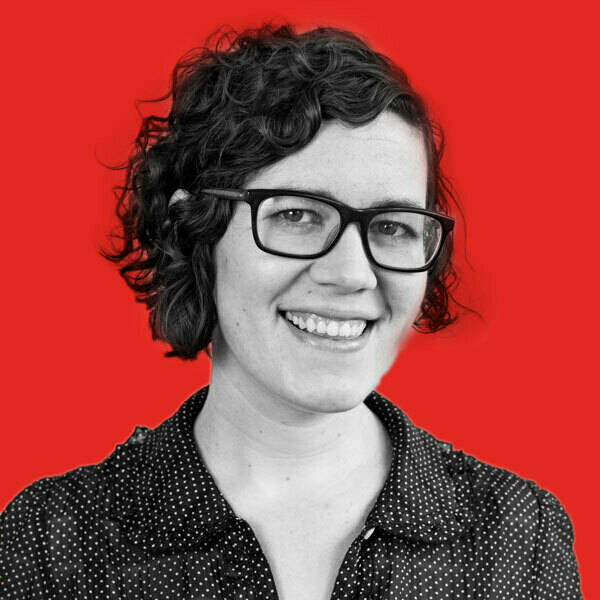 Sarah Lazare is web edi­tor at In These Times. She comes from a back­ground in inde­pen­dent jour­nal­ism for pub­li­ca­tions includ­ing The Inter­cept, The Nation, and Tom Dis­patch. She tweets at @sarahlazare.