Kissing up to K Street
Democrats are selling out the economic populism that got them elected in the first place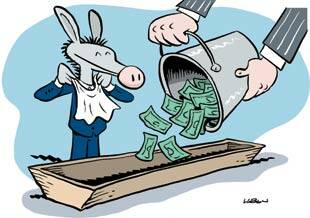 In 1903, jour­nal­ist William Rior­dan pub­lished a series of inter­views with George Wash­ing­ton Plunkitt, who was prob­a­bly the most famous leader of New York's Tam­many Hall (oth­er than Boss Tweed him­self). Dur­ing a dis­cus­sion of Lin­coln Stef­fens' then-new book The Shame of the Cities, Plunkitt told Rior­dan that Stef­fens ​"can't see no dif­fer­ence between hon­est graft and dis­hon­est graft and con­se­quent, he gets things all mixed up."
The same thing could be said for our Congress.
"Hon­est graft," said Plunkitt, is when ​"the politi­cian looks after his own inter­ests, the organization's inter­ests and the people's inter­ests all at the same time."
Dis­hon­est graft, by con­trast, is engaged in by ​"loot­ers" who ​"go in for them­selves alone with­out con­sid­er­ing their orga­ni­za­tion or the peo­ple." Think Tom DeLay and the Abramoff scan­dal. As the Asso­ci­at­ed Press report­ed last year, the Abramoff-DeLay rela­tion­ship made DeLay ​"a king of cam­paign fundrais­ing," allow­ing him ​"to vis­it cliff-top Caribbean resorts, golf cours­es designed by PGA cham­pi­ons and four-star restau­rants – all cour­tesy of donors who bankrolled his polit­i­cal mon­ey empire." In the process, he helped pass ener­gy leg­is­la­tion that gave away tax­pay­er mon­ey to ener­gy com­pa­nies and tax leg­is­la­tion that gave away tax­pay­er mon­ey to mil­lion­aires – all while cre­at­ing a scan­dal that even­tu­al­ly helped to break his party's hold on Congress.
But in a cer­tain sense, Repub­li­can cor­rup­tion is the purest form of hon­est graft. The Repub­li­can Par­ty does not pre­tend to be any­thing oth­er than the par­ty of Big Mon­ey. Take the famous K Street Project: designed by Repub­li­can con­gress­men to use the promise of access – and the threat of no access – to force cor­po­rate lob­by­ing orga­ni­za­tions in Wash­ing­ton to fire Democ­rats and hire Repub­li­cans, so that those new Repub­li­can lob­by­ists could siphon as much cor­po­rate cam­paign con­tri­bu­tions as pos­si­ble to Repub­li­can polit­i­cal candidates.
Had this oper­a­tion per­formed its work in secret, one might be able to say Repub­li­cans at least tried to pre­tend they were some­thing they were not. But the K Street Project actu­al­ly had its own pub­lic web­site, brag­ging to the world about its pay-to-play scheme.
This is ​"hon­est" graft – that is, being open and hon­est about what the Amer­i­can Her­itage Dic­tio­nary defines as the ​"unscrupu­lous use of one's posi­tion to derive prof­it or advan­tages." The Repub­li­can Con­gress didn't make any seri­ous effort to pre­tend to be any­thing else. And in hold­ing onto Con­gress for 12 years, they made the same suc­cess­ful cal­cu­la­tion Plunkitt did: They believed that hon­est graft doesn't ​"hurt Tam­many with the peo­ple" if the peo­ple per­ceive it to be out in the open, and mere­ly a small, nec­es­sary and innocu­ous cost of the gov­ern­ment doing business.
Clear­ly, this for­mu­la failed in 2006 when, after six years of one-par­ty con­trol of Con­gress and the White House, the Amer­i­can pub­lic start­ed to see how big, waste­ful and destruc­tive Repub­li­can cor­rup­tion real­ly was.
Democ­rats rode their pop­ulist, anti-cor­rup­tion plat­form to vic­to­ry in 2006. But as we are now begin­ning to see, what we may have with the Democ­rats is mere­ly a trans­fer from hon­est graft to dis­hon­est graft – that is, cor­rupt behav­ior that pre­tends to be done in the people's name and that flies in the face of what the peo­ple were promised.
On May 10, a hand­ful of Demo­c­ra­t­ic con­gres­sion­al lead­ers held a press con­fer­ence to trum­pet a so-called ​"deal" with the Bush admin­is­tra­tion to push for­ward a pack­age of lob­by­ist-writ­ten trade deals – the very same kinds of trade deals 100 of their can­di­dates in 2006 said they would work to stop if elect­ed to Con­gress. Though Democ­rats said they had secured basic labor and envi­ron­men­tal pro­tec­tions in these deals, Thomas J. Dono­hue, the Bush-con­nect­ed head of the U.S. Cham­ber of Com­merce, told reporters that he had been giv­en ​"assur­ances that the labor pro­vi­sions [in the deal] can­not be read to require compliance."
Rep. Rahm Emanuel (D‑Ill.) pro­vides a good exam­ple of dis­hon­est graft. In 1993, Emanuel was the Clin­ton admin­is­tra­tion aide charged with ram­ming NAF­TA through Con­gress ​"over the dead bod­ies" of labor and envi­ron­men­tal groups, as Amer­i­can Express's CEO cheered at the time. Emanuel orches­trat­ed week­ly meet­ings with K Street lob­by­ists to strate­gize about how to pres­sure Demo­c­ra­t­ic law­mak­ers. Emanuel went on to cash in as an invest­ment banker, rak­ing in rough­ly $16 mil­lion over a two-year peri­od. From his Wall Street perch in 2000, he pub­lished a scathing Wall Street Jour­nal op-ed demand­ing Con­gress pass the Chi­na free trade deal – anoth­er K Street-backed good­ie that has helped keep Amer­i­can wages stag­nat­ing in the face of sky­rock­et­ing cor­po­rate prof­its, and is now pro­ject­ed to destroy at least 1 mil­lion Amer­i­can jobs, accord­ing to the Eco­nom­ic Pol­i­cy Institute.
Just two years after gross­ly out­spend­ing an oppo­nent to buy an Illi­nois con­gres­sion­al seat, Emanuel was appoint­ed to the House Ways and Means Com­mit­tee, the pan­el that over­sees trade pol­i­cy and that helped cor­po­rate lob­by­ists ram NAF­TA through back in 1993. Emanuel also was appoint­ed head of the Demo­c­ra­t­ic Con­gres­sion­al Cam­paign Com­mit­tee, which ran mil­lions of dol­lars worth of ads trum­pet­ing Democ­rats anti-cor­rup­tion plat­form, and which sup­port­ed the scores of Democ­rats run­ning against the very lob­by­ist-writ­ten trade poli­cies Emanuel has based his polit­i­cal career on.
Now, with Emanuel as Chair­man of the House Demo­c­ra­t­ic Cau­cus, we see dis­hon­est graft kick into high gear. The same day as the press con­fer­ence, a group of House Democ­rats wrote a for­mal let­ter to Emanuel demand­ing he hold a Demo­c­ra­t­ic Cau­cus meet­ing to dis­cuss the secret trade nego­ti­a­tions going on between a hand­ful of Democ­rats and the White House. That let­ter, accord­ing to The Hill, was ​"rebuffed" even though, again, it was Emanuel's DCCC that aggres­sive­ly sup­port­ed Democ­rats 2006 fair trade can­di­dates. No meet­ing occurred, and instead Demo­c­ra­t­ic lead­ers held their press con­fer­ence, announc­ing a secret trade deal that, like NAF­TA, is strong­ly backed by K Street lob­by­ists, but opposed by orga­nized labor, envi­ron­men­tal groups, health care groups and grass­roots Democ­rats. Mean­while, when Emanuel was asked by the Politi­co​'s Jeff Patch for details about why Democ­rats were now back­ing off their promis­es to reform lob­by­ing laws so as to pre­vent Abramoff-style abuse, he did his best Dick Cheney impres­sion, telling the reporter, ​"Why don't you go fuck yourself."
Run­ning a cam­paign against cor­rup­tion, against lob­by­ist-writ­ten trade poli­cies and for lob­by­ing reform, and then using the pow­er grant­ed by vot­ers based on that cam­paign to engage in corruption,Êpass lob­by­ist-writ­ten trade pacts and reject the most min­i­mal lob­by­ing reforms – all in exchange for cam­paign con­tri­bu­tions – is Plunkitt's very def­i­n­i­tion of dis­hon­est graft. It is ​"polit­i­cal loot­ing" and it is the result of a hos­tile takeover of the Demo­c­ra­t­ic Par­ty by Big Mon­ey interests.
But, then, per­haps we shouldn't be sur­prised. It is no secret that Democ­rats have a very pow­er­ful fac­tion with­in their ranks that is per­fect­ly hap­py engag­ing in the same kind of pay-to-play cor­rup­tion that Repub­li­cans mas­tered. It was, for instance, Minor­i­ty Whip Ste­ny Hoy­er who bragged on his tax­pay­er-fund­ed web­site about start­ing his own K Street Project and whose top leg­isla­tive aide moon­light­ed as his polit­i­cal action com­mit­tee fundrais­er. It is a cor­po­rate-fund­ed front group known as the Demo­c­ra­t­ic Lead­er­ship Coun­cil that con­tin­ues to push for lob­by­ist-writ­ten trade deals that include no basic labor, human rights or envi­ron­men­tal standards.
And it is top Demo­c­ra­t­ic pres­i­den­tial can­di­dates who pub­licly jock­ey for con­nec­tions to Big Mon­ey inter­ests as if build­ing a warch­est of cor­po­rate cash was one of the many achieve­ments they need to flaunt in order to win over vot­ers. Hillary Clin­ton, for instance, talks a lot about help­ing the mid­dle class, yet as the num­ber one Sen­ate recip­i­ent of health care cash, she also now gives speech­es apol­o­giz­ing for ever push­ing uni­ver­sal health care. Addi­tion­al­ly, Mark Penn, her top cam­paign strate­gist is a poll­ster who moon­lights as the CEO of one of the world's largest cor­po­rate PR firms – a firm that helps com­pa­nies run, among oth­er things, union bust­ing cam­paigns. Barack Oba­ma, mean­while, has been caught try­ing to side­step the spir­it of his own much-bragged-about ban on tak­ing mon­ey from lob­by­ists. And Busi­ness­Week reports that both can­di­dates have asked Wall Street exec­u­tives – many of whom are their top donors – to ​"refine" their offi­cial eco­nom­ic plat­forms, all the while cam­paign­ing for the nom­i­na­tion of the ​"par­ty of the people."
This all start­ed right after the Amer­i­cans' votes were count­ed in 2006. Days after the elec­tion, both the Wall Street Jour­nal and New York Times pub­lished arti­cles about how Demo­c­ra­t­ic-affil­i­at­ed cor­po­rate lob­by­ists were sali­vat­ing at the prospects of using the new Con­gress to rake in leg­isla­tive favors for their clients. ​"Demo­c­ra­t­ic lob­by­ists are field­ing calls from phar­ma­ceu­ti­cal com­pa­nies, the oil and gas indus­try and mil­i­tary com­pa­nies," the Times wrote. ​"Senior [Demo­c­ra­t­ic] aides are now tempt­ed to leave Capi­tol Hill to become lob­by­ists and poten­tial­ly quadru­ple their salaries." As incom­ing Speak­er Nan­cy Pelosi pro­claimed that elec­tion night would ush­er in ​"the most hon­est, most open and most eth­i­cal Con­gress in his­to­ry," her own chief of staff was being named a ​"K Street Super­star" by Busi­ness­Week as he quick­ly tran­si­tioned to life as a lob­by­ist for Exxon­Mo­bil and phar­ma­ceu­ti­cal giant Amgen.
Of course, many look at what's going on and can't believe their eyes. The same Democ­rats who are so eager­ly sell­ing out to cor­po­rate inter­ests had decent vot­ing records while in the minor­i­ty. But major­i­ty pow­er is the ulti­mate cor­rup­tion aphro­disi­ac – and the ulti­mate truth serum. It's easy to vote with the peo­ple when Big Mon­ey inter­ests don't need your vote. It's much more dif­fi­cult to vote with the peo­ple when you are in the major­i­ty and Big Mon­ey inter­ests are rely­ing on you, pres­sur­ing you, and seduc­ing you.
Indeed, graft – hon­est and dis­hon­est – is built into the sys­tem itself.
We scoff at devel­op­ing coun­tries for allow­ing ram­pant cor­rup­tion. We pride our­selves on hav­ing a clean­er more demo­c­ra­t­ic sys­tem. But the only real dif­fer­ence is that Amer­i­can cor­rup­tion is cod­i­fied into law. Instead of envelopes of cash, we have bun­dled cam­paign checks and PACs. Instead of shad­owy hus­tlers, we have pro­fes­sion­al lob­by­ists. We live in a sys­tem that pre­tends to be clean, while being utter­ly dirty.
The only way to stop this is to cre­ate pub­lic financ­ing sys­tems where­by tax­pay­ers pro­vide qual­i­fy­ing can­di­dates mon­ey that does not come with the expec­ta­tion of spe­cif­ic leg­isla­tive favors. Unless we as a nation invest pub­lic resources into our own democ­ra­cy, we will con­tin­ue to make a mock­ery of our democracy.
States like Maine, Ari­zona and Con­necti­cut have cre­at­ed suc­cess­ful pub­lic financ­ing sys­tems that have brought down cam­paign costs and giv­en polit­i­cal oppor­tu­ni­ties to aspir­ing can­di­dates who aren't just spe­cial­ists in rais­ing huge sums of mon­ey. And more states are con­sid­er­ing mak­ing the move.
Sim­i­lar­ly, strong pub­lic financ­ing leg­is­la­tion was intro­duced this year in the Sen­ate by Illi­nois' Dick Durbin. But as usu­al, the pay-to-play cul­ture in Wash­ing­ton is hos­tile to any­thing that threat­ens the exist­ing sys­tem. And Politi­cians who reach Con­gress are mas­ters of it.
Ulti­mate­ly, I am an opti­mist, which of course makes me per­pet­u­al­ly dis­ap­point­ed. But there is only so much cyn­i­cism and anger that a democ­ra­cy can take before change is forced on the system.
Polls today show more Amer­i­cans than ever under­stand just how cor­rupt their gov­ern­ment is, and they are fight­ing back. Two years ago we were being told just how ​"red" and ​"con­ser­v­a­tive" Amer­i­ca was, and then a Demo­c­ra­t­ic plat­form of anti-cor­rup­tion and eco­nom­ic pop­ulism swept the 2006 elec­tion. The pub­lic is dis­gust­ed with graft, and is will­ing to reward can­di­dates and par­ties that are equal­ly as dis­gust­ed. The par­ty that fig­ures out this tru­ism, wash­es its hands of both hon­est and dis­hon­est graft, and pur­sues a real reform agen­da, is the par­ty that will dom­i­nate Amer­i­can pol­i­tics in a more thor­ough way than George Wash­ing­ton Plunkitt's Tam­many Hall and its mod­ern-day suc­ces­sors in today's Wash­ing­ton, D.C. ever dreamed.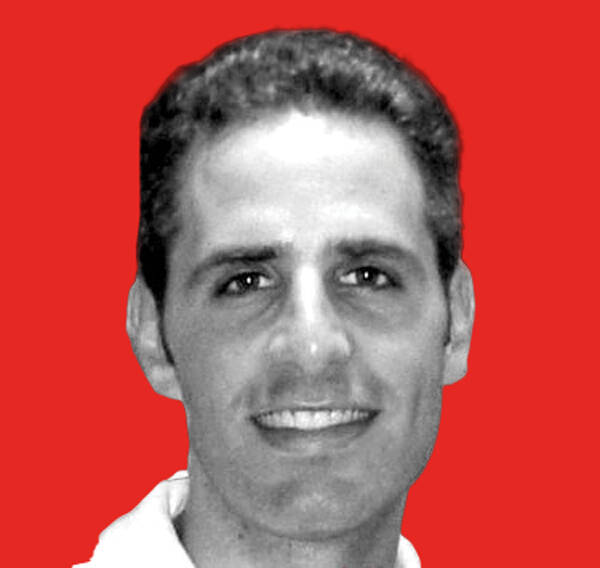 David Siro­ta
is an award­win­ning inves­tiga­tive jour­nal­ist and an
In These Times
senior edi­tor. He served as speech writer for Bernie Sanders'
2020
cam­paign. Fol­low him on Twit­ter @davidsirota.