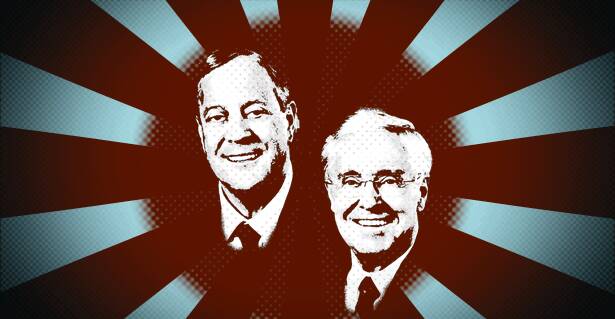 Update: See Koch Indus­tries' response to this sto­ry at bottom.
No longer is it good enough for the Kochs to spend unlimited money influencing elections. They are also touting candidates to employees while creating policies that have a chilling effect on employees' freedom of speech.
Much has been writ­ten about the own­ers of Koch Indus­tries, broth­ers David H. Koch and Charles G. Koch, try­ing to con­trol the polit­i­cal process through hun­dreds of mil­lions of dol­lars in dona­tions to right-wing caus­es and can­di­dates. Now, an In These Times inves­ti­ga­tion reveals that the bil­lion­aires have bro­ken out anoth­er tac­tic to influ­ence the 2012 elec­tions: attempt­ing to con­trol their work­ers' votes.
In a vot­er infor­ma­tion pack­et obtained by In These Times, the Koch Indus­tries cor­po­rate lead­er­ship informed tens of thou­sands of employ­ees at its sub­sidiary, Geor­gia Pacif­ic, that their liveli­hood could depend on the 2012 elec­tion and that the com­pa­ny sup­ports Mitt Rom­ney for pres­i­dent. The guide was sim­i­lar to one the com­pa­ny dis­trib­uted before the 2010 midterm elec­tions, which Mark Ames and I report­ed on in The Nation last year.
The pack­et arrived in the mail­box­es of all 45,000 Geor­gia Pacif­ic employ­ees ear­li­er this month. The cov­er let­ter [PDF], by Koch Indus­tries Pres­i­dent and Chief Oper­at­ing Offi­cer Dave Robert­son, read:
While we are typ­i­cal­ly told before each Pres­i­den­tial elec­tion that it is impor­tant and his­toric, I believe the upcom­ing elec­tion will deter­mine what kind of Amer­i­ca future gen­er­a­tions will inherit.
If we elect can­di­dates who want to spend hun­dreds of bil­lions in bor­rowed mon­ey on cost­ly new sub­si­dies for a few favored cronies, put unprece­dent­ed reg­u­la­to­ry bur­dens on busi­ness­es, pre­vent or delay impor­tant new con­struc­tion projects, and exces­sive­ly hin­der free trade, then many of our more than 50,000 U.S. employ­ees and con­trac­tors may suf­fer the con­se­quences, includ­ing high­er gaso­line prices, run­away infla­tion, and oth­er ills.
Enclosed with the let­ter was a fly­er [PDF] list­ing Koch-endorsed can­di­dates, begin­ning with Rom­ney. Robertson's let­ter explained: ​"At the request of many employ­ees, we have also pro­vid­ed a list of can­di­dates in your state that have been sup­port­ed by Koch com­pa­nies or by KOCH­PAC, our employ­ee polit­i­cal action committee."
The pack­et also includ­ed an anti-Oba­ma edi­to­r­i­al by Charles Koch [PDF] and a pro-Rom­ney edi­to­r­i­al by David Koch [PDF]. The let­ter went on to say, ​"We believe any deci­sion about which can­di­dates to sup­port is — as always — yours and yours alone, based on the fac­tors that are most impor­tant to you. Sec­ond, we do not sup­port can­di­dates based on their polit­i­cal affiliation."
In the fly­er sent to Ore­gon employ­ees, all 14 Koch-backed state can­di­dates were Republicans.
The Koch's in-house cam­paign­ing for the GOP is part of a larg­er trend of cor­po­ra­tions exer­cis­ing new free­doms under Cit­i­zens Unit­ed. The Supreme Court deci­sion over­turned pre­vi­ous FEC laws pro­hibit­ing employ­ers from express­ing elec­toral opin­ions direct­ly to their employees.
A cul­ture of fear
Iron­i­cal­ly, while the Kochs have been tak­ing advan­tage of Cit­i­zens Unit­ed to expand polit­i­cal com­mu­ni­ca­tions to employ­ees, they have also cap­i­tal­ized on weak labor laws to lim­it the polit­i­cal speech of those employees.
In Sep­tem­ber, a num­ber of union­ized employ­ees at Geor­gia Pacific's Tole­do, Ore. plant posed for a pho­to in front of their union hall with Demo­c­ra­t­ic state Sen­ate can­di­date Arnie Rob­lan. When the Koch Indus­tries vot­er infor­ma­tion pack­et arrived in the work­ers' mail­box­es a few weeks lat­er, they saw that Rob­lan was not on the list of Koch-endorsed can­di­dates in Oregon.
It was then, says Asso­ci­a­tion of West­ern Pulp and Paper Work­ers (AWP­PW) Vice Pres­i­dent Greg Palle­sen, that he start­ed receiv­ing some of the strangest phone calls from work­ers he's field­ed in his 30-plus years of union involve­ment. The union­ized work­ers in the pho­to were wor­ried that they might be fired from their jobs if the image got out on the Inter­net, because in the back­drop of the pho­to, the Geor­gia Pacif­ic plant could be seen.
Their fear comes not only from the mail­ing, but also from a new Geor­gia Pacif­ic social media pol­i­cy [PDF] imple­ment­ed ear­li­er this year that warns, ​"Even if your social media con­duct is out­side of the work­place and/​or non-work relat­ed, it must not reflect neg­a­tive­ly on GP's rep­u­ta­tion, its prod­ucts, or its brands." Giv­en the pol­i­cy, the work­ers were scared to appear next to a can­di­date the Kochs do not sup­port with the plant in the background.
Geor­gia Pacif­ic work­ers say that in gen­er­al, they are not sure where the bound­aries of the social media pol­i­cy lie. AWP­PW Local 5 Pres­i­dent Jim Pierce, who works at Geor­gia Pacif­ic paper mill, in Camas, Wash­ing­ton, is wary of com­ment­ing online about the out­spo­ken Koch Broth­ers' polit­i­cal beliefs.
​"Even if I was at my own home, I can't put some­thing up [on Face­book] against the Koch Broth­ers," says Pierce. ​"I don't post any­thing about the Koch Broth­ers. I could lose my job."
AWP­PW has filed two unfair labor prac­tices charges with the Nation­al Labor Rela­tions Board (NLRB) over the Geor­gia Pacif­ic social media pol­i­cy. One alleges that the pol­i­cy vio­lates employ­ees' right to ​"mutu­al aid and pro­tec­tion," which allows work­ers to join togeth­er to advo­cate bet­ter pay and work­ing con­di­tions. The oth­er con­tends that the social media pol­i­cy is a manda­to­ry sub­ject of bar­gain­ing that was not nego­ti­at­ed with the union, but imposed uni­lat­er­al­ly, in vio­la­tion of fed­er­al labor law.
While some of their polit­i­cal speech might be pro­tect­ed by these laws, few work­ers at Geor­gia Pacific's Camas facil­i­ty are will­ing to risk los­ing their jobs. The plant was down­sized from 1,200 work­ers in 2005, when the Kochs took over Geor­gia Pacif­ic, to a staff of 450 today. NLRB hear­ings and appeals can take over a year.
​"It's just they can intim­i­date peo­ple this way and they can make life mis­er­able for you. The law would be strong enough to pro­tect them prob­a­bly, but you could be look­ing at being with­out your job for near­ly a year," says Pierce.
In August, Port­land-based Geor­gia Pacif­ic work­er Travis McK­in­ney, a mem­ber of the Inlandboatmen's Union of the Pacif­ic (an affil­i­ate of the Inter­na­tion­al Long­shore and Ware­house Union), learned about the social media pol­i­cy the hard way dur­ing his year­ly evaluation.
When McK­in­ney applied for a fore­man job at the plant in May, he says, his super­vi­sor informed him that a high­er-up said he wouldn't get the job because he was ​"too polit­i­cal." ​"They said I should be aware of what I am post­ing online," says McK­in­ney. A sub­se­quent August eval­u­a­tion of McK­in­ney [PDF] not­ed that ​"super­vi­sors feel Travis gets caught up in the pol­i­tics of the day which can be distraction."
McK­in­ney says it wasn't hard to deduce what they meant. He was quot­ed in the 2011 Nation arti­cle I wrote with Mark Ames, talk­ing about how the Kochs pushed their lib­er­tar­i­an ​"Mar­ket Based Man­age­ment" prin­ci­ples on their work­ers to such an extent that the dic­tums were even print­ed on employ­ee time cards. He had post­ed that arti­cle and oth­er polit­i­cal arti­cles about the Koch broth­ers online.
While Charles Koch has often referred to the Mar­ket Based Man­age­ment sys­tem used to run Geor­gia Pacif­ic as ​"the sci­ence of lib­er­ty," many employ­ees, such as McK­in­ney, feel that their own lib­er­ties have been tak­en away by the company.
In addi­tion to the social media pol­i­cy, Geor­gia Pacif­ic also demands that work­ers seek approval from super­vi­sors before run­ning for local elect­ed office [PDF] or serv­ing on the boards of non­prof­its. Koch Indus­tries claims such approval is nec­es­sary to pre­vent con­flicts of inter­est. These poli­cies could pro­hib­it Geor­gia Pacif­ic employ­ees from run­ning for local office in com­mu­ni­ties that seek to more strict­ly reg­u­late the company.
​"I was kind of dis­turbed that they would infringe on my per­son­al right to run for office," says Geor­gia Pacif­ic employ­ee Lar­ry Wag­oner of Washou­gal, Wash. " I was in the run­ning for City Coun­cil this year. I asked some­one in the HR depart­ment, ​'What if I want­ed to run for Con­gress?' She said you would just have to stop work­ing here." Wag­oner adds that he is pret­ty sure this was a mis­in­ter­pre­ta­tion of com­pa­ny pol­i­cy. But it serves as an exam­ple of the fuzzy bound­aries of the poli­cies and their poten­tial chill­ing effect.
Cor­po­rate free speech
In the new era ush­ered in by Cit­i­zens Unit­ed, Koch Indus­tries is not the only com­pa­ny seek­ing to con­trol its employ­ees' polit­i­cal activ­i­ties, includ­ing speech, lob­by­ing efforts, dona­tions and votes.
This week, Gawk­er obtained an email from the CEO of West­gate Resorts, Flori­da bil­lion­aire David Siegel, inform­ing his 7,000 employ­ees that a vote for Oba­ma would endan­ger their jobs. Like Dave Robert­son of Koch Indus­tries, he couched this as an eco­nom­ic analy­sis rather than a threat.
Mean­while, a new expose by Alec MacGillis of The New Repub­lic reveals that the largest pri­vate­ly held coal com­pa­ny in the nation, Mur­ray Ener­gy, has rou­tine­ly coerced its employ­ees in to giv­ing to GOP can­di­dates. In the process, Mur­ray Ener­gy work­ers became the sec­ond largest block of donors to Repub­li­can Speak­er of the House John Boehner's 2009 – 2010 cam­paign. ​"We have been insult­ed by every salaried employ­ee who does not sup­port our efforts," wrote com­pa­ny CEO Robert Mur­ray in a March 2012 let­ter to employ­ees obtained by The New Repub­lic; attached was a list of employ­ees who had not yet attend­ed fundraisers.
And last year, Talk­ing Points Memo report­ed that Delta offered free rides, even bump­ing pay­ing cus­tomers, for its flight atten­dants to fly to Wash­ing­ton, D.C. to lob­by for an FAA bill that would make it more dif­fi­cult for air­line work­ers to orga­nize a union. ​"A lot of flight atten­dants told me that their super­vi­sors would encour­age them to book a flight to Wash­ing­ton to go lob­by," says Asso­ci­a­tion of Flight Atten­dants (AFA-CWA) spokesper­son Corey Caldwell.
The val­ue of courage
The grow­ing politi­ciza­tion of the work­place is yet anoth­er man­i­fes­ta­tion of increas­ing cor­po­rate pow­er over pol­i­tics in the Unit­ed States. The Koch broth­ers are proud­ly lead­ing this move­ment. As part of the pack­et that went out to employ­ees, Charles Koch wrote a let­ter titled ​"The Val­ue of Courage":
One of my great­est frus­tra­tions in recent years stems from the lack of courage shown by many busi­ness­es. Rather than set a good exam­ple and stand on prin­ci­ple, far too many suc­cess­ful com­pa­nies have decid­ed to cave when faced with crit­i­cism from the media or the gov­ern­ment. … For exam­ple, last March, left-wing pub­li­ca­tions and a cable ​"news" chan­nel began spread­ing mali­cious lies about the Amer­i­can Leg­isla­tive Exchange Coun­cil [ALEC]. … The bogus charges against ALEC were quick­ly echoed by var­i­ous media out­lets, blog­gers, a labor leader, and oth­er activists, none of whom seemed ful­ly aware of the fact. As result of this ginned up out­cry, a few high pro­file cor­po­rate mem­bers of ALEC either can­celled their mem­ber­ships or announced they would let them expire.
(Iron­i­cal­ly, many cor­po­ra­tions aban­doned ALEC, which crafts mod­el leg­is­la­tion for right-wing state leg­is­la­tures, over the group's sup­port of anti-gun con­trol ​"Stand Your Ground" law. Yet many cor­po­rate poli­cies, such as Geor­gia Pacific's Code of Con­duct, strict­ly pro­hib­it employ­ees from bring­ing guns onto com­pa­ny property).

​"Sev­er­al cor­po­ra­tions couldn't throw in the tow­el fast enough," Koch con­tin­ued. ​"Such lack of courage has become symptomatic".
But Charles Koch reas­sures his audi­ence that he is not of those weak-kneed cor­po­rate leaders.
"[Our oppo­si­tion] fig­ure that if they apply enough pres­sure, we will cave in," writes Koch. ​"I real­ize, as do my broth­er David, our board and oth­er share­hold­ers, that if we slink away, ulti­mate­ly we won't have a busi­ness. And nei­ther will any­one else — at least one worth having".
Geor­gia Pacific's employ­ees don't find the Koch's courage so inspiring.
​"I don't even put down on my Face­book that I work at Geor­gia Pacif­ic. I put that I work for the Camas Paper mill. It's embar­rass­ing to let peo­ple know that you work for Geor­gia Pacif­ic because of what the Koch broth­ers are doing," says one employ­ee who spoke on con­di­tion of anonymi­ty out of fear of being fired. ​"They are destroy­ing the plan­et. They are try­ing to buy the votes. They think they are so high and mighty. They have their prin­ci­ples. They just think their way is the only way and they think every­one else is wrong."
​"If you don't believe in their phi­los­o­phy, you can find a job some­where else. I have worked there for 30-plus years. I have no train­ing; I have worked in a fac­to­ry. What am I going to do?"
UPDATE 10/14/12: Koch Indus­tries issued a state­ment in response to the story:
Regard­ing the recent mail­ing to employees,

The mail­ing con­tained var­i­ous pieces of infor­ma­tion we believe are impor­tant for employ­ees to know about, most impor­tant­ly, our com­pa­ny­wide employ­ee newslet­ter that con­tained impor­tant infor­ma­tion about our Guid­ing Principles.

Based on requests from many employ­ees, the pack­et also con­tained infor­ma­tion employ­ees com­mon­ly ask about, such as vot­er reg­is­tra­tion dead­lines and ear­ly vot­ing options for their state of res­i­dence. And, also based on fre­quent requests, it pro­vid­ed a list of can­di­dates in their state who are among those that have been sup­port­ed by the Koch com­pa­nies and KOCH­PAC, our employ­ee polit­i­cal action committee.

As stat­ed in the cov­er let­ter and in fol­low-up one-on-one con­ver­sa­tions for employ­ees who ask, the infor­ma­tion is pure­ly intend­ed to be con­sid­ered among all the oth­er infor­ma­tion employ­ees may be read­ing or receiv­ing as an informed vot­er. We make it clear that any deci­sion about which can­di­dates to sup­port belongs sole­ly to our employ­ees based on the fac­tors that are most impor­tant to them, and this is in no way an attempt to ​"intim­i­date" employ­ees. Any such claim to the con­trary is com­plete­ly untrue.

It is also impor­tant to note that many com­pa­nies, as well as orga­ni­za­tions such as labor unions, also pro­vide sim­i­lar infor­ma­tion to their mem­bers and fel­low employ­ees. Indeed, unions and news­pa­pers go fur­ther than this and actu­al­ly endorse can­di­dates to their mem­bers and readers.

As we reg­u­lar­ly point out, Koch com­pa­nies and KOCH­PAC sup­port can­di­dates based on their sup­port for mar­ket-based poli­cies and eco­nom­ic free­dom, which ben­e­fits soci­ety as a whole. Our sup­port is not based on par­ty affil­i­a­tion, and we sup­port both Repub­li­cans and Democ­rats who sup­port mar­ket-based poli­cies and solutions.

Regard­ing the social media policy,

The pol­i­cy exists to inform employ­ees about their respon­si­bil­i­ties for what they post on social media sites and the laws that gov­ern any claims or endorse­ments made by employ­ees. The pol­i­cy encour­ages employ­ees to make only truth­ful social media com­ments whether work­place and/​or non-work relat­ed, and to fol­low Fed­er­al Trade Com­mis­sion (FTC) rules on dis­clos­ing that they work for the com­pa­ny when mak­ing any com­men­tary about the com­pa­ny or its products.

Koch com­pa­nies strive to cre­ate safe, respect­ful and dis­crim­i­na­tion-free work­places, and do not allow any unlaw­ful dis­crim­i­na­tion and dis­crim­i­na­to­ry harass­ment (includ­ing ver­bal, visu­al dis­plays, phys­i­cal harass­ment) in our work­places. We do not retal­i­ate against any employ­ee who voic­es their per­son­al polit­i­cal opin­ions, and any claims to the con­trary are total­ly untrue.

Greg Guest

Senior Direc­tor, Cor­po­rate Communications

Geor­gia-Pacif­ic
The com­pa­ny declined to com­ment on Travis McK­in­ney's evaluation.
Late Sun­day night (Octo­ber 14), @kochfacts, the com­pa­ny's pub­lic-rela­tions Twit­ter, post­ed the following:
How­ev­er, the mail­ing includes a list of Koch-endorsed candidates:
Want to see more inves­tiga­tive report­ing that holds cor­po­ra­tions like Koch Indus­tries account­able? Sup­port In These Times with a dona­tion today.