La Colectiva: Profiles of Domestic Worker Strength and Dignity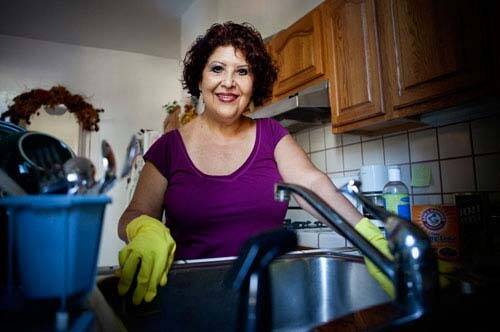 Reader donations, many as small as just $1, have kept In These Times publishing for 45 years. Once you've finished reading, please consider making a tax-deductible donation to support this work.
A worker-run grassroots collective that organizes domestic workers in San Francisco is showing the beauty and power of these women in a new exhibit, ​"Profiles in Strength and Dignity."
Last year I wrote about La Colectiva de Mujeres, a worker-run grassroots collective in San Francisco that organizes domestic workers around civic, health and work issues and is committed to supporting a healthy work environment.
I told you about their campaign to encourage employers to use non-toxic cleaners. It was part of a three-year educational and social media collaboration ​"Comunicando Poder y Esperanza" (Communicating Strength and Hope) between La Colectiva, Underground Advertising, and the Labor Occupational Health Program at UC Berkeley.
The campaign focused on training domestic workers and their employers about green cleaning and other safeguards for the workers. It also encouraged them to speak up for themselves and about the dignity in the work they do.
Culminating this three-year project, the ​"Profiles in Strength and Dignity" exhibit showcases striking photographs taken by Alison Yin and moving narratives by these women.
Part of the exhibit includes a video also by Yin called ​"Comunicando Poder y Esperanza" (Communicating our Strength and Hope) in which the women talk about their work, their lives, and their drive to see a Domestic Workers Rights bill in California:
Suzanne Teran, program coordinator for the Labor Occupational Health Program at UC Berkeley says that they worked with the women on many of their concerns, including how they are perceived as domestic workers.
"Many times (their work) is undervalued. One of the most common jobs newly arrived immigrant women have is this work, and society doesn't value or recognize their benefit."
The women are clearly working to change that. Laura Hernandez, one of the women featured in the exhibit says in her narrative:
I chose this work because I like it. I want to show all the people who might have thought domestic work is insignificant, that it doesn't have the same value as that of other jobs.

Many people might think that maybe domestic workers who come here to do that sort of work, that maybe we are unprepared, that we are ignorant. Maybe it's because many of us don't speak English that many people think that we are uneducated.
Juana Aguilar stated in her narrative: ​"At first I was embarrassed to carry a broom, mop, and vacuum to work, but then I realized that knowing how to clean and help people who need my skills is something to be proud of."
La Colectiva has helped some of the women emerge from very abusive employer situations. It has given them the courage to step away from situations that at first seemed hopeless.
Many times an immigrant will come to this country alone. If they are women, it's even harder. If they are lucky, they'll find and build a community. Family. Friends.
Other times they get mired in situations that are hard to get out of. They'll get a job as a domestic worker and then not get paid, or paid very little or her employer may threaten to have her deported if she tries to leave, or scare her about what kind of city awaits her if she leaves the home.
One recent and high-profile case of wage theft is that of Nicky Diaz Santillan, former housekeeper for failed GOP gubernatorial candidate Meg Whitman.
Diaz Santillan had worked for Whitman for nine years. She finally told Whitman she did not have legal papers and she was run off. She came forward during Whitman's obscenely costly campaign saying wages were due her.
Gloria Allred, a women's rights attorney told Whitman in a statement: ​"You spent $143 million of your own money on your campaign. Hopefully, you have enough money left to pay your housekeeper the wages that you owe her."
Diaz Santillan told reporters later that she came forward so other housekeepers would not face discrimination.
As housekeepers, we clean toilets, make beds, mop floors, do laundry, iron, mend their clothes and often we are asked to care for our employer's children, as well.

We do our best for our employers, and in return all we ask is to be treated with respect and to be paid for all the work we do.
Whitman ultimatelly settled for $5,500. She did not have to pay penalties. Groups and organizations such as La Colectiva are the backbone and support for immigrants who join for advice, empowerment and growth.
To prevent abusive situations, the women are working on getting a California Domestic Workers Bill of Rights passed. They are inspired, particularly since New York recently passed historic legislation providing legal rights to the state's domestic workers.
Without a domestic workers bill of Rights to protect them, ​"that makes our work invisible – a job that exists but isn't seen and what isn't seen has no value, no value of any kind, " wrote María Fernández.


Your donation makes In These Times possible
Rose Arrieta
was born and raised in Los Angeles. She has worked in print, broadcast and radio, both mainstream and community oriented — including being a former editor of the Bay Area's independent community bilingual biweekly El Tecolote. She currently lives in San Francisco, where she is a freelance journalist writing for a variety of outlets on social justice issues.