Recap:
For hun­dreds of years wolves that pose a threat to live­stock or prop­er­ty have been killed. As the Unit­ed States expand­ed west, efforts to erad­i­cate the species from the North Amer­i­can con­ti­nent were insti­tu­tion­al­ized. They worked. By the late 1950s, the native gray wolf was all but extinct in the low­er 48 with the excep­tion of a small pop­u­la­tion in north­ern most Min­neso­ta. Con­ser­va­tion­ists inter­vened and, slow­ly but sure­ly, pop­u­la­tions recov­ered. Today, as packs regain ter­ri­to­ry around the Great Lakes and states west of the Rock­ies, they're once again run­ning into herds of cattle.
Hop­ing to counter the kill ​'em all mind­set of past cen­turies with alter­na­tives that work, Defend­ers of Wildlife — the nation­al, non-prof­it con­ser­va­tion orga­ni­za­tion — has released an updat­ed ver­sion of its 2008 man­u­al Live­stock and Wolves: A Guide to Non­lethal Tools and Meth­ods to Reduce Con­flicts. This 2nd edi­tion builds on the now decade old col­lab­o­ra­tion between wildlife con­ser­va­tion­ists, biol­o­gists, agency spe­cial­ists and ranch­ers oper­at­ing in wolf ter­ri­to­ry with the inten­tion of help­ing live­stock pro­duc­ers ​"best address the root cause of wolf depre­da­tion in eco­nom­i­cal ways that pro­tect both live­stock and wildlife."
The man­u­al, which can viewed in its entire­ty here, is bro­ken down into eight sec­tions designed to pro­vide ranch­ers with the resources they need to min­i­mize their inter­ac­tion with wolves and, when packs pose a threat to their busi­ness, imple­ment non­lethal solutions.
Assess­ing Your Needs
Ter­rain and con­di­tions vary by region and the man­u­al sug­gests, ​"Decid­ing which tools, meth­ods and strate­gies are suit­able for pro­tect­ing your live­stock depends on many dif­fer­ent fac­tors." The right alter­na­tive to lethal mea­sures is not a one size fits all propo­si­tion. In addi­tion to pro­vid­ing some low and high-tech con­sid­er­a­tions, the man­u­al includes a direc­to­ry of the state and fed­er­al agen­cies avail­able for assis­tance in wolf country.
Here are the Cliff Notes: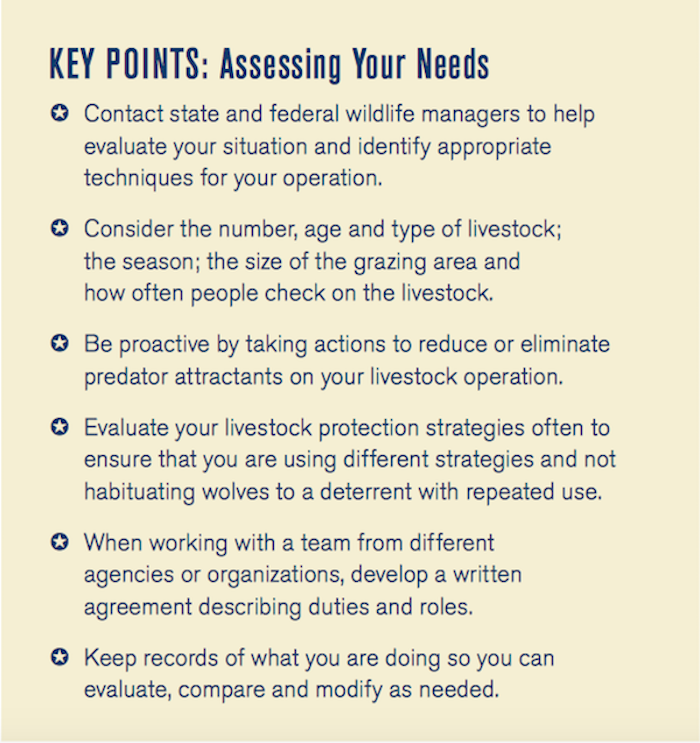 Reduc­ing Attractants
While acknowl­edg­ing it's not always pos­si­ble, the man­u­al insists that a proac­tive approach — tak­ing steps to pre­vent your live­stock oper­a­tion from attract­ing wolves in the first place — is often the best strat­e­gy. In addi­tion to being skilled hunters, wolves are oppor­tunis­tic scav­engers and attract­ed to the scent of sick or already dead food sources. There­fore quick­ly remov­ing car­cass­es, or relo­cat­ing them away from homes and areas used by the healthy herd can go a long way in reduc­ing a pat­tern of conflict.
"Once ani­mals that are both scav­engers and hunters — such as wolves, bears and eagles — are drawn to an area, the like­li­hood increas­es that they will go from feed­ing on a car­cass to hunt­ing and killing live cat­tle or sheep nearby."
Because once wolves become accus­tomed to a food source, the chances are good that they will return in hopes of an easy meal. In the absence of a ren­der­ing facil­i­ty or car­cass-com­post­ing site ​"car­cass pits" — holes used to con­tain dead live­stock in a des­ig­nat­ed area, which can then be enclosed with fenc­ing — can be beneficial.
"In north­east­ern Ore­gon, biol­o­gists dis­cov­ered live­stock car­cass pits using only satel­lite data from radio-col­lared wolves that showed fre­quent vis­its to the sites of the pits. Once pro­duc­ers removed the pits, the wolves lost inter­est and even­tu­al­ly stopped vis­it­ing these sites."
The man­u­al also explains ​"the after­birth from calv­ing can be a pow­er­ful attrac­tant for wolves, a fact to con­sid­er when plan­ning the tim­ing and loca­tion of calv­ing activities."
Work­ing with Live­stock Guardian Dogs
Though it's wide­ly under­stood that mod­ern dogs are the direct descen­dants of gray wolves, recent stud­ies sug­gest it's pos­si­ble the two shared a com­mon, now extinct ances­tor and diverged 11,000−16,000 years ago. While this throws a wrench in the notion that the domes­ti­ca­tion of dogs began with a few less aggres­sive gray wolves hang­ing around in our hunt­ing and gath­er­ing days, there is still much to learn. Regard­less, dogs have lived along­side live­stock for cen­turies and today the prac­tice of breed­ing dogs to pro­tect cat­tle from preda­tors is a sci­ence in its own right.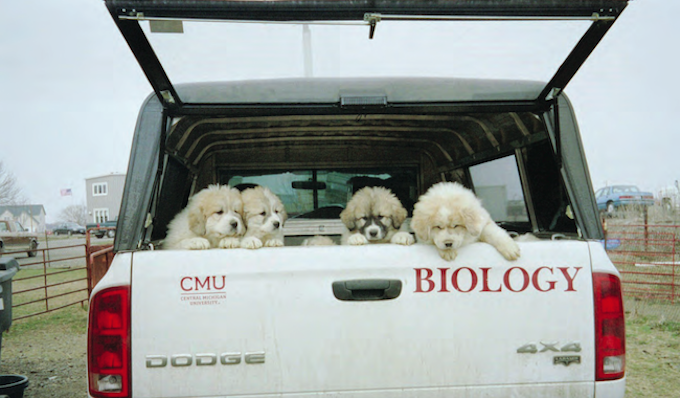 Great Pyre­nees pups are ready for trans­port to farms in the Great Lakes region where researchers will mon­i­tor their effec­tive­ness at pro­tect­ing live­stock from preda­tors. (Photo/​Caption: Anna Celler / Defend­ers of Wildlife)
Care­ful­ly bred, select­ed and trained Live­stock Guardian Dogs (LGDs) may great­ly reduce the num­ber of report­ed con­flicts when used. In fact, the man­u­al states, often their mere pres­ence can help keep wolves away. Dogs can also play an impor­tant role in alert­ing herders to the pres­ence of preda­tors. In some cas­es, this advanced warn­ing may allow ranch­ers to take the steps nec­es­sary to pre­vent live­stock and wolf fatal­i­ties. Gen­er­a­tions of selec­tive breed­ing to empha­size use­ful traits has left some breeds bet­ter suit­ed than oth­ers, but not all dogs are built for the job.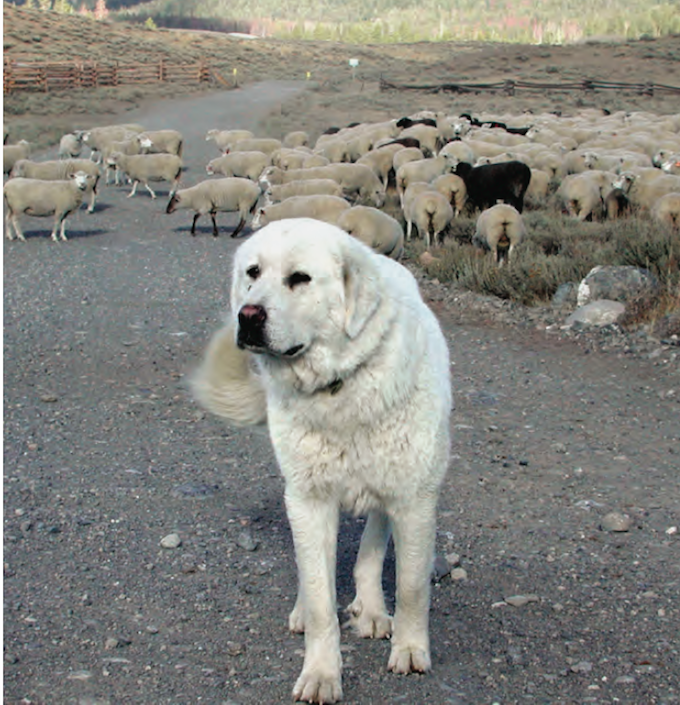 A Great Pyre­nees stands guard on an Ida­ho sheep ranch. (Photo/​Caption: Brad Devries / Defend­ers of Wildlife)
The man­u­al states:
"The abil­i­ty of a live­stock guardian dog (LGD) to pro­tect live­stock is part­ly a result of genet­ics and care­ful breed­ing and part­ly a result of social­iza­tion and prop­er train­ing. Over the cen­turies, peo­ple have select­ed the best work­ing dogs for breed­ing pur­pos­es to pass along valu­able traits to future gen­er­a­tions. Dogs that harassed or harmed live­stock were typ­i­cal­ly relieved of duty and not per­mit­ted to breed, there­by remov­ing unde­sir­able traits from the gene pool. Social­iz­ing and bond­ing pups with live­stock is a cru­cial part of their train­ing. The cli­mate and land­scape in which the dogs live, the dis­tances they trav­el, the dis­eases they are exposed to and their food sup­ply also influ­ence their behavior."
But select­ing the right tem­pera­ment and char­ac­ter­is­tics in a work­ing dog is not always intuitive:
"Breeds that make good LGDs are not the same breeds that make good live­stock herders. The two func­tions, guard­ing and herd­ing, are quite dif­fer­ent, and the dogs that do best at each task have been bred for their spe­cif­ic tasks. In oth­er words, bor­der col­lies are bred to herd; Great Pyre­nees are bred to guard."
Care­ful selec­tion, fur­ther­more, is not just a mat­ter of breeding:
"Regard­less of breed, select­ing your pups from good work­ing stock and sim­i­lar live­stock oper­a­tions is impor­tant. Pups learn from their moth­ers, so make sure she has the char­ac­ter­is­tics of a good LGD. Base your selec­tion on a dog's work­ing poten­tial, rather than breed reg­is­tra­tion and phys­i­cal stan­dards. Pups can learn behav­ior, but not all reg­is­tered LGD breeds are born with the instincts nec­es­sary to do well. The right LGD is the one that demon­strates the traits nec­es­sary for your par­tic­u­lar sit­u­a­tion. Desir­able LGDs reli­ably stay with their live­stock and suc­cess­ful­ly defend them by alert­ing peo­ple to the pres­ence of threat­en­ing predators."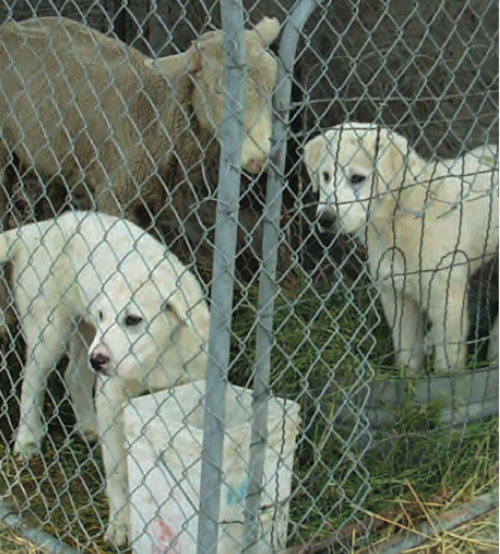 Guardian pups raised along­side live­stock form a last­ing bond. A good LGD should not seek the atten­tion of humans. (Pho­to: Brad Devries / Defend­ers of Wildlife)
Erect­ing Bar­ri­ers: Fenc­ing, Fladry and Penning
The cost, util­i­ty and effec­tive­ness of fences vary, as do the types of bar­ri­ers them­selves. Per­ma­nent fenc­ing can be a very effec­tive preda­tor deter­rent in small­er pas­tures but is not always fea­si­ble for larg­er oper­a­tions — includ­ing those that rely on pubic lands, where the mobil­i­ty of oth­er wildlife must be tak­en into con­sid­er­a­tion. Fladry, a bar­ri­er that con­sists of col­or­ful flags or pen­dants hung along a thin rope at reg­u­lar inter­vals, is a rel­a­tive­ly inex­pen­sive method that's shown some promise in deter­ring wolves from cross­ing into the land they enclose. Over time, how­ev­er, they can lose their effec­tive­ness. As wolves get used to the sight of the flags, they inevitably drum up the courage to step through them.
To be effec­tive, it is impor­tant to install the fladry prop­er­ly. Researchers used red or orange rein­forced plas­tic flags mea­sur­ing 50.8 cen­time­ters by 10 cen­time­ters (approx­i­mate­ly 20 inch­es by four inch­es) sewn at 50.8‑centimeter (20-inch) inter­vals on a 0.2‑centimeter (0.8 inch) diam­e­ter nylon rope sus­pend­ed so that flags hang 50.8 cen­time­ters (20 inch­es) above the ground on secure posts spaced rough­ly 30 meters (98 feet) apart. Depend­ing on the type of mate­ri­als used, fladry may require reg­u­lar main­te­nance to keep it from coil­ing around itself or the rope, drop­ping too low or hang­ing too high. Cat­tle are also known to chew and pull on fladry. A bro­ken, frayed, tan­gled, pinned down or oth­er­wise com­pro­mised fladry will not deter preda­tors and must be replaced. Prop­er­ly designed fladry and tur­bofladry can be dif­fi­cult to find com­mer­cial­ly. Con­tact your local wildlife or agri­cul­ture agency.
Accord­ing to the man­u­al, tur­bofladry, which con­sists of flags on an elec­tri­fied wire instead of a rope, can remain effec­tive for ​"three or more times longer than reg­u­lar fladry" though this method is more expensive.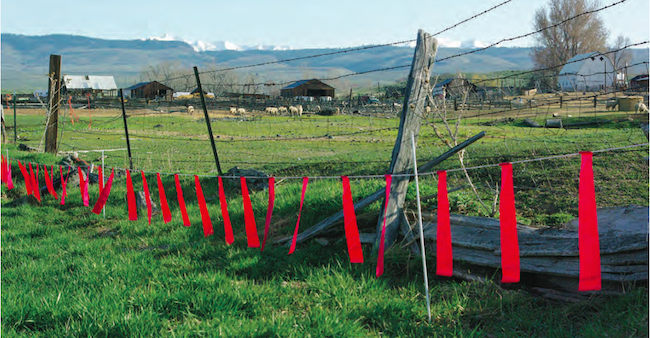 Tur­bofladry, fladry hung along elec­tri­fied fenc­ing, adds the ele­ment of shock, boost­ing the effec­tive­ness of the fladry bar­ri­er. (Photo/​Caption: Ore­gon Depart­ment of Fish and Wildlife / Defend­ers of Wildlife)
Addi­tion­al­ly, not all fenc­ing options are permanent:
Portable fences can be made from sev­er­al dif­fer­ent types of mate­ri­als includ­ing mul­ti­ple elec­tric fenc­ing strands, wire net­ting or mesh, and portable pan­els. The cost, util­i­ty and effec­tive­ness vary based on the type and num­ber of live­stock and the ter­rain. To help reduce live­stock stress, get your ani­mals accus­tomed to the portable pens by using them dur­ing feed­ing times, etc. If you have a graz­ing allot­ment, make sure your graz­ing per­mit allows the use of portable fenc­ing. You should also reg­u­lar­ly move the fenc­ing to keep native plants from being tram­pled or overgrazed.
Note: Last August, Rur­al Amer­i­ca In These Times fea­tured an arti­cle by Joel Salatin of Poly­face Farms called Soil is Life: Her­biv­o­rous Solar Con­ver­sion and Car­bon Seques­tra­tion in the Shenan­doah Val­ley. In this piece Salatin describes (among oth­er things) his far­m's use of elec­tric fenc­ing not for deter­ring preda­tors, but as a method of mov­ing his ani­mals in a way that simul­ta­ne­ous­ly works to restore the land — essen­tial­ly using the tech­nol­o­gy to bio­mim­ic the ways herds of cat­tle behave in their nat­ur­al environment.
Increas­ing Human Pres­ence: Range Rid­ers and Herders
Fact: Wolves often attack live­stock when no one is look­ing. With this in mind, the man­u­al points out that an increased human pres­ence — whether it's rid­ers patrolling the range or an increased num­ber of herders watch­ing over sheep — may be ​"one of the best ways to deter wolves."
"A range rid­er, for exam­ple, can patrol your ranch or allot­ment at dawn and dusk when wolves are most active. The rid­er checks for signs of unusu­al agi­ta­tion in the cat­tle, behav­ior that can indi­cate wolves or oth­er preda­tors are in the area. The rid­er also lis­tens for howl­ing and looks for oth­er signs that wolves are present such as tracks, scat and hair snagged in fences. Rid­er pro­to­cols vary from place to place, but the under­ly­ing con­cept is sim­i­lar: Reg­u­lar or fre­quent human pres­ence can min­i­mize live­stock loss to wolves that avoid con­tact with humans or by inter­ven­ing when wolves attempt to prey on live­stock. In the best sce­nar­ios, rid­ers who are able to respond quick­ly to wolves approach­ing or chas­ing live­stock can pre­vent loss­es from occur­ring sim­ply by their presence."
Though it sounds like a good gig for peo­ple who enjoy spend­ing their lives out­side, range rid­ing takes expe­ri­ence and wages are often low. The addi­tion­al cost of labor, fur­ther­more, can be a bur­den on cash strapped pro­duc­ers. Then again, rur­al unem­ploy­ment is high and if a human pres­ence can min­i­mize rev­enue lost to depre­da­tion hir­ing help may be worth the investment.
"Rid­ers and herders can mon­i­tor live­stock close­ly, pro­vid­ing oth­er advan­tages such as find­ing dead live­stock and iden­ti­fy­ing cause of death and pro­vid­ing ear­ly detec­tion of injury, ill­ness or stress in the herd. Rid­ers can also assist with pre­vent­ing live­stock from over­graz­ing sen­si­tive mead­ows and streambeds, reduc­ing the chances of live­stock theft and detect­ing the pres­ence of plants tox­ic to live­stock. Adding this kind of per­son­nel increas­es pro­duc­tion costs for the live­stock oper­a­tion but may be worth the cost if loss­es to preda­tors and oth­er threats are min­i­mized. Find­ing expe­ri­enced rid­ers and herders can be dif­fi­cult because wages are often low and the work is hard, espe­cial­ly when it involves night­time sur­veil­lance and camp­ing with live­stock. Agen­cies, con­ser­va­tion groups and oth­er ranch­ers may be able to help by pool­ing resources for range rid­ers, adding herders and pro­vid­ing oth­er pre­ven­ta­tive measures."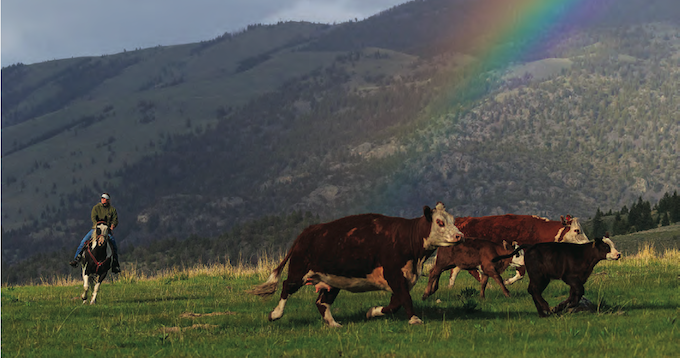 A range rid­er mon­i­tors a herd. (Pho­to: Ronan Donovan)
Using Scare Tools and Tac­tics: Alarms, Lights and Non­lethal Ammunition
Non­lethal meth­ods to deter wolves are con­stant­ly evolv­ing and the options avail­able to live­stock own­ers have come along way from the days of bang­ing a wood­en spoon on a met­al pot (still a last minute clas­sic). Scare devices such as air horns, starter pis­tols and high beam flash­lights are both inex­pen­sive and proven per­form­ers. Auto­mat­ed light sys­tems and radio-acti­vat­ed alarms — RAG box­es for short — are anoth­er option.
"RAG box­es con­sist of a receiv­er, a bright strobe light, two loud­speak­ers and an inter­nal com­put­er that col­lects and stores infor­ma­tion received from trans­mit­ters on wolves' radio col­lars. To keep wolves from get­ting used to any one sound, RAG box­es pro­duce a vari­ety of alter­nat­ing sounds, which can range from sirens to gun­shots to beat­ing heli­copter blades to cow­boys yelling on horse­back. The RAG box can be attached to a fence line or placed near­by and set to go off when­ev­er it picks up a pre­pro­grammed radio-col­lar sig­nal (it only works on radio-col­lared ani­mals). Pow­er is sup­plied to the RAG box either through a 12-volt car bat­tery, which needs to be charged every cou­ple of weeks, or through a solar pan­el that recharges itself. Stud­ies by Wildlife Ser­vices and the Uni­ver­si­ty of Nebras­ka found that RAG box­es are most effec­tive for small pas­tures (60 acres or less), espe­cial­ly when lamb­ing or calv­ing is tak­ing place in small­er enclosures."
In many cas­es, the man­u­al points out, employ­ing a mul­ti­tude of tac­tics simul­ta­ne­ous­ly offers the great­est chance of suc­cess. Herders in cen­tral Ida­ho, for exam­ple, report that ​"a com­bi­na­tion of dogs, spot­lights and human pres­ence is the best strat­e­gy for pro­tect­ing sheep in wolf coun­try." Fur­ther­more, when it comes to wean­ing one­self off the default use of fire­pow­er, replac­ing con­ven­tion­al ammu­ni­tion with a non­lethal alter­na­tive — rub­ber bul­lets, bean­bag shells or paint­balls — can be a good place to start.
Of course:
Because non­lethal ammu­ni­tion can inflict seri­ous injuries if used improp­er­ly, it is impor­tant to learn how to use it and to under­stand the spe­cif­ic con­di­tions under which the var­i­ous types can be safe­ly and legal­ly used. In some areas these tools are pro­hib­it­ed or require a permit.
Switch­ing Graz­ing Sites and Oth­er Meth­ods Worth Considering
Relo­cat­ing a graz­ing oper­a­tion is no doubt a tough sell for any live­stock own­er, but accord­ing to this report ​"some wildlife con­ser­va­tion groups or land trusts have pur­chased graz­ing per­mits from live­stock own­ers on a vol­un­tary basis to end chron­ic con­flict and lethal wolf and griz­zly con­trol." When suc­cess­ful, these arrange­ments allow ranch­ers to pur­chase new per­mits in areas less prone to conflict.
"Coop­er­a­tive agree­ments to tem­porar­i­ly switch or per­ma­nent­ly retire graz­ing allot­ments can help reduce live­stock-preda­tor con­flicts and pro­vide ben­e­fits to oth­er wildlife species such as elk and deer. There are many exam­ples of ranch­ers, con­ser­va­tion­ists and agency offi­cials suc­cess­ful­ly work­ing togeth­er to adjust the tim­ing and loca­tion of allot­ments to min­i­mize con­flicts with wildlife and allow live­stock graz­ing activ­i­ties to con­tin­ue. In some cas­es of per­ma­nent graz­ing allot­ment retire­ment, will­ing ranch­ers have received pay­ment for the val­ue of their pub­lic graz­ing per­mits in high-con­flict areas and then used the funds to lease or pur­chase new pas­tures in oth­er areas where loss­es from preda­tors were less likely."
In addi­tion to sci­en­tif­i­cal­ly researched meth­ods, the report also includes promis­ing but unver­i­fied approach­es to preda­tor con­flict man­age­ment being used by par­tic­i­pat­ing live­stock oper­a­tions in dif­fer­ent coun­tries. One such area for fur­ther study sug­gests ​"moun­tain-savvy" cows — heifers with expe­ri­ence being around wolves — are bet­ter at defend­ing their young than their ​"naïve" counterparts.
"Ranch man­agers in south­west­ern Alber­ta have noticed that cows famil­iar with wolves are less vul­ner­a­ble to depre­da­tions than cows out­side of wolf ter­ri­to­ries. Sim­i­lar­ly, ranch­ers who reg­u­lar­ly trans­port­ed naïve, preg­nant cows from prairie pas­tures to the rugged moun­tains of Gila Nation­al For­est in New Mex­i­co report­ed high rates of live­stock loss­es. In these instances, the cow's unfa­mil­iar­i­ty with wolves or the new land­scape and lack of mater­nal expe­ri­ence like­ly con­tributed to high calf mor­tal­i­ty as oppor­tunis­tic wolves moved in quick­ly to take advan­tage of the sit­u­a­tion. More and more, ranch­ers in the west­ern Unit­ed States are report­ing wit­ness­ing moth­er cat­tle suc­cess­ful­ly defend­ing their calves from wolves."
For oth­er approach­es to live­stock man­age­ment that may war­rant fur­ther explo­ration — from whether or not your cows should wear bells to group calv­ing strate­gies — have a look at the full report.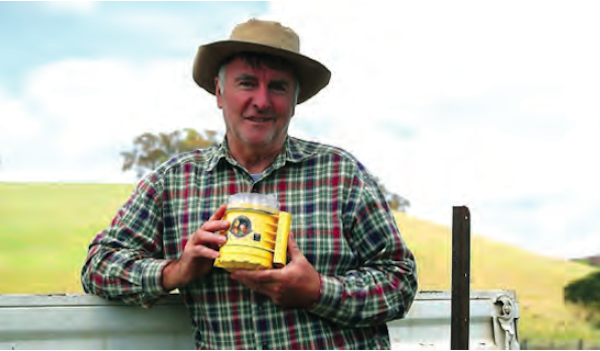 In 2008, Ian Wha­lan, an Aus­tralian sheep and cat­tle farmer, invent­ed Fox­lights to address his country's seri­ous prob­lem of fox pre­da­tion on new­born lambs. In 2013, Defend­ers' non­lethal wolf con­trol expert vis­it­ed an Aus­tralian project that was using the lights to deter din­goes and brought a ship­ment of the devices back to the Unit­ed States. Since then, Fox­lights have been suc­cess­ful­ly used to keep wolves away from live­stock in Ida­ho, Mon­tana, Ore­gon, Wash­ing­ton and Wyoming. (Photo/​Caption: Defend­ers of Wildlife)