The U.S. Is Locking Up Immigrant Children in Private Prisons Under Inhumane Conditions
The message being sent by the U.S. government is that when frightened women and children come to America seeking sanctuary, we will imprison them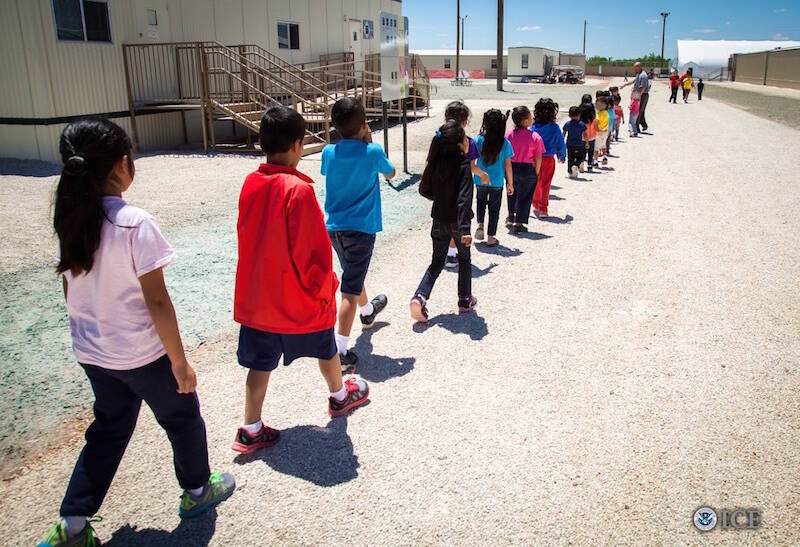 Dri­ve south from San Anto­nio across the flat, der­rick-stud­ded, orange-dirt plains of South Texas, veer off Inter­state 35 into the tiny frack­ing boom­town of Dil­ley, park in a grav­el lot, get buzzed in, and you have arrived at the com­plex of trail­ers that com­prise the South Texas Fam­i­ly Res­i­den­tial Cen­ter. This is the largest of three facil­i­ties where the U.S. gov­ern­ment locks up immi­grant women and chil­dren who are picked up — or request asy­lum — at the U.S.-Mexico bor­der. ACLU lawyer Carl Takei describes the place as an intern­ment camp. I've also heard it var­i­ous­ly described as a ​"baby jail," ​"worse than a Syr­i­an refugee camp," a ​"prison camp," a ​"con­cen­tra­tion camp," and, what it most feels like: a grand, inhu­mane, dis­crim­i­na­to­ry ​"shit­show."
They were stuffed into a 'cabin' with ten other strangers, afforded no privacy and told when to go to sleep and when to wake up.
Most­ly, though, the cen­ter is just referred to as ​"Dil­ley," as I learned in my week as a vol­un­teer there with CARA Fam­i­ly Deten­tion Pro Bono Project, a legal-aid clin­ic. Dil­ley is pri­vate­ly run by the for-prof­it prison con­trac­tor Cor­rec­tions Cor­po­ra­tion of Amer­i­ca (CCA). Inside, after you pass through secu­ri­ty, you will find women and chil­dren con­fined, humil­i­at­ed and denied due process by the U.S. gov­ern­ment and its pri­vate, preda­to­ry hench­man, CCA.
By any oth­er name
CCA's web­site adver­tis­es the deten­tion cen­ter as pro­vid­ing ​"care with dig­ni­ty and respect." But no mat­ter how much win­dow dress­ing CCA and Immi­gra­tions and Cus­toms Enforce­ment (ICE) put on Dil­ley, they are ​"using a prison mod­el to detain 2,000 women and chil­dren," says Bri­an Hoff­man, lead attor­ney at CARA. Inmates can't leave and are close­ly watched by guards. They are sub­ject to mul­ti­ple head­counts dur­ing the day and bed checks at night, and afford­ed lit­tle privacy.
Opened in Decem­ber 2014 and still expand­ing to its full capac­i­ty of 2,400, Dil­ley is part of the explo­sion in fam­i­ly deten­tion, which has expand­ed thir­ty­fold over the last year, from few­er than 100 beds to near­ly 3,000, accord­ing to Human Rights Watch. Fac­ing heat last sum­mer about the thou­sands of Cen­tral Amer­i­can chil­dren arriv­ing at the U.S.-Mexico bor­der, the Oba­ma admin­is­tra­tion announced a ​"solu­tion" that drew con­dem­na­tion from many human-rights groups: It would open new facil­i­ties to detain fam­i­lies caught cross­ing the bor­der and mas­sage immi­gra­tion poli­cies to ramp up depor­ta­tions of Cen­tral Amer­i­can migrants. Many of these women and chil­dren are flee­ing vio­lence, and have legit­i­mate claims for asy­lum. But the new poli­cies also intro­duced tougher screen­ing for asy­lum-seek­ers, who are often stuck in fam­i­ly deten­tion cen­ters for months before their cas­es are heard. Accord­ing to Crys­tal Williams, exec­u­tive direc­tor of the Amer­i­can Immi­gra­tion Lawyers Asso­ci­a­tion (AILA) — one of the groups run­ning CARA — one month is the min­i­mum stay at Dil­ley, two-and-a-half months is stan­dard, and four to five months is typ­i­cal in com­pli­cat­ed cases.
To fight depor­ta­tion and be con­sid­ered for asy­lum, women and chil­dren must first prove they have ​"rea­son­able or cred­i­ble fear" of return­ing to their home coun­tries. If they pass this hur­dle, they are eli­gi­ble to bond out while they await their final asy­lum hear­ing — a process that can take months or even years. But bond prices in the fam­i­ly deten­tion cen­ters can be pro­hib­i­tive­ly high. In the now-closed Arte­sia Deten­tion Cen­ter in New Mex­i­co, the mean bond price was $17,000. Bonds at Dil­ley are some­times as low as the legal min­i­mum of $1,500, but are often between $4,000 and $8,000, and occa­sion­al­ly as high as $12,000, accord­ing to Williams.
Though school-age kids attend class­es inside Dil­ley and have almost con­stant access to milk and apples, the atmos­phere is puni­tive. Many of the chil­dren have colds or coughs. Med­ical atten­tion is slow and, accord­ing to two of the women I inter­viewed, some sick kids are told by med­ical staff sim­ply to drink water. This is the same tap water that the cook at a local dri­ve-thru taco shop told me not to drink " ​'cause of the oil." Res­i­dents are con­cerned about frack­ing waste­water con­t­a­m­i­nat­ing their groundwater.
Many of the kids have trou­ble sleep­ing, and three of the women I spoke with report­ed that their chil­dren were depressed and not eat­ing. One told me that her 11-year-old boy lost more than 10 pounds since com­ing to Dil­ley. ​"We are cre­at­ing a men­tal health cri­sis," Hoff­man says. ​"These kids are going to have PTSD and need seri­ous therapy."
The long waits and tense con­di­tions take their toll on the women, too. Despite the near­ly round-the-clock efforts of CARA's legal team, some women in Dil­ley lose their chance at legal sta­tus in the Unit­ed States because they can no longer suf­fer being locked up. I spoke with one woman who had been in Dil­ley five months and, unable to han­dle it any­more, decid­ed to be deport­ed. The con­di­tions at anoth­er fam­i­ly deten­tion cen­ter, in Karnes, Texas, drove a 19-year-old woman to cut her wrists on June 4. She had a 4‑year-old son with her and wrote in a sui­cide note that the deten­tion cen­ter was ​"killing me lit­tle by lit­tle" and that she was ​"treat­ed worse than an ani­mal." She sur­vived and, four days lat­er, was deport­ed to Hon­duras.
Anoth­er woman said that she was humil­i­at­ed when a Dil­ley guard imme­di­ate­ly washed his hand after her tod­dler daugh­ter touched it. ​"They think we have dis­eases," she told me, break­ing into sobs.
One girl I met begged her moth­er to agree to depor­ta­tion because she didn't want to have her ninth birth­day in prison. What she want­ed was ice cream, which is not avail­able inside Dil­ley. Anoth­er girl, hav­ing been held for the past 10 months in fam­i­ly deten­tion cen­ters in Arte­sia, Karnes and now Dil­ley, includ­ed an ICE offi­cer in a pic­ture she drew of her family.
A hell­ish journey
For these women and chil­dren, the ordeal at the hands of the U.S. gov­ern­ment begins long before Dil­ley, with the immi­gra­tion poli­cies that leave them few options besides the dan­ger­ous over­land jour­ney from Cen­tral Amer­i­ca to the Unit­ed States. Many pay ​"coy­otes" $7,000 or $8,000 to lead them across a coun­try, Mex­i­co, that Sal­vado­ran writer Óscar Mar­tinez describes as an ​"infer­no" for undoc­u­ment­ed migrants. As Joseph Sor­renti­no report­ed in the May issue of In These Times, an esti­mat­ed 60 per­cent of women migrat­ing through Mex­i­co are raped, and as many as 20,000 migrants are kid­napped each year.
Yet there is no oth­er viable recourse for those flee­ing the gang and drug vio­lence epi­dem­ic in Guatemala, Hon­duras and El Sal­vador. Some try to apply for U.S. refugee visas in their home coun­tries, but ceil­ings are absurd­ly low: In Sep­tem­ber 2014, Pres­i­dent Oba­ma set a ceil­ing of 70,000 on the num­ber of polit­i­cal refugees that could be reset­tled in the Unit­ed States over the next year, only 4,000 of which were allo­cat­ed to Latin Amer­i­ca and the Caribbean. The pre­vi­ous year, near­ly 240,000 Cen­tral Amer­i­can migrants were appre­hend­ed along the U.S.-Mexico bor­der. The com­mon — and fatu­ous — ​"get in line" argu­ment for immi­grants to fol­low the prop­er legal chan­nels proves dubi­ous when those chan­nels are blocked for most.
In Dil­ley, I spoke with a woman, Pabla (a pseu­do­nym), who left El Sal­vador with her 13-year old son, Jorge (also a pseu­do­nym), because gang mem­bers in one of the most mur­der­ous places in the world had begun try­ing to recruit him. After pay­ing $7,000 for the trip from El Sal­vador to Texas, they were kid­napped by the bru­tal drug car­tel Los Zetas in the Mex­i­can bor­der city of Reynosa and held for six days until Pabla's sis­ter-in-law in the Unit­ed States could send $3,000 in ran­som to save their lives. When I asked Jorge about the kid­nap­ping, he shrugged his bony, nar­row shoul­ders, not want­i­ng to talk about it.
After being released, the pair crossed the Rio Grande in a raft and turned them­selves in to the Bor­der Patrol, explain­ing that they were scared for their lives in El Sal­vador and were seek­ing asy­lum. Next, they spent three days in the over­crowd­ed, freez­ing-cold Bor­der Patrol hold­ing cells known as hiel­eras, or ice box­es. Inside the hiel­eras they were giv­en lit­tle to eat and noth­ing to sit or sleep on but an alu­minum blan­ket. Jorge got sick. In the days that fol­lowed, moth­er and son were trans­fered three times, and some of their paper­work and belong­ings were lost, includ­ing a slip of paper with all the phone num­bers of their fam­i­ly mem­bers. Final­ly, they were shipped to Dil­ley, where they were stuffed into a ​"cab­in" with 10 strangers, afford­ed no pri­va­cy and told when to go to sleep and when to wake up.
Pabla broke into tears in front of me and a fel­low vol­un­teer — two strangers — as we tried to help her find a phone num­ber for a fam­i­ly mem­ber who could post her and her son's $5,000 bond. If they come up with that mon­ey, their trip will have cost them a total of $15,000 dol­lars to date: $7,000 to a coy­ote, $3,000 to Los Zetas and $5,000 to the U.S. gov­ern­ment. In El Sal­vador, medi­an month­ly incomes are $661 for urban house­holds and $362 for rur­al house­holds. Though the bonds are often refund­able, it can take years.
Anoth­er woman told me she'd gone hun­gry for days in the hiel­era, receiv­ing only a few white bread and ham sand­wich­es each day. She was so trau­ma­tized by the expe­ri­ence that she had trou­ble swal­low­ing food in Dil­ley and would occa­sion­al­ly break into tears when she smelled meat.
From the stand­point of these women and chil­dren, what's the dif­fer­ence between the U.S. gov­ern­ment, coy­otes and Los Zetas? Each cap­tures fright­ened women and chil­dren flee­ing vio­lence and holds them against their will for thou­sands of dollars.
Execs from CCA, GEO Group and the oth­er for-prof­it cor­po­ra­tions involved in fam­i­ly and immi­gra­tion deten­tion also get their cut. CCA charges the gov­ern­ment an esti­mat­ed $296 dol­lars a day for each detained woman or child, accord­ing to the New York Times. At a capac­i­ty of 2,400, that will amount to over $250 mil­lion a year to lock up non-crim­i­nals: Your tax dol­lars pay­ing for months of child incarceration.
Also, because of ICE's inef­fi­cien­cy, there are some women who ​"are lan­guish­ing back there whose bond has been paid," Hoff­man told me. For every four days that one of these women remains stuck in prison because of bureau­crat­ic log­jam­ming, CCA makes anoth­er thou­sand bucks. (Nei­ther ICE nor CCA respond­ed to requests for com­ment on this article.)
Denied due process
Unlike crim­i­nal defen­dants, immi­grants fight­ing depor­ta­tion, includ­ing asy­lum-seek­ers, are not guar­an­teed coun­sel in court. Even if they were, the remote loca­tion of many of the immi­gra­tion deten­tion cen­ters make it exceed­ing­ly dif­fi­cult to find rep­re­sen­ta­tion. And although those seek­ing asy­lum from inside Dil­ley are enti­tled to a hear­ing even with­out coun­sel, often no one both­ers to explain that to them. ​"A lot of these women," Hoff­man tells me, ​"believe they will nev­er see a judge unless their depor­ta­tion offi­cer decides to let them."
Twice in my week at Dil­ley, I wit­nessed the arbi­trary met­ing of jus­tice to asyum seek­ers. In the first case, I sat with a woman, Car­oli­na (a pseu­do­nym), for her Cred­i­ble Fear Inter­view (CFI), the pro­ceed­ing in which an Asy­lum Offi­cer (AO) assess­es a client's cred­i­ble fear and poten­tial eli­gi­bil­i­ty for asy­lum. I had twice met with Car­oli­na, as well as her 2‑year-old daugh­ter, Elisa (also a pseu­do­nym), to help Car­oli­na hash out her sto­ry and clar­i­fy her claim.
Car­oli­na had lived and worked with a cir­cus troupe since she was a girl, trav­el­ing through­out Hon­duras to give per­for­mances. Rival gangs Mara Sal­va­trucha (MS-13) and Mara 18 both took advan­tage of the troupe, extort­ing them and using them to hide fugi­tive mem­bers under threat of death. Once, when Car­oli­na refused to per­form in order to dis­tract police from fugi­tive gang mem­bers, an MS-13 mem­ber stabbed her twice in the leg. Anoth­er MS-13 mem­ber repeat­ed­ly robbed her, threat­en­ing to kill both Car­oli­na and her daugh­ter if she didn't give him mon­ey or if she went to the police.
For Carolina's CFI, the AO used a phone-in inter­pre­ta­tion ser­vice. Car­oli­na, the AO and I sat in an anti­sep­tic office in one of Dilley's trail­ers. At first, Car­oli­na had trou­ble hear­ing the inter­preter. Then the inter­preter had trou­ble hear­ing Car­oli­na. In the play­room, heard through the thin trail­er wall, a child start­ed cry­ing. Through­out the inter­view, the inter­preter repeat­ed­ly mis­un­der­stood Car­oli­na. I tried to cor­rect the trans­la­tion, but the AO offi­cer wouldn't let me speak. The AO missed the most impor­tant thread of Carolina's sto­ry — that of being intim­i­dat­ed by the rival gangs, the fear she most often described to me.
Reduced to pas­sive obser­va­tion for over two hours, I was giv­en a chance to make a clos­ing state­ment at the end of the inter­view, in which, shuf­fling rapid­ly through 10 pages of notes, I cor­rect­ed a num­ber of trans­la­tion mis­takes, and then attempt­ed to encap­su­late a life of fear and hope­less­ness in a few min­utes on behalf a woman I had met the pre­vi­ous day and who was from a coun­try I have nev­er been to — not to men­tion the fact that I'm not a lawyer and hadn't heard of a CFI until about a week before. Toward the end of the inter­view, Car­oli­na was reduced to tears as the frus­trat­ed AO resort­ed to a bla­tant­ly patron­iz­ing tone when Car­oli­na tried to repeat part of her sto­ry. The AO then apol­o­gized — to me, in Eng­lish — that she didn't have any tis­sues. Weeks lat­er, the AO offi­cer denied Carolina's claim of cred­i­ble fear. With the help of CARA vol­un­teers, she appealed the rul­ing on June 19, but was denied again.
I also sat in on a tele-hear­ing in which an indige­nous Mam speak­er from Guatemala appeared before a flat screen tele­vi­sion to appeal an AO's deci­sion that she did not have cred­i­ble fear of per­se­cu­tion. In Mia­mi, the judge held court in front of a cam­era and a screen of her own. She had a Span­ish inter­preter in the court­room and a Mam inter­preter on a tele­phone loud­speak­er. The ques­tions to the client went from Judge (in Mia­mi) to Span­ish Inter­preter (Mia­mi) to Mam inter­preter (undis­closed loca­tion) to client (Dil­ley) back to Mam Inter­preter (undis­closed loca­tion) to Span­ish inter­preter (Mia­mi) back to judge (Mia­mi). That is: Eng­lish to Span­ish to Mam to Mam to Span­ish to Eng­lish, in three loca­tions. Not sur­pris­ing­ly, it was a total bun­gle, but this time with a pos­i­tive result for the woman. The judge, obvi­ous­ly frus­trat­ed, vacat­ed the asy­lum officer's deci­sion, allow­ing the woman's asy­lum plea to move forward.
In a blog post, Lau­ra Lichter, for­mer pres­i­dent of AILA, described the life-and-death stakes of rep­re­sen­ta­tion in these cases:
Sta­tis­tics show that the most impor­tant fac­tors in an asy­lum claim are whether an appli­cant has legal help. … Los­ing asy­lum doesn't just mean that some­one won't have an oppor­tu­ni­ty for the Amer­i­can dream. In these cas­es, the dif­fer­ence between win­ning and depor­ta­tion is the dif­fer­ence between life and death. Just because the facil­i­ty plans to offer Zum­ba class­es and is putting in sod for a soc­cer field doesn't make Dil­ley any less of a depor­ta­tion mill.
Dil­ley Kids
The women and chil­dren in Dil­ley could go on to win their cas­es. Eighty-eight per­cent of those in fam­i­ly deten­tion cen­ters have been found to have a cred­i­ble fear of persecution.
But that means this mass deten­tion of asy­lum seek­ers is sim­ply a cru­el and inso­lent polit­i­cal gam­bit. When Dil­ley opened in Decem­ber 2014, Depart­ment of Home­land Secu­ri­ty (DHS) Sec­re­tary Jeh John­son assert­ed that the facil­i­ty would serve as ​"an effec­tive deter­rent" to fur­ther immi­gra­tion. That's despite the fact that two recent reports, by Inter­na­tion­al Deten­tion Coali­tion and Deten­tion Watch Net­work, con­clud­ed that not only is deter­ring immi­gra­tion through deten­tion inef­fec­tive, it is also ille­gal under inter­na­tion­al and U.S. law.
In Feb­ru­ary, a fed­er­al court came to the same con­clu­sion after a group of asy­lum-seek­ers detained in Karnes and oth­er facil­i­ties sued DHS over its deter­rence strat­e­gy. The court's order blocked ICE from using deter­rence as a rea­son to detain immi­grants, but the Oba­ma admin­is­tra­tion con­tin­ues to fight it.
Bad press and protests inside and out­side the cen­ters have caused the gov­ern­ment to make fur­ther reforms. In March, 78 moth­ers detained in Karnes went on a hunger strike; in May, over 500 pro­test­ers gath­ered in Dil­ley chant­i­ng for DHS to ​"shut it down"; and on June 22, hun­dreds of women in Dil­ley protest­ed their liv­ing con­di­tions dur­ing a con­gres­sion­al vis­it to the facil­i­ty. Two days lat­er, DHS pledged to reduce the amount of time immi­grants spend in fam­i­ly deten­tion cen­ters by con­duct­ing cred­i­ble fear inter­views with­in a rea­son­able time­frame, and giv­ing women and chil­dren await­ing asy­lum hear­ings the chance to bond out at afford­able rates.
But advo­cates ques­tion whether this spells mean­ing­ful change for the women and chil­dren at Dil­ley. ​"This is about the third time in the last few months that we have got­ten a ​'state­ment' about improve­ments to fam­i­ly deten­tion, but in all hon­esty, none of the pri­or state­ments made much of an impact on the ground," says Lichter. Ongo­ing pet­ty obstruc­tions — like imped­i­ments to bring­ing in com­put­er mon­i­tors — make her won­der if Dil­ley author­i­ties ​"got the memo."
Ulti­mate­ly, says Lichter, ​"You can't pol­ish a turd. … Detain­ing asy­lum seek­ers is wrong, mis­guid­ed and cru­el. Jail­ing moms and kids is not humane."
Instead of pin­ning their hopes on ICE reforms, advo­cates are look­ing to a law­suit that could force the cen­ters to close entire­ly. In April, a U.S. dis­trict court agreed with lit­i­gants that the cen­ters vio­late guide­lines estab­lished by Reno v. Flo­res—a 1997 dis­trict court deci­sion that estab­lished strict lim­i­ta­tions on U.S. deten­tion of chil­dren — and issued a ten­ta­tive order direct­ing that the detained chil­dren be released. ICE is still nego­ti­at­ing the imple­men­ta­tion, how­ev­er, and advo­cates wor­ry that the series of pro­posed reforms may be a tac­tic to avoid clos­ing the deten­tion centers.
Mean­while, the mes­sage being sent is that when fright­ened women and chil­dren come to the Unit­ed States seek­ing sanc­tu­ary, we will lock them up and make them jump through hoops of red tape with lit­tle or no representation.
Even if Dil­ley is shut down or the Oba­ma admin­is­tra­tion puts an end to fam­i­ly depor­ta­tion entire­ly, the vic­to­ry will nev­er undo the trau­mat­ic effects on these women and chil­dren or wash away the stain on our nation­al history.
At the close of one 16-hour day, with a sim­i­lar marathon start­ing in a few hours, Hoff­man leaned back in his chair and mused: ​"Who's going to be the first Dil­ley Kid to go to space? Who's going to be the first Dil­ley Kid to become a vale­dic­to­ri­an, or grad­u­ate from Har­vard Med­ical School? … They're going to talk about their time in Dil­ley, telling the world, ​'You wouldn't believe what hap­pened to me in there.' "