Maine Leads the Nation in Campaign Finance Reform
The head of Maine Citizens for Clean Elections talks about the corrupting influence of money in politics and what we can do about it.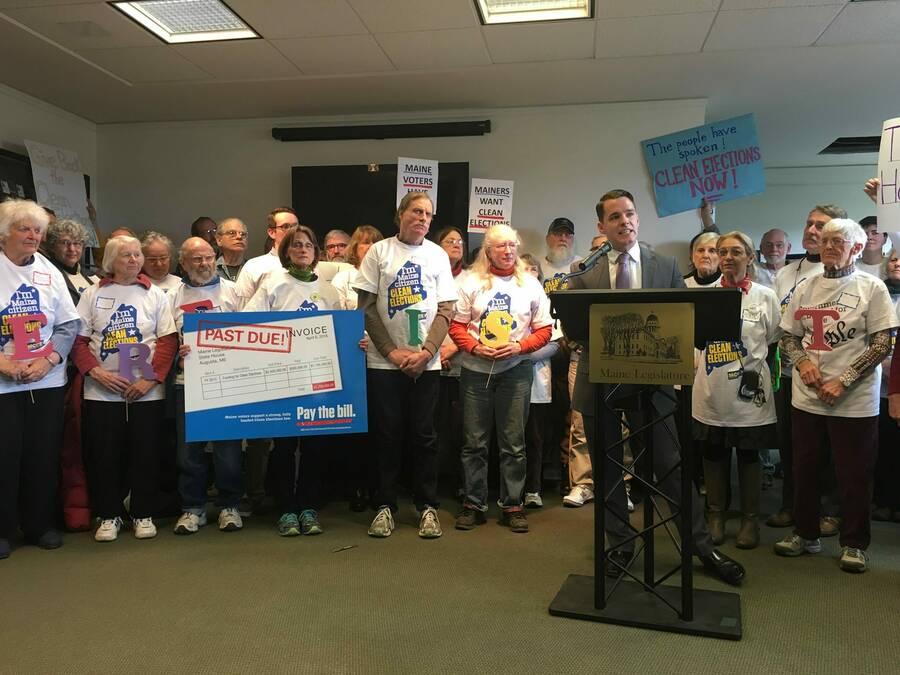 State-lev­el ini­tia­tives will be an impor­tant path to pro­gres­sive reform in the com­ing years, par­tic­u­lar­ly in the area of cam­paign finance, and Maine is at the fore­front of democ­ra­tiz­ing elec­tions at the local level.
"I like to say that democracy isn't a noun; it's a verb. It's something we have to constantly do."
In Novem­ber, the state passed a ranked-choice vot­ing ini­tia­tive, which pre­vents third-par­ty can­di­dates from split­ting the votes of one par­ty and hand­ing the elec­tion to an unpop­u­lar can­di­date. That prob­lem has allowed Paul LeP­age, the hard-right Repub­li­can ide­o­logue who is Maine's cur­rent gov­er­nor, to remain in pow­er. LeP­age won his bid in 2014 with 48 per­cent of the vote, and he won in 2010 with some 38 per­cent, large­ly because Democ­rats split their vote between his two oppo­nents. Under the new sys­tem, vot­ers will rank their pref­er­ences rather than choos­ing just one candidate.
Ranked-choice reform was a mile­stone in a much longer sto­ry. In 1996, Maine vot­ers approved a clean elec­tions ini­tia­tive that pro­vid­ed for pub­lic financ­ing of leg­isla­tive and guber­na­to­r­i­al cam­paigns. In 2011, courts struck down a pro­vi­sion of the pro­gram that gave can­di­dates who took part match­ing funds from the state — that is, funds to match the amount of pri­vate mon­ey raised by their oppo­nents. With­out that pro­vi­sion, the can­di­dates who took part in the pro­gram were vul­ner­a­ble to being swamped by out­side spend­ing. Par­tic­i­pa­tion declined, from a high of 81 per­cent of can­di­dates in 2008 to 53 per­cent in the 2014 elec­tion cycle.
Last year, vot­ers passed a ref­er­en­dum to address the prob­lem. The pro­gram now works like this: Can­di­dates who opt in to the clean elec­tions pro­gram must prove their via­bil­i­ty by rais­ing $5 dona­tions from a cer­tain num­ber of one-time donors. After this qual­i­fy­ing round, cer­tain bench­marks trig­ger more fund­ing. Each time the can­di­date pass­es a bench­mark, they receive a new round of funds.
The reformed pro­gram was in effect in Novem­ber and seems to have revi­tal­ized clean elec­tions in Maine, with 62 per­cent of can­di­dates for the state leg­is­la­ture tak­ing part.
To help explain Maine's clean elec­tions reform, In These Times recent­ly spoke with Andrew Bossie, exec­u­tive direc­tor of Maine Cit­i­zens for Clean Elec­tions (MCCE) — the group behind the change. Here's what he had to say about about pow­er, pol­i­tics and about the prospect of bring­ing cam­paign finance reform to the nation.
How did the first clean elec­tions reform, in
1996

, come about?

In the late 1980s and ear­ly 1990s, law­mak­ers in Maine would lit­er­al­ly be hand­ed checks by spe­cial inter­est lob­by­ists as they would walk into the cham­ber. And there was a series of dif­fer­ent sto­ries about how lax reg­u­la­tions affect­ed people's lives, includ­ing one about a tired truck­er who careened, after work­ing a long shift and falling asleep, into a 17-year-old girl in a car. Reg­u­la­tions were pret­ty lax for truck­ers. And that inci­dent was pret­ty explosive.

The same kind of thing was going on with our nat­ur­al resources. So a group of dif­fer­ent folks from the envi­ron­men­tal sec­tor, labor, Repub­li­cans who were con­cerned about crony cap­i­tal­ism, and reli­gious lead­ers and groups came togeth­er to say we have to be able to do some­thing about this. And a few of them basi­cal­ly dreamt up the [Maine] Clean Elec­tions Act on the back of a nap­kin. And they formed a coali­tion, Maine Vot­ers for Clean Elec­tions, and start­ed to per­fect the ini­tia­tive. They col­lect­ed the sig­na­tures in 1995, with more than 1,000 vol­un­teers across the state, and in 1996, vot­ers went to the polls and passed the Maine Clean Elec­tions Act by more than 10 points. The law took four years to put into effect, so we had our first can­di­dates run­ning under the clean elec­tions pro­gram in 2000.
Does the out­side mon­ey flood­ing into elec­tions as a result of Cit­i­zens Unit­ed swamp these state-lev­el reforms?
There are lim­it­ed things we can do to stuff Cit­i­zens Unit­ed back in the box, but one of the pil­lars that the court has con­stant­ly stood up for, so far, is dis­clo­sure. So, along with the changes to clean elec­tions and how that works, we includ­ed a pro­vi­sion [in the 2015 reform] that every inde­pen­dent expen­di­ture in the state, from leg­isla­tive to guber­na­to­r­i­al races, must list its top three fun­ders in the ad. That gives vot­ers a bet­ter idea of who's pay­ing for these out­side ads, and we think that's a good thing.
You can't affect the amount of mon­ey com­ing in, but you can at least shine some light on it?
Right. The oth­er thing that was start­ing to hap­pen in Maine, before our ini­tia­tive, was that out­side groups would come in and evade our dis­clo­sure laws by fil­ing late or not fil­ing at all. And the fines were so minus­cule that some groups called them just the cost of doing busi­ness. They would just inten­tion­al­ly evade fil­ing the reports. The largest fine ever levied by the state was in 2009, when Maine was going to vote on same-sex mar­riage. And a group decid­ed not to file a report on where $2 mil­lion had come from. Their fine was $50,000. That's 2.5 per­cent. So, we've increased the penal­ty to 100 per­cent of the expen­di­ture in the most egre­gious cas­es. If you're going to come into Maine and spend $2 mil­lion to influ­ence our pol­i­tics, and not dis­close the source, you're going to pay anoth­er $2 mil­lion for the prob­lems you've cre­at­ed. Those were the three pil­lars of the 2015 ini­tia­tive: strength­ened clean elec­tions, increas­ing dis­clo­sure of who's con­tribut­ing to cam­paigns, and increased fines and penal­ties for vio­lat­ing our laws.
Does Maine's expe­ri­ence have much rel­e­vance for the broad­er push to pass cam­paign finance reform and over­turn Cit­i­zens Unit­ed?
What we're fac­ing is a grow­ing cri­sis in con­fi­dence that our insti­tu­tions can real­ly ben­e­fit us all, that they work for all of us. Peo­ple feel like the deck is stacked against them. And there's a lot of cyn­i­cism out there. But what we've found, here in Maine, is that when you can con­nect with peo­ple about the issues that they care about — tax­a­tion, health care, the envi­ron­ment, reduc­ing gov­ern­ment waste — and you ask them what the prob­lem is, they'll say that they don't think their gov­ern­ment works for them. And there's a lot of evi­dence that shows they're kind of right.
But not entire­ly. And the way we turn that cyn­i­cism, and that apa­thy, about our elec­tions and gov­ern­ment around, is by show­ing peo­ple that if we stand up through col­lec­tive action, we actu­al­ly can push back against the spe­cial inter­ests. That we still have our vote. And that when we come togeth­er, we can have the more fair, just and equi­table soci­ety that we want. I think every one of these efforts that wins, despite com­ing up against big mon­ey and spe­cial inter­ests, breaks through that cyn­i­cism a lit­tle bit more. Peo­ple ask me, ​"What's your num­ber one obsta­cle? Is it Cit­i­zens Unit­ed?" I say, ​"No, it's our inabil­i­ty to believe in our­selves. Cyn­i­cism is the No. 1 obsta­cle." But if you can get beyond that and break it down, almost any­thing is pos­si­ble. Peo­ple want what Maine has, and they deserve it. We deserve to have a gov­ern­ment that works for us.
What are your pri­or­i­ties now?
I like to say that democ­ra­cy isn't a noun; it's a verb. It's some­thing we have to con­stant­ly do. And the sec­ond we're not vig­i­lant in push­ing for what's right, that's when we lose democ­ra­cy. So, we have some fund­ing bat­tles that we have to fight around full fund­ing of clean elec­tions. And Maine just passed an impor­tant law around ranked-choice vot­ing, so there's more work to do there. And, on the longer hori­zon, I think … no one is say­ing that there's too lit­tle mon­ey in pol­i­tics, and Con­gress is get­ting too much done. So, we need a fed­er­al sys­tem of pub­lic financ­ing that works for all of us, and isn't bought and paid for by the high­est bidder.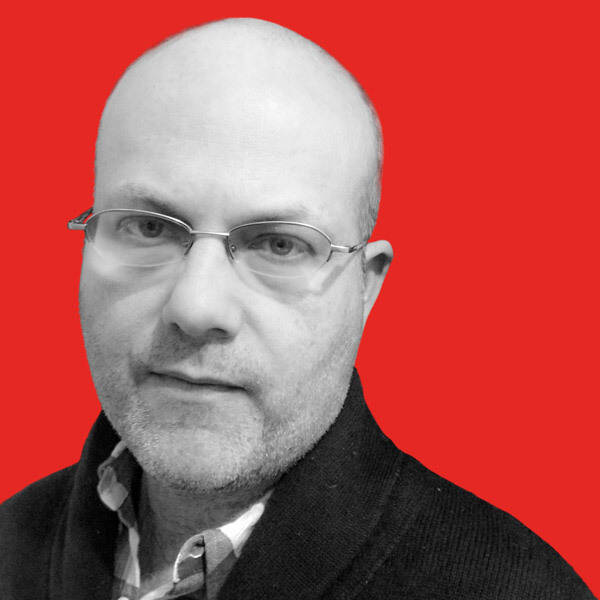 Theo Ander­son
is an In These Times con­tribut­ing writer. He has a Ph.D. in mod­ern U.S. his­to­ry from Yale and writes on the intel­lec­tu­al and reli­gious his­to­ry of con­ser­vatism and pro­gres­sivism in the Unit­ed States. Fol­low him on Twit­ter @Theoanderson
7
.