Making Black Voices Heard
A new study examines minority youth opinion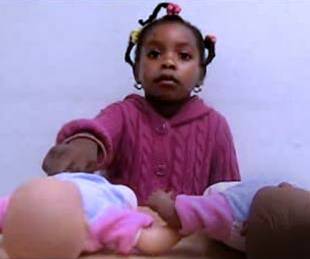 On Feb­ru­ary 10, the short doc­u­men­tary A Girl Like Me, about the pres­sures faced by young black females liv­ing in a white-dom­i­nat­ed soci­ety, hit num­ber one on YouTube.com's fea­tured videos. One of the inter­vie­wees, Jen­nifer, 18, looks straight into the cam­era and con­fess­es: ​"Since I was young, I con­sid­ered being lighter [skinned] as … more beau­ti­ful than being dark skinned. … I used to think of myself as ugly because I was dark skinned."
The film, which had been viewed more than 450,000 times as In These Times went to press, gave voice to a pop­u­la­tion that is often talked about but rarely heard from, much less lis­tened to. A new Uni­ver­si­ty of Chica­go study exam­in­ing the expe­ri­ence of black youth in post-civ­il rights Amer­i­ca plans to change that.
"I talk about the two Bills — Bill O'Reilly and Bill Cos­by — who are both will­ing to talk about and demean young black peo­ple. [I thought] it would be inter­est­ing and impor­tant to actu­al­ly have a study where young black peo­ple get to speak for them­selves," says Cathy Cohen, a Uni­ver­si­ty of Chica­go polit­i­cal sci­ence pro­fes­sor and lead researcher of the Black Youth Project, which was released in ear­ly February.
"We want to inter­rupt this nar­ra­tive of young black peo­ple, even for a moment or two, so we can real­ly think through how we can empow­er their voic­es and empow­er them, so they and we can bet­ter their lives," Cohen says.
The team of researchers sur­veyed almost 1,600 black, Lati­no and white youth aged 15 to 25 from sev­er­al Mid­west­ern cities, and con­duct­ed in-depth inter­views with 40 black youth. The study expos­es the com­plex atti­tudes and behav­iors of these groups when it comes to sex, hip hop and politics.
"I've been a lit­tle sur­prised at how many peo­ple have said, ​'Wow, [black youth] are real­ly thought­ful,' or, ​'Oh my god, they real­ly have posi­tions on pol­i­cy,'" Cohen says. ​"Well, they're the tar­gets of these poli­cies. Yeah, they have positions."
For exam­ple, 93 per­cent of black youth believe that sex edu­ca­tion should be manda­to­ry in high schools, and 76 per­cent think the gov­ern­ment should stop fund­ing only absti­nence pro­grams. And while almost half of black youth believe that abor­tion is always wrong, near­ly 60 per­cent think that abor­tion should be legal in some circumstances.
The project also reports that while more than 70 per­cent of black and Lati­no youth feel they ​"have the knowl­edge and skills nec­es­sary to par­tic­i­pate in pol­i­tics," more than half believe the gov­ern­ment ​"cares lit­tle about them."
Six­ty-eight per­cent of black youth believe that the gov­ern­ment would do more to cure AIDS if more white peo­ple were afflict­ed with the disease.
"Even though some peo­ple will cel­e­brate the end of Jim Crow and legal seg­re­ga­tion," says Cohen, ​"these young peo­ple are very clear that in their dai­ly lives … they per­ceive young black peo­ple to expe­ri­ence very high lev­els of dis­crim­i­na­tion." Almost 70 per­cent of black youth report­ed that they had been dis­crim­i­nat­ed against due to their race, and large majori­ties of all youth believed that ​"on aver­age, the police dis­crim­i­nate much more against black youth than they do against white youth."
When it comes to music, 58 per­cent of black youth report lis­ten­ing to rap every­day, but even greater majori­ties (92 per­cent of females and 74 per­cent of males) think rap music videos por­tray black women offen­sive­ly. In the project's third stage, which begins this spring, researchers will per­form thor­ough con­tent analy­ses of the top rap songs of the past 10 years.
Kyle Myhre, a hip-hop MC and project coor­di­na­tor for the Uni­ver­si­ty of Wisconsin-Madison's Diver­si­ty Edu­ca­tion Pro­gram, says the report is ​"an impor­tant piece of the puz­zle. Any large-scale social change … needs to be a mul­ti-tiered assault. There need to be aca­d­e­m­ic stud­ies, but there also need to be com­mu­ni­ty orga­niz­ers and a media that can cov­er things properly."
Cohen says she plans on reach­ing out to those peo­ple, dis­sem­i­nat­ing the study's find­ings to com­mu­ni­ty lead­ers, edu­ca­tors and pol­i­cy mak­ers, in the hope that the study will be ​"used in class­rooms, by com­mu­ni­ty orga­niz­ers and by youth advocates."
"It would be nice if one of the pres­i­den­tial can­di­dates, maybe Sen. Oba­ma, would com­ment on and … lis­ten to young black peo­ple," Cohen says. ​"And not just lis­ten, but take their posi­tions seri­ous­ly; vote their voic­es in pol­i­cy posi­tions and make them a cen­tral com­po­nent in eval­u­at­ing how well this democ­ra­cy is working."
She also hopes the study will draw atten­tion to are­nas where young peo­ple are already speak­ing out, such as spo­ken word poet­ry, under­ground hip-hop and inde­pen­dent films, such as A Girl Like Me.
"The ques­tion is," says Cohen, ​"will peo­ple lis­ten to what they have to say?"
Chelsea Ross
is a Chica­go-based free­lance writer, pho­tog­ra­ph­er and graph­ic designer.