The Not-So Superfund
Congress lets fund to hold companies responsible for cleaning up their pollution run dry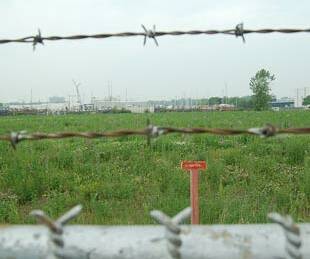 About 40 miles north of Chica­go, in Waukegan, Ill., a par­cel of land sits between the Waukegan Har­bor and the shore of Lake Michi­gan. Known as the Out­board Marine Corp. Super­fund site, it's where mul­ti­ple com­pa­nies – includ­ing Gen­er­al Motors, North Shore Gas and the Out­board Marine Corp. – dumped tox­ic waste for near­ly a cen­tu­ry. Although it's been a super­fund site for more than 20 years, much work remains to be done.
Accord­ing to ​"Wast­ing Away," a report pub­lished in April by the Cen­ter for Pub­lic Integri­ty (CPI), a D.C.-based pub­lic inter­est group, the Out­board Marine site is not alone. CPI found that under the Bush admin­is­tra­tion, the rate of Super­fund site cleanup has been dra­mat­i­cal­ly slow­er due to dimin­ished fund­ing. ​"Cleanup work was start­ed at about 145 sites in the past six years," it reads, ​"while the start­up rate was near­ly three times as high for the pre­vi­ous six years."
In 1980, Con­gress passed the Com­pre­hen­sive Envi­ron­men­tal Response, Com­pen­sa­tion, and Lia­bil­i­ty Act to make com­pa­nies liable for pol­lu­tion cleanup costs. The pro­gram, and its 1,304 des­ig­nat­ed sites, became com­mon­ly known as Super­fund, after the large trust fund that held the tax­es levied on pol­lut­ing com­pa­nies. This ​"super" fund helped pay for cleanups at orphan sites, those where poten­tial­ly respon­si­ble par­ties either would not, or sim­ply could not, pay.
"Super­fund has always gone after com­pa­nies that caused con­t­a­m­i­na­tion," says Bill Muno, who man­aged Super­fund for the Great Lakes Region from 1995 to 2005. ​"But there used to be a sur­plus of mon­ey to pay for sites where com­pa­nies were recal­ci­trant or bankrupt."
How­ev­er, in 1995, the Repub­li­can Con­gress refused to reau­tho­rize the tax when it expired, and by 2003 the trust fund had evap­o­rat­ed. With the tax in place, 75 per­cent of fund­ing came from pol­luter tax­es and 25 per­cent came from gov­ern­ment appro­pri­a­tions. Con­gress now appro­pri­ates 100 per­cent of gen­er­al funds.
While the actu­al amount allo­cat­ed to the pro­gram has var­ied lit­tle, Super­fund has lost 35 per­cent of its funds due to infla­tion, which, accord­ing to Muno, has had a seri­ous impact.
"When I was in the pro­gram, if we need­ed mon­ey, we would go to the fund and it was there," says Muno. ​"Now there's a back­log of projects that need mon­ey that out­weighs what Con­gress appropriates."
Mick Hans, who took over Muno's posi­tion at the EPA, says that the rate of progress has slowed because ​"we took care of the low-hang­ing fruit first. The sites that are left are more com­plex and take longer to clean."
Muno dis­agrees. ​"In the old days, we dealt with imme­di­ate threat and resid­ual waste all at once. Now it takes much longer and often the EPA won't fund the entire cleanup at once – they'll just do a par­tial cleanups."
That's what hap­pened at the Parson's Cas­ket Hard­ware site in Belvedere, Ill. A por­tion of the con­t­a­m­i­nat­ed soil was removed in 1984, but rusty drums and tanks still sit in what is now a fenced-in field of tall grass and wild­flow­ers. The ground­wa­ter is still con­t­a­m­i­nat­ed, but since it does not infil­trate the community's drink­ing water, the Parson's site isn't high on the list of cleanup pri­or­i­ties. It could take years to receive funds from Superfund.
In Waukegan, city and state offi­cials aren't wait­ing for Super­fund to pay for the cleanup. Instead, they are work­ing to secure a grant from an unre­lat­ed EPA pro­gram. But Waukegan's sit­u­a­tion is rare – most sites don't have oth­er options.
In 2004 and 2005, the EPA request­ed $150 mil­lion increas­es in the Super­fund bud­get, but ​"Con­gress did not have any inter­est in increas­ing the fund­ing," says Bet­sy Suther­land, Superfund's direc­tor of assess­ment and remediation.
Muno points to the amount of fed­er­al fund­ing going to the Depart­ment of Defense to explain Con­gress' bud­get­ing decisions.
"What would help Super­fund the most" says Muno, ​"would be to rein­state a cor­po­rate envi­ron­men­tal tax, so some out­side funds would con­tribute to the costs, but that's not like­ly to hap­pen under this administration."
Chelsea Ross
is a Chica­go-based free­lance writer, pho­tog­ra­ph­er and graph­ic designer.