A Campaign of Ones Own
Connie Schultz talks about her column, feminism, endorsing Hillary, and her lovely husband, Ohio senator Sherrod Brown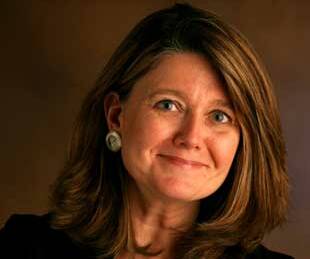 Con­nie Schultz is a Pulitzer Prize-win­ning colum­nist at the Cleve­land Plain Deal­er, an out­spo­ken fem­i­nist and human­ist, the moth­er of two chil­dren and two stepchil­dren, and the wife of Ohio's junior sen­a­tor Sher­rod Brown. It's this last title that she grap­ples with in her< recent book … and His Love­ly Wife: A Mem­oir From the Woman Beside the Man, in which she recounts her expe­ri­ence on her love­ly husband's cam­paign trail.
What you won't find in her bio is that, at 50, Schultz embraces her age with a youth­ful vibran­cy, and while she is com­mand­ing, she is also warm and boasts a deep, full laugh.
Two days before her son's wed­ding, Schultz spoke with In These Times over the phone about, among oth­er things, grow­ing up a mem­ber of the work­ing-class in Ashtab­u­la, Ohio, her love for the late Grace Paley, and why it both­ers her that women can be so catty.
In a recent col­umn, you remem­bered Grace Paley, who was inci­den­tal­ly a long-time In These Times sub­scriber and donor. You wrote that her writ­ing helped you real­ize the ​"uni­ver­sal lan­guage" of class.
Paley was this New York Jew­ish writer, writ­ing about New York Jew­ish women. When I read her as a teenag­er, I real­ized that the women around me had way more in com­mon with the women in Paley's sto­ries than with the [wealth­i­er] women across the riv­er. If you are grow­ing up and don't have the priv­i­leges afford­ed to oth­ers, your life could turn out very dif­fer­ent­ly sim­ply because of that.
A cou­ple of years ago, an edi­tor who was frus­trat­ed with some of my writ­ing said to me, ​"Con­nie, you are not work­ing class. You are an intel­lec­tu­al." And I looked at him and I said, ​"Well, if that's true, then I'm an intel­lec­tu­al from the work­ing class. We have smart peo­ple too."
I real­ized then, wow, this con­scious­ness that I have, it has nev­er left me. Had I not had the chance to go to col­lege, I could still be liv­ing and work­ing in Ashtab­u­la, per­haps in one of the jobs that one of my rel­a­tives has. I don't see how I could be advo­cat­ing any oth­er way. As I say all the time, ​"The priv­i­leged already have their advo­cates, they don't need me!"
John Edwards has been get­ting a lot of sim­i­lar flack recent­ly – advo­cat­ing for the work­ing class from the cush­ion of his big house and bank account.
A part of you, no mat­ter where you're at, always feels more com­fort­able with folks who are from where you're from. There are times when I can feel like, ​'Wow, I am so out of my ele­ment.' Not only because I don't have what a lot of these peo­ple want, but I don't ever want it. We're always going to speak a dif­fer­ent lan­guage to a cer­tain extent.
You have crit­i­cized female jour­nal­ists for attack­ing oth­er women. In one recent col­umn you wrote, ​"A male reporter glee­ful­ly lobbed this hand grenade recent­ly: ​'You can stop wor­ry­ing about us guys under­min­ing your gen­der. … You ladies are doing a fine job of it all by yourselves.'"
Some women have said, ​"You know, you're try­ing to hold us to a high­er stan­dard than male jour­nal­ists." Well, yeah, but that's not going to be much of a reach. We should uphold a high­er stan­dard because it took us a long time to get these posi­tions of pow­er and I don't want us to waste them, espe­cial­ly by under­min­ing oth­er women.
That doesn't mean we don't crit­i­cize women on pol­i­cy, it means that we ele­vate the lev­el of con­ver­sa­tion. We don't make it about cleav­age. We don't make it about this hor­ri­ble notion of a tro­phy wife.
This whole Hillary Clin­ton cleav­age thing was just ridicu­lous. I wrote in my col­umn that if when I turn 60, any­body is talk­ing about my cleav­age, I'll throw a par­ty and wear a granny thong! (Laughs). And Robin Givhan [of the Wash­ing­ton Post] is not absolved because she's a fash­ion writer. I will not accept that.
I find that it's not just in jour­nal­ism, but all areas of life. Women seem to be most com­pet­i­tive with each oth­er, even when mutu­al sup­port would be more advan­ta­geous. Maybe it's exact­ly because we have to work so much hard­er to get where we want to go.
It's dis­heart­en­ing to hear you say that because you're so much younger than me, but I know it's true. We absolute­ly have to car­ry as we climb. As I often say to audi­ences of women my age and old­er when I'm asked what we could be doing to help young women, ​"Look, we don't have their midriff, they don't have our wisdom."
You put your career on hold to join your hus­band on the 2006 Sen­ate cam­paign trail. You write in …and His Love­ly Wife how that was a dif­fi­cult deci­sion. How did it feel get­ting back to the column?
It's so nice to see things hap­pen­ing in the news and not feel that con­stant frus­tra­tion I felt dur­ing the cam­paign of not being able to weigh in on them. That was so hard some­times. But I'm not com­plain­ing. My edi­tor at Ran­dom House has a great mot­to: ​"No whin­ing on the yacht."
You touch on a lot of per­son­al issues in your col­umn, but in the book you seemed to take it to anoth­er lev­el. Was that a con­scious decision?
It need­ed to be open and per­son­al. I want­ed an hon­est book because I was try­ing to make the point that this is hard, but it's still worth doing. I want to encour­age oth­er women to be involved in pol­i­tics. I'm not gonna run for office. I'm a jour­nal­ist, that's what I'm meant to do. But I also know that when more women are elect­ed, we have more leg­is­la­tion on fam­i­ly issues, on health­care, on edu­ca­tion. We need more women in elect­ed bodies.
I was going to wait till the end of the inter­view to ask you this, but since we're already on the top­ic of women in pol­i­tics, are you endors­ing Hillary?
I am.
I'm asked that a lot. I've wait­ed a long time for this moment in his­to­ry. Do I think she's a per­fect can­di­date? No. But here's the thing: I've been vot­ing since I was 18, and I've vot­ed for an awful lot of men, none of them were per­fect. Some of them were real bozos, but they were the best that was offered. I don't need Hillary to be per­fect. I have a lot of con­fi­dence in her and lot of faith in her abil­i­ty to lead this coun­try. When I watch her at debates, she is the smartest per­son in the room. She's the most expe­ri­enced per­son in the room. Does that mean that I don't think Oba­ma or Edwards are viable can­di­dates? Of course not. We're talk­ing about an abun­dance of rich­es for the Democ­rats. But I'm there with Hillary.
Is there any­thing that con­cerns you about her?
I wish her vote had been dif­fer­ent on the war, of course. But I like how she's grow­ing as a can­di­date. And I do like her per­son­al­ly. I don't know her well, but I trust her.
In the July issue of The Nation, Lak­sh­mi Chaudhry looked at why so many women have an issue with Hillary, and she wrote, ​"Let's be clear: Hillary has a ​'fem­i­nist prob­lem,' and more so with those who lean left."
What do they want from her? How can she be what they all want and still get elect­ed? I know she's a fem­i­nist. On elec­tion night, she called Sher­rod and con­grat­u­lat­ed him, and you know what she said? ​"Tell Con­nie not to give up her career. Tell Con­nie not to let any­one tell her that she can't do this any­more." That is a fem­i­nist. And that is some­body who real­ly knew my deep­est fear with­out my ever hav­ing to say it to her.
Do you find your job affects you social­ly when you're in Washington?
Only in Wash­ing­ton, my dear, only in Wash­ing­ton. (Laughs). Any­where else in the coun­try, I am first and fore­most a colum­nist and book author. In Wash­ing­ton, I am first and fore­most a senator's wife. Which is why I'm talk­ing to you from Cleveland.
Do you have any­thing to say about the recent exo­dus of White House staffers?
Hal­lelu­jah! The hap­py feet dance you're hear­ing is mine.
The dam­age that this admin­is­tra­tion has done to this coun­try is just unre­al. But I'm opti­mistic. And one rea­son is the increas­ing involve­ment of women, espe­cial­ly old­er women, in pol­i­tics and at the grass­roots level.
If there is a sil­ver lin­ing to this admin­is­tra­tion it is that it has got­ten peo­ple engaged and involved again. Out­rage is a very pow­er­ful moti­vat­ing force. My mom is a per­fect example.
Women at my age in this cul­ture, we are sup­posed to become invis­i­ble because we're no longer young. Well, the hell with that. Old­er women all over the coun­try are say­ing, ​"I will be heard."
It always makes me think of that quote by Mag­gie Kuhn, founder of the Gray Pan­thers, ​"Speak your mind even if your voice shakes." I say this quote and see women tear up because too often we're so afraid of how we'll sound, instead of just being heard.
You are known for lend­ing a cer­tain humor to very seri­ous issues. It seems like it comes nat­u­ral­ly, does it?
Well, here's how it works. My boss, the best edi­tor I've ever had, says, ​"When you're the most angry, you should be your most fun­ny." Nobody wants to hear blind rage. If you can laugh at your­self, or can get peo­ple to laugh along with you, you'll make them hear the mes­sage with­out them even real­iz­ing it.
I have to ask. In the book you wrote that you were the last per­son in the world who want­ed Sher­rod to run for Sen­ate. How would you feel about being the wife of a pres­i­den­tial candidate?
I'm going to come to Chica­go and wres­tle you to the ground now. (Laughs.) Uh, no. I would not want to be the wife of a pres­i­den­tial candidate.
Sher­rod has said he's not run­ning. Sher­rod says – oh, I feel like a cam­paign wife again with all this ​"Sher­rod says" – but Sher­rod says you can't be a great sen­a­tor if you always have one eye on the White House. He wants be a great sen­a­tor, and I sup­port him whole­heart­ed­ly in that endeavor.
Chelsea Ross
is a Chica­go-based free­lance writer, pho­tog­ra­ph­er and graph­ic designer.