Sacred Lands, Sewer Snow
American Indians fight to stop an Arizona ski resort from making snow out of sewage water.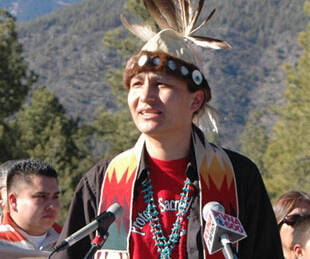 Just south of the Grand Canyon and sev­en miles north of Flagstaff, the vol­canic San Fran­cis­co Peaks loom 12,000 feet above the Ari­zona land­scape. They also sit at the inter­sec­tion of a cul­tur­al, envi­ron­men­tal and com­mer­cial con­tro­ver­sy – one that could make its way to the Supreme Court.
Klee Benally calls Snowball's sewage treatment proposal "a severe act of cultural degradation."
The Peaks, which are man­aged by the Unit­ed States For­est Ser­vice (USFS) as part of the Coconi­no Nation­al For­est, are held sacred by 13 Amer­i­can Indi­an tribes. So when Ari­zona Snow­bowl, a ski resort that leas­es almost 800 acres of the moun­tain, pro­posed in 2002 to expand its facil­i­ties and make fake snow out of water reclaimed from sewage treat­ment plants, envi­ron­men­tal­ists and trib­al lead­ers came togeth­er in opposition.
Snow­bowl man­ag­er J.R. Mur­ray says the resort had been look­ing for a water source to make snow for decades. ​"The pre­cip­i­ta­tion in the Peaks cycles. Right now, we're in a dry cycle," Mur­ray says. ​"In a great year, we're open 120 days. This year, we were only open 40 days. We weren't open for Christ­mas. That's like a mall not being open for Christmas."
Includ­ed in the pro­pos­al were plans for a 14.8‑mile buried pipeline that would trans­port the class A‑plus waste­water (a step below potable) from the Flagstaff Water Recla­ma­tion Plant to a 10 mil­lion-gal­lon man-made stor­age pond on the moun­tain. In a state with a per­pet­u­al water sup­ply short­age, using waste­water pro­vid­ed Snow­bowl with a viable way to keep its busi­ness running.
But for envi­ron­men­tal­ists and trib­al mem­bers, the plan was unacceptable.
"Snowbowl's pro­pos­al would not only dis­rupt and neg­a­tive­ly impact the sen­si­tive moun­tain ecosys­tem and pub­lic health, but it is also a severe act of cul­tur­al degra­da­tion," says Klee Benal­ly, an orga­niz­er with the Save the Peaks Coali­tion and a Nava­jo Tribe member.
The coali­tion of tribes and envi­ron­men­tal­ists brought the issue to Fed­er­al Dis­trict Court, which in Jan­u­ary 2006 ruled in favor of the USFS' approval of the plans on all counts. But on March 12, the 9th Cir­cuit Court over­turned two counts of that rul­ing, mak­ing it ille­gal for Snow­bowl to go ahead with its plans to make snow from reclaimed wastewater.
In his 64-page deci­sion, Judge William Fletch­er wrote that the human health impacts of using waste­water had not been suf­fi­cient­ly eval­u­at­ed, and that mak­ing snow from waste­water vio­lat­ed the 1993 Reli­gious Free­dom Restora­tion Act (RFRA), based on the reli­gious prac­tices of the Nava­jo, Hopi and Hava­su­pai tribes.
The rul­ing marks an unprece­dent­ed appli­ca­tion of RFRA, says attor­ney Howard Shanker, who rep­re­sent­ed the 13 tribes along with the Sier­ra Club, the Flagstaff Activist Net­work and the Cen­ter for Bio­log­i­cal Diver­si­ty in the class action suit.
Shanker says that while sewage-treat­ment plant waste­water is a ​"very valu­able resource in Ari­zona, it's not test­ed for things like hor­mones and antibi­otics." There have not been many con­clu­sive stud­ies of the effects of waste­water, but a 2005 study pub­lished by the Uni­ver­si­ty of Exeter in Eng­land found that long-term expo­sure to waste­water efflu­ent result­ed in repro­duc­tive muta­tions in fish, among oth­er bio­log­i­cal effects.
But Mur­ray says the use of waste­water should not be an issue. ​"It's used every­where in Ari­zona and in Flagstaff," he says, ​"in city parks, in ponds where you can eat the fish, golf cours­es, lawns, the uni­ver­si­ty cam­pus and on Indi­an reser­va­tions. Every­body in the state of Ari­zona under­stands reclaimed water, [but] the judges don't."
Judge Fletch­er, how­ev­er, com­pared the spray­ing of such snow on the Peaks to the gov­ern­ment requir­ing that ​"bap­tisms be car­ried out with ​'reclaimed water.'"
He also wrote, ​"We are struck by the obvi­ous fact that the Peaks are locat­ed in a desert. It is (and always has been) pre­dictable that some win­ters will be dry."
Mur­ray con­tends it is impos­si­ble for most ski resorts to run with­out mak­ing fake snow and insists Snow­bowl will close unless it does so. But even with the risk of clo­sure, which Fletch­er said was not nec­es­sar­i­ly immi­nent, the 9th Circut's deci­sion stat­ed, ​"We are not con­vinced that there is a com­pelling gov­ern­men­tal inter­est" to jus­ti­fy the use of reclaimed waste­water in rela­tion to the ​"sub­stan­tial bur­den" on the exer­cise of trib­al reli­gious practices.
Mur­ray and Snow­bowl own­er Eric Borowsky argue that the issue is one of pub­lic land usage, not reli­gious free­dom. A press release put out after the rul­ing stat­ed, ​"If this rul­ing is allowed to stand, then our nation­al pol­i­cy and con­gres­sion­al­ly man­dat­ed mul­ti­ple use doc­trine on pub­lic lands is dead for all prac­ti­cal pur­pos­es. The ram­i­fi­ca­tion of this rul­ing, if left unchal­lenged, will be dev­as­tat­ing to the taxpayer's access and use of its lands."
"What's wrong with shar­ing the peaks?" asks Mur­ray. ​"We have one per­cent, they have 99 per­cent, we're hap­py. The oppo­si­tion groups are basi­cal­ly say­ing that [they] want the ski area off the moun­tain and don't care who enjoys ski­ing, reli­gious beliefs are more impor­tant than mul­ti­ple uses of the land and recre­ation­al use."
Accord­ing to Benal­ly, the con­flict is a ​"throw­back to the days of racism and dis­re­spect" toward Amer­i­can Indi­ans and cre­at­ed deep divi­sions with­in the Flagstaff community.
To sup­port Snow­bowl, the Flagstaff Cham­ber of Com­merce and the Flagstaff Ski Club formed Reclaim the Peaks!. The group is rais­ing mon­ey to assist with the costs of fur­ther lit­i­ga­tion if an appeal is grant­ed. Snow­bowl has already spent an esti­mat­ed $4 mil­lion on legal fees.
The idea of los­ing the case ​"is painful, con­sid­er­ing the lega­cy indige­nous peo­ple have faced," says Benal­ly. ​"You have to acknowl­edge the con­text of geno­cide, the cul­tur­al degra­da­tion, the racism."
Whether an appeal will be made to the Supreme Court is up to the Depart­ment of Jus­tice, which recent­ly filed a request with the 9th Cir­cuit Court for an exten­sion on mak­ing that deci­sion, accord­ing to Coconi­no Nation­al For­est Pub­lic Affairs Offi­cer Raquel Romero.
Mur­ray is cer­tain the case will make it to the Supreme Court. ​"If we pre­vail," he says, ​"well, the Indi­ans might have to adjust some of their thought process­es or reli­gious prac­tices. But if they win, the ski area goes away."
Chelsea Ross
is a Chica­go-based free­lance writer, pho­tog­ra­ph­er and graph­ic designer.