Meet the Pittsburgh Mayoral Candidate Who Wants to End Inequality
John Welch believes he can turn hearts and minds—and turn out voters.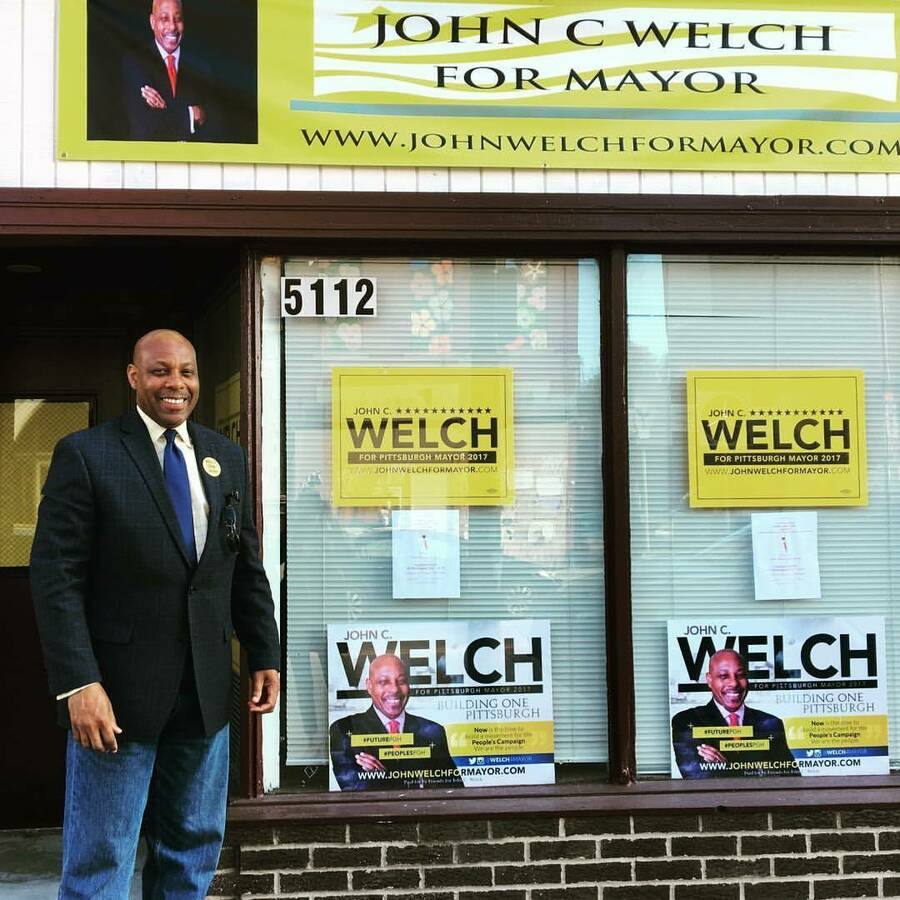 John Welch says appear­ances are decep­tive when it comes to his beloved home­town. Pitts­burgh reg­u­lar­ly ranks as one of the nation's ​"most liv­able" cities, but it's marked by stark inequalities.
"My faith compels me and propels me into the work of creating a city where fairness prevails and everyone has access to opportunities."
"Many of the peo­ple who live here don't see how that label trans­lates to their lived expe­ri­ences," Welch says.
The city's may­or, Demo­c­rat Bill Pedu­to, has ben­e­fit­ted from a sim­i­lar sleight of hand, accord­ing to Welch, who will be on the bal­lot in Pittsburgh's Demo­c­ra­t­ic may­oral pri­ma­ry on May 16. When Pedu­to ran and won four years ago, Welch sup­port­ed him. Four years lat­er, he thinks Peduto's admin­is­tra­tion hasn't lived up to its promises.
"I don't think he's as pro­gres­sive as has been report­ed," Welch says, point­ing to the rapid gen­tri­fi­ca­tion on the city's east side. ​"We've become a city of inequity, rather than a liv­able city."
Welch was dis­il­lu­sioned, too, by Peduto's han­dling of a labor con­flict ear­ly in his admin­is­tra­tion. Local activists and work­ers at the Uni­ver­si­ty of Pitts­burgh Med­ical Cen­ter (UPMC), the region's largest employ­er, were press­ing for high­er wages and a union. Simul­ta­ne­ous­ly, the city of Pitts­burgh was pur­su­ing a law­suit chal­leng­ing UPMC's tax-exempt sta­tus. But the city agreed to drop the law­suit with the hope of extract­ing vol­un­tary con­tri­bu­tions from UPMC. Welch, who was involved in the fight on the side of work­ers, said the suit ​"was the only lever­age we had in nego­ti­a­tions," and the city's action left the cam­paign high and dry. Four years lat­er, ​"we don't have any­thing to show for it," he said.
Welch is a native of Pitts­burgh and earned a B.S. in chem­i­cal engi­neer­ing from Carnegie Mel­lon Uni­ver­si­ty, a Mas­ter of Divin­i­ty from Pitts­burgh The­o­log­i­cal Sem­i­nary (PTS) and a Ph.D. in health­care ethics from Duquesne Uni­ver­si­ty. He is now the dean of stu­dents at PTS, has served as a Bap­tist and Pres­by­ter­ian pas­tor and is chief chap­lain of the Pitts­burgh police.
In These Times recent­ly spoke with Welch about his cam­paign and the elec­tion on May 16.
You've crit­i­cized Bill Pedu­to for the recent gen­tri­fi­ca­tion in Pitts­burgh. What would you do to pro­mote more afford­able hous­ing?
The main thing is that we have to allow for non­prof­it com­mu­ni­ty devel­op­ment cor­po­ra­tions that real­ly want to cre­ate afford­able hous­ing tracts in the com­mu­ni­ty, to have access to the land. So you need to have a land bank where we can ward off spec­u­la­tors com­ing through and buy­ing up and then flip­ping. And stream­line the process so that these com­mu­ni­ty devel­op­ment non­prof­its can get access to these prop­er­ties and devel­op them. And we need to find ways to help fund them in the process.
Every politi­cian needs a coali­tion. What is yours?
My coali­tion over­laps Peduto's. I have a labor base. I've done a lot of work with the local Amer­i­can Fed­er­a­tion of Teach­ers. I have a large reli­gious base, hav­ing been the pres­i­dent of an inter­faith social jus­tice orga­ni­za­tion for five years. And I've been a chap­lain for the Pitts­burgh police for nine years now. My faith com­pels me and pro­pels me into the work of cre­at­ing a city where fair­ness pre­vails and every­one has access to oppor­tu­ni­ties. That's how I define my faith. I'm not one who thinks there's no room for pol­i­tics in the church. I think that a church divorced from civic engage­ment is not real­ly a church. And it's not about pros­e­ly­tiz­ing or con­vert­ing peo­ple in the process. It's about doing what's right.
Turnout in local elec­tions is noto­ri­ous­ly low, espe­cial­ly in off-year elec­tions. How do you plan to get out your voters?
The results last Novem­ber were a shock and made peo­ple real­ize that they need to be engaged. And I think there will be a spike in vot­er turnout, because peo­ple real­ized that despite what's going on in Wash­ing­ton, there are some things that can hap­pen in the cities.
And sec­ond, we'll con­tin­ue to bring to people's aware­ness to the issues that we're deal­ing with here in Pitts­burgh. For exam­ple, we have lead lev­els [in the water] that are com­pa­ra­ble to Flint [Michi­gan], and they've been ris­ing. But there real­ly was no atten­tion to that, and no com­mu­ni­ca­tion to the gen­er­al pub­lic about the prob­lem, until we had a ​"boil water" advi­so­ry after recent flooding.
So that mes­sage will res­onate with peo­ple: You have a may­or who's been in pow­er for 16 years — 12 years as a coun­cilper­son, four years as may­or — and that time­frame is com­men­su­rate with increas­ing lead lev­els. Grant­ed, our infra­struc­ture is old. But every­one knew it was old. And there should have been more atten­tion paid to it earlier.
You have a Ph.D. in health­care ethics. Why were you inter­est­ed in that field and how will the degree help you as mayor?
My inter­est in that was because of the per­sis­tent health dis­par­i­ties between African Amer­i­cans and whites. I've been track­ing that for years. And here in Pitts­burgh, we're ranked No. 1 in the coun­try in infant mor­tal­i­ty among African Amer­i­cans. And, at the same time, we've been ranked the No. 1 most liv­able city twice. So, the tag line here has always been: Most liv­able for whom?
The issue of frack­ing is impor­tant to me. I don't agree with it. I don't sup­port it. I don't think it's envi­ron­men­tal­ly friend­ly. And the health impli­ca­tions are still not known So, because of that, I don't think we should allow it. That degree gives me an aware­ness and con­cern for eco­log­i­cal jus­tice, health­care jus­tice as well as eco­nom­ic justice.
How do con­vince peo­ple that they should care about the prob­lem of inequality?
I can't sug­ar­coat it. One of the things I say is that the flood waters of pover­ty are ris­ing, and they real­ly don't care what col­or you are. Anyone's prob­lem is everyone's prob­lem. If it's not touch­ing you now, it will touch you even­tu­al­ly. Look at the drug sit­u­a­tion in our cities. First, it was crack cocaine in the inner cities. Now it's a hero­in epi­dem­ic that's affect­ing the rur­al areas and the sub­urbs. So, one of the things I'm real­iz­ing is that, while the more senior pop­u­la­tion might not care about the inequities, with the mil­len­ni­als and Gen Xers, it res­onates very well. So I just stand on telling the truth and con­vey­ing a sto­ry that's real, and hope­ful­ly it will turn the hearts of peo­ple and trans­late into votes.
Pub­lic health is an inter­est­ing way to talk about inequal­i­ty. The dif­fer­ence in life expectan­cy can be 15 years for two peo­ple liv­ing in two dif­fer­ent zip codes.
Pitts­burgh has a pop­u­la­tion of a lit­tle over 300,000 peo­ple, but we have more than 90 neigh­bor­hoods. We are that parochial. So you can lit­er­al­ly go five blocks in one direc­tion and hit a dif­fer­ent neigh­bor­hood, and you'll see sig­nif­i­cant dis­par­i­ties in health out­comes. And that's very real, and high­lights con­cen­trat­ed pover­ty. And get­ting peo­ple to rec­og­nize that social poli­cies have cre­at­ed these dis­par­i­ties — it's not some­thing that organ­i­cal­ly aris­es out of nature, but these things hap­pen as a result of social policies.
Over the years, when I've done pre­sen­ta­tions on that, and actu­al­ly linked race to it, it's opened the eyes of many whites who were in the room. And, again, Pitts­burgh will not be the most liv­able city until it's the most equi­table. And that's not say­ing that every­one has to have the same thing. You're not going to pay a jan­i­tor a CEO's salary. But there's no rea­son we should have the con­cen­trat­ed pover­ty we have in our urban cen­ters. And then you see the pat­tern of gen­tri­fi­ca­tion, in which it appears to be a covert oper­a­tion, a takeover.
Are you run­ning to push Pedu­to to the left, or do you real­ly believe you can win this thing?
If the exit door is to the left, I'm push­ing him to the left and out. I do believe I can win it. And if I don't have enough momen­tum to push him out, then he'll be fur­ther left than he's been. But it's my inten­tion to win. And in doing so, I know that regard­less of the out­come, he'll be less of a moderate.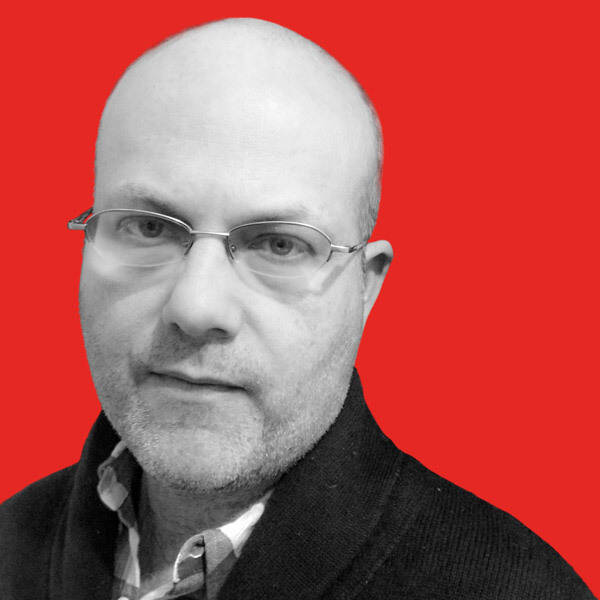 Theo Ander­son
is an In These Times con­tribut­ing writer. He has a Ph.D. in mod­ern U.S. his­to­ry from Yale and writes on the intel­lec­tu­al and reli­gious his­to­ry of con­ser­vatism and pro­gres­sivism in the Unit­ed States. Fol­low him on Twit­ter @Theoanderson
7
.